线下当地企业主会非常乐意支付你双倍的PPC广告宣传费用(Local Landing Page Pack)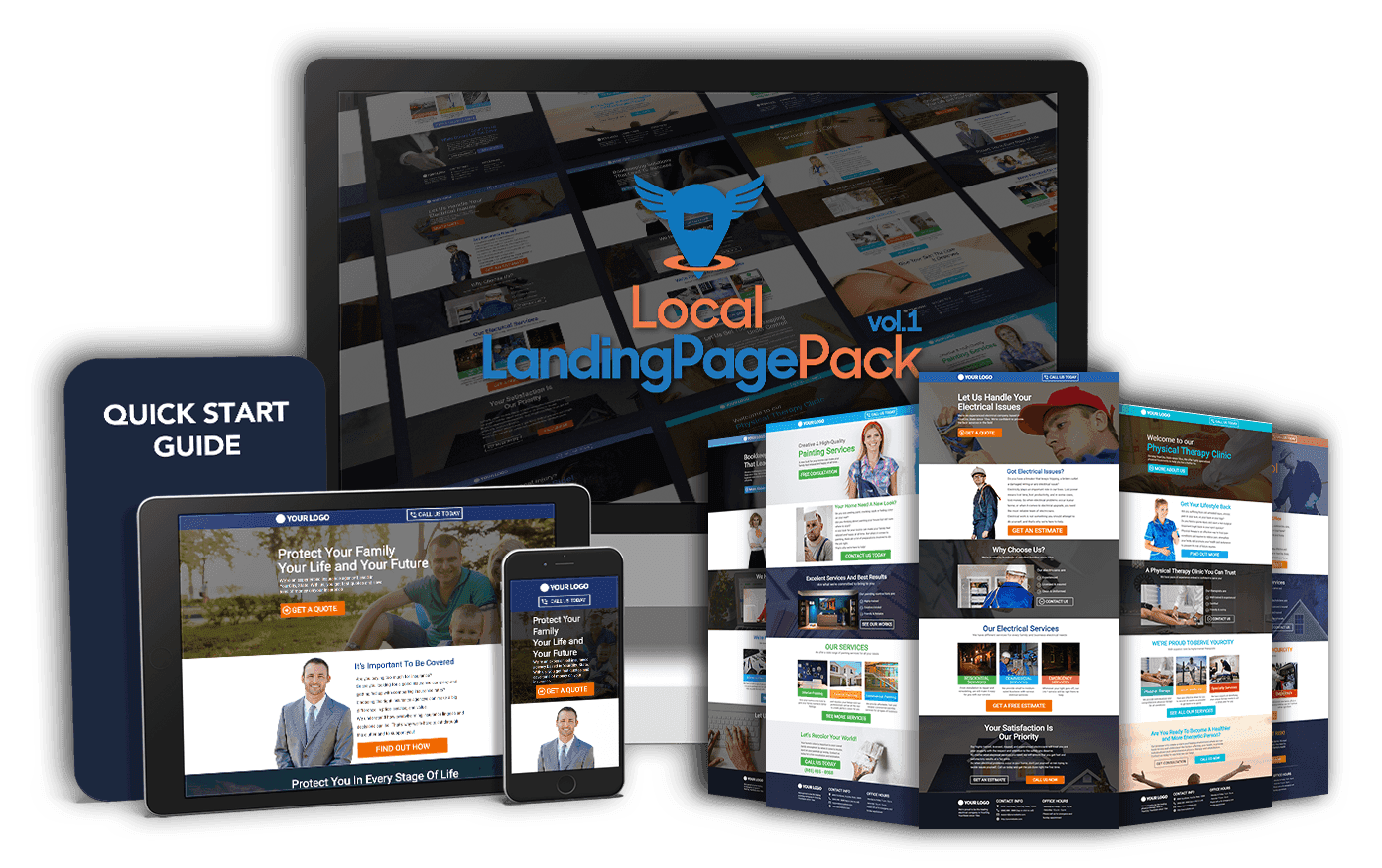 当地企业主大小卖家会乐意支付你双倍的PPC广告宣传。

你所需要做的就是把他们的信息填满到一个完美的登陆页面,这样就能让他们的访问者转化为LEADS和销售。

Local business owners will happily pay you to double the conversions of their PPC advertising campaigns.
All you need to do is to fill their information to a landing page that is perfectly designed to convert their visitors to lead and sales.

These landing pages are:
Designed to convert
Easy to edit
Ready to use after adding information
Super-fast to load
Mobile-friendly
Note: Contains OTOs

///

Attention: Marketing professional who need to generate MORE LEADS!
LOCAL BUSINESS OWNERS WILL HAPPILY PAY YOU TO DOUBLE THE CONVERSIONS OF THEIR PPC ADVERTISING CAMPAIGNS
All You Need To Do Is To Fill Their Information To A Landing Page That Is Perfectly Designed To Convert Their Visitors To Lead And Sales
shadow-ornament
Did I tell you that a landing page can be edited in 5 minutes?
↕
The Common Mistake In PPC Advertising Of Local Businesses And How Can You Help Them Fix It

Dear Marketing Entrepreneur,

I'm Dawn Vu. For the past 6 years, I've worked with hundreds of businesses in multiple industries around the world.

Basically, I partner up with businesses in their online marketing. I and my team have been creating websites, videos, funnels and other marketing assets; and manage them to get results that are leads and sales.

Recently, when I'm doing a research about PPC marketing campaigns of local business for my PPC ad managing service, I realized a shocking truth…

80% of local businesses are NOT using landing pages to drive PPC traffic to

The pages that they PAY to drive EACH AND EVERY VISITOR to don't even have enough information that a potential customer need.

If you're doing local marketing, you probably realized that.

Or just do some local keyword searches (business type + city) and you will see.

This happens with display ads too.

I've contacted several businesses and asked why they didn't use landing page or at least, a better-looking website.

Guess why?

Yes, mostly because it was too expensive!

Some 'website design' guys are charging hundreds for a single landing page and thousands for a website created, which are always out of marketing budget of most local businesses.

Business owner didn't understand that using poorly-designed page in PPC campaign is a WASTE of money
Competing with others is getting harder and harder nowadays, and when they pay more to win a visitor to their 'online front desk', they're out of money to take care of the prospect.

That's sad, but when someone need a local service and come to a website that is lack of information, they will leave instantly.

And as a result, the whole PPC campaign is just like throwing money out of windows.

You know, landing page is not something new these days. It's an 'ancient' thing in marketing world. But not everyone know how to do it the right way, even after the release of many landing page softwares.

What If You (Yes, YOU) Can Give Local Businesses An Affordable Solution To Double Their Conversion?
You can instantly see a great income, but I even see a HUGE opportunity behind.

Double conversion means DOUBLE LEADS and SALES with THE SAME money spent.

If you provide that to local businesses, you will have a great chance to offer other marketing services.

From my years of experience working to optimize user experience and conversion in website, I've developed a landing page layout that is clean, simple but POWERFUL. It's proven to convert a confusing visitor to customer.

Remember the business owners who told me that they use poorly-designed pages because landing page and website are expensive?

I sold landing pages for 3 out of 5 in the SAME DAY. One $97 and two $197 (price better depends on the business type)

But how's that relevant to you?

From one landing page layout, I've designed 10 landing page templates for 10 types of local business.

I've also written the 'sales copy' to match each business and find free-to-use images (can save you a hundred of dollar each page)

These landing pages are:

Designed to convert
Easy to edit
Ready to use after adding information
Super-fast to load
Mobile-friendly
It's my pleasure to introduce you to…

Local Landing Page Pack Vol.1

Designed For These 10 Types Of Local Business
1. Pediatrician
2. Pest Control
3. Painting Contractor
4. Physical Therapist
5. Personal Injury Lawyer
6. Bankruptcy Lawyer
7. Insurance Agency
8. Dermatologist
9. Electrician
10. Bookkeeper
Each Of These Conversion-Boosting Landing Pages Have Been Designed Following My Best-Converting Layout
(Click on each image to see in bigger size)

1. Pediatrician

2. Pest Control

3. Painting Contractor

4. Physical Therapist

5. Personal Injury Lawyer

6. Bankruptcy Lawyer

7. Insurance Agency

8. Dermatologist

9. Electrician

10. Bookkeeper

shadow-ornament
Click Here To View A Landing Page In Action
Selling an entire website is hard but selling landing page is much easier!
So that you get the fact that many local businesses are using old websites and pages. But from my experience, it's not easy to propose them with a new website. Instead, they will be interested in an affordable landing page ($97 to $197 is an ideal price) that can be used and get them results right away.

Local Landing Page Pack was designed FOR YOU with that in mind.

1. You Have A Hungry Market

As I said, it's not difficult (it's easy actually) to find a local business that is paying for PPC advertising. They're in the top of the search result of Google for local keyword (You will find some in Bing too).

With Local Landing Page Pack, you can sell well-designed landing pages that will skyrocket the conversions and get businesses tons of leads with THE SAME money spent. Imagine how much money, credibility and opportunity you will get!

The targeted market is CLEAR, EASY TO FIND and EASY TO APPROACH!

The best thing is that you're targeting clients that are PAYING for their marketing. It's 10X more effectively than approaching cold businesses that rarely invest in anything online.

2. You Get Stunning Designs That Convert

All the pages are designed with user-experience and conversion in mind. They're:

Super FAST to load
Fully-responsive
Looking good in all devices

3. You Get Ready-to-use Copy & Images
Other landing page template sellers only provide the templates with sample headlines like 'This is an eye-catching… attention grabbing headline', text like 'lorem ispum dolor sit amet', and you will not get any images in the download because they use stock photos.

Local Landing Page Pack provides you with ready-to-use landing page copy and free-to-use images. Just fill the info of local business to the 'blanks' and the pages will be good to use.

4. It's Easy To Work With
There is no 'drag and drop' software and it seems to be difficult to edit an HTML page, but with my detailed instruction, anyone can use a free software to edit the pages. The only requirement is the ability to use 'Find and Replace' function.

Are You Ready To Become A Professional Local Consultant And Make Money Right Today?
There are many ways to make money with Local Landing Page Pack. Here are some of my own, based on my experience:

You can sell the landing page individually to a local business for no less than $97. I'd recommend you charge around $197 for a landing page.
You can structure a "hybrid pay per call agreement" where you charge less up front for the page, but they would pay you for each Phone Call generated. This would make more sense to charge $97 for the page and then $$ Per Call!
You can set up equity deals where you basically give the landing page away to a business (after you have an agreement in place) in exchange for a cut of all the sales generated through the landing page. I've found a 10% to 15% of gross sales agreement works well.
You can even invest your own money to run PPC campaign, forward the leads and phone calls to businesses and charge from $50 per phone call (depends on business type)
Or if you can do other services, giving away a landing page to local business will make you a REAL pro and give you a HUGE opportunity to propose more high-end services later.
shadow-ornament
Now you see how YOU can PROFIT
You're probably wondering what it's going to cost..
Obviously I've given you my "conversion formula" so you technically could go hire someone to create your own landing page or buy a landing page builder and try to create something similar yourself.

OptimizePress will cost you $297 plus $249 for each 5 clients sites
Leadpages and Unbounce are $199 per month
Instabuilder is $197 for developer version… the most affordable option.
The cheapest stock photos with extended license to use to your clients are $37 a piece. A landing page will require 7-10 photos.

I'm not sure how good you are at math but at least… that's literally $2,787 for 10 landing pages.

And that doesn't count and undefined amount of TIME you'd have to waste going back and forth with the software trying to "make it look better"

That is a complete TIME SUCK and it is NOT a fun process.

Remember, time is our most valuable asset in life because it is the only thing that doesn't replenish.

So I think you should use the little time you have available to instead use my landing pages and spend your time actually MAKING MONEY WITH THEM.

To make it a complete no-brainer…

Your investment today is just
95 CENTS PER LANDING PAGE
But There's One Very Important Thing You Need To Know…
This Is A VERY LIMITED OFFER
I want to make sure my landing pages continue to produce results for those who buy them and their clients. Because of that, if I feel this product is reaching a point of "saturation", I reserve the right to remove the buy buttons at any time.

I'm totally confident with my product and I really appreciate that you're here, today. So I wanted to make you an easy decision.

Along with this crazy launch discount, I'm still willing to offer a guarantee just to make you confident with your purchase.

Within 30 days, if you have any issues with Local Landing Page Pack that I can't help you resolve, I will gladly refund every single penny.

This is a completely risk free investment in your business that will help you get results as soon as you take action.

I'm Taking All The Risk Myself
What Are You Waiting For?
Click The Button Below To Get Immediate Access!
It's Dawn again and I want to say thank you to read this letter today. I can't wait to let you in and then tell your success story with Local Landing Page Pack!

Wish you all the best with your business!

P.s. Look, if all you do is taking IMMEDIATE action and sell just ONE landing page or sign an profit share agreement, it would pay 10 times for your investment.

But you MUST do the work.
教程目录:

Local Landing Page Pack
└─Local Landing Page Pack
├─1. Local Landing Page Pack Vol1 – Standard
│ Basic Instruction.pdf
├─Landing Pages
├─1- Pediatrician
│ pediatrician.jpg
│ Specifications.txt
└─pediatrician
│ index.html
├─img
│ bg1.jpg
│ bg2.jpg
│ bg3.jpg
│ favicon.png
│ feature.jpg
│ img1.jpg
│ Resources.url
│ service1.jpg
│ service2.jpg
│ service3.jpg
│ slide1.jpg
│ slide2.jpg
│ slide3.jpg
│ slide4.jpg
│ yourlogo.png
└─script
│ animate.min.css
│ landingpage.1-0-1.js
│ Resources.url
├─10- Bookkeeper
│ bookkeeper.jpg
│ Specifications.txt
└─bookkeeper
│ index.html
├─img
│ bg1.jpg
│ bg2.jpg
│ bg3.jpg
│ favicon.png
│ feature.jpg
│ img1.jpg
│ Resources.url
│ service1.jpg
│ service2.jpg
│ service3.jpg
│ slide1.jpg
│ slide2.jpg
│ slide3.jpg
│ slide4.jpg
│ yourlogo.png
└─script
│ animate.min.css
│ landingpage.1-0-1.js
│ Resources.url
├─2- Pest Control
│ pest control.jpg
│ Specifications.txt
└─pestcontrol
│ index.html
├─img
│ bg1.jpg
│ bg2.jpg
│ bg3.jpg
│ favicon.png
│ feature.jpg
│ img1.jpg
│ Resources.url
│ service1.jpg
│ service2.jpg
│ service3.jpg
│ slide1.jpg
│ slide2.jpg
│ slide3.jpg
│ slide4.jpg
│ yourlogo.png
└─script
│ animate.min.css
│ landingpage.1-0-1.js
│ Resources.url
├─3- Painter
│ painting contractor.jpg
│ Specifications.txt
└─painter
│ index.html
├─img
│ bg1.jpg
│ bg2.jpg
│ bg3.png
│ favicon.png
│ feature.jpg
│ img1.jpg
│ Resources.url
│ service1.jpg
│ service2.jpg
│ service3.jpg
│ slide1.jpg
│ slide2.jpg
│ slide3.jpg
│ slide4.jpg
│ yourlogo.png
└─script
│ animate.min.css
│ landingpage.1-0-1.js
│ Resources.url
├─4- Physical Therpist
│ physical therapist.jpg
│ Specifications.txt
└─physicaltherapist
│ index.html
├─img
│ bg1.jpg
│ bg2.jpg
│ bg3.jpg
│ favicon.png
│ feature.jpg
│ img1.jpg
│ Resources.url
│ service1.jpg
│ service2.jpg
│ service3.jpg
│ slide1.jpg
│ slide2.jpg
│ slide3.jpg
│ slide4.jpg
│ yourlogo.png
└─script
│ animate.min.css
│ landingpage.1-0-1.js
│ Resources.url
├─5- Personal Injury Lawyer
│ personal injury lawyer.jpg
│ Specifications.txt
└─personalinjurylawyer
│ index.html
├─img
│ bg1.jpg
│ bg2.jpg
│ bg3.jpg
│ favicon.png
│ feature.jpg
│ img1.jpg
│ Resources.url
│ service1.jpg
│ service2.jpg
│ service3.jpg
│ slide1.jpg
│ slide2.jpg
│ slide3.jpg
│ slide4.jpg
│ yourlogo.png
└─script
│ animate.min.css
│ landingpage.1-0-1.js
│ Resources.url
├─6- Bankruptcy Lawyer
│ bankruptcy lawyer.jpg
│ Specifications.txt
└─bankruptcylawyer
│ index.html
├─img
│ bg1.jpg
│ bg2.jpg
│ bg3.jpg
│ favicon.png
│ feature.jpg
│ img1.jpg
│ Resources.url
│ service1.jpg
│ service2.jpg
│ service3.jpg
│ slide1.jpg
│ slide2.jpg
│ slide3.jpg
│ slide4.jpg
│ yourlogo.png
└─script
│ animate.min.css
│ landingpage.1-0-1.js
│ Resources.url
├─7- Insurance Agency
│ insurance agency.jpg
│ Specifications.txt
└─insuranceagency
│ index.html
├─img
│ bg1.jpg
│ bg2.jpg
│ bg3.jpg
│ favicon.png
│ feature.jpg
│ img1.jpg
│ Resources.url
│ service1.jpg
│ service2.jpg
│ service3.jpg
│ slide1.jpg
│ slide2.jpg
│ slide3.jpg
│ slide4.jpg
│ yourlogo.png
└─script
│ animate.min.css
│ landingpage.1-0-1.js
│ Resources.url
├─8- Dermatologist
│ dermatologist.jpg
│ Specifications.txt
└─dermatologist
│ index.html
├─img
│ bg1.jpg
│ bg2.jpg
│ bg3.jpg
│ favicon.png
│ feature.jpg
│ img1.jpg
│ Resources.url
│ service1.jpg
│ service2.jpg
│ service3.jpg
│ slide1.jpg
│ slide2.jpg
│ slide3.jpg
│ slide4.jpg
│ yourlogo.png
└─script
│ animate.min.css
│ landingpage.1-0-1.js
│ Resources.url
└─9- Electrician
│ electrician.jpg
│ │ Specifications.txt
│ │ └─electrician
│ │ index.html
│ │ │ ├─img
│ │ bg1.jpg
│ │ bg2.jpg
│ │ bg3.jpg
│ │ favicon.png
│ │ feature.jpg
│ │ img1.jpg
│ │ Resources.url
│ │ service1.jpg
│ │ service2.jpg
│ │ service3.jpg
│ │ slide1.jpg
│ │ slide2.jpg
│ │ slide3.jpg
│ │ slide4.jpg
│ │ yourlogo.png
│ │ └─script
│ animate.min.css
│ landingpage.1-0-1.js
│ Resources.url
│
└─Video tutorials
│ Local Landing Page Pack Video 1 – Editing Basic Information .avi
│ Local Landing Page Pack Video 2 – Editing Clients Logo .avi
│ Local Landing Page Pack Video 3 – Change Images In Landing Page .avi
│ Local Landing Page Pack Video 4 – Meta title, description, keyword and other codes .avi
│ Local Landing Page Pack Video 5 – Upload Finished Page To Server .avi
│ Resources.url
├─2. Local Landing Page Pack Vol1 – Extended – Lite Version
│ READ ME.txt
├─1- Landing Pages With Video
├─1- Pediatrician
└─pediatrician
│ index.html
├─img
│ bg1.jpg
│ bg2.jpg
│ bg3.jpg
│ favicon.png
│ feature.jpg
│ img1.jpg
│ Resources.url
│ service1.jpg
│ service2.jpg
│ service3.jpg
│ slide1.jpg
│ slide2.jpg
│ slide3.jpg
│ slide4.jpg
│ yourlogo.png
└─script
│ animate.min.css
│ landingpage.1-0-1.js
│ Resources.url
├─10- Bookkeeper
└─bookkeeper
│ index.html
├─img
│ bg1.jpg
│ bg2.jpg
│ bg3.jpg
│ favicon.png
│ feature.jpg
│ img1.jpg
│ Resources.url
│ service1.jpg
│ service2.jpg
│ service3.jpg
│ slide1.jpg
│ slide2.jpg
│ slide3.jpg
│ slide4.jpg
│ yourlogo.png
└─script
│ animate.min.css
│ landingpage.1-0-1.js
│ Resources.url
├─2- Pest Control
└─pestcontrol
│ index.html
├─img
│ bg1.jpg
│ bg2.jpg
│ bg3.jpg
│ favicon.png
│ feature.jpg
│ img1.jpg
│ Resources.url
│ service1.jpg
│ service2.jpg
│ service3.jpg
│ slide1.jpg
│ slide2.jpg
│ slide3.jpg
│ slide4.jpg
│ yourlogo.png
└─script
│ animate.min.css
│ landingpage.1-0-1.js
│ Resources.url
├─3- Painter
└─painter
│ index.html
├─img
│ bg1.jpg
│ bg2.jpg
│ bg3.png
│ favicon.png
│ feature.jpg
│ img1.jpg
│ Resources.url
│ service1.jpg
│ service2.jpg
│ service3.jpg
│ slide1.jpg
│ slide2.jpg
│ slide3.jpg
│ slide4.jpg
│ yourlogo.png
└─script
│ animate.min.css
│ landingpage.1-0-1.js
│ Resources.url
├─4- Physical Therpist
└─physicaltherapist
│ index.html
├─img
│ bg1.jpg
│ bg2.jpg
│ bg3.jpg
│ favicon.png
│ feature.jpg
│ img1.jpg
│ Resources.url
│ service1.jpg
│ service2.jpg
│ service3.jpg
│ slide1.jpg
│ slide2.jpg
│ slide3.jpg
│ slide4.jpg
│ yourlogo.png
└─script
│ animate.min.css
│ landingpage.1-0-1.js
│ Resources.url
├─5- Personal Injury Lawyer
└─personalinjurylawyer
│ index.html
├─img
│ bg1.jpg
│ bg2.jpg
│ bg3.jpg
│ favicon.png
│ feature.jpg
│ img1.jpg
│ Resources.url
│ service1.jpg
│ service2.jpg
│ service3.jpg
│ slide1.jpg
│ slide2.jpg
│ slide3.jpg
│ slide4.jpg
│ yourlogo.png
└─script
│ animate.min.css
│ landingpage.1-0-1.js
│ Resources.url
├─6- Bankruptcy Lawyer
└─bankruptcylawyer
│ index.html
├─img
│ bg1.jpg
│ bg2.jpg
│ bg3.jpg
│ favicon.png
│ feature.jpg
│ img1.jpg
│ Resources.url
│ service1.jpg
│ service2.jpg
│ service3.jpg
│ slide1.jpg
│ slide2.jpg
│ slide3.jpg
│ slide4.jpg
│ yourlogo.png
└─script
│ animate.min.css
│ landingpage.1-0-1.js
│ Resources.url
├─7- Insurance Agency
└─insuranceagency
│ index.html
├─img
│ bg1.jpg
│ bg2.jpg
│ bg3.jpg
│ favicon.png
│ feature.jpg
│ img1.jpg
│ Resources.url
│ service1.jpg
│ service2.jpg
│ service3.jpg
│ slide1.jpg
│ slide2.jpg
│ slide3.jpg
│ slide4.jpg
│ yourlogo.png
└─script
│ animate.min.css
│ landingpage.1-0-1.js
│ Resources.url
├─8- Dermatologist
└─dermatologist
│ index.html
├─img
│ bg1.jpg
│ bg2.jpg
│ bg3.jpg
│ favicon.png
│ feature.jpg
│ img1.jpg
│ Resources.url
│ service1.jpg
│ service2.jpg
│ service3.jpg
│ slide1.jpg
│ slide2.jpg
│ slide3.jpg
│ slide4.jpg
│ yourlogo.png
└─script
│ animate.min.css
│ landingpage.1-0-1.js
│ Resources.url
└─9- Electrician
└─electrician
│ │ index.html
│ │ │ ├─img
│ │ bg1.jpg
│ │ bg2.jpg
│ │ bg3.jpg
│ │ favicon.png
│ │ feature.jpg
│ │ img1.jpg
│ │ Resources.url
│ │ service1.jpg
│ │ service2.jpg
│ │ service3.jpg
│ │ slide1.jpg
│ │ slide2.jpg
│ │ slide3.jpg
│ │ slide4.jpg
│ │ yourlogo.png
│ │ └─script
│ animate.min.css
│ landingpage.1-0-1.js
│ Resources.url
│
├─2- 10 DFY Whiteboard Videos
│ 1- Pediatrician .avi
│ 10- Dermatologist .avi
│ 2- Personal Injury Lawyer .avi
│ 3- Bankruptcy Lawyer .avi
│ 4- Pest Control .avi
│ 5- Painter .avi
│ 6- Physical Therapist .avi
│ 7- Insurance Agency .avi
│ 8- Bookkeeper .avi
│ 9- Electrician .avi
│ Resources.url
└─Video tutorials
│ Local Landing Page Pack Video 6 – Change the video .avi
│ Resources.url
└─3. Local Landing Page Pack Vol1 – Extended
│ READ ME.txt
├─1- Landing Pages With Video
├─1- Pediatrician
└─pediatrician
│ index.html
├─img
│ bg1.jpg
│ bg2.jpg
│ bg3.jpg
│ favicon.png
│ feature.jpg
│ img1.jpg
│ Resources.url
│ service1.jpg
│ service2.jpg
│ service3.jpg
│ slide1.jpg
│ slide2.jpg
│ slide3.jpg
│ slide4.jpg
│ yourlogo.png
└─script
│ animate.min.css
│ landingpage.1-0-1.js
│ Resources.url
│
├─10- Bookkeeper
└─bookkeeper
│ index.html
├─img
│ bg1.jpg
│ bg2.jpg
│ bg3.jpg
│ favicon.png
│ feature.jpg
│ img1.jpg
│ Resources.url
│ service1.jpg
│ service2.jpg
│ service3.jpg
│ slide1.jpg
│ slide2.jpg
│ slide3.jpg
│ slide4.jpg
│ yourlogo.png
└─script
│ animate.min.css
│ landingpage.1-0-1.js
│ Resources.url
│
├─2- Pest Control
└─pestcontrol
│ index.html
├─img
│ bg1.jpg
│ bg2.jpg
│ bg3.jpg
│ favicon.png
│ feature.jpg
│ img1.jpg
│ Resources.url
│ service1.jpg
│ service2.jpg
│ service3.jpg
│ slide1.jpg
│ slide2.jpg
│ slide3.jpg
│ slide4.jpg
│ yourlogo.png
└─script
│ animate.min.css
│ landingpage.1-0-1.js
│ Resources.url
│
├─3- Painter
└─painter
│ index.html
├─img
│ bg1.jpg
│ bg2.jpg
│ bg3.png
│ favicon.png
│ feature.jpg
│ img1.jpg
│ Resources.url
│ service1.jpg
│ service2.jpg
│ service3.jpg
│ slide1.jpg
│ slide2.jpg
│ slide3.jpg
│ slide4.jpg
│ yourlogo.png
└─script
│ animate.min.css
│ landingpage.1-0-1.js
│ Resources.url
│
├─4- Physical Therpist
└─physicaltherapist
│ index.html
├─img
│ bg1.jpg
│ bg2.jpg
│ bg3.jpg
│ favicon.png
│ feature.jpg
│ img1.jpg
│ Resources.url
│ service1.jpg
│ service2.jpg
│ service3.jpg
│ slide1.jpg
│ slide2.jpg
│ slide3.jpg
│ slide4.jpg
│ yourlogo.png
└─script
│ animate.min.css
│ landingpage.1-0-1.js
│ Resources.url
│
├─5- Personal Injury Lawyer
└─personalinjurylawyer
│ index.html
├─img
│ bg1.jpg
│ bg2.jpg
│ bg3.jpg
│ favicon.png
│ feature.jpg
│ img1.jpg
│ Resources.url
│ service1.jpg
│ service2.jpg
│ service3.jpg
│ slide1.jpg
│ slide2.jpg
│ slide3.jpg
│ slide4.jpg
│ yourlogo.png
└─script
│ animate.min.css
│ landingpage.1-0-1.js
│ Resources.url
│
├─6- Bankruptcy Lawyer
└─bankruptcylawyer
│ index.html
├─img
│ bg1.jpg
│ bg2.jpg
│ bg3.jpg
│ favicon.png
│ feature.jpg
│ img1.jpg
│ Resources.url
│ service1.jpg
│ service2.jpg
│ service3.jpg
│ slide1.jpg
│ slide2.jpg
│ slide3.jpg
│ slide4.jpg
│ yourlogo.png
└─script
│ animate.min.css
│ landingpage.1-0-1.js
│ Resources.url
│
├─7- Insurance Agency
└─insuranceagency
│ index.html
├─img
│ bg1.jpg
│ bg2.jpg
│ bg3.jpg
│ favicon.png
│ feature.jpg
│ img1.jpg
│ Resources.url
│ service1.jpg
│ service2.jpg
│ service3.jpg
│ slide1.jpg
│ slide2.jpg
│ slide3.jpg
│ slide4.jpg
│ yourlogo.png
└─script
│ animate.min.css
│ landingpage.1-0-1.js
│ Resources.url
│
├─8- Dermatologist
└─dermatologist
│ index.html
├─img
│ bg1.jpg
│ bg2.jpg
│ bg3.jpg
│ favicon.png
│ feature.jpg
│ img1.jpg
│ Resources.url
│ service1.jpg
│ service2.jpg
│ service3.jpg
│ slide1.jpg
│ slide2.jpg
│ slide3.jpg
│ slide4.jpg
│ yourlogo.png
└─script
│ animate.min.css
│ landingpage.1-0-1.js
│ Resources.url
│
└─9- Electrician
└─electrician
│ │ index.html
├─img
│ bg1.jpg
│ bg2.jpg
│ bg3.jpg
│ favicon.png
│ feature.jpg
│ img1.jpg
│ Resources.url
│ service1.jpg
│ service2.jpg
│ service3.jpg
│ slide1.jpg
│ slide2.jpg
│ slide3.jpg
│ slide4.jpg
│ yourlogo.png
└─script
│ animate.min.css
│ landingpage.1-0-1.js
│ Resources.url
│
├─2- Landing Pages With Cartoon Images
├─1- Pediatrician
└─pediatrician
│ index.html
├─img
│ bg1.jpg
│ bg2.jpg
│ bg3.jpg
│ favicon.png
│ feature.jpg
│ img1.jpg
│ Resources.url
│ service1.jpg
│ service2.jpg
│ service3.jpg
│ slide1.jpg
│ slide2.jpg
│ slide3.jpg
│ slide4.jpg
│ yourlogo.png
└─script
│ animate.min.css
│ landingpage.1-0-1.js
│ Resources.url
│
├─10- Bookkeeper
└─bookkeeper
│ index.html
├─img
│ bg1.jpg
│ bg2.jpg
│ bg3.jpg
│ favicon.png
│ feature.jpg
│ img1.jpg
│ Resources.url
│ service1.jpg
│ service2.jpg
│ service3.jpg
│ slide1.jpg
│ slide2.jpg
│ slide3.jpg
│ slide4.jpg
│ yourlogo.png
└─script
│ animate.min.css
│ landingpage.1-0-1.js
│ Resources.url
│
├─2- Pest Control
└─pestcontrol
│ index.html
├─img
│ bg1.jpg
│ bg2.jpg
│ bg3.jpg
│ favicon.png
│ feature.jpg
│ img1.jpg
│ Resources.url
│ service1.jpg
│ service2.jpg
│ service3.jpg
│ slide1.jpg
│ slide2.jpg
│ slide3.jpg
│ slide4.jpg
│ yourlogo.png
└─script
│ animate.min.css
│ landingpage.1-0-1.js
│ Resources.url
│
├─3- Painter
└─painter
│ index.html
├─img
│ bg1.jpg
│ bg2.jpg
│ bg3.jpg
│ favicon.png
│ feature.jpg
│ img1.jpg
│ Resources.url
│ service1.jpg
│ service2.jpg
│ service3.jpg
│ slide1.jpg
│ slide2.jpg
│ slide3.jpg
│ slide4.jpg
│ yourlogo.png
└─script
│ animate.min.css
│ landingpage.1-0-1.js
│ Resources.url
│
├─4- Physical Therpist
└─physicaltherapist
│ index.html
├─img
│ bg1.jpg
│ bg2.jpg
│ bg3.jpg
│ favicon.png
│ feature.jpg
│ img1.jpg
│ Resources.url
│ service1.jpg
│ service2.jpg
│ service3.jpg
│ slide1.jpg
│ slide2.jpg
│ slide3.jpg
│ slide4.jpg
│ yourlogo.png
└─script
│ animate.min.css
│ landingpage.1-0-1.js
│ Resources.url
│
├─5- Personal Injury Lawyer
└─personalinjurylawyer
│ index.html
├─img
│ bg1.jpg
│ bg2.jpg
│ bg3.jpg
│ favicon.png
│ feature.jpg
│ img1.jpg
│ Resources.url
│ service1.jpg
│ service2.jpg
│ service3.jpg
│ slide1.jpg
│ slide2.jpg
│ slide3.jpg
│ slide4.jpg
│ yourlogo.png
└─script
│ animate.min.css
│ landingpage.1-0-1.js
│ Resources.url
│
├─6- Bankruptcy Lawyer
└─bankruptcylawyer
│ index.html
├─img
│ bg1.jpg
│ bg2.jpg
│ bg3.jpg
│ favicon.png
│ feature.jpg
│ img1.jpg
│ Resources.url
│ service1.jpg
│ service2.jpg
│ service3.jpg
│ slide1.jpg
│ slide2.jpg
│ slide3.jpg
│ slide4.jpg
│ yourlogo.png
└─script
│ animate.min.css
│ landingpage.1-0-1.js
│ Resources.url
│
├─7- Insurance Agency
└─insuranceagency
│ index.html
├─img
│ bg1.jpg
│ bg2.jpg
│ bg3.jpg
│ favicon.png
│ feature.jpg
│ img1.jpg
│ Resources.url
│ service1.jpg
│ service2.jpg
│ service3.jpg
│ slide1.jpg
│ slide2.jpg
│ slide3.jpg
│ slide4.jpg
│ yourlogo.png
└─script
│ animate.min.css
│ landingpage.1-0-1.js
│ Resources.url
│
├─8- Dermatologist
└─dermatologist
│ index.html
├─img
│ bg1.jpg
│ bg2.jpg
│ bg3.jpg
│ favicon.png
│ feature.jpg
│ img1.jpg
│ Resources.url
│ service1.jpg
│ service2.jpg
│ service3.jpg
│ slide1.jpg
│ slide2.jpg
│ slide3.jpg
│ slide4.jpg
│ yourlogo.png
└─script
│ animate.min.css
│ landingpage.1-0-1.js
│ Resources.url
│
└─9- Electrician
└─electrician
│ │ index.html
├─img
│ bg1.jpg
│ bg2.jpg
│ bg3.jpg
│ favicon.png
│ feature.jpg
│ img1.jpg
│ Resources.url
│ service1.jpg
│ service2.jpg
│ service3.jpg
│ slide1.jpg
│ slide2.jpg
│ slide3.jpg
│ slide4.jpg
│ yourlogo.png
└─script
│ animate.min.css
│ landingpage.1-0-1.js
│ Resources.url
│
├─3- Landing Pages With Cartoon Images and Videos
├─1- Pediatrician
└─pediatrician
│ index.html
├─img
│ bg1.jpg
│ bg2.jpg
│ bg3.jpg
│ favicon.png
│ feature.jpg
│ img1.jpg
│ Resources.url
│ service1.jpg
│ service2.jpg
│ service3.jpg
│ slide1.jpg
│ slide2.jpg
│ slide3.jpg
│ slide4.jpg
│ yourlogo.png
└─script
│ animate.min.css
│ landingpage.1-0-1.js
│ Resources.url
│
├─10- Bookkeeper
└─bookkeeper
│ index.html
├─img
│ bg1.jpg
│ bg2.jpg
│ bg3.jpg
│ favicon.png
│ feature.jpg
│ img1.jpg
│ Resources.url
│ service1.jpg
│ service2.jpg
│ service3.jpg
│ slide1.jpg
│ slide2.jpg
│ slide3.jpg
│ slide4.jpg
│ yourlogo.png
└─script
│ animate.min.css
│ landingpage.1-0-1.js
│ Resources.url
│
├─2- Pest Control
└─pestcontrol
│ index.html
├─img
│ bg1.jpg
│ bg2.jpg
│ bg3.jpg
│ favicon.png
│ feature.jpg
│ img1.jpg
│ Resources.url
│ service1.jpg
│ service2.jpg
│ service3.jpg
│ slide1.jpg
│ slide2.jpg
│ slide3.jpg
│ slide4.jpg
│ yourlogo.png
└─script
│ animate.min.css
│ landingpage.1-0-1.js
│ Resources.url
│
├─3- Painter
└─painter
│ index.html
├─img
│ bg1.jpg
│ bg2.jpg
│ bg3.jpg
│ favicon.png
│ feature.jpg
│ img1.jpg
│ Resources.url
│ service1.jpg
│ service2.jpg
│ service3.jpg
│ slide1.jpg
│ slide2.jpg
│ slide3.jpg
│ slide4.jpg
│ yourlogo.png
└─script
│ animate.min.css
│ landingpage.1-0-1.js
│ Resources.url
│
├─4- Physical Therpist
└─physicaltherapist
│ index.html
├─img
│ bg1.jpg
│ bg2.jpg
│ bg3.jpg
│ favicon.png
│ feature.jpg
│ img1.jpg
│ Resources.url
│ service1.jpg
│ service2.jpg
│ service3.jpg
│ slide1.jpg
│ slide2.jpg
│ slide3.jpg
│ slide4.jpg
│ yourlogo.png
└─script
│ animate.min.css
│ landingpage.1-0-1.js
│ Resources.url
│
├─5- Personal Injury Lawyer
└─personalinjurylawyer
│ index.html
├─img
│ bg1.jpg
│ bg2.jpg
│ bg3.jpg
│ favicon.png
│ feature.jpg
│ img1.jpg
│ Resources.url
│ service1.jpg
│ service2.jpg
│ service3.jpg
│ slide1.jpg
│ slide2.jpg
│ slide3.jpg
│ slide4.jpg
│ yourlogo.png
└─script
│ animate.min.css
│ landingpage.1-0-1.js
│ Resources.url
│
├─6- Bankruptcy Lawyer
└─bankruptcylawyer
│ index.html
├─img
│ bg1.jpg
│ bg2.jpg
│ bg3.jpg
│ favicon.png
│ feature.jpg
│ img1.jpg
│ Resources.url
│ service1.jpg
│ service2.jpg
│ service3.jpg
│ slide1.jpg
│ slide2.jpg
│ slide3.jpg
│ slide4.jpg
│ yourlogo.png
└─script
│ animate.min.css
│ landingpage.1-0-1.js
│ Resources.url
│
├─7- Insurance Agency
└─insuranceagency
│ index.html
├─img
│ bg1.jpg
│ bg2.jpg
│ bg3.jpg
│ favicon.png
│ feature.jpg
│ img1.jpg
│ Resources.url
│ service1.jpg
│ service2.jpg
│ service3.jpg
│ slide1.jpg
│ slide2.jpg
│ slide3.jpg
│ slide4.jpg
│ yourlogo.png
└─script
│ animate.min.css
│ landingpage.1-0-1.js
│ Resources.url
│
├─8- Dermatologist
└─dermatologist
│ index.html
├─img
│ bg1.jpg
│ bg2.jpg
│ bg3.jpg
│ favicon.png
│ feature.jpg
│ img1.jpg
│ Resources.url
│ service1.jpg
│ service2.jpg
│ service3.jpg
│ slide1.jpg
│ slide2.jpg
│ slide3.jpg
│ slide4.jpg
│ yourlogo.png
└─script
│ animate.min.css
│ landingpage.1-0-1.js
│ Resources.url
│
└─9- Electrician
└─electrician
│ │ index.html
├─img
│ bg1.jpg
│ bg2.jpg
│ bg3.jpg
│ favicon.png
│ feature.jpg
│ img1.jpg
│ Resources.url
│ service1.jpg
│ service2.jpg
│ service3.jpg
│ slide1.jpg
│ slide2.jpg
│ slide3.jpg
│ slide4.jpg
│ yourlogo.png
└─script
│ animate.min.css
│ landingpage.1-0-1.js
│ Resources.url
│
├─4- 10 DFY Whiteboard Videos
│ 1- Pediatrician .avi
│ 10- Dermatologist .avi
│ 2- Personal Injury Lawyer .avi
│ 3- Bankruptcy Lawyer .avi
│ 4- Pest Control .avi
│ 5- Painter .avi
│ 6- Physical Therapist .avi
│ 7- Insurance Agency .avi
│ 8- Bookkeeper .avi
│ 9- Electrician .avi
│ Resources.url
└─Video tutorials
Local Landing Page Pack Video 6 – Change the video .avi
Resources.url
提取密码:
下载地址: