搜索引擎优化大师的秘密(Secrets of The Search Engine Masters)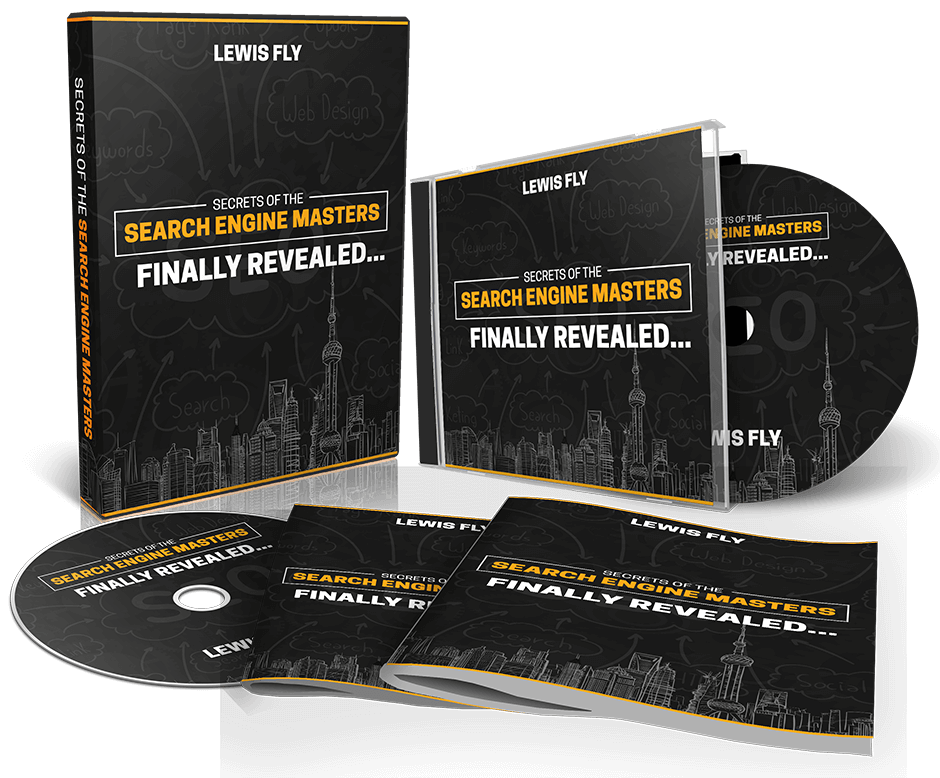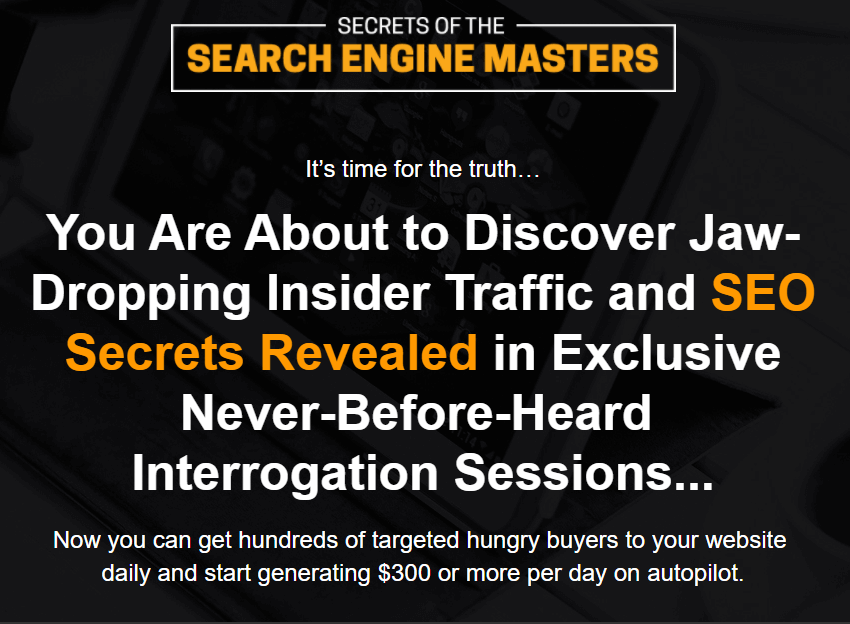 逐步了解世界上最顶尖的SEO大师是如何统治搜索引擎的。

Learn step by step how the world's top SEO Masters dominate the search engines.

You'll hear exactly how to flatten out the learning curve to achieve results only available to experts.
Learn about the 5 main 'user signals' that tells Google your site is relevant.
Detailed answers on how to give Google what it wants and how having the correct SEO mindset can explode your business.

///

It's time for the truth…

You Are About to Discover Jaw-Dropping Insider Traffic and SEO Secrets Revealed in Exclusive Never-Before-Heard
Interrogation Sessions…

Now you can get hundreds of targeted hungry buyers to your website
daily and start generating $300 or more per day on autopilot.

From: The desk of Lewis Fly

Re: The secrets of massive traffic!

Dear Frustrated Online Marketer,

I remember feeling sick to my stomach every time my sites disappeared off Page 1 of Google.

I was so fed up with Google moving the goal posts

I wanted answers! And I wanted THE TRUTH!

I went on a mission to get the answers.

I wanted to meet the Gurus' face to face and ask them how they kept their sites glued on Page 1?

I heard about a Caribbean Cruise where the
search engine masters go to relax together…

I knew this was my chance!

So I bought my ticket and hopped on board:

WOW! 400 of the best SEO guys and Online Marketers in the world, together on a cruise ship and nowhere to hide!

I hunted them down, at the pool, in the dining room and especially at the bar!

"Their guard was down
They didn't hold back"

Over a few beers I asked if I could record some interviews and ask some tough questions that would help with my business.

They all agreed! So I interviewed them – but I never expected them to open up the way they did!

They exposed amazing insider secrets and strategies they use to crush the competition.

This is the stuff NO ONE had shared with me before – any wonder my sites kept getting bumped from Page 1!

This stuff is way too good to not share. And it works with thousands of keywords in any niche, so it doesn't hurt me to share it with you.

However not knowing and applying this stuff can get you 'slapped' HARD!

If you want to be glued on Page 1 of Google for all your 'buyer keywords' generating unstoppable traffic…

Then I highly recommend…

"Secrets of the Search Engine Masters"

Over 2 hours of candid no holds barred interviews on convenient MP3's and a time saving Quick Start Blueprint.
You'll learn step by step how the world's top SEO Masters dominate the search engines.

Here's what you get:

Newbies you're in for a treat. You'll hear exactly how to flatten out the learning curve to achieve results only available to experts – until now!

The NEW SEO has arrived. Learn about the 5 main 'user signals' that tells Google your site is relevant. Discover the formula these experts use so you too can get your sites to the top.

In these exclusive sessions you'll hear me ask the best of the best, highly paid SEO Experts the tough questions and you'll be amazed at how they open up and reveal their secrets!

Detailed answers on how to give Google what it wants and how having the correct SEO mindset can explode your business.

Here's What They are Saying:

I attend a lot of seminars and conferences – but what I learned from these conversations gave me some 'aha moments' that are making a real impact in my business. The panel of experts assembled and the insights you can put to work immediately is, well, just plain awesome!

Kim Albee
CEO Genoo

When Lewis shared who he was interviewing for the latest SEO online tips – I knew he wasn't rehashing the same ol' same ol'. Being an SEO professional, I can tell you that what he is gleaning from his interviews are the latest reports from the "front lines", the bleeding edge of what's working in the search engines. And not tricky or sneaky ways but sustainable, tactics that aren't the lastest "hack du jour" (which work today but eventually get a website banned from the search results.) Lewis did a terrific job of interviewing them, staying clear of jargon and confusing terms, and keeping the information accessible for those who want to know what they need to do to get a better relationship with the search engines AND their customers.

Carolyn Holzman
Your Austin SEO Company

Hi, It's Dirk Linderman here and I wanted to tell you about a great little interview series I just reviewed – It's called "Secrets of the Search Engine Masters" and if you care at all about SEO, then you need to grab a copy. Lewis got these guys that really know SEO inside and out to open up and share (I can't believe some of the stuff they shared!).

If you have ever wondered what it's like to listen to high level SEOs talk about what they think and what is working for them, then you owe it to yourself to grab a copy.

Dirk Linderman
Digital Strategist

When I first heard that Lewis had private access to these SEO wizards, I couldn't wait to get my review copy. Nothing prepared me for the pure gold in these sessions. I've been applying many of the strategies to my site and I'm seeing the results. If you want to learn about what really works in 2016 then I strongly suggest you grab a copy of Secrets of the Search Engine Masters.

Andy O'Bryan
Internet Marketer

Let's take a look at what I uncovered

Module #1 Five Things You Must Have To Get On Page 1

Learn from 'The Godfather of SEO' himself! A veteran of the SEO Industry John Limbocker is a highly acclaimed international speaker and respected adviser to huge corporations who pay him thousands of dollars an hour for his expertise.

Listen while he reveals the traffic formula that most of the SEO world hasn't worked out! Follow these simple steps and see your site grab the rankings that have alluded you and never run the risk of getting 'slapped'.

This powerful strategy works in any niche, and will not only put you on Page 1, it'll keep you there, meaning a constant flow of buyers paying you for your product or service!

Module #2 Double Barrel Traffic Strategy

Jason Potash has been driving free traffic to his money sites for over 16 years. He is a master at generating free traffic using smart automation and great content to leverage Google and Youtube. Listen to this true online marketing Ninja reveal his methods to use the power of video to beat out the competition and claim the top spots on Google. Not only that but you'll get a rush of traffic from Youtube using these 'black belt' methods. Better still you'll be given the exact same video script template Jason uses to crush it with Youtube traffic! This is where things really get ramped up!

More traffic = more sales = more income = more freedom!

Module #3 Get The Edge With Proven 5 Minute Tweaks

SEO 'Science Master' Kyle Roof who runs an exclusive 'invitation only' SEO mastermind group, opens up with insider information usually only reserved for his $10,000 pa members! Discover the first step you must take to unlock tons of targeted traffic to any site in any niche! In this no nonsense interview you'll learn easy 'On Page' secret tweaks you can get done in under an hour that will give you instant results to bring in hungry buyers that put tons of cash in your account!

When you start applying these powerful traffic strategies to your sites you'll be amazed how fast your business can explode!

This is where it all starts.

Oh I almost forgot…

As well as the MP3 recordings of these exclusive interviews I'm also throwing in the full transcripts of every session, so if you prefer to read and make notes I've got you covered!

But hold on it's BIG BONUS TIME (Limited Offer)

For a limited time only: When you purchase 'Secrets of The Search Engine Masters'
you'll instantly receive three insane bonuses just for taking action right now……

Bonus #1: Avoid The #1 Reason for SEO Failure

You'll hear how a young surfer dude who's killing it online sets himself up for success and lives the 'internet lifestyle'. You'll get access to the actual spreadsheets he uses to stay on top of all his SEO tasks so that when the surf is up he's out there with his board!

Bonus #2: Tactics for Building a 7 Figure Business

In this killer interview an SEO Master who is a published Huff Post Author and accomplished speaker reveals the strategies he's used to build his multi million dollar business. You'll hear his tips on diversifying so you never get caught when the goal posts move!

Bonus #3: The Little Known Secret for Ranking
on Youtube In 20mins or Less!

Learn from this former Corporate Marketer who now runs his own highly successful Digital Agency, how to rank your videos on Youtube fast! He spills the beans on all his techniques for getting there and staying there. Follow these simple steps and you'll have a flood of Youtube traffic!

Bonus #4: SEO Secrets Checklist

Now you can go behind the curtain and see exactly how a multi million dollar agency methodically does their clients SEO. This PDF is full of step by step instructions that will have you working like a pro and moving up the SERPs!

I've stacked this bundle with so much money making content, so many pieces of cutting edge advice and so many ways to break out of your earning rut, it's just crazy what you get here.

I bet you're wondering "How Much Lewis?"

Before your jaw hit's the floor let's recap everything you're going to get:

SEO Quick Start Blueprint ($29 Value)

Module 1. Five Things You Must Have To Get To Page 1-John Limbocker ($97 Value)

Module 2. Double Barrel Traffic Strategy – Jason Potash ($97 Value)

Module 3. Get The Edge With Proven Five Minute Tweaks – Kyle Roof ($97 Value)

And If You Act NOW – You're Also Getting

Bonus #1 – Avoid The #1 Reason For SEO Failure ($47 Value)

Bonus #2 – Tactics For Building A 7 Figure Business ($97 Value)

Bonus #3 – The Little Known Secret For Ranking On Youtube in 20mins ($27 Value)

Bonus #4 – SEO Secrets Checklist ($29 Value)

That's a Total Combined Value of Over $500!

But You're Not Going To Pay That.

You see I really understand your pain! I know how frustrating it can be when you're trying to make money online and the information you pay for is outdated or just doesn't work! You need current actionable steps you can put in place that get results, and you shouldn't have to pay a fortune for them. I've been there and poured thousands down that black hole! So I want to help you get this valuable up to date insider information at an easily affordable price.

So for a limited time you can get 'Secrets Of The Search Engine Masters' for:

Secrets of The Search Engine Masters

AND I'm even giving you a LOVE IT OR SHOVE IT 30 DAY
MONEY BACK GUARANTEE

You WILL love these sessions and start to see results from what you learn.

This is so jam packed it's almost impossible to see anything but big, bold, bodacious results.

And if you don't like it for any reason, then I don't want your money.

Just let me know and I'll give you a cheerful, no questions asked refund.

FAIR ENOUGH?

Good, now go ahead and click on the Buy Now button so you can start listening, learning and loving all the traffic you're going to get, as the floodgates are about to smash wide open!

Secrets of The Search Engine Masters

CLICK THE BUY NOW BUTTON ABOVE

PS – Think about how much traffic your website is getting now vs. how much traffic it will bring in when you start implementing these proven tactics. It's really that simple.

You can pay an SEO guy thousands of dollars and wait months to see results…

Or you can plunk down $9.97 right now and start seeing things happen with lightning speed.

PPS – At this measly price tag you owe it to yourself to start seeing the true potential of your website, your business AND YOUR LIFE.

This is the spark you've been waiting for.

But you won't know until you take action!

PPPS – Imagine knowing the secrets of the greatest search engine minds on the planet.

Apply these quick, easy methods and start seeing a steady flood of organic search engine traffic.

This is the lifeblood of your business. It's your livelihood.

You can keep doing what you're doing, OR you can start being free, living life on YOUR terms.

It's time to go for it!
教程目录:
Secrets of The Search Engine Masters
│ 1.mp3
│ 1.pdf
│ 2.mp3
│ 2.pdf
│ 3.mp3
│ 3.pdf
│ Resources.url
├─Bonuses
│ Bonus 1.mp3
│ Bonus 1.pdf
│ Bonus 2.mp3
│ Bonus 2.pdf
│ Bonus 3.mp3
│ Bonus 3.pdf
│ Bonuses.txt
├─OTO 1
│ john-limbocker-content.mp3
│ john-limbocker-content.pdf
│ margaret-johnson-kim.pdf
│ margaretjohnson-kimalbee-content.mp3
│ Resources.mht
└─OTO 2
1-oto1-jl.mp3
2-oto1-ka.mp3
chip-cooper.mp3
chip-cooper.pdf
FTCGuardian.com – FTC Compliance Blueprint 160511.pdf
jeff-lenney.pdf
kim-albee.pdf
Resources.url
提取密码:
下载地址: