联盟营销业务Affiliate零障碍,我们的个人帮助带您走向成功!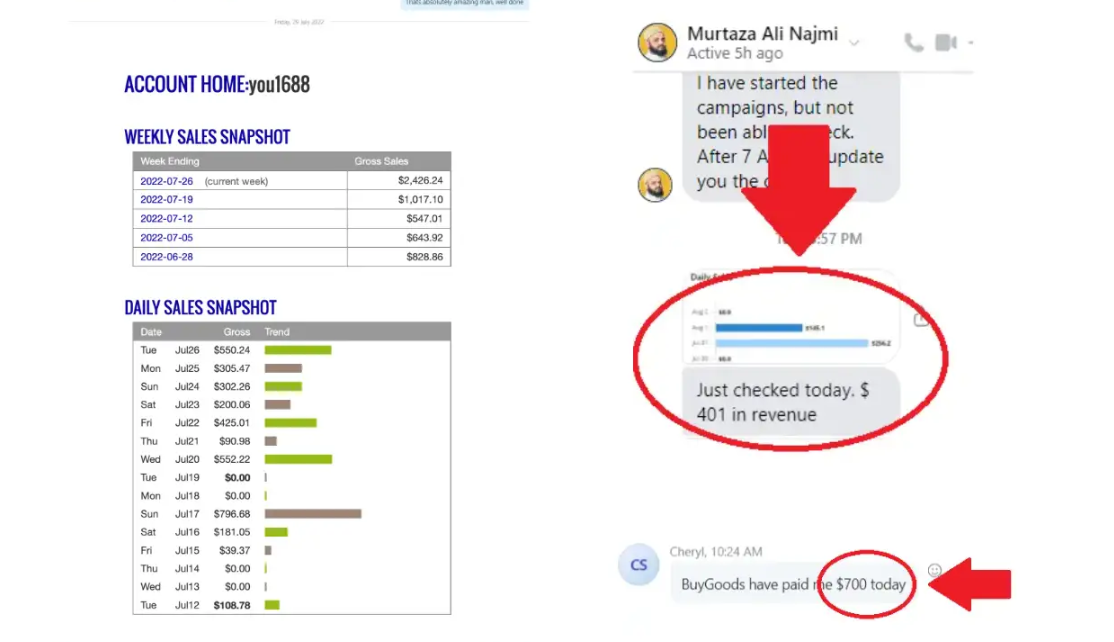 搭配我们的个人帮助,您可以开始在您的联盟营销业务中看到成功的曙光。

探索我精准的产品选择技巧,让您从第一天开始就拥有巨大的优势,从而获利。
了解我的超级简单的网站结构,这样您就可以远离麻烦并多年获利。
使用我的转化页面模板,只需填写空白,即可拥有高转化率的页面。
观看我对现场活动进行详细的优化过程,这样您就可以跟随并轻松成为优化专家。
观看我如何设置第二种类型的活动,这样您就可以增加销售和更大的投资回报率。
发现在哪里找到这些产品以及如何获准,这样您就可以从大公司赚取钱。

With our personal help you could start seeing success in your affiliate marketing business.

Discover my precise technique for selecting products that give you a massive advantage, so you can start profiting from day one.
Discover my super simple website structure, so you can stay out of trouble & see profits for years to come.
Access my converting page template, so you can just fill in the blanks to have a high converting page ready to go.
Watch my detailed campaign optimization as I do it on a live campaign, so you can follow along & become an optimization expert with ease.
Watch as I setup this second style of campaign, so you can make more sales and a bigger ROI.
Discover exactly where to find these products and how to get approved, so you can earn money from large companies.


│  └─Super Affiliate Sniper
│      │  Welcome Video [imjmj.com].mkv
│      │  
│      ├─01-Module1
│      │      Video 1 - Overview & System Explained [imjmj.com].mkv
│      │      Video 2 - What It Takes To Win [imjmj.com].mkv
│      │      Video 3 - Things You'll Need [imjmj.com].mkv
│      │      Video 4 - Affiliate Marketplaces [imjmj.com].mkv
│      │      Video 5 - Creating A Google Ads Account [imjmj.com].mkv
│      │      Video 6 - Selecting Your First Product 1 [imjmj.com].mkv
│      │      Video 7 - Selecting Your First Product 2 [imjmj.com].mkv
│      │      Video 8 - Selecting Your First Product 3.mp4
│      │      Video 9 - Selecting Your Domain [imjmj.com].mkv
│      │      
│      ├─02-Module2
│      │      Video 10 - 2 Different Styles of Sites [imjmj.com].mkv
│      │      Video 11 - Planning Out Your Site [imjmj.com].mkv
│      │      Video 12 - Get Hosting & WordPress [imjmj.com].mkv
│      │      Video 13 - Install OP3, Plugins & Themes [imjmj.com].mkv
│      │      Video 14 - Getting Site Logo & Favicon [imjmj.com].mkv
│      │      Video 15 - Doing General Site Settings [imjmj.com].mkv
│      │      Video 16 - Create Your Legal Pages [imjmj.com].mkv
│      │      Video 17 - Create About & Contact Pages [imjmj.com].mkv
│      │      Video 18 - Create Your References Page [imjmj.com].mkv
│      │      Video 19 - Create Legal Pages & Cookies [imjmj.com].mkv
│      │      Video 20 - Create Your Home Page [imjmj.com].mkv
│      │      Video 21 - Adding in Blogs Posts [imjmj.com].mkv
│      │      Video 22 - Create Your Menu & More [imjmj.com].mkv
│      │      
│      ├─03-Module3
│      │      Video 23 - Researching Your Products [imjmj.com].mkv
│      │      Video 24 - Installing A Template [imjmj.com].mkv
│      │      Video 25 - Creating Product Review P1 [imjmj.com].mkv
│      │      Video 26 - Creating Product Review P2 [imjmj.com].mkv
│      │      Video 27 - Understanding Google Ads [imjmj.com].mkv
│      │      Video 28 - Tracking Overview [imjmj.com].mkv
│      │      Video 29 - Connect Websites For Tracking [imjmj.com].mkv
│      │      Video 30 - Setup Conversion Tracking [imjmj.com].mkv
│      │      Video 31 - Setting up Tracking Template [imjmj.com].mkv
│      │      Video 32 - Full Tracking Setup Example [imjmj.com].mkv
│      │      Video 33 - Setting Up First Campaign [imjmj.com].mkv
│      │      
│      ├─04-Module4
│      │      Video 34 - Set Up Account Columns [imjmj.com].mkv
│      │      Video 35 - Optimization Lesson 1 [imjmj.com].mkv
│      │      Video 36 - Optimization Lesson 2 [imjmj.com].mkv
│      │      Video 37 - Scaling 1 - Increasing Budget [imjmj.com].mkv
│      │      Video 38 - Scaling 2 - Keyword Ad Groups [imjmj.com].mkv
│      │      Video 39 - When To Create 2nd Review [imjmj.com].mkv
│      │      
│      ├─05-Module5
│      │      Video 40 - Method 2 Explained [imjmj.com].mkv
│      │      Video 41 - Select Product & Get Images [imjmj.com].mkv
│      │      Video 42 - Import Template & Start Page [imjmj.com].mkv
│      │      Video 43 - Build & Finish Page Step 2 [imjmj.com].mkv
│      │      Video 44 - Complete Page Menu & Campaign [imjmj.com].mkv
│      │      Video 45 - What To Do Next [imjmj.com].mkv
│      │      
│      ├─06-Module6
│      │      Video 46 - Intro To Physical Products [imjmj.com].mkv
│      │      Video 47 - Getting Approved Products [imjmj.com].mkv
│      │      Video 48 - Researching Physical Products [imjmj.com].mkv
│      │      Video 49 - Apply For Products [imjmj.com].mkv
│      │      Video 50 - Physical Product Method 1 [imjmj.com].mkv
│      │      Video 51 - Physical Product Method 2 [imjmj.com].mkv
│      │      Video 52- Importing Physical Product LP [imjmj.com].mkv
│      │      Video 53 - Tracking setup [imjmj.com].mkv
│      │      Video 54 - Physical Product Campaign 1 [imjmj.com].mkv
│      │      Video 55 - Physical Product Campaign 2 [imjmj.com].mkv
│      │      Video 56 - Physical Product Campaign 3 [imjmj.com].mkv
│      │      
│      ├─07-Microsoft Ads Method
│      │      01-MS Ads Method Overview [imjmj.com].mkv
│      │      02-Product Selection Step 1 Listing Names [imjmj.com].mkv
│      │      03-Product Selection Step 2 - Search Volume [imjmj.com].mkv
│      │      04-Product Selection Step 3 - Final Steps [imjmj.com].mkv
│      │      05-Import The Page Template [imjmj.com].mkv
│      │      06-Editing Your Page Part 1 [imjmj.com].mkv
│      │      07-Editing Your Page Part 2 [imjmj.com].mkv
│      │      08-Editing Your Page Part 3 Final [imjmj.com].mkv
│      │      09-Setting Up Your Microsoft Ads Campaign [imjmj.com].mkv
│      │      
│      ├─08-SEO
│      │      Module 1 - Introduction to SEO [imjmj.com].mkv
│      │      Module 10 - Ahrefs SEO Setup [imjmj.com].mkv
│      │      Module 11 - Onpage SEO [imjmj.com].mkv
│      │      Module 2 - Two Methods We Use [imjmj.com].mkv
│      │      Module 3 - Researching Products for SEO [imjmj.com].mkv
│      │      Module 4 - Method 1 SEO [imjmj.com].mkv
│      │      Module 5 - Method 2 SEO [imjmj.com].mkv
│      │      Module 6 - Installing The Plugins [imjmj.com].mkv
│      │      Module 7 - Google Search Console [imjmj.com].mkv
│      │      Module 8 - Google Analytics Setup [imjmj.com].mkv
│      │      Module 9 - Bing Webmaster Tools [imjmj.com].mkv
│      │      
│      └─Bonuses
│              Collect Bonuses Video.mp4.mp4




此处内容需要权限查看
您还没有获得查看权限包月VIP包年VIP终身VIP可免费查看
升级VIP免费查看
[/rihide]