超级庞大的系统课程 – 全面了解数字营销!(Digital Marketing Nanodegree v3 )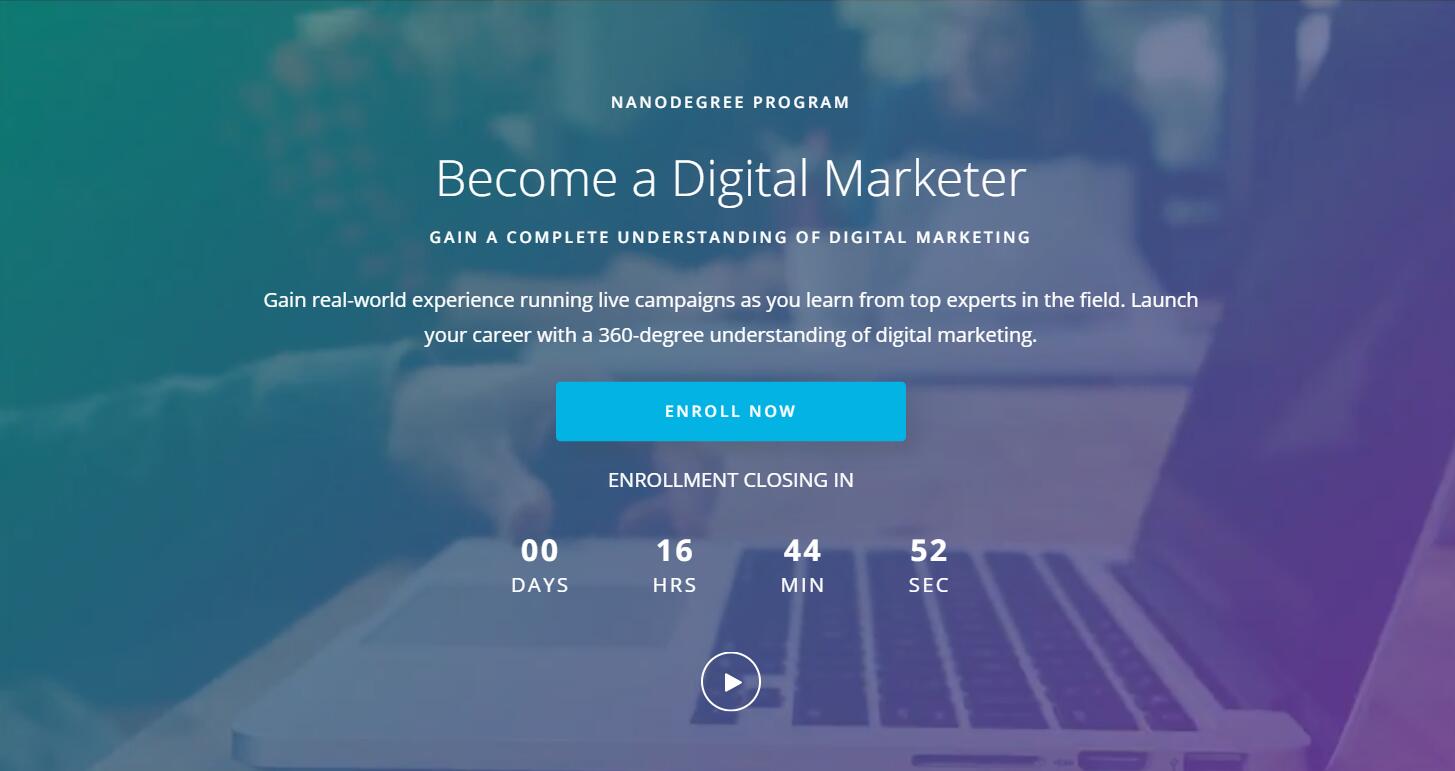 超级庞大的课程 – 全面了解数字营销!

Gain a complete understanding of digital marketing.
Learn to create marketing content, use social media to amplify your message, make content discoverable in search, run Adwords campaigns and advertise on Facebook. Additionally, learn how display and video ads work and how to market with email, and measure and optimize with Google Analytics.
Our expert content partners represent the entire digital marketing ecosystem, and this program instills a 360-degree understanding of the field.
教程目录:

Digital Marketing Nanodegree v3
└─Digital Marketing Nanodegree v3
│ how to play.txt
└─Digital Marketing Nanodegree v3.0.0
│ index.html
├─assets
│ ├─css
│ │ │ bootstrap.min.css
│ │ │ jquery.mCustomScrollbar.min.css
│ │ │ katex.min.css
│ │ │ plyr.css
│ │ │ styles.css
│ │ │ │ └─fonts
│ │ KaTeX_AMS-Regular.ttf
│ │ KaTeX_AMS-Regular.woff
│ │ KaTeX_AMS-Regular.woff2
│ │ KaTeX_Caligraphic-Bold.ttf
│ │ KaTeX_Caligraphic-Bold.woff
│ │ KaTeX_Caligraphic-Bold.woff2
│ │ KaTeX_Caligraphic-Regular.ttf
│ │ KaTeX_Caligraphic-Regular.woff
│ │ KaTeX_Caligraphic-Regular.woff2
│ │ KaTeX_Fraktur-Bold.ttf
│ │ KaTeX_Fraktur-Bold.woff
│ │ KaTeX_Fraktur-Bold.woff2
│ │ KaTeX_Fraktur-Regular.ttf
│ │ KaTeX_Fraktur-Regular.woff
│ │ KaTeX_Fraktur-Regular.woff2
│ │ KaTeX_Main-Bold.ttf
│ │ KaTeX_Main-Bold.woff
│ │ KaTeX_Main-Bold.woff2
│ │ KaTeX_Main-BoldItalic.ttf
│ │ KaTeX_Main-BoldItalic.woff
│ │ KaTeX_Main-BoldItalic.woff2
│ │ KaTeX_Main-Italic.ttf
│ │ KaTeX_Main-Italic.woff
│ │ KaTeX_Main-Italic.woff2
│ │ KaTeX_Main-Regular.ttf
│ │ KaTeX_Main-Regular.woff
│ │ KaTeX_Main-Regular.woff2
│ │ KaTeX_Math-BoldItalic.ttf
│ │ KaTeX_Math-BoldItalic.woff
│ │ KaTeX_Math-BoldItalic.woff2
│ │ KaTeX_Math-Italic.ttf
│ │ KaTeX_Math-Italic.woff
│ │ KaTeX_Math-Italic.woff2
│ │ KaTeX_SansSerif-Bold.ttf
│ │ KaTeX_SansSerif-Bold.woff
│ │ KaTeX_SansSerif-Bold.woff2
│ │ KaTeX_SansSerif-Italic.ttf
│ │ KaTeX_SansSerif-Italic.woff
│ │ KaTeX_SansSerif-Italic.woff2
│ │ KaTeX_SansSerif-Regular.ttf
│ │ KaTeX_SansSerif-Regular.woff
│ │ KaTeX_SansSerif-Regular.woff2
│ │ KaTeX_Script-Regular.ttf
│ │ KaTeX_Script-Regular.woff
│ │ KaTeX_Script-Regular.woff2
│ │ KaTeX_Size1-Regular.ttf
│ │ KaTeX_Size1-Regular.woff
│ │ KaTeX_Size1-Regular.woff2
│ │ KaTeX_Size2-Regular.ttf
│ │ KaTeX_Size2-Regular.woff
│ │ KaTeX_Size2-Regular.woff2
│ │ KaTeX_Size3-Regular.ttf
│ │ KaTeX_Size3-Regular.woff
│ │ KaTeX_Size3-Regular.woff2
│ │ KaTeX_Size4-Regular.ttf
│ │ KaTeX_Size4-Regular.woff
│ │ KaTeX_Size4-Regular.woff2
│ │ KaTeX_Typewriter-Regular.ttf
│ │ KaTeX_Typewriter-Regular.woff
│ │ KaTeX_Typewriter-Regular.woff2
│ │
│ ├─img
│ │ udacimak.png
│ │
│ └─js
│ bootstrap.min.js
│ jquery-3.3.1.min.js
│ jquery.mCustomScrollbar.concat.min.js
│ katex.min.js
│ plyr.polyfilled.min.js
│
├─img
│ istock-540109164.png
├─Part 01-Module 01-Lesson 01_Welcome to the Udacity Digital Marketing Program
│ │ 01. Welcome!.html
│ │ 01. Welcome-BrV-BU8maoo.mkv
│ │ 01. Welcome-BrV-BU8maoo.ar.vtt
│ │ 01. Welcome-BrV-BU8maoo.en.vtt
│ │ 01. Welcome-BrV-BU8maoo.es-MX.vtt
│ │ 01. Welcome-BrV-BU8maoo.pt-BR.vtt
│ │ 01. Welcome-BrV-BU8maoo.pt.vtt
│ │ 01. Welcome-BrV-BU8maoo.zh-CN.vtt
│ │ 02. Meet Your Instructors-slKJQ1sGdg8.mkv
│ │ 02. Meet Your Instructors-slKJQ1sGdg8.ar.vtt
│ │ 02. Meet Your Instructors-slKJQ1sGdg8.en.vtt
│ │ 02. Meet Your Instructors-slKJQ1sGdg8.es-MX.vtt
│ │ 02. Meet Your Instructors-slKJQ1sGdg8.pt-BR.vtt
│ │ 02. Meet Your Instructors-slKJQ1sGdg8.zh-CN.vtt
│ │ 02. Meet your Instructors.html
│ │ 03. Our Partners.html
│ │ 04. Tell Us About Yourself.html
│ │ 05. Your DMND Community!.html
│ │ 06. Introduction to Slack .html
│ │ 07. How to use Slack.html
│ │ 08. Slack Admins.html
│ │ 09. Project Deadlines.html
│ │ 10. Digital Marketing Talks Jennifer Dulski-WizZtEQvI5g.ar.vtt
│ │ 10. Digital Marketing Talks Jennifer Dulski-WizZtEQvI5g.en.vtt
│ │ 10. Digital Marketing Talks Jennifer Dulski-WizZtEQvI5g.es-MX.vtt
│ │ 10. Digital Marketing Talks Jennifer Dulski-WizZtEQvI5g.mp4
│ │ 10. Digital Marketing Talks Jennifer Dulski-WizZtEQvI5g.pt-BR.vtt
│ │ 10. Digital Marketing Talks Jennifer Dulski-WizZtEQvI5g.zh-CN.vtt
│ │ 10. Digital Marketing Talks.html
│ │ 11. Meet the Careers Team-cuKecPpZ7PM.en.vtt
│ │ 11. Meet the Careers Team-cuKecPpZ7PM.mp4
│ │ 11. Meet the Careers Team-cuKecPpZ7PM.pt-BR.vtt
│ │ 11. Meet the Careers Team.html
│ │ 12. Access Your Career Portal.html
│ │ 13. Your Udacity Professional Profile.html
│ │ index.html
│ └─img
│ get-hired-with-the-udacity-career-portal.gif
│ horizontal-primary-black.png
│ logos-1.png
│ question-guides.jpg
│ screen-shot-2017-07-13-at-4.37.04-pm.png
│ screen-shot-2017-07-13-at-4.38.52-pm.png
│ screen-shot-2017-07-13-at-4.43.10-pm.png
│ screen-shot-2017-10-27-at-1.49.58-pm.png
│ screen-shot-2018-02-20-at-1.22.55-pm.png
│ screen-shot-2018-03-19-at-11.41.02-am.png
│ screen-shot-2018-04-17-at-10.28.45-am.png
│ screen-shot-2018-05-22-at-4.59.00-pm.png
│ screen-shot-2018-06-12-at-8.27.22-am.png
│ screen-shot-2018-07-16-at-4.00.12-pm.png
│ screen-shot-2018-07-27-at-1.24.38-pm.png
│ screen-shot-2018-08-21-at-1.37.20-pm.png
│ screen-shot-2018-09-19-at-10.32.53-am.png
│ screen-shot-2018-10-15-at-11.00.29-am.png
│ slack-values.png
│ udacitylogo-copy.png
│
├─Part 01-Module 01-Lesson 02_Welcome to Digital Marketing
│ 01. Intro-oShtJoYuZQE.mkv
│ 01. Intro-oShtJoYuZQE.ar.vtt
│ 01. Intro-oShtJoYuZQE.en.vtt
│ 01. Intro-oShtJoYuZQE.es-MX.vtt
│ 01. Intro-oShtJoYuZQE.pt-BR.vtt
│ 01. Intro-oShtJoYuZQE.pt.vtt
│ 01. Intro-oShtJoYuZQE.zh-CN.vtt
│ 01. Introduction.html
│ 02. Digital Marketing Nanodegree Program Overview.html
│ 02. Digital Marketing ND Overview-JP2_SRFHASo.mkv
│ 02. Digital Marketing ND Overview-JP2_SRFHASo.ar.vtt
│ 02. Digital Marketing ND Overview-JP2_SRFHASo.en.vtt
│ 02. Digital Marketing ND Overview-JP2_SRFHASo.es-MX.vtt
│ 02. Digital Marketing ND Overview-JP2_SRFHASo.pt-BR.vtt
│ 02. Digital Marketing ND Overview-JP2_SRFHASo.pt.vtt
│ 02. Digital Marketing ND Overview-JP2_SRFHASo.zh-CN.vtt
│ index.html
├─Part 01-Module 01-Lesson 03_The Digital Marketing Framework
│ │ 01. 01 L Intro — HS-K-N6ex4JC84.ar.vtt
│ │ 01. 01 L Intro — HS-K-N6ex4JC84.en.vtt
│ │ 01. 01 L Intro — HS-K-N6ex4JC84.mp4
│ │ 01. 01 L Intro — HS-K-N6ex4JC84.pt-BR.vtt
│ │ 01. 01 L Intro — HS-K-N6ex4JC84.zh-CN.vtt
│ │ 01. Intro.html
│ │ 02. Frameworks-iG82fjIGHvw.mkv
│ │ 02. Frameworks-iG82fjIGHvw.ar.vtt
│ │ 02. Frameworks-iG82fjIGHvw.en.vtt
│ │ 02. Frameworks-iG82fjIGHvw.es-MX.vtt
│ │ 02. Frameworks-iG82fjIGHvw.pt-BR.vtt
│ │ 02. Frameworks-iG82fjIGHvw.pt.vtt
│ │ 02. Frameworks-iG82fjIGHvw.zh-CN.vtt
│ │ 02. Frameworks.html
│ │ 03. Ford Fiesta Case Study-tCNUOHiSFQk.mkv
│ │ 03. Ford Fiesta Case Study-tCNUOHiSFQk.ar.vtt
│ │ 03. Ford Fiesta Case Study-tCNUOHiSFQk.en.vtt
│ │ 03. Ford Fiesta Case Study-tCNUOHiSFQk.es-MX.vtt
│ │ 03. Ford Fiesta Case Study-tCNUOHiSFQk.pt-BR.vtt
│ │ 03. Ford Fiesta Case Study-tCNUOHiSFQk.pt.vtt
│ │ 03. Ford Fiesta Case Study-tCNUOHiSFQk.zh-CN.vtt
│ │ 03. Ford Fiesta Case Study.html
│ │ 04. Introduction of Example Companies-3IYVjtSB78Q.mkv
│ │ 04. Introduction of Example Companies-3IYVjtSB78Q.ar.vtt
│ │ 04. Introduction of Example Companies-3IYVjtSB78Q.en.vtt
│ │ 04. Introduction of Example Companies-3IYVjtSB78Q.pt-BR.vtt
│ │ 04. Introduction of Example Companies-3IYVjtSB78Q.zh-CN.vtt
│ │ 04. Introduction of Example Companies.html
│ │ 05. Quiz Digital Marketing Framework.html
│ │ 06. 08 L Outro No Hs-k-Ebc5CmWV0.ar.vtt
│ │ 06. 08 L Outro No Hs-k-Ebc5CmWV0.en.vtt
│ │ 06. 08 L Outro No Hs-k-Ebc5CmWV0.mp4
│ │ 06. 08 L Outro No Hs-k-Ebc5CmWV0.pt-BR.vtt
│ │ 06. 08 L Outro No Hs-k-Ebc5CmWV0.zh-CN.vtt
│ │ 06. Recap.html
│ │ index.html
│ └─img
│ screen-shot-2017-03-15-at-9.51.41-am.png
│
├─Part 01-Module 01-Lesson 04_What Your Business
│ │ 01. 01 L Intro– HS -3DSIuyDC3eI.ar.vtt
│ │ 01. 01 L Intro– HS -3DSIuyDC3eI.en.vtt
│ │ 01. 01 L Intro– HS -3DSIuyDC3eI.mp4
│ │ 01. 01 L Intro– HS -3DSIuyDC3eI.pt-BR.vtt
│ │ 01. 01 L Intro– HS -3DSIuyDC3eI.zh-CN.vtt
│ │ 01. Intro.html
│ │ 02. Marketing Plan What-YSW1Amohjek.mkv
│ │ 02. Marketing Plan What-YSW1Amohjek.ar.vtt
│ │ 02. Marketing Plan What-YSW1Amohjek.en.vtt
│ │ 02. Marketing Plan What-YSW1Amohjek.es-MX.vtt
│ │ 02. Marketing Plan What-YSW1Amohjek.pt-BR.vtt
│ │ 02. Marketing Plan What-YSW1Amohjek.zh-CN.vtt
│ │ 02. Marketing Plan What.html
│ │ 03. Value Proposition-QGSEbn-sf5E.mkv
│ │ 03. Value Proposition-QGSEbn-sf5E.ar.vtt
│ │ 03. Value Proposition-QGSEbn-sf5E.en.vtt
│ │ 03. Value Proposition-QGSEbn-sf5E.es-MX.vtt
│ │ 03. Value Proposition-QGSEbn-sf5E.pt-BR.vtt
│ │ 03. Value Proposition-QGSEbn-sf5E.zh-CN.vtt
│ │ 03. Value Proposition.html
│ │ 04. Value Proposition Examples.html
│ │ 05. Quiz Value Proposition.html
│ │ 06. Business Models-8lkcNhm0W9Y.mkv
│ │ 06. Business Models-8lkcNhm0W9Y.ar.vtt
│ │ 06. Business Models-8lkcNhm0W9Y.en.vtt
│ │ 06. Business Models-8lkcNhm0W9Y.es-MX.vtt
│ │ 06. Business Models-8lkcNhm0W9Y.pt-BR.vtt
│ │ 06. Business Models-8lkcNhm0W9Y.zh-CN.vtt
│ │ 06. Business Models.html
│ │ 07. Business Life Cycle-0uGqogxnGac.ar.vtt
│ │ 07. Business Life Cycle-0uGqogxnGac.en.vtt
│ │ 07. Business Life Cycle-0uGqogxnGac.es-MX.vtt
│ │ 07. Business Life Cycle-0uGqogxnGac.mp4
│ │ 07. Business Life Cycle-0uGqogxnGac.pt-BR.vtt
│ │ 07. Business Life Cycle-0uGqogxnGac.zh-CN.vtt
│ │ 07. Business Life Cycle.html
│ │ 08. Quiz Business Lifecycle.html
│ │ 09. Recap-HRpc9Wd9UN4.ar.vtt
│ │ 09. Recap-HRpc9Wd9UN4.en.vtt
│ │ 09. Recap-HRpc9Wd9UN4.mp4
│ │ 09. Recap-HRpc9Wd9UN4.pt-BR.vtt
│ │ 09. Recap-HRpc9Wd9UN4.zh-CN.vtt
│ │ 09. Recap.html
│ │ index.html
│ └─img
│ screen-shot-2017-03-19-at-10.38.23-pm.png
│ screen-shot-2017-03-19-at-11.51.07-am.png
│ value-proposition.jpg
│ valueprop.jpg
│
├─Part 01-Module 01-Lesson 05_Who & When Your Customer
│ │ 01. 01 L Intro HS-2-UbXE4SH8eVQ.ar.vtt
│ │ 01. 01 L Intro HS-2-UbXE4SH8eVQ.en.vtt
│ │ 01. 01 L Intro HS-2-UbXE4SH8eVQ.mp4
│ │ 01. 01 L Intro HS-2-UbXE4SH8eVQ.pt-BR.vtt
│ │ 01. 01 L Intro HS-2-UbXE4SH8eVQ.zh-CN.vtt
│ │ 01. Intro.html
│ │ 02. Marketing Plan Who-SpH-biKUnog.ar.vtt
│ │ 02. Marketing Plan Who-SpH-biKUnog.en.vtt
│ │ 02. Marketing Plan Who-SpH-biKUnog.es-MX.vtt
│ │ 02. Marketing Plan Who-SpH-biKUnog.mp4
│ │ 02. Marketing Plan Who-SpH-biKUnog.pt-BR.vtt
│ │ 02. Marketing Plan Who-SpH-biKUnog.zh-CN.vtt
│ │ 02. Marketing Plan Who.html
│ │ 03. Empathy Maps-Zx7wgVtAPBY.mkv
│ │ 03. Empathy Maps-Zx7wgVtAPBY.ar.vtt
│ │ 03. Empathy Maps-Zx7wgVtAPBY.en.vtt
│ │ 03. Empathy Maps-Zx7wgVtAPBY.es-MX.vtt
│ │ 03. Empathy Maps-Zx7wgVtAPBY.pt-BR.vtt
│ │ 03. Empathy Maps-Zx7wgVtAPBY.zh-CN.vtt
│ │ 03. Empathy Maps.html
│ │ 04. Target Personas-woRjqqmxIQU.mkv
│ │ 04. Target Personas-woRjqqmxIQU.en.vtt
│ │ 04. Target Personas-woRjqqmxIQU.pt-BR.vtt
│ │ 04. Target Personas.html
│ │ 05. The Customer Journey-IwjCI-9zzuQ.mkv
│ │ 05. The Customer Journey-IwjCI-9zzuQ.ar.vtt
│ │ 05. The Customer Journey-IwjCI-9zzuQ.en.vtt
│ │ 05. The Customer Journey-IwjCI-9zzuQ.es-MX.vtt
│ │ 05. The Customer Journey-IwjCI-9zzuQ.pt-BR.vtt
│ │ 05. The Customer Journey-IwjCI-9zzuQ.zh-CN.vtt
│ │ 05. The Customer Journey.html
│ │ 06. The Customer Journey II-G-m8jXPrDek.mkv
│ │ 06. The Customer Journey II-G-m8jXPrDek.ar.vtt
│ │ 06. The Customer Journey II-G-m8jXPrDek.en.vtt
│ │ 06. The Customer Journey II-G-m8jXPrDek.es-MX.vtt
│ │ 06. The Customer Journey II-G-m8jXPrDek.pt-BR.vtt
│ │ 06. The Customer Journey II-G-m8jXPrDek.zh-CN.vtt
│ │ 06. The Customer Journey II.html
│ │ 07. Customer Journey Example-hTfF2LdvPhE.ar.vtt
│ │ 07. Customer Journey Example-hTfF2LdvPhE.en.vtt
│ │ 07. Customer Journey Example-hTfF2LdvPhE.es-MX.vtt
│ │ 07. Customer Journey Example-hTfF2LdvPhE.mp4
│ │ 07. Customer Journey Example-hTfF2LdvPhE.pt-BR.vtt
│ │ 07. Customer Journey Example-hTfF2LdvPhE.zh-CN.vtt
│ │ 07. Customer Journey Example.html
│ │ 08. Quiz Customer Journey.html
│ │ 09. Recap-0uobJOXr5lM.ar.vtt
│ │ 09. Recap-0uobJOXr5lM.en-US.vtt
│ │ 09. Recap-0uobJOXr5lM.mp4
│ │ 09. Recap-0uobJOXr5lM.pt-BR.vtt
│ │ 09. Recap-0uobJOXr5lM.zh-CN.vtt
│ │ 09. Recap.html
│ │ index.html
│ ├─img
│ │ screen-shot-2017-03-19-at-3.37.06-pm.png
│ │
│ └─media
│ empathymap.png
│ thecustomerjourney.png
│
├─Part 01-Module 01-Lesson 06_Where Marketing Channels
│ │ 01. Intro-PvL8PpJzJsA.ar.vtt
│ │ 01. Intro-PvL8PpJzJsA.en.vtt
│ │ 01. Intro-PvL8PpJzJsA.mp4
│ │ 01. Intro-PvL8PpJzJsA.pt-BR.vtt
│ │ 01. Intro-PvL8PpJzJsA.zh-CN.vtt
│ │ 01. Intro.html
│ │ 02. Digital Marketing Map Where-OTftoAl63vY.mkv
│ │ 02. Digital Marketing Map Where-OTftoAl63vY.ar.vtt
│ │ 02. Digital Marketing Map Where-OTftoAl63vY.en.vtt
│ │ 02. Digital Marketing Map Where-OTftoAl63vY.es-MX.vtt
│ │ 02. Digital Marketing Map Where-OTftoAl63vY.pt-BR.vtt
│ │ 02. Digital Marketing Map Where-OTftoAl63vY.zh-CN.vtt
│ │ 02. Digital Marketing Map Where.html
│ │ 03. Paid, Owned, and Earned .html
│ │ 03. Paid, Owned, And Earned-o5IyLo5_gZg.mkv
│ │ 03. Paid, Owned, And Earned-o5IyLo5_gZg.ar.vtt
│ │ 03. Paid, Owned, And Earned-o5IyLo5_gZg.en.vtt
│ │ 03. Paid, Owned, And Earned-o5IyLo5_gZg.es-MX.vtt
│ │ 03. Paid, Owned, And Earned-o5IyLo5_gZg.pt-BR.vtt
│ │ 03. Paid, Owned, And Earned-o5IyLo5_gZg.zh-CN.vtt
│ │ 04. Quiz POE.html
│ │ 05. Revisit the Customer Journey -LYa93uKA99E.mkv
│ │ 05. Revisit the Customer Journey -LYa93uKA99E.ar.vtt
│ │ 05. Revisit the Customer Journey -LYa93uKA99E.en.vtt
│ │ 05. Revisit the Customer Journey -LYa93uKA99E.es-MX.vtt
│ │ 05. Revisit the Customer Journey -LYa93uKA99E.pt-BR.vtt
│ │ 05. Revisit the Customer Journey -LYa93uKA99E.zh-CN.vtt
│ │ 05. Revisit the Customer Journey .html
│ │ 06. Quiz Choosing Channels.html
│ │ 07. Recap-qmnl5CpVozM.ar.vtt
│ │ 07. Recap-qmnl5CpVozM.en-US.vtt
│ │ 07. Recap-qmnl5CpVozM.mp4
│ │ 07. Recap-qmnl5CpVozM.pt-BR.vtt
│ │ 07. Recap-qmnl5CpVozM.zh-CN.vtt
│ │ 07. Recap.html
│ │ index.html
│ └─img
│ screen-shot-2017-03-19-at-8.20.16-pm.png
│ screen-shot-2017-03-20-at-1.54.08-am.png
│
├─Part 01-Module 01-Lesson 07_Why Marketing Objectives & KPIs
│ │ 01. 01 L Intro — HS Version .M4v-UEPxuDVyBOg.ar.vtt
│ │ 01. 01 L Intro — HS Version .M4v-UEPxuDVyBOg.en-US.vtt
│ │ 01. 01 L Intro — HS Version .M4v-UEPxuDVyBOg.mp4
│ │ 01. 01 L Intro — HS Version .M4v-UEPxuDVyBOg.pt-BR.vtt
│ │ 01. 01 L Intro — HS Version .M4v-UEPxuDVyBOg.zh-CN.vtt
│ │ 01. Intro.html
│ │ 02. Digital Marketing Map Why-PAjTrF9n6KM.mkv
│ │ 02. Digital Marketing Map Why-PAjTrF9n6KM.ar.vtt
│ │ 02. Digital Marketing Map Why-PAjTrF9n6KM.en.vtt
│ │ 02. Digital Marketing Map Why-PAjTrF9n6KM.es-MX.vtt
│ │ 02. Digital Marketing Map Why-PAjTrF9n6KM.pt-BR.vtt
│ │ 02. Digital Marketing Map Why-PAjTrF9n6KM.zh-CN.vtt
│ │ 02. Digital Marketing Map Why.html
│ │ 03. Quiz Marketing Objective.html
│ │ 04. Key Performance Indicators-qERUUO0Pcro.mkv
│ │ 04. Key Performance Indicators-qERUUO0Pcro.ar.vtt
│ │ 04. Key Performance Indicators-qERUUO0Pcro.en.vtt
│ │ 04. Key Performance Indicators-qERUUO0Pcro.es-MX.vtt
│ │ 04. Key Performance Indicators-qERUUO0Pcro.pt-BR.vtt
│ │ 04. Key Performance Indicators-qERUUO0Pcro.zh-CN.vtt
│ │ 04. Key Performance Indicators.html
│ │ 05. Metrics And KPIs-EvUVqOBGeEg.mkv
│ │ 05. Metrics And KPIs-EvUVqOBGeEg.ar.vtt
│ │ 05. Metrics And KPIs-EvUVqOBGeEg.en.vtt
│ │ 05. Metrics And KPIs-EvUVqOBGeEg.es-MX.vtt
│ │ 05. Metrics And KPIs-EvUVqOBGeEg.pt-BR.vtt
│ │ 05. Metrics And KPIs-EvUVqOBGeEg.zh-CN.vtt
│ │ 05. Metrics and KPIs.html
│ │ 06. Metrics.html
│ │ 07. Quiz KPIs.html
│ │ 08. Quiz Metrics.html
│ │ 09. 08 L Outro Animations No Hs.M4v-MBkg_NnL4aM.ar.vtt
│ │ 09. 08 L Outro Animations No Hs.M4v-MBkg_NnL4aM.en.vtt
│ │ 09. 08 L Outro Animations No Hs.M4v-MBkg_NnL4aM.mp4
│ │ 09. 08 L Outro Animations No Hs.M4v-MBkg_NnL4aM.pt-BR.vtt
│ │ 09. 08 L Outro Animations No Hs.M4v-MBkg_NnL4aM.zh-CN.vtt
│ │ 09. Recap.html
│ │ index.html
│ └─img
│ screen-shot-2017-03-19-at-10.44.38-pm.png
│ screen-shot-2017-03-19-at-10.46.58-pm.png
│ screen-shot-2017-03-19-at-6.29.43-pm.png
│
├─Part 01-Module 01-Lesson 08_Prepare to Market
│ │ 01. Welcome to the first project-RbCSi18cFz4.mkv
│ │ 01. Welcome to the first project-RbCSi18cFz4.ar.vtt
│ │ 01. Welcome to the first project-RbCSi18cFz4.en.vtt
│ │ 01. Welcome to the first project-RbCSi18cFz4.es-MX.vtt
│ │ 01. Welcome to the first project-RbCSi18cFz4.pt-BR.vtt
│ │ 01. Welcome to the first project-RbCSi18cFz4.pt.vtt
│ │ 01. Welcome to the first project-RbCSi18cFz4.zh-CN.vtt
│ │ 01. Welcome to the first project.html
│ │ 02. Get Started.html
│ │ 02. Project-Clarification HS-RqHz0HXQFDM.mkv
│ │ 02. Project-Clarification HS-RqHz0HXQFDM.ar.vtt
│ │ 02. Project-Clarification HS-RqHz0HXQFDM.en.vtt
│ │ 02. Project-Clarification HS-RqHz0HXQFDM.es-MX.vtt
│ │ 02. Project-Clarification HS-RqHz0HXQFDM.pt-BR.vtt
│ │ 02. Project-Clarification HS-RqHz0HXQFDM.pt.vtt
│ │ 02. Project-Clarification HS-RqHz0HXQFDM.zh-CN.vtt
│ │ index.html
│ │ Project Description – Prepare to Market!.html
│ │ Project Rubric – Prepare to Market!.html
│ └─img
│ browser.png
│ ebook-browser.png
│
├─Part 02-Module 01-Lesson 01_Plan Your Content Strategy
│ │ 01. Intro-MnvSsJeSdZY.mkv
│ │ 01. Intro-MnvSsJeSdZY.ar.vtt
│ │ 01. Intro-MnvSsJeSdZY.en.vtt
│ │ 01. Intro-MnvSsJeSdZY.es-MX.vtt
│ │ 01. Intro-MnvSsJeSdZY.pt-BR.vtt
│ │ 01. Intro-MnvSsJeSdZY.zh-CN.vtt
│ │ 01. Intro.html
│ │ 02. Content Strategy Marketing-4fPjZUBGi60.mkv
│ │ 02. Content Strategy Marketing-4fPjZUBGi60.ar.vtt
│ │ 02. Content Strategy Marketing-4fPjZUBGi60.en.vtt
│ │ 02. Content Strategy Marketing-4fPjZUBGi60.es-MX.vtt
│ │ 02. Content Strategy Marketing-4fPjZUBGi60.pt-BR.vtt
│ │ 02. Content Strategy Marketing-4fPjZUBGi60.zh-CN.vtt
│ │ 02. Content Strategy Marketing.html
│ │ 03. The Content Process – HubSpot-kR0dvOP-g-g.mkv
│ │ 03. The Content Process – HubSpot-kR0dvOP-g-g.ar.vtt
│ │ 03. The Content Process – HubSpot-kR0dvOP-g-g.en.vtt
│ │ 03. The Content Process – HubSpot-kR0dvOP-g-g.es-MX.vtt
│ │ 03. The Content Process – HubSpot-kR0dvOP-g-g.pt-BR.vtt
│ │ 03. The Content Process – HubSpot-kR0dvOP-g-g.zh-CN.vtt
│ │ 03. The Content Process – HubSpot.html
│ │ 04. Target Personas and Content-b3b1INA1OjE.mkv
│ │ 04. Target Personas and Content-b3b1INA1OjE.ar.vtt
│ │ 04. Target Personas and Content-b3b1INA1OjE.en.vtt
│ │ 04. Target Personas and Content-b3b1INA1OjE.es-MX.vtt
│ │ 04. Target Personas and Content-b3b1INA1OjE.pt-BR.vtt
│ │ 04. Target Personas and Content-b3b1INA1OjE.zh-CN.vtt
│ │ 04. Target Personas and Content.html
│ │ 05. Content Topic-pmy8z84Up6I.mkv
│ │ 05. Content Topic-pmy8z84Up6I.ar.vtt
│ │ 05. Content Topic-pmy8z84Up6I.en.vtt
│ │ 05. Content Topic-pmy8z84Up6I.es-MX.vtt
│ │ 05. Content Topic-pmy8z84Up6I.pt-BR.vtt
│ │ 05. Content Topic-pmy8z84Up6I.zh-CN.vtt
│ │ 05. Content Topic.html
│ │ 06. Content Audit.html
│ │ 07. Hub, Hero Hygiene Content-m6zkQ4Whzw4.mkv
│ │ 07. Hub, Hero Hygiene Content-m6zkQ4Whzw4.ar.vtt
│ │ 07. Hub, Hero Hygiene Content-m6zkQ4Whzw4.en.vtt
│ │ 07. Hub, Hero Hygiene Content-m6zkQ4Whzw4.es-MX.vtt
│ │ 07. Hub, Hero Hygiene Content-m6zkQ4Whzw4.pt-BR.vtt
│ │ 07. Hub, Hero Hygiene Content-m6zkQ4Whzw4.zh-CN.vtt
│ │ 07. Hub, Hero Hygiene Content.html
│ │ 08. Examples Hero, Hub Hygiene Content.html
│ │ 09. Quiz Hero, Hub Hygiene.html
│ │ 10. Recap-XqMSMUWmoNE.ar.vtt
│ │ 10. Recap-XqMSMUWmoNE.en.vtt
│ │ 10. Recap-XqMSMUWmoNE.es-MX.vtt
│ │ 10. Recap-XqMSMUWmoNE.mp4
│ │ 10. Recap-XqMSMUWmoNE.pt-BR.vtt
│ │ 10. Recap-XqMSMUWmoNE.zh-CN.vtt
│ │ 10. Recap.html
│ │ index.html
│ └─img
│ 1.png
│ 2.png
│ 3.png
│ l1-07-02.png
│ screen-shot-2017-03-21-at-1.41.14-am.png
│ screen-shot-2017-03-21-at-5.21.46-pm.png
│
├─Part 02-Module 01-Lesson 02_Create Content
│ │ 01. Intro-bmz1NhPeJps.ar.vtt
│ │ 01. Intro-bmz1NhPeJps.en.vtt
│ │ 01. Intro-bmz1NhPeJps.es-MX.vtt
│ │ 01. Intro-bmz1NhPeJps.mp4
│ │ 01. Intro-bmz1NhPeJps.pt-BR.vtt
│ │ 01. Intro-bmz1NhPeJps.zh-CN.vtt
│ │ 01. Intro.html
│ │ 02. Elements of Content-R1hmiOj8RnY.mkv
│ │ 02. Elements of Content-R1hmiOj8RnY.ar.vtt
│ │ 02. Elements of Content-R1hmiOj8RnY.en.vtt
│ │ 02. Elements of Content-R1hmiOj8RnY.es-MX.vtt
│ │ 02. Elements of Content-R1hmiOj8RnY.pt-BR.vtt
│ │ 02. Elements of Content-R1hmiOj8RnY.zh-CN.vtt
│ │ 02. Elements of Content.html
│ │ 03. Elements of Content (Part 2)-znrENlQS3SM.mkv
│ │ 03. Elements of Content (Part 2)-znrENlQS3SM.ar.vtt
│ │ 03. Elements of Content (Part 2)-znrENlQS3SM.en.vtt
│ │ 03. Elements of Content (Part 2)-znrENlQS3SM.es-MX.vtt
│ │ 03. Elements of Content (Part 2)-znrENlQS3SM.pt-BR.vtt
│ │ 03. Elements of Content (Part 2)-znrENlQS3SM.zh-CN.vtt
│ │ 03. Elements of Content Part 2.html
│ │ 04. Story-uys3u3DHhMc.mkv
│ │ 04. Story-uys3u3DHhMc.ar.vtt
│ │ 04. Story-uys3u3DHhMc.en.vtt
│ │ 04. Story-uys3u3DHhMc.es-MX.vtt
│ │ 04. Story-uys3u3DHhMc.pt-BR.vtt
│ │ 04. Story-uys3u3DHhMc.zh-CN.vtt
│ │ 04. Story.html
│ │ 05. Creative Story Examples.html
│ │ 06. Creation Resources.html
│ │ 07. Repurpose Content-fXhcc8yY0HY.mkv
│ │ 07. Repurpose Content-fXhcc8yY0HY.ar.vtt
│ │ 07. Repurpose Content-fXhcc8yY0HY.en.vtt
│ │ 07. Repurpose Content-fXhcc8yY0HY.es-MX.vtt
│ │ 07. Repurpose Content-fXhcc8yY0HY.pt-BR.vtt
│ │ 07. Repurpose Content-fXhcc8yY0HY.zh-CN.vtt
│ │ 07. Repurpose Content.html
│ │ 08. Quiz Repurpose Content.html
│ │ 09. Curate Content.html
│ │ 10. Buzzfeed on Content-BKKmnbJYVKA.mkv
│ │ 10. Buzzfeed on Content-BKKmnbJYVKA.ar.vtt
│ │ 10. Buzzfeed on Content-BKKmnbJYVKA.en.vtt
│ │ 10. Buzzfeed on Content-BKKmnbJYVKA.es-MX.vtt
│ │ 10. Buzzfeed on Content-BKKmnbJYVKA.pt-BR.vtt
│ │ 10. Buzzfeed on Content-BKKmnbJYVKA.pt.vtt
│ │ 10. Buzzfeed on Content-BKKmnbJYVKA.zh-CN.vtt
│ │ 10. Buzzfeed on Content.html
│ │ 11. Recap-hj8zObGPjAw.ar.vtt
│ │ 11. Recap-hj8zObGPjAw.en.vtt
│ │ 11. Recap-hj8zObGPjAw.es-MX.vtt
│ │ 11. Recap-hj8zObGPjAw.mp4
│ │ 11. Recap-hj8zObGPjAw.pt-BR.vtt
│ │ 11. Recap-hj8zObGPjAw.zh-CN.vtt
│ │ 11. Recap.html
│ │ index.html
│ ├─img
│ │ image-0.png
│ │ image-1.png
│ │ image-2.png
│ │ image-3.png
│ │ image-4.png
│ │ image-5.png
│ │ l2-06-humans.png
│ │ l2-06-salvation.png
│ │ screen-shot-2017-03-19-at-10.46.19-pm.png
│ │
│ └─media
│ l2-08-1.png
│ l2-08-2.png
│
├─Part 02-Module 01-Lesson 03_Distribute & Promote Content
│ │ 01. Intro-UM_5b3C4Jtw.ar.vtt
│ │ 01. Intro-UM_5b3C4Jtw.en.vtt
│ │ 01. Intro-UM_5b3C4Jtw.es-MX.vtt
│ │ 01. Intro-UM_5b3C4Jtw.mp4
│ │ 01. Intro-UM_5b3C4Jtw.pt-BR.vtt
│ │ 01. Intro-UM_5b3C4Jtw.zh-CN.vtt
│ │ 01. Intro.html
│ │ 02. Distribute Content-WiyCqO82_-A.mkv
│ │ 02. Distribute Content-WiyCqO82_-A.ar.vtt
│ │ 02. Distribute Content-WiyCqO82_-A.en.vtt
│ │ 02. Distribute Content-WiyCqO82_-A.es-MX.vtt
│ │ 02. Distribute Content-WiyCqO82_-A.pt-BR.vtt
│ │ 02. Distribute Content-WiyCqO82_-A.zh-CN.vtt
│ │ 02. Distribute Content.html
│ │ 03. Promote Content-5ybmfAEnxqM.mkv
│ │ 03. Promote Content-5ybmfAEnxqM.ar.vtt
│ │ 03. Promote Content-5ybmfAEnxqM.en.vtt
│ │ 03. Promote Content-5ybmfAEnxqM.pt-BR.vtt
│ │ 03. Promote Content-5ybmfAEnxqM.zh-CN.vtt
│ │ 03. Promote Content.html
│ │ 04. Content Calendar.html
│ │ 05. Content Trends-R1PXQB-2eU0.mkv
│ │ 05. Content Trends-R1PXQB-2eU0.ar.vtt
│ │ 05. Content Trends-R1PXQB-2eU0.en.vtt
│ │ 05. Content Trends-R1PXQB-2eU0.es-MX.vtt
│ │ 05. Content Trends-R1PXQB-2eU0.pt-BR.vtt
│ │ 05. Content Trends-R1PXQB-2eU0.zh-CN.vtt
│ │ 05. Content Trends.html
│ │ 06. Content Trends (Part 2).html
│ │ 07. Quiz Content Trends.html
│ │ 08. The Future of Content-iQK2zXTiZmc.mkv
│ │ 08. The Future of Content-iQK2zXTiZmc.ar.vtt
│ │ 08. The Future of Content-iQK2zXTiZmc.en.vtt
│ │ 08. The Future of Content-iQK2zXTiZmc.es-MX.vtt
│ │ 08. The Future of Content-iQK2zXTiZmc.pt-BR.vtt
│ │ 08. The Future of Content-iQK2zXTiZmc.zh-CN.vtt
│ │ 08. The Future of Content.html
│ │ 09. Recap-nb8AKLQtUrY.ar.vtt
│ │ 09. Recap-nb8AKLQtUrY.en.vtt
│ │ 09. Recap-nb8AKLQtUrY.es-MX.vtt
│ │ 09. Recap-nb8AKLQtUrY.mp4
│ │ 09. Recap-nb8AKLQtUrY.pt-BR.vtt
│ │ 09. Recap-nb8AKLQtUrY.zh-CN.vtt
│ │ 09. Recap.html
│ │ index.html
│ └─img
│ image-0.png
│ image-1.png
│ image-2.png
│ image-3.png
│ image-4.png
│ image-5.png
│ image-6.png
│ image-7.png
│ l3-04.png
│ screen-shot-2017-03-19-at-4.49.01-pm.png
│
├─Part 02-Module 01-Lesson 04_Optimize Website UX & Landing Pages
│ │ 01. Intro-cAch6UO6Fto.ar.vtt
│ │ 01. Intro-cAch6UO6Fto.en.vtt
│ │ 01. Intro-cAch6UO6Fto.es-MX.vtt
│ │ 01. Intro-cAch6UO6Fto.mp4
│ │ 01. Intro-cAch6UO6Fto.pt-BR.vtt
│ │ 01. Intro-cAch6UO6Fto.zh-CN.vtt
│ │ 01. Intro.html
│ │ 02. Websites-VAGYTaTsrMg.mkv
│ │ 02. Websites-VAGYTaTsrMg.ar.vtt
│ │ 02. Websites-VAGYTaTsrMg.en.vtt
│ │ 02. Websites-VAGYTaTsrMg.es-MX.vtt
│ │ 02. Websites-VAGYTaTsrMg.pt-BR.vtt
│ │ 02. Websites-VAGYTaTsrMg.zh-CN.vtt
│ │ 02. Websites.html
│ │ 03. Website User Experience (UX).html
│ │ 04. Landing Pages-_AJvKsmsYsU.mkv
│ │ 04. Landing Pages-_AJvKsmsYsU.ar.vtt
│ │ 04. Landing Pages-_AJvKsmsYsU.en.vtt
│ │ 04. Landing Pages-_AJvKsmsYsU.es-MX.vtt
│ │ 04. Landing Pages-_AJvKsmsYsU.pt-BR.vtt
│ │ 04. Landing Pages-_AJvKsmsYsU.zh-CN.vtt
│ │ 04. Landing Pages.html
│ │ 05. Creating Landing Pages .html
│ │ 06. Quiz Landing Pages.html
│ │ 07. Test Landing Pages-eh5tPdgcIEw.mkv
│ │ 07. Test Landing Pages-eh5tPdgcIEw.ar.vtt
│ │ 07. Test Landing Pages-eh5tPdgcIEw.en.vtt
│ │ 07. Test Landing Pages-eh5tPdgcIEw.es-MX.vtt
│ │ 07. Test Landing Pages-eh5tPdgcIEw.pt-BR.vtt
│ │ 07. Test Landing Pages-eh5tPdgcIEw.zh-CN.vtt
│ │ 07. Test Landing Pages.html
│ │ 08. AB Test for Landing Pages.html
│ │ 09. Statistical Significance.html
│ │ 10. Recap-3WJF4HButZg.ar.vtt
│ │ 10. Recap-3WJF4HButZg.en.vtt
│ │ 10. Recap-3WJF4HButZg.es-MX.vtt
│ │ 10. Recap-3WJF4HButZg.mp4
│ │ 10. Recap-3WJF4HButZg.pt-BR.vtt
│ │ 10. Recap-3WJF4HButZg.zh-CN.vtt
│ │ 10. Recap.html
│ │ index.html
│ └─img
│ image-0.png
│ image-1.jpg
│ image-1.png
│ image-10.png
│ image-2.jpg
│ image-2.png
│ image-3.png
│ image-4.png
│ image-5.png
│ image-6.png
│ image-7.png
│ image-8.png
│ image-9.png
│ l4-05-ver2.png
│ l4-07-a.jpeg
│ l4-07-b.jpeg
│
├─Part 02-Module 01-Lesson 05_Measure Impact
│ │ 01. Intro-PTRRnIg5Vl0.ar.vtt
│ │ 01. Intro-PTRRnIg5Vl0.en.vtt
│ │ 01. Intro-PTRRnIg5Vl0.es-MX.vtt
│ │ 01. Intro-PTRRnIg5Vl0.mp4
│ │ 01. Intro-PTRRnIg5Vl0.pt-BR.vtt
│ │ 01. Intro-PTRRnIg5Vl0.zh-CN.vtt
│ │ 01. Intro.html
│ │ 02. Tracking with UTM Codes.html
│ │ 03. Writing UTM Codes.html
│ │ 04. Quiz UTM Codes.html
│ │ 05. URL Shorteners-KhUmgdGJZ7U.mkv
│ │ 05. URL Shorteners-KhUmgdGJZ7U.ar.vtt
│ │ 05. URL Shorteners-KhUmgdGJZ7U.en.vtt
│ │ 05. URL Shorteners-KhUmgdGJZ7U.es-MX.vtt
│ │ 05. URL Shorteners-KhUmgdGJZ7U.pt-BR.vtt
│ │ 05. URL Shorteners-KhUmgdGJZ7U.zh-CN.vtt
│ │ 05. URL Shorteners.html
│ │ 06. Analytics-iiC7uHtVevc.mkv
│ │ 06. Analytics-iiC7uHtVevc.ar.vtt
│ │ 06. Analytics-iiC7uHtVevc.en.vtt
│ │ 06. Analytics-iiC7uHtVevc.es-MX.vtt
│ │ 06. Analytics-iiC7uHtVevc.pt-BR.vtt
│ │ 06. Analytics-iiC7uHtVevc.zh-CN.vtt
│ │ 06. Analytics.html
│ │ 07. Metrics-LUPQ4kzYU5g.ar.vtt
│ │ 07. Metrics-LUPQ4kzYU5g.en.vtt
│ │ 07. Metrics-LUPQ4kzYU5g.es-MX.vtt
│ │ 07. Metrics-LUPQ4kzYU5g.mp4
│ │ 07. Metrics-LUPQ4kzYU5g.pt-BR.vtt
│ │ 07. Metrics-LUPQ4kzYU5g.zh-CN.vtt
│ │ 07. Metrics.html
│ │ 08. Case Studies-PqmgMaQcLN8.mkv
│ │ 08. Case Studies-PqmgMaQcLN8.en.vtt
│ │ 08. Case Studies-PqmgMaQcLN8.pt-BR.vtt
│ │ 08. Case Studies.html
│ │ 09. Recap-0pnDDeVu4xs.ar.vtt
│ │ 09. Recap-0pnDDeVu4xs.en.vtt
│ │ 09. Recap-0pnDDeVu4xs.es-MX.vtt
│ │ 09. Recap-0pnDDeVu4xs.mp4
│ │ 09. Recap-0pnDDeVu4xs.pt-BR.vtt
│ │ 09. Recap-0pnDDeVu4xs.zh-CN.vtt
│ │ 09. Recap.html
│ │ index.html
│ └─img
│ image-0.png
│ image1.png
│ screen-shot-2017-03-20-at-2.50.34-pm.png
│ screen-shot-2017-03-21-at-10.59.42-pm.png
│ screen-shot-2017-03-21-at-11.07.46-pm.png
│ screen-shot-2017-03-21-at-2.26.28-am.png
│
├─Part 02-Module 02-Lesson 01_Jobs in Content Marketing
│ 01. Content Strategy Take Aways-YDu9yxQcYEQ.mkv
│ 01. Content Strategy Take Aways-YDu9yxQcYEQ.en.vtt
│ 01. Content Strategy Take Aways-YDu9yxQcYEQ.es-MX.vtt
│ 01. Content Strategy Take Aways-YDu9yxQcYEQ.pt-BR.vtt
│ 01. Content Strategy Take Aways-YDu9yxQcYEQ.zh-CN.vtt
│ 01. Content Strategy Take Aways.html
│ 02. A Day in the Life – Dani Keenan.html
│ 02. A Day in the Life – Daniel Keenan-XV2bHchoqRw.mkv
│ 02. A Day in the Life – Daniel Keenan-XV2bHchoqRw.en.vtt
│ 02. A Day in the Life – Daniel Keenan-XV2bHchoqRw.es-MX.vtt
│ 02. A Day in the Life – Daniel Keenan-XV2bHchoqRw.pt-BR.vtt
│ 02. A Day in the Life – Daniel Keenan-XV2bHchoqRw.zh-CN.vtt
│ 03. What you need to know.html
│ index.html
├─Part 03-Module 01-Lesson 01_Social Media Landscape
│ │ 01. Intro-QWOvlWawVek.mkv
│ │ 01. Intro-QWOvlWawVek.ar.vtt
│ │ 01. Intro-QWOvlWawVek.en.vtt
│ │ 01. Intro-QWOvlWawVek.pt-BR.vtt
│ │ 01. Intro-QWOvlWawVek.zh-CN.vtt
│ │ 01. Intro.html
│ │ 02. Why Social Media Matters-ddAs_FM5b2o.mkv
│ │ 02. Why Social Media Matters-ddAs_FM5b2o.ar.vtt
│ │ 02. Why Social Media Matters-ddAs_FM5b2o.en.vtt
│ │ 02. Why Social Media Matters-ddAs_FM5b2o.es-MX.vtt
│ │ 02. Why Social Media Matters-ddAs_FM5b2o.pt-BR.vtt
│ │ 02. Why Social Media Matters-ddAs_FM5b2o.zh-CN.vtt
│ │ 02. Why Social Media Matters.html
│ │ 03. What Is Social Media-W17OXzjyx3U.mkv
│ │ 03. What Is Social Media-W17OXzjyx3U.ar.vtt
│ │ 03. What Is Social Media-W17OXzjyx3U.en.vtt
│ │ 03. What Is Social Media-W17OXzjyx3U.es-MX.vtt
│ │ 03. What Is Social Media-W17OXzjyx3U.pt-BR.vtt
│ │ 03. What Is Social Media-W17OXzjyx3U.zh-CN.vtt
│ │ 03. What is Social Media.html
│ │ 04. Social Media Frameworks-uZrt26fniwc.mkv
│ │ 04. Social Media Frameworks-uZrt26fniwc.ar.vtt
│ │ 04. Social Media Frameworks-uZrt26fniwc.en.vtt
│ │ 04. Social Media Frameworks-uZrt26fniwc.es-MX.vtt
│ │ 04. Social Media Frameworks-uZrt26fniwc.pt-BR.vtt
│ │ 04. Social Media Frameworks-uZrt26fniwc.zh-CN.vtt
│ │ 04. Social Media Frameworks.html
│ │ 05. Choose Your Social Media Channels-9uLX8X4ppNU.mkv
│ │ 05. Choose Your Social Media Channels-9uLX8X4ppNU.ar.vtt
│ │ 05. Choose Your Social Media Channels-9uLX8X4ppNU.en.vtt
│ │ 05. Choose Your Social Media Channels-9uLX8X4ppNU.es-MX.vtt
│ │ 05. Choose Your Social Media Channels-9uLX8X4ppNU.pt-BR.vtt
│ │ 05. Choose Your Social Media Channels-9uLX8X4ppNU.zh-CN.vtt
│ │ 05. Choose your Social Media Channels.html
│ │ 06. Quiz Social Media Channels.html
│ │ 07. Recap-oILTroVV8wU.ar.vtt
│ │ 07. Recap-oILTroVV8wU.en.vtt
│ │ 07. Recap-oILTroVV8wU.es-MX.vtt
│ │ 07. Recap-oILTroVV8wU.mp4
│ │ 07. Recap-oILTroVV8wU.pt-BR.vtt
│ │ 07. Recap-oILTroVV8wU.zh-CN.vtt
│ │ 07. Recap.html
│ │ index.html
│ └─img
│ screen-shot-2017-03-19-at-10.46.19-pm.png
│
├─Part 03-Module 01-Lesson 02_Social Media Channels
│ │ 01. Intro-xEMSiZw5Gj4.ar.vtt
│ │ 01. Intro-xEMSiZw5Gj4.en.vtt
│ │ 01. Intro-xEMSiZw5Gj4.es-MX.vtt
│ │ 01. Intro-xEMSiZw5Gj4.mp4
│ │ 01. Intro-xEMSiZw5Gj4.pt-BR.vtt
│ │ 01. Intro-xEMSiZw5Gj4.zh-CN.vtt
│ │ 01. Intro.html
│ │ 02. Channel Overview.html
│ │ 03. Facebook Marketing-z9U0Nz2-0S4.mkv
│ │ 03. Facebook Marketing-z9U0Nz2-0S4.ar.vtt
│ │ 03. Facebook Marketing-z9U0Nz2-0S4.en.vtt
│ │ 03. Facebook Marketing-z9U0Nz2-0S4.es-MX.vtt
│ │ 03. Facebook Marketing-z9U0Nz2-0S4.pt-BR.vtt
│ │ 03. Facebook Marketing-z9U0Nz2-0S4.zh-CN.vtt
│ │ 03. Facebook Marketing.html
│ │ 04. Facebook Examples-Im28WEI70Es.mkv
│ │ 04. Facebook Examples-Im28WEI70Es.ar.vtt
│ │ 04. Facebook Examples-Im28WEI70Es.en.vtt
│ │ 04. Facebook Examples-Im28WEI70Es.es-MX.vtt
│ │ 04. Facebook Examples-Im28WEI70Es.pt-BR.vtt
│ │ 04. Facebook Examples-Im28WEI70Es.zh-CN.vtt
│ │ 04. Facebook Examples.html
│ │ 05. Instagram Marketing-6gs6W2E6vlM.mkv
│ │ 05. Instagram Marketing-6gs6W2E6vlM.ar.vtt
│ │ 05. Instagram Marketing-6gs6W2E6vlM.en.vtt
│ │ 05. Instagram Marketing-6gs6W2E6vlM.es-MX.vtt
│ │ 05. Instagram Marketing-6gs6W2E6vlM.pt-BR.vtt
│ │ 05. Instagram Marketing-6gs6W2E6vlM.zh-CN.vtt
│ │ 05. Instagram Marketing.html
│ │ 06. Instagram Examples-HMwNtSbiHlQ.ar.vtt
│ │ 06. Instagram Examples-HMwNtSbiHlQ.en.vtt
│ │ 06. Instagram Examples-HMwNtSbiHlQ.es-MX.vtt
│ │ 06. Instagram Examples-HMwNtSbiHlQ.mp4
│ │ 06. Instagram Examples-HMwNtSbiHlQ.pt-BR.vtt
│ │ 06. Instagram Examples-HMwNtSbiHlQ.zh-CN.vtt
│ │ 06. Instagram Examples.html
│ │ 07. Twitter Marketing-A8fF-H3xk_o.mkv
│ │ 07. Twitter Marketing-A8fF-H3xk_o.ar.vtt
│ │ 07. Twitter Marketing-A8fF-H3xk_o.en.vtt
│ │ 07. Twitter Marketing-A8fF-H3xk_o.es-MX.vtt
│ │ 07. Twitter Marketing-A8fF-H3xk_o.pt-BR.vtt
│ │ 07. Twitter Marketing-A8fF-H3xk_o.zh-CN.vtt
│ │ 07. Twitter Marketing.html
│ │ 08. Twitter Examples-y66jLOe4VhM.ar.vtt
│ │ 08. Twitter Examples-y66jLOe4VhM.en.vtt
│ │ 08. Twitter Examples-y66jLOe4VhM.es-MX.vtt
│ │ 08. Twitter Examples-y66jLOe4VhM.mp4
│ │ 08. Twitter Examples-y66jLOe4VhM.pt-BR.vtt
│ │ 08. Twitter Examples-y66jLOe4VhM.zh-CN.vtt
│ │ 08. Twitter Examples.html
│ │ 09. YouTube Marketing-n4DTLUjZym8.mkv
│ │ 09. YouTube Marketing-n4DTLUjZym8.ar.vtt
│ │ 09. YouTube Marketing-n4DTLUjZym8.en.vtt
│ │ 09. YouTube Marketing-n4DTLUjZym8.es-MX.vtt
│ │ 09. YouTube Marketing-n4DTLUjZym8.pt-BR.vtt
│ │ 09. YouTube Marketing-n4DTLUjZym8.zh-CN.vtt
│ │ 09. YouTube Marketing.html
│ │ 10. How to Upload Videos to YouTube.html
│ │ 11. YouTube Examples.html
│ │ 12. Snapchat Marketing-CKaBXJNEAOg.mkv
│ │ 12. Snapchat Marketing-CKaBXJNEAOg.ar.vtt
│ │ 12. Snapchat Marketing-CKaBXJNEAOg.en.vtt
│ │ 12. Snapchat Marketing-CKaBXJNEAOg.es-MX.vtt
│ │ 12. Snapchat Marketing-CKaBXJNEAOg.pt-BR.vtt
│ │ 12. Snapchat Marketing-CKaBXJNEAOg.zh-CN.vtt
│ │ 12. Snapchat Marketing.html
│ │ 13. Snapchat Vocabulary.html
│ │ 14. Snapchat Examples-szPKbZRvXo8.ar.vtt
│ │ 14. Snapchat Examples-szPKbZRvXo8.en.vtt
│ │ 14. Snapchat Examples-szPKbZRvXo8.es-MX.vtt
│ │ 14. Snapchat Examples-szPKbZRvXo8.mp4
│ │ 14. Snapchat Examples-szPKbZRvXo8.pt-BR.vtt
│ │ 14. Snapchat Examples-szPKbZRvXo8.zh-CN.vtt
│ │ 14. Snapchat Examples.html
│ │ 15. Influencers-7vJkv87cI8U.mkv
│ │ 15. Influencers-7vJkv87cI8U.ar.vtt
│ │ 15. Influencers-7vJkv87cI8U.en.vtt
│ │ 15. Influencers-7vJkv87cI8U.es-MX.vtt
│ │ 15. Influencers-7vJkv87cI8U.pt-BR.vtt
│ │ 15. Influencers-7vJkv87cI8U.zh-CN.vtt
│ │ 15. Influencers.html
│ │ 16. Reach out to Influencers.html
│ │ 17. Quiz Raise Brand Awareness.html
│ │ 18. Follow Us!.html
│ │ 19. Recap-915R3YF8KlQ.ar.vtt
│ │ 19. Recap-915R3YF8KlQ.en.vtt
│ │ 19. Recap-915R3YF8KlQ.es-MX.vtt
│ │ 19. Recap-915R3YF8KlQ.mp4
│ │ 19. Recap-915R3YF8KlQ.pt-BR.vtt
│ │ 19. Recap-915R3YF8KlQ.zh-CN.vtt
│ │ 19. Recap.html
│ │ index.html
│ └─img
│ dove.png
│ eric.png
│ infuencer-email.png
│ michellephan.png
│ screen-shot-2017-03-19-at-10.46.19-pm.png
│ snapchat.png
│ socialmedia.jpg
│ youtube.png
│
├─Part 03-Module 01-Lesson 03_Social Media Content
│ │ 01. Intro-QGYORdeTzpA.ar.vtt
│ │ 01. Intro-QGYORdeTzpA.en.vtt
│ │ 01. Intro-QGYORdeTzpA.es-MX.vtt
│ │ 01. Intro-QGYORdeTzpA.mp4
│ │ 01. Intro-QGYORdeTzpA.pt-BR.vtt
│ │ 01. Intro-QGYORdeTzpA.zh-CN.vtt
│ │ 01. Intro.html
│ │ 02. Content Format-r72SaZ9fwTk.mkv
│ │ 02. Content Format-r72SaZ9fwTk.ar.vtt
│ │ 02. Content Format-r72SaZ9fwTk.en.vtt
│ │ 02. Content Format-r72SaZ9fwTk.es-MX.vtt
│ │ 02. Content Format-r72SaZ9fwTk.pt-BR.vtt
│ │ 02. Content Format-r72SaZ9fwTk.zh-CN.vtt
│ │ 02. Content Format.html
│ │ 03. Hub Spokes Model-3ZXGBJnka-A.mkv
│ │ 03. Hub Spokes Model-3ZXGBJnka-A.ar.vtt
│ │ 03. Hub Spokes Model-3ZXGBJnka-A.en.vtt
│ │ 03. Hub Spokes Model-3ZXGBJnka-A.es-MX.vtt
│ │ 03. Hub Spokes Model-3ZXGBJnka-A.pt-BR.vtt
│ │ 03. Hub Spokes Model-3ZXGBJnka-A.zh-CN.vtt
│ │ 03. Hub Spokes Model.html
│ │ 04. What Works-xUA67teOwxs.ar.vtt
│ │ 04. What Works-xUA67teOwxs.en.vtt
│ │ 04. What Works-xUA67teOwxs.es-MX.vtt
│ │ 04. What Works-xUA67teOwxs.mp4
│ │ 04. What Works-xUA67teOwxs.pt-BR.vtt
│ │ 04. What Works-xUA67teOwxs.zh-CN.vtt
│ │ 04. What Works.html
│ │ 05. Facebook Content-eB1Tme7FPMo.mkv
│ │ 05. Facebook Content-eB1Tme7FPMo.ar.vtt
│ │ 05. Facebook Content-eB1Tme7FPMo.en.vtt
│ │ 05. Facebook Content-eB1Tme7FPMo.es-MX.vtt
│ │ 05. Facebook Content-eB1Tme7FPMo.pt-BR.vtt
│ │ 05. Facebook Content-eB1Tme7FPMo.zh-CN.vtt
│ │ 05. Facebook Content.html
│ │ 06. Instagram Content-Yg02jT8l8AA.mkv
│ │ 06. Instagram Content-Yg02jT8l8AA.ar.vtt
│ │ 06. Instagram Content-Yg02jT8l8AA.en.vtt
│ │ 06. Instagram Content-Yg02jT8l8AA.es-MX.vtt
│ │ 06. Instagram Content-Yg02jT8l8AA.pt-BR.vtt
│ │ 06. Instagram Content-Yg02jT8l8AA.zh-CN.vtt
│ │ 06. Instagram Content.html
│ │ 07. Twitter Content-lB8QFvtirSw.mkv
│ │ 07. Twitter Content-lB8QFvtirSw.ar.vtt
│ │ 07. Twitter Content-lB8QFvtirSw.en.vtt
│ │ 07. Twitter Content-lB8QFvtirSw.es-MX.vtt
│ │ 07. Twitter Content-lB8QFvtirSw.pt-BR.vtt
│ │ 07. Twitter Content-lB8QFvtirSw.zh-CN.vtt
│ │ 07. Twitter Content.html
│ │ 08. YouTube Content-vl6cs0eqCqA.mkv
│ │ 08. YouTube Content-vl6cs0eqCqA.ar.vtt
│ │ 08. YouTube Content-vl6cs0eqCqA.en.vtt
│ │ 08. YouTube Content-vl6cs0eqCqA.es-MX.vtt
│ │ 08. YouTube Content-vl6cs0eqCqA.pt-BR.vtt
│ │ 08. YouTube Content-vl6cs0eqCqA.zh-CN.vtt
│ │ 08. YouTube Content.html
│ │ 09. Snapchat Content-jponI7vcjis.mkv
│ │ 09. Snapchat Content-jponI7vcjis.ar.vtt
│ │ 09. Snapchat Content-jponI7vcjis.en.vtt
│ │ 09. Snapchat Content-jponI7vcjis.es-MX.vtt
│ │ 09. Snapchat Content-jponI7vcjis.pt-BR.vtt
│ │ 09. Snapchat Content-jponI7vcjis.zh-CN.vtt
│ │ 09. Snapchat Content.html
│ │ 10. Betabrand Case Study-ToWvIKXSBxs.mkv
│ │ 10. Betabrand Case Study-ToWvIKXSBxs.ar.vtt
│ │ 10. Betabrand Case Study-ToWvIKXSBxs.en.vtt
│ │ 10. Betabrand Case Study-ToWvIKXSBxs.es-MX.vtt
│ │ 10. Betabrand Case Study-ToWvIKXSBxs.pt-BR.vtt
│ │ 10. Betabrand Case Study-ToWvIKXSBxs.zh-CN.vtt
│ │ 10. Betabrand Case Study.html
│ │ 11. Quiz Content Campaigns.html
│ │ 12. Editorial Calendar.html
│ │ 13. Recap-D60apPcEJW8.ar.vtt
│ │ 13. Recap-D60apPcEJW8.en.vtt
│ │ 13. Recap-D60apPcEJW8.es-MX.vtt
│ │ 13. Recap-D60apPcEJW8.mp4
│ │ 13. Recap-D60apPcEJW8.pt-BR.vtt
│ │ 13. Recap-D60apPcEJW8.zh-CN.vtt
│ │ 13. Recap.html
│ │ index.html
│ └─img
│ l3-11-01.png
│
├─Part 03-Module 01-Lesson 04_Implement & Monitor Campaigns
│ │ 01. Intro-hr6Nfe9-1LY.ar.vtt
│ │ 01. Intro-hr6Nfe9-1LY.en.vtt
│ │ 01. Intro-hr6Nfe9-1LY.es-MX.vtt
│ │ 01. Intro-hr6Nfe9-1LY.mp4
│ │ 01. Intro-hr6Nfe9-1LY.pt-BR.vtt
│ │ 01. Intro-hr6Nfe9-1LY.zh-CN.vtt
│ │ 01. Intro.html
│ │ 02. Hootsuite-I5gfmXc0qq8.mkv
│ │ 02. Hootsuite-I5gfmXc0qq8.ar.vtt
│ │ 02. Hootsuite-I5gfmXc0qq8.en.vtt
│ │ 02. Hootsuite-I5gfmXc0qq8.es-MX.vtt
│ │ 02. Hootsuite-I5gfmXc0qq8.pt-BR.vtt
│ │ 02. Hootsuite-I5gfmXc0qq8.zh-CN.vtt
│ │ 02. Hootsuite.html
│ │ 03. Hootsuite Analytics-2sJnVl3T2x0.mkv
│ │ 03. Hootsuite Analytics-2sJnVl3T2x0.ar.vtt
│ │ 03. Hootsuite Analytics-2sJnVl3T2x0.en.vtt
│ │ 03. Hootsuite Analytics-2sJnVl3T2x0.es-MX.vtt
│ │ 03. Hootsuite Analytics-2sJnVl3T2x0.pt-BR.vtt
│ │ 03. Hootsuite Analytics-2sJnVl3T2x0.zh-CN.vtt
│ │ 03. Hootsuite Analytics.html
│ │ 04. Monitor Your Audience-Owgt-L000RE.mkv
│ │ 04. Monitor Your Audience-Owgt-L000RE.ar.vtt
│ │ 04. Monitor Your Audience-Owgt-L000RE.en.vtt
│ │ 04. Monitor Your Audience-Owgt-L000RE.es-MX.vtt
│ │ 04. Monitor Your Audience-Owgt-L000RE.pt-BR.vtt
│ │ 04. Monitor Your Audience-Owgt-L000RE.zh-CN.vtt
│ │ 04. Monitor Your Audience.html
│ │ 05. Customer Service Through Social Channels-WPKcajfayzk.ar.vtt
│ │ 05. Customer Service Through Social Channels-WPKcajfayzk.en.vtt
│ │ 05. Customer Service Through Social Channels-WPKcajfayzk.es-MX.vtt
│ │ 05. Customer Service Through Social Channels-WPKcajfayzk.mp4
│ │ 05. Customer Service Through Social Channels-WPKcajfayzk.pt-BR.vtt
│ │ 05. Customer Service Through Social Channels-WPKcajfayzk.zh-CN.vtt
│ │ 05. Customer Service Through Social Channels.html
│ │ 06. Learn From Public Mistakes-_FKAAru3au4.mkv
│ │ 06. Learn From Public Mistakes-_FKAAru3au4.ar.vtt
│ │ 06. Learn From Public Mistakes-_FKAAru3au4.en.vtt
│ │ 06. Learn From Public Mistakes-_FKAAru3au4.es-MX.vtt
│ │ 06. Learn From Public Mistakes-_FKAAru3au4.pt-BR.vtt
│ │ 06. Learn From Public Mistakes-_FKAAru3au4.zh-CN.vtt
│ │ 06. Learn From Public Mistakes.html
│ │ 07. Quiz Customer Service.html
│ │ 08. Recap-FCH4N2zM8_Y.ar.vtt
│ │ 08. Recap-FCH4N2zM8_Y.en.vtt
│ │ 08. Recap-FCH4N2zM8_Y.es-MX.vtt
│ │ 08. Recap-FCH4N2zM8_Y.mp4
│ │ 08. Recap-FCH4N2zM8_Y.pt-BR.vtt
│ │ 08. Recap-FCH4N2zM8_Y.zh-CN.vtt
│ │ 08. Recap.html
│ │ index.html
│ └─img
│ ohno-panda.gif
│
├─Part 03-Module 01-Lesson 05_Measure Impact
│ │ 01. Intro.html
│ │ 01. L5 1 Introduction (2)-NE73uqGjI9E.ar.vtt
│ │ 01. L5 1 Introduction (2)-NE73uqGjI9E.en.vtt
│ │ 01. L5 1 Introduction (2)-NE73uqGjI9E.es-MX.vtt
│ │ 01. L5 1 Introduction (2)-NE73uqGjI9E.mp4
│ │ 01. L5 1 Introduction (2)-NE73uqGjI9E.pt-BR.vtt
│ │ 01. L5 1 Introduction (2)-NE73uqGjI9E.zh-CN.vtt
│ │ 02. Measurement Basics-Lg2XplEBtjs.mkv
│ │ 02. Measurement Basics-Lg2XplEBtjs.ar.vtt
│ │ 02. Measurement Basics-Lg2XplEBtjs.en.vtt
│ │ 02. Measurement Basics-Lg2XplEBtjs.es-MX.vtt
│ │ 02. Measurement Basics-Lg2XplEBtjs.pt-BR.vtt
│ │ 02. Measurement Basics-Lg2XplEBtjs.zh-CN.vtt
│ │ 02. Measurement Basics.html
│ │ 03. Tracking with UTM Codes.html
│ │ 04. Social Media Costs-B7a76qoXNyc.mkv
│ │ 04. Social Media Costs-B7a76qoXNyc.ar.vtt
│ │ 04. Social Media Costs-B7a76qoXNyc.en.vtt
│ │ 04. Social Media Costs-B7a76qoXNyc.es-MX.vtt
│ │ 04. Social Media Costs-B7a76qoXNyc.pt-BR.vtt
│ │ 04. Social Media Costs-B7a76qoXNyc.zh-CN.vtt
│ │ 04. Social Media Costs.html
│ │ 05. Social Media Metrics.html
│ │ 06. Calculate Virality-_UQSFULaAh4.mkv
│ │ 06. Calculate Virality-_UQSFULaAh4.ar.vtt
│ │ 06. Calculate Virality-_UQSFULaAh4.en.vtt
│ │ 06. Calculate Virality-_UQSFULaAh4.es-MX.vtt
│ │ 06. Calculate Virality-_UQSFULaAh4.pt-BR.vtt
│ │ 06. Calculate Virality-_UQSFULaAh4.zh-CN.vtt
│ │ 06. Calculate Virality.html
│ │ 07. Virality Example.html
│ │ 08. Quiz Calculate Virality.html
│ │ 09. Recap-2R7yLrTTQPM.mkv
│ │ 09. Recap-2R7yLrTTQPM.ar.vtt
│ │ 09. Recap-2R7yLrTTQPM.en.vtt
│ │ 09. Recap-2R7yLrTTQPM.es-MX.vtt
│ │ 09. Recap-2R7yLrTTQPM.pt-BR.vtt
│ │ 09. Recap-2R7yLrTTQPM.zh-CN.vtt
│ │ 09. Recap.html
│ │ index.html
│ └─img
│ bbb.png
│ image-0.png
│ image-2.png
│ instagram.png
│ screen-shot-2017-03-19-at-10.44.38-pm.png
│ screen-shot-2017-03-20-at-2.50.34-pm.png
│ screen-shot-2017-03-21-at-10.59.42-pm.png
│ screen-shot-2017-03-21-at-11.07.46-pm.png
│ youtube.png
│
├─Part 03-Module 02-Lesson 01_Market Your Content
│ │ 01. DMND Refresh ProjectIntro2 FINAL-Iosx8q09zkA.mkv
│ │ 01. DMND Refresh ProjectIntro2 FINAL-Iosx8q09zkA.en.vtt
│ │ 01. DMND Refresh ProjectIntro2 FINAL-Iosx8q09zkA.es-MX.vtt
│ │ 01. DMND Refresh ProjectIntro2 FINAL-Iosx8q09zkA.pt-BR.vtt
│ │ 01. Part 1 Getting Started.html
│ │ 02. Part 2 Write a Blog Post .html
│ │ 03. Part 3 Craft Social Media Posts.html
│ │ index.html
│ │ Project Description – Market your Content .html
│ │ Project Rubric – Market your Content .html
│ └─img
│ hubandspokes.png
│ pixar.png
│ scqa.png
│
├─Part 03-Module 03-Lesson 01_Jobs in Social Media Marketing
│ 01. Social Free-CE6fgiVRBhE.mkv
│ 01. Social Free-CE6fgiVRBhE.en.vtt
│ 01. Social Free-CE6fgiVRBhE.pt-BR.vtt
│ 01. Social Media Marketing – Take Aways.html
│ 02. What you need to know.html
│ index.html
├─Part 04-Module 01-Lesson 01_Intro to Social Media Advertising
│ 01. Intro-5S81Yo0md5k.mkv
│ 01. Intro-5S81Yo0md5k.ar.vtt
│ 01. Intro-5S81Yo0md5k.en.vtt
│ 01. Intro-5S81Yo0md5k.es-MX.vtt
│ 01. Intro-5S81Yo0md5k.pt-BR.vtt
│ 01. Intro-5S81Yo0md5k.zh-CN.vtt
│ 01. Intro.html
│ 02. Social Ad Basics Objectives-p4s6MlCTmU8.mkv
│ 02. Social Ad Basics Objectives-p4s6MlCTmU8.ar.vtt
│ 02. Social Ad Basics Objectives-p4s6MlCTmU8.en.vtt
│ 02. Social Ad Basics Objectives-p4s6MlCTmU8.es-MX.vtt
│ 02. Social Ad Basics Objectives-p4s6MlCTmU8.pt-BR.vtt
│ 02. Social Ad Basics Objectives-p4s6MlCTmU8.zh-CN.vtt
│ 02. Social Ad Basics Objectives.html
│ 03. Social Ad Basics Targeting-JQZnocQqEDI.mkv
│ 03. Social Ad Basics Targeting-JQZnocQqEDI.ar.vtt
│ 03. Social Ad Basics Targeting-JQZnocQqEDI.en.vtt
│ 03. Social Ad Basics Targeting-JQZnocQqEDI.es-MX.vtt
│ 03. Social Ad Basics Targeting-JQZnocQqEDI.pt-BR.vtt
│ 03. Social Ad Basics Targeting-JQZnocQqEDI.zh-CN.vtt
│ 03. Social Ad Basics Targeting.html
│ 04. Targeting Reflection Part 1.html
│ 05. Targeting Reflection Part 2-bWYQlDRoPjY.mkv
│ 05. Targeting Reflection Part 2-bWYQlDRoPjY.ar.vtt
│ 05. Targeting Reflection Part 2-bWYQlDRoPjY.en.vtt
│ 05. Targeting Reflection Part 2-bWYQlDRoPjY.es-MX.vtt
│ 05. Targeting Reflection Part 2-bWYQlDRoPjY.pt-BR.vtt
│ 05. Targeting Reflection Part 2-bWYQlDRoPjY.zh-CN.vtt
│ 05. Targeting Reflection Part 2.html
│ 06. Social Ad Basics Ad Creation-2DGS97V1y1s.mkv
│ 06. Social Ad Basics Ad Creation-2DGS97V1y1s.ar.vtt
│ 06. Social Ad Basics Ad Creation-2DGS97V1y1s.en.vtt
│ 06. Social Ad Basics Ad Creation-2DGS97V1y1s.es-MX.vtt
│ 06. Social Ad Basics Ad Creation-2DGS97V1y1s.pt-BR.vtt
│ 06. Social Ad Basics Ad Creation-2DGS97V1y1s.zh-CN.vtt
│ 06. Social Ad Basics Ad Creation.html
│ 07. Social Ad Basics Optimization-eOK_aDOp_KU.mkv
│ 07. Social Ad Basics Optimization-eOK_aDOp_KU.ar.vtt
│ 07. Social Ad Basics Optimization-eOK_aDOp_KU.en.vtt
│ 07. Social Ad Basics Optimization-eOK_aDOp_KU.es-MX.vtt
│ 07. Social Ad Basics Optimization-eOK_aDOp_KU.pt-BR.vtt
│ 07. Social Ad Basics Optimization-eOK_aDOp_KU.zh-CN.vtt
│ 07. Social Ad Basics Optimization.html
│ 08. Recap-E6q87fnskic.mkv
│ 08. Recap-E6q87fnskic.ar.vtt
│ 08. Recap-E6q87fnskic.en.vtt
│ 08. Recap-E6q87fnskic.es-MX.vtt
│ 08. Recap-E6q87fnskic.pt-BR.vtt
│ 08. Recap-E6q87fnskic.zh-CN.vtt
│ 08. Recap.html
│ index.html
├─Part 04-Module 01-Lesson 02_Choose the Right Platforms
│ │ 01. Intro-IWtnzP9DQxA.ar.vtt
│ │ 01. Intro-IWtnzP9DQxA.en.vtt
│ │ 01. Intro-IWtnzP9DQxA.es-MX.vtt
│ │ 01. Intro-IWtnzP9DQxA.mp4
│ │ 01. Intro-IWtnzP9DQxA.pt-BR.vtt
│ │ 01. Intro-IWtnzP9DQxA.zh-CN.vtt
│ │ 01. Intro.html
│ │ 02. About Facebook-P9OLm-6F1s4.mkv
│ │ 02. About Facebook-P9OLm-6F1s4.ar.vtt
│ │ 02. About Facebook-P9OLm-6F1s4.en.vtt
│ │ 02. About Facebook-P9OLm-6F1s4.es-MX.vtt
│ │ 02. About Facebook-P9OLm-6F1s4.pt-BR.vtt
│ │ 02. About Facebook-P9OLm-6F1s4.zh-CN.vtt
│ │ 02. About Facebook.html
│ │ 03. 2 HMC Canvas-IJDnLg_Pl9w.es-MX.vtt
│ │ 03. 2 HMC Canvas-IJDnLg_Pl9w.mp4
│ │ 03. 2 HMC Canvas-IJDnLg_Pl9w.pt-BR.vtt
│ │ 03. Advertising on Facebook.html
│ │ 04. About Instagram-n4r53YvOjw4.mkv
│ │ 04. About Instagram-n4r53YvOjw4.ar.vtt
│ │ 04. About Instagram-n4r53YvOjw4.en.vtt
│ │ 04. About Instagram-n4r53YvOjw4.es-MX.vtt
│ │ 04. About Instagram-n4r53YvOjw4.pt-BR.vtt
│ │ 04. About Instagram-n4r53YvOjw4.zh-CN.vtt
│ │ 04. About Instagram.html
│ │ 05. Advertising on Instagram.html
│ │ 06. About Twitter-wGyk8bFtovY.ar.vtt
│ │ 06. About Twitter-wGyk8bFtovY.en.vtt
│ │ 06. About Twitter-wGyk8bFtovY.es-MX.vtt
│ │ 06. About Twitter-wGyk8bFtovY.mp4
│ │ 06. About Twitter-wGyk8bFtovY.pt-BR.vtt
│ │ 06. About Twitter-wGyk8bFtovY.zh-CN.vtt
│ │ 06. About Twitter.html
│ │ 07. Advertising on Twitter.html
│ │ 08. About Pinterest-EQKfpHTGkgA.ar.vtt
│ │ 08. About Pinterest-EQKfpHTGkgA.en.vtt
│ │ 08. About Pinterest-EQKfpHTGkgA.es-MX.vtt
│ │ 08. About Pinterest-EQKfpHTGkgA.mp4
│ │ 08. About Pinterest-EQKfpHTGkgA.pt-BR.vtt
│ │ 08. About Pinterest-EQKfpHTGkgA.zh-CN.vtt
│ │ 08. About Pinterest.html
│ │ 09. Advertising on Pinterest.html
│ │ 10. About Snapchat-bacyiLS8AZ0.ar.vtt
│ │ 10. About Snapchat-bacyiLS8AZ0.en.vtt
│ │ 10. About Snapchat-bacyiLS8AZ0.es-MX.vtt
│ │ 10. About Snapchat-bacyiLS8AZ0.mp4
│ │ 10. About Snapchat-bacyiLS8AZ0.pt-BR.vtt
│ │ 10. About Snapchat-bacyiLS8AZ0.zh-CN.vtt
│ │ 10. About Snapchat.html
│ │ 11. Advertising on Snapchat.html
│ │ 12. About LinkedIn .html
│ │ 12. About LinkedIn-zzETPLlvlts.ar.vtt
│ │ 12. About LinkedIn-zzETPLlvlts.en.vtt
│ │ 12. About LinkedIn-zzETPLlvlts.es-MX.vtt
│ │ 12. About LinkedIn-zzETPLlvlts.mp4
│ │ 12. About LinkedIn-zzETPLlvlts.pt-BR.vtt
│ │ 12. About LinkedIn-zzETPLlvlts.zh-CN.vtt
│ │ 13. Advertising on LinkedIn.html
│ │ 14. Quiz Choose Platforms .html
│ │ 15. Solution Choose Platforms.html
│ │ 16. Recap-TjT6o9RoHqE.ar.vtt
│ │ 16. Recap-TjT6o9RoHqE.en.vtt
│ │ 16. Recap-TjT6o9RoHqE.es-MX.vtt
│ │ 16. Recap-TjT6o9RoHqE.mp4
│ │ 16. Recap-TjT6o9RoHqE.pt-BR.vtt
│ │ 16. Recap-TjT6o9RoHqE.zh-CN.vtt
│ │ 16. Recap.html
│ │ index.html
│ └─img
│ 10-snapchat1.png
│ 12-linkedin-1.png
│ 12-linkedin-2.png
│ 6-twitter-app.png
│ 6-twitter-leads.png
│ 6-twitter-video.png
│ 6-twitter-website.png
│ 8-pinterest-case1.png
│ 8-pinterest-case2.png
│ 8-pinterest-case3.png
│ 8-pinterestpromotedpin-example.png
│ instagram-adtypes-2.jpg
│ screen-shot-2017-02-08-at-4.52.49-pm.png
│ screen-shot-2017-02-08-at-4.56.59-pm.png
│ screen-shot-2017-02-08-at-4.58.23-pm.png
│ screen-shot-2017-02-08-at-5.54.27-pm.png
│ screen-shot-2017-02-08-at-5.59.16-pm.png
│ screen-shot-2017-02-08-at-6.02.08-pm.png
│ screen-shot-2017-02-08-at-6.04.13-pm.png
│ screenshots-combined.png
│ snapchat-ads1.jpg
│ snapchat-ads2.jpg
│ twitter-ads.jpg
│ twitter-promoted.jpg
│
├─Part 04-Module 01-Lesson 03_Facebook – Getting Started
│ │ 01. Intro-fYN2BOPGxzc.mkv
│ │ 01. Intro-fYN2BOPGxzc.ar.vtt
│ │ 01. Intro-fYN2BOPGxzc.en.vtt
│ │ 01. Intro-fYN2BOPGxzc.es-MX.vtt
│ │ 01. Intro-fYN2BOPGxzc.pt-BR.vtt
│ │ 01. Intro-fYN2BOPGxzc.zh-CN.vtt
│ │ 01. Intro.html
│ │ 02. Facebook Ad Basics Part 1.html
│ │ 02. Facebook Ad Basics Part I-qDaJz-NQUQ0.mkv
│ │ 02. Facebook Ad Basics Part I-qDaJz-NQUQ0.ar.vtt
│ │ 02. Facebook Ad Basics Part I-qDaJz-NQUQ0.en.vtt
│ │ 02. Facebook Ad Basics Part I-qDaJz-NQUQ0.es-MX.vtt
│ │ 02. Facebook Ad Basics Part I-qDaJz-NQUQ0.pt-BR.vtt
│ │ 02. Facebook Ad Basics Part I-qDaJz-NQUQ0.zh-CN.vtt
│ │ 03. Facebook Ad Basics Part 2-qX2F7q8-SmI.mkv
│ │ 03. Facebook Ad Basics Part 2-qX2F7q8-SmI.en.vtt
│ │ 03. Facebook Ad Basics Part 2-qX2F7q8-SmI.pt-BR.vtt
│ │ 03. Facebook Ad Basics Part 2.html
│ │ 04. Set up your Ads Account.html
│ │ 05. Course6 L3 FacebookAdsManager FINAL-WDePDxAtcxw.mkv
│ │ 05. Course6 L3 FacebookAdsManager FINAL-WDePDxAtcxw.en.vtt
│ │ 05. Course6 L3 FacebookAdsManager FINAL-WDePDxAtcxw.pt-BR.vtt
│ │ 05. The Facebook Ads Manager.html
│ │ 06. Campaign Objectives.html
│ │ 06. Create And Install The Facebook Pixel-A9voUHvLsRE.mkv
│ │ 06. Create And Install The Facebook Pixel-A9voUHvLsRE.ar.vtt
│ │ 06. Create And Install The Facebook Pixel-A9voUHvLsRE.en.vtt
│ │ 06. Create And Install The Facebook Pixel-A9voUHvLsRE.pt-BR.vtt
│ │ 06. Create And Install The Facebook Pixel-A9voUHvLsRE.zh-CN.vtt
│ │ 07. Quiz Pick Objectives.html
│ │ 08. Meet the Client-Ez0eWLM1F8M.mkv
│ │ 08. Meet the Client-Ez0eWLM1F8M.ar.vtt
│ │ 08. Meet the Client-Ez0eWLM1F8M.en.vtt
│ │ 08. Meet the Client-Ez0eWLM1F8M.es-MX.vtt
│ │ 08. Meet the Client-Ez0eWLM1F8M.pt-BR.vtt
│ │ 08. Meet the Client-Ez0eWLM1F8M.zh-CN.vtt
│ │ 08. Meet the Client.html
│ │ 09. L3 08 Conclusion And What's Next-ddFT6fAvSu0.en.vtt
│ │ 09. L3 08 Conclusion And What's Next-ddFT6fAvSu0.mp4
│ │ 09. L3 08 Conclusion And What's Next-ddFT6fAvSu0.pt-BR.vtt
│ │ 09. Recap.html
│ │ index.html
│ └─img
│ 2-fb-setup1.png
│ 2-fb-setup2.png
│ 2-fb-setup3.png
│ 2-fb-setup4.png
│ 2-fb-setup5.png
│ 2-fb-setup6.png
│ fb-marketingobjectives.png
│ screen-shot-2017-03-19-at-10.44.38-pm.png
│ screen-shot-2017-03-19-at-10.46.19-pm.png
│ screen-shot-2017-03-19-at-10.46.58-pm.png
│
├─Part 04-Module 01-Lesson 04_Facebook – Create Ad Sets
│ │ 01. Intro-xCsbBt0Yk-s.mkv
│ │ 01. Intro-xCsbBt0Yk-s.ar.vtt
│ │ 01. Intro-xCsbBt0Yk-s.en.vtt
│ │ 01. Intro-xCsbBt0Yk-s.es-MX.vtt
│ │ 01. Intro-xCsbBt0Yk-s.pt-BR.vtt
│ │ 01. Intro-xCsbBt0Yk-s.zh-CN.vtt
│ │ 01. Intro.html
│ │ 02. 01 Create A New Audience Basics SC-9qBf0JWalpA.mkv
│ │ 02. 01 Create A New Audience Basics SC-9qBf0JWalpA.ar.vtt
│ │ 02. 01 Create A New Audience Basics SC-9qBf0JWalpA.en.vtt
│ │ 02. 01 Create A New Audience Basics SC-9qBf0JWalpA.pt-BR.vtt
│ │ 02. 01 Create A New Audience Basics SC-9qBf0JWalpA.zh-CN.vtt
│ │ 02. Target Audience Basics.html
│ │ 03. Demographic Targeting-3a2v-Te9U7M.mkv
│ │ 03. Demographic Targeting-3a2v-Te9U7M.ar.vtt
│ │ 03. Demographic Targeting-3a2v-Te9U7M.en.vtt
│ │ 03. Demographic Targeting-3a2v-Te9U7M.pt-BR.vtt
│ │ 03. Demographic Targeting-3a2v-Te9U7M.zh-CN.vtt
│ │ 03. Demographic Targeting.html
│ │ 04. Detailed Targeting Options-TRN6u8N7is0.mkv
│ │ 04. Detailed Targeting Options-TRN6u8N7is0.ar.vtt
│ │ 04. Detailed Targeting Options-TRN6u8N7is0.en.vtt
│ │ 04. Detailed Targeting Options-TRN6u8N7is0.pt-BR.vtt
│ │ 04. Detailed Targeting Options-TRN6u8N7is0.zh-CN.vtt
│ │ 04. Detailed Targeting Options.html
│ │ 05. Quiz Create an Audience.html
│ │ 06. Solution Create an Audience-8frGzbJLNbc.mkv
│ │ 06. Solution Create an Audience-8frGzbJLNbc.ar.vtt
│ │ 06. Solution Create an Audience-8frGzbJLNbc.en.vtt
│ │ 06. Solution Create an Audience-8frGzbJLNbc.pt-BR.vtt
│ │ 06. Solution Create an Audience-8frGzbJLNbc.zh-CN.vtt
│ │ 06. Solution Create an Audience.html
│ │ 07. Custom Lookalike Audiences-CmL7VxBBLAc.mkv
│ │ 07. Custom Lookalike Audiences-CmL7VxBBLAc.ar.vtt
│ │ 07. Custom Lookalike Audiences-CmL7VxBBLAc.en.vtt
│ │ 07. Custom Lookalike Audiences-CmL7VxBBLAc.zh-CN.vtt
│ │ 07. Custom Lookalike Audiences.html
│ │ 08. Ad Placements-2UPS0kpuTbs.mkv
│ │ 08. Ad Placements-2UPS0kpuTbs.ar.vtt
│ │ 08. Ad Placements-2UPS0kpuTbs.en.vtt
│ │ 08. Ad Placements-2UPS0kpuTbs.zh-CN.vtt
│ │ 08. Ad Placements.html
│ │ 09. 07 Budget Schedule SC-Vuq7Pdud2uo.mkv
│ │ 09. 07 Budget Schedule SC-Vuq7Pdud2uo.ar.vtt
│ │ 09. 07 Budget Schedule SC-Vuq7Pdud2uo.en.vtt
│ │ 09. 07 Budget Schedule SC-Vuq7Pdud2uo.zh-CN.vtt
│ │ 09. Budget Schedule.html
│ │ 10. Ad Set Summary.html
│ │ 11. Recap-Ir7cGPa6kvo.ar.vtt
│ │ 11. Recap-Ir7cGPa6kvo.en.vtt
│ │ 11. Recap-Ir7cGPa6kvo.es-MX.vtt
│ │ 11. Recap-Ir7cGPa6kvo.mp4
│ │ 11. Recap-Ir7cGPa6kvo.pt-BR.vtt
│ │ 11. Recap-Ir7cGPa6kvo.zh-CN.vtt
│ │ 11. Recap.html
│ │ index.html
│ └─img
│ 06-create-multiple-ads-within-one-ad-set-sc-render-499.png
│ popup-audience.png
│
├─Part 04-Module 01-Lesson 05_Facebook – Create & Manage Ads
│ │ 01. Intro-Smp70vczGoY.ar.vtt
│ │ 01. Intro-Smp70vczGoY.en.vtt
│ │ 01. Intro-Smp70vczGoY.es-MX.vtt
│ │ 01. Intro-Smp70vczGoY.mp4
│ │ 01. Intro-Smp70vczGoY.pt-BR.vtt
│ │ 01. Intro-Smp70vczGoY.zh-CN.vtt
│ │ 01. Intro.html
│ │ 02. Choosing an Ad Format-bCGvXbJ_CcU.mkv
│ │ 02. Choosing an Ad Format-bCGvXbJ_CcU.ar.vtt
│ │ 02. Choosing an Ad Format-bCGvXbJ_CcU.en.vtt
│ │ 02. Choosing an Ad Format-bCGvXbJ_CcU.es-MX.vtt
│ │ 02. Choosing an Ad Format-bCGvXbJ_CcU.pt-BR.vtt
│ │ 02. Choosing an Ad Format-bCGvXbJ_CcU.zh-CN.vtt
│ │ 02. Choosing an Ad Format.html
│ │ 03. Tips Working With Images-0upNBY42XRw.mkv
│ │ 03. Tips Working With Images-0upNBY42XRw.ar.vtt
│ │ 03. Tips Working With Images-0upNBY42XRw.en.vtt
│ │ 03. Tips Working With Images-0upNBY42XRw.es-MX.vtt
│ │ 03. Tips Working With Images-0upNBY42XRw.pt-BR.vtt
│ │ 03. Tips Working With Images-0upNBY42XRw.zh-CN.vtt
│ │ 03. Tips Working with Images.html
│ │ 04. Setting up Ad Creatives-AT7K7hn1At0.mkv
│ │ 04. Setting up Ad Creatives-AT7K7hn1At0.ar.vtt
│ │ 04. Setting up Ad Creatives-AT7K7hn1At0.en.vtt
│ │ 04. Setting up Ad Creatives-AT7K7hn1At0.es-MX.vtt
│ │ 04. Setting up Ad Creatives-AT7K7hn1At0.pt-BR.vtt
│ │ 04. Setting up Ad Creatives-AT7K7hn1At0.zh-CN.vtt
│ │ 04. Setting up Ad Creatives.html
│ │ 05. Tips Writing Ad Copy-qDJc2GoV1Dg.mkv
│ │ 05. Tips Writing Ad Copy-qDJc2GoV1Dg.ar.vtt
│ │ 05. Tips Writing Ad Copy-qDJc2GoV1Dg.en.vtt
│ │ 05. Tips Writing Ad Copy-qDJc2GoV1Dg.es-MX.vtt
│ │ 05. Tips Writing Ad Copy-qDJc2GoV1Dg.pt-BR.vtt
│ │ 05. Tips Writing Ad Copy-qDJc2GoV1Dg.zh-CN.vtt
│ │ 05. Tips Writing Ad Copy.html
│ │ 06. Setting up Ad Copy-ayJLadtUNM4.mkv
│ │ 06. Setting up Ad Copy-ayJLadtUNM4.ar.vtt
│ │ 06. Setting up Ad Copy-ayJLadtUNM4.en.vtt
│ │ 06. Setting up Ad Copy-ayJLadtUNM4.es-MX.vtt
│ │ 06. Setting up Ad Copy-ayJLadtUNM4.pt-BR.vtt
│ │ 06. Setting up Ad Copy-ayJLadtUNM4.zh-CN.vtt
│ │ 06. Setting up Ad Copy.html
│ │ 07. Multiple Ads in one Ad Set -6g-wh6SlEYU.mkv
│ │ 07. Multiple Ads in one Ad Set -6g-wh6SlEYU.ar.vtt
│ │ 07. Multiple Ads in one Ad Set -6g-wh6SlEYU.en.vtt
│ │ 07. Multiple Ads in one Ad Set -6g-wh6SlEYU.es-MX.vtt
│ │ 07. Multiple Ads in one Ad Set -6g-wh6SlEYU.pt-BR.vtt
│ │ 07. Multiple Ads in one Ad Set -6g-wh6SlEYU.zh-CN.vtt
│ │ 07. Multiple Ads in one Ad Set.html
│ │ 08. Quiz Ad Creatives Copy.html
│ │ 09. Ad Performance Part 1.html
│ │ 10. Ad Performance Part 2-CKTAi6i-D48.mkv
│ │ 10. Ad Performance Part 2-CKTAi6i-D48.ar.vtt
│ │ 10. Ad Performance Part 2-CKTAi6i-D48.en.vtt
│ │ 10. Ad Performance Part 2-CKTAi6i-D48.es-MX.vtt
│ │ 10. Ad Performance Part 2-CKTAi6i-D48.pt-BR.vtt
│ │ 10. Ad Performance Part 2-CKTAi6i-D48.zh-CN.vtt
│ │ 10. Ad Performance Part 2.html
│ │ 11. Setting up AB tests-k1qMyG78qEw.mkv
│ │ 11. Setting up AB tests-k1qMyG78qEw.ar.vtt
│ │ 11. Setting up AB tests-k1qMyG78qEw.en.vtt
│ │ 11. Setting up AB tests-k1qMyG78qEw.es-MX.vtt
│ │ 11. Setting up AB tests-k1qMyG78qEw.pt-BR.vtt
│ │ 11. Setting up AB tests-k1qMyG78qEw.zh-CN.vtt
│ │ 11. Setting up AB tests.html
│ │ 12. Recap-FsoWA58xFbQ.mkv
│ │ 12. Recap-FsoWA58xFbQ.ar.vtt
│ │ 12. Recap-FsoWA58xFbQ.en.vtt
│ │ 12. Recap-FsoWA58xFbQ.es-MX.vtt
│ │ 12. Recap-FsoWA58xFbQ.pt-BR.vtt
│ │ 12. Recap-FsoWA58xFbQ.zh-CN.vtt
│ │ 12. Recap.html
│ │ 13. Facebook Blueprint.html
│ │ index.html
│ └─img
│ 6-screenshot.png
│ certification-2.jpg
│ elearning-2.jpg
│ take-learning-into-your-own-hands-1.jpg
│
├─Part 04-Module 01-Lesson 06_Create a Facebook Campaign (Part 1)
│ │ 01. Get Started.html
│ │ 02. Build your Campaign Option 1.html
│ │ 02. Project Intro ANIMATED V3sharp-0BwrEFo9HCc.mkv
│ │ 02. Project Intro ANIMATED V3sharp-0BwrEFo9HCc.ar.vtt
│ │ 02. Project Intro ANIMATED V3sharp-0BwrEFo9HCc.en.vtt
│ │ 02. Project Intro ANIMATED V3sharp-0BwrEFo9HCc.pt-BR.vtt
│ │ 02. Project Intro ANIMATED V3sharp-0BwrEFo9HCc.zh-CN.vtt
│ │ 03. Submit for Review.html
│ │ 04. FAQs.html
│ │ index.html
│ │ Project Description – Create a Facebook Campaign (Part 1).html
│ │ Project Rubric – Create a Facebook Campaign (Part 1).html
│ └─img
│ conversion.png
│ facebook-ads-manager-step-by-step.png
│ fb-ad-set.png
│ fb-create-new-ad.png
│ fb-email-get-started.png
│ fb-notifications-.jpeg
│ fb-page-and-link.png
│ fb-review-order-ads-copy.png
│ project-3-run-a-facebook-campaign-updated.png
│ screen-shot-2017-05-20-at-3.03.07-pm.png
│ screen-shot-2018-04-18-at-2.54.36-pm.png
│ screen-shot-2018-06-11-at-10.46.32-am.png
│ screen-shot-2018-06-11-at-10.48.44-am.png
│ screen-shot-2018-06-12-at-2.48.23-pm.png
│ screen-shot-2018-07-10-at-4.53.26-pm.png
│ untitled-document.png
│ updated-facebook-campaign-review-2.png
│ updated-facebook-campaign.png
│ updated-facebook-review.png
│ updated-fb-campaign-review-3.png
│ updated-fb-review-order-less-submitt-copy.png
│
├─Part 04-Module 01-Lesson 07_Run a Facebook Campaign (Part 2)
│ │ 01. Get Started Option 1.html
│ │ index.html
│ │ Project Description – Run a Facebook Campaign (Part 2).html
│ │ Project Rubric – Run a Facebook Campaign (Part 2).html
│ └─img
│ screen-shot-2018-05-17-at-1.43.24-pm.png
│ screen-shot-2018-05-17-at-4.05.17-pm.png
│ screen-shot-2018-05-17-at-4.07.59-pm.png
│ screen-shot-2018-05-17-at-4.20.34-pm.png
│ updated-fb-account-select-.png
│
├─Part 04-Module 02-Lesson 01_Jobs in Social Media Advertising
│ 01. Social Media Advertising – Take Aways -4DOyVY2zCZ4.mkv
│ 01. Social Media Advertising – Take Aways -4DOyVY2zCZ4.ar.vtt
│ 01. Social Media Advertising – Take Aways -4DOyVY2zCZ4.en.vtt
│ 01. Social Media Advertising – Take Aways -4DOyVY2zCZ4.pt-BR.vtt
│ 01. Social Media Advertising – Take Aways -4DOyVY2zCZ4.zh-CN.vtt
│ 01. Social Media Advertising – Take Aways.html
│ 02. What you need to know.html
│ index.html
├─Part 05-Module 01-Lesson 01_How Search Works
│ │ 01. Intro-4WAIwDvhDoc.mkv
│ │ 01. Intro-4WAIwDvhDoc.ar.vtt
│ │ 01. Intro-4WAIwDvhDoc.en.vtt
│ │ 01. Intro-4WAIwDvhDoc.es-MX.vtt
│ │ 01. Intro-4WAIwDvhDoc.pt-BR.vtt
│ │ 01. Intro-4WAIwDvhDoc.zh-CN.vtt
│ │ 01. Intro.html
│ │ 02. Quiz Click Distribution on Search Engine Results Pages.html
│ │ 03. Drive Traffic From The Search Engine -YT3B9JDWmQQ.mkv
│ │ 03. Drive Traffic From The Search Engine -YT3B9JDWmQQ.ar.vtt
│ │ 03. Drive Traffic From The Search Engine -YT3B9JDWmQQ.en.vtt
│ │ 03. Drive Traffic From The Search Engine -YT3B9JDWmQQ.es-MX.vtt
│ │ 03. Drive Traffic From The Search Engine -YT3B9JDWmQQ.pt-BR.vtt
│ │ 03. Drive Traffic From The Search Engine -YT3B9JDWmQQ.zh-CN.vtt
│ │ 03. Drive Traffic from the Search Engine.html
│ │ 04. Quiz Click Distribution on First Search Engine Results Page.html
│ │ 05. SEO and the Customer Journey-LR5SFKYhtQg.mkv
│ │ 05. SEO and the Customer Journey-LR5SFKYhtQg.ar.vtt
│ │ 05. SEO and the Customer Journey-LR5SFKYhtQg.en.vtt
│ │ 05. SEO and the Customer Journey-LR5SFKYhtQg.es-MX.vtt
│ │ 05. SEO and the Customer Journey-LR5SFKYhtQg.pt-BR.vtt
│ │ 05. SEO and the Customer Journey-LR5SFKYhtQg.zh-CN.vtt
│ │ 05. SEO and the Customer Journey.html
│ │ 06. The Search Engine Results Page.html
│ │ 07. How Search Works-LmK3dSe5SlE.mkv
│ │ 07. How Search Works-LmK3dSe5SlE.ar.vtt
│ │ 07. How Search Works-LmK3dSe5SlE.en.vtt
│ │ 07. How Search Works-LmK3dSe5SlE.es-MX.vtt
│ │ 07. How Search Works-LmK3dSe5SlE.pt-BR.vtt
│ │ 07. How Search Works-LmK3dSe5SlE.zh-CN.vtt
│ │ 07. How Search Works.html
│ │ 08. Read, Index, Retrieve-8zNq4FEbDWs.mkv
│ │ 08. Read, Index, Retrieve-8zNq4FEbDWs.ar.vtt
│ │ 08. Read, Index, Retrieve-8zNq4FEbDWs.en.vtt
│ │ 08. Read, Index, Retrieve-8zNq4FEbDWs.es-MX.vtt
│ │ 08. Read, Index, Retrieve-8zNq4FEbDWs.pt-BR.vtt
│ │ 08. Read, Index, Retrieve-8zNq4FEbDWs.zh-CN.vtt
│ │ 08. Read, Index, Retrieve.html
│ │ 09. Interview Rand Fishkin – Moz Why SEO Matters-5LSMBqR4At4.mkv
│ │ 09. Interview Rand Fishkin – Moz Why SEO Matters-5LSMBqR4At4.ar.vtt
│ │ 09. Interview Rand Fishkin – Moz Why SEO Matters-5LSMBqR4At4.en.vtt
│ │ 09. Interview Rand Fishkin – Moz Why SEO Matters-5LSMBqR4At4.es-MX.vtt
│ │ 09. Interview Rand Fishkin – Moz Why SEO Matters-5LSMBqR4At4.pt-BR.vtt
│ │ 09. Interview Rand Fishkin – Moz Why SEO Matters-5LSMBqR4At4.zh-CN.vtt
│ │ 09. Interview with Rand – Moz Why SEO Matters.html
│ │ 10. Quiz How Search Works.html
│ │ 11. Recap-cHTFqj–Vng.ar.vtt
│ │ 11. Recap-cHTFqj–Vng.en.vtt
│ │ 11. Recap-cHTFqj–Vng.es-MX.vtt
│ │ 11. Recap-cHTFqj–Vng.mp4
│ │ 11. Recap-cHTFqj–Vng.pt-BR.vtt
│ │ 11. Recap-cHTFqj–Vng.zh-CN.vtt
│ │ 11. Recap.html
│ │ index.html
│ └─img
│ 02.png
│ 04-1.png
│ 04-2.png
│ 06-2.png
│ 06-3.png
│ 06-4.png
│ 06-5.png
│ 06-6.png
│ 06.png
│
├─Part 05-Module 01-Lesson 02_Keywords
│ │ 01. Intro-wY0wrZXkNlg.mkv
│ │ 01. Intro-wY0wrZXkNlg.ar.vtt
│ │ 01. Intro-wY0wrZXkNlg.en.vtt
│ │ 01. Intro-wY0wrZXkNlg.es-MX.vtt
│ │ 01. Intro-wY0wrZXkNlg.pt-BR.vtt
│ │ 01. Intro-wY0wrZXkNlg.zh-CN.vtt
│ │ 01. Intro.html
│ │ 02. Content Strategy And Keyword Research-9JjDOkKAhuM.mkv
│ │ 02. Content Strategy And Keyword Research-9JjDOkKAhuM.ar.vtt
│ │ 02. Content Strategy And Keyword Research-9JjDOkKAhuM.en.vtt
│ │ 02. Content Strategy And Keyword Research-9JjDOkKAhuM.es-MX.vtt
│ │ 02. Content Strategy And Keyword Research-9JjDOkKAhuM.pt-BR.vtt
│ │ 02. Content Strategy And Keyword Research-9JjDOkKAhuM.zh-CN.vtt
│ │ 02. Content Strategy and Keyword Research.html
│ │ 03. Head Long Tail Keywords-Lihb1Rjueik.mkv
│ │ 03. Head Long Tail Keywords-Lihb1Rjueik.ar.vtt
│ │ 03. Head Long Tail Keywords-Lihb1Rjueik.en.vtt
│ │ 03. Head Long Tail Keywords-Lihb1Rjueik.es-MX.vtt
│ │ 03. Head Long Tail Keywords-Lihb1Rjueik.pt-BR.vtt
│ │ 03. Head Long Tail Keywords-Lihb1Rjueik.zh-CN.vtt
│ │ 03. Head Long Tail Keywords.html
│ │ 04. Quiz Head Tail Keywords.html
│ │ 05. Branded And Non-Branded Keywords -lm0Y34Pbxz0.mkv
│ │ 05. Branded And Non-Branded Keywords -lm0Y34Pbxz0.ar.vtt
│ │ 05. Branded And Non-Branded Keywords -lm0Y34Pbxz0.en.vtt
│ │ 05. Branded And Non-Branded Keywords -lm0Y34Pbxz0.es-MX.vtt
│ │ 05. Branded And Non-Branded Keywords -lm0Y34Pbxz0.pt-BR.vtt
│ │ 05. Branded And Non-Branded Keywords -lm0Y34Pbxz0.zh-CN.vtt
│ │ 05. Branded and Non-Branded Keywords.html
│ │ 06. Step 1 Keyword Discovery-pIVzJCCZnso.mkv
│ │ 06. Step 1 Keyword Discovery-pIVzJCCZnso.ar.vtt
│ │ 06. Step 1 Keyword Discovery-pIVzJCCZnso.en.vtt
│ │ 06. Step 1 Keyword Discovery-pIVzJCCZnso.es-MX.vtt
│ │ 06. Step 1 Keyword Discovery-pIVzJCCZnso.pt-BR.vtt
│ │ 06. Step 1 Keyword Discovery-pIVzJCCZnso.zh-CN.vtt
│ │ 06. Step 1 Keyword Discovery.html
│ │ 07. Step 2 Evaluate And Focus Keyword List-pRtWo5iru9k.ar.vtt
│ │ 07. Step 2 Evaluate And Focus Keyword List-pRtWo5iru9k.en.vtt
│ │ 07. Step 2 Evaluate And Focus Keyword List-pRtWo5iru9k.es-MX.vtt
│ │ 07. Step 2 Evaluate And Focus Keyword List-pRtWo5iru9k.mp4
│ │ 07. Step 2 Evaluate And Focus Keyword List-pRtWo5iru9k.pt-BR.vtt
│ │ 07. Step 2 Evaluate And Focus Keyword List-pRtWo5iru9k.zh-CN.vtt
│ │ 07. Step 2 Evaluate and Focus Keyword List.html
│ │ 08. Keyword Research in SEO.html
│ │ 08. Keyword Tool Walkthrough-F2FIBJyoyzI.mkv
│ │ 08. Keyword Tool Walkthrough-F2FIBJyoyzI.ar.vtt
│ │ 08. Keyword Tool Walkthrough-F2FIBJyoyzI.en.vtt
│ │ 08. Keyword Tool Walkthrough-F2FIBJyoyzI.es-MX.vtt
│ │ 08. Keyword Tool Walkthrough-F2FIBJyoyzI.pt-BR.vtt
│ │ 08. Keyword Tool Walkthrough-F2FIBJyoyzI.zh-CN.vtt
│ │ 09. Quiz Keyword Research in SEO.html
│ │ 10. Recap-s5WGGGSsf9Q.ar.vtt
│ │ 10. Recap-s5WGGGSsf9Q.en.vtt
│ │ 10. Recap-s5WGGGSsf9Q.es-MX.vtt
│ │ 10. Recap-s5WGGGSsf9Q.mp4
│ │ 10. Recap-s5WGGGSsf9Q.pt-BR.vtt
│ │ 10. Recap-s5WGGGSsf9Q.zh-CN.vtt
│ │ 10. Recap.html
│ │ index.html
│ └─img
│ hotel-1.jpg
│
├─Part 05-Module 01-Lesson 03_Tags and Site Structure
│ │ 01. Intro-hXAKqoA7J1U.ar.vtt
│ │ 01. Intro-hXAKqoA7J1U.en.vtt
│ │ 01. Intro-hXAKqoA7J1U.es-MX.vtt
│ │ 01. Intro-hXAKqoA7J1U.mp4
│ │ 01. Intro-hXAKqoA7J1U.pt-BR.vtt
│ │ 01. Intro-hXAKqoA7J1U.zh-CN.vtt
│ │ 01. Intro.html
│ │ 02. Find Your Source Code-d6GEL3SvWn8.mkv
│ │ 02. Find Your Source Code-d6GEL3SvWn8.ar.vtt
│ │ 02. Find Your Source Code-d6GEL3SvWn8.en.vtt
│ │ 02. Find Your Source Code-d6GEL3SvWn8.es-MX.vtt
│ │ 02. Find Your Source Code-d6GEL3SvWn8.pt-BR.vtt
│ │ 02. Find Your Source Code-d6GEL3SvWn8.zh-CN.vtt
│ │ 02. Find Your Source Code.html
│ │ 03. Meta And Title Tags-kVSejWYn1xs.mkv
│ │ 03. Meta And Title Tags-kVSejWYn1xs.ar.vtt
│ │ 03. Meta And Title Tags-kVSejWYn1xs.en.vtt
│ │ 03. Meta And Title Tags-kVSejWYn1xs.es-MX.vtt
│ │ 03. Meta And Title Tags-kVSejWYn1xs.pt-BR.vtt
│ │ 03. Meta And Title Tags-kVSejWYn1xs.zh-CN.vtt
│ │ 03. Meta and Title Tags.html
│ │ 04. Alt Tags Pictures, Video, Flash-8O0qcKp1mBE.mkv
│ │ 04. Alt Tags Pictures, Video, Flash-8O0qcKp1mBE.ar.vtt
│ │ 04. Alt Tags Pictures, Video, Flash-8O0qcKp1mBE.en.vtt
│ │ 04. Alt Tags Pictures, Video, Flash-8O0qcKp1mBE.es-MX.vtt
│ │ 04. Alt Tags Pictures, Video, Flash-8O0qcKp1mBE.pt-BR.vtt
│ │ 04. Alt Tags Pictures, Video, Flash-8O0qcKp1mBE.zh-CN.vtt
│ │ 04. Alt tags Pictures, Video, Flash.html
│ │ 05. Quiz Title and Description Tag Evaluation.html
│ │ 06. URL Structure and Best Practices.html
│ │ 07. Quiz URL Best Practices.html
│ │ 08. Structure Site to Make Navigation Easy.html
│ │ 09. On Site Optimized Page.html
│ │ 10. Recap Search Engine Friendly Content and Site Structure.html
│ │ 11. L3 10-wFHwJbyjBdY.ar.vtt
│ │ 11. L3 10-wFHwJbyjBdY.en.vtt
│ │ 11. L3 10-wFHwJbyjBdY.es-MX.vtt
│ │ 11. L3 10-wFHwJbyjBdY.mp4
│ │ 11. L3 10-wFHwJbyjBdY.pt-BR.vtt
│ │ 11. L3 10-wFHwJbyjBdY.zh-CN.vtt
│ │ 11. Recap.html
│ │ index.html
│ └─img
│ 05-1.png
│ 05-2.png
│ 05-3.png
│ 05-4.png
│ 05-5.png
│ 05-6.png
│ 05-7.png
│ 07-1.png
│ 07-2.png
│ 07-3.png
│ 07-4.png
│ 4-2.png
│ 5-5.png
│ 8.gif
│
├─Part 05-Module 01-Lesson 04_Link-Building
│ 01. Intro-CR-K5EMGshM.mkv
│ 01. Intro-CR-K5EMGshM.ar.vtt
│ 01. Intro-CR-K5EMGshM.en.vtt
│ 01. Intro-CR-K5EMGshM.es-MX.vtt
│ 01. Intro-CR-K5EMGshM.pt-BR.vtt
│ 01. Intro-CR-K5EMGshM.zh-CN.vtt
│ 01. Intro.html
│ 02. Understand Link And Anchor Text-yYhwYGLlUaQ.mkv
│ 02. Understand Link And Anchor Text-yYhwYGLlUaQ.ar.vtt
│ 02. Understand Link And Anchor Text-yYhwYGLlUaQ.en.vtt
│ 02. Understand Link And Anchor Text-yYhwYGLlUaQ.es-MX.vtt
│ 02. Understand Link And Anchor Text-yYhwYGLlUaQ.pt-BR.vtt
│ 02. Understand Link And Anchor Text-yYhwYGLlUaQ.zh-CN.vtt
│ 02. Understand Link and Anchor Text.html
│ 03. Quiz Write Anchor Text.html
│ 04. How Search Engines Use Links–JVE5jziAfs.mkv
│ 04. How Search Engines Use Links–JVE5jziAfs.ar.vtt
│ 04. How Search Engines Use Links–JVE5jziAfs.en.vtt
│ 04. How Search Engines Use Links–JVE5jziAfs.es-MX.vtt
│ 04. How Search Engines Use Links–JVE5jziAfs.pt-BR.vtt
│ 04. How Search Engines Use Links–JVE5jziAfs.zh-CN.vtt
│ 04. How Search Engines Use Links.html
│ 05. Natural Vs. Manual Link-Building-Ocw5denYKD8.mkv
│ 05. Natural Vs. Manual Link-Building-Ocw5denYKD8.ar.vtt
│ 05. Natural Vs. Manual Link-Building-Ocw5denYKD8.en.vtt
│ 05. Natural Vs. Manual Link-Building-Ocw5denYKD8.es-MX.vtt
│ 05. Natural Vs. Manual Link-Building-Ocw5denYKD8.pt-BR.vtt
│ 05. Natural Vs. Manual Link-Building-Ocw5denYKD8.zh-CN.vtt
│ 05. Natural vs. Manual Link-Building.html
│ 06. Iinterview Link-Building With Rand Fishkin, Moz-HlojCj1DqSs.mkv
│ 06. Iinterview Link-Building With Rand Fishkin, Moz-HlojCj1DqSs.ar.vtt
│ 06. Iinterview Link-Building With Rand Fishkin, Moz-HlojCj1DqSs.en.vtt
│ 06. Iinterview Link-Building With Rand Fishkin, Moz-HlojCj1DqSs.es-MX.vtt
│ 06. Iinterview Link-Building With Rand Fishkin, Moz-HlojCj1DqSs.pt-BR.vtt
│ 06. Iinterview Link-Building With Rand Fishkin, Moz-HlojCj1DqSs.zh-CN.vtt
│ 06. Interview Link Building with Rand at Moz.html
│ 07. Link Building Tools And Evaluating Your Site -_K57v2Beg-c.mkv
│ 07. Link Building Tools And Evaluating Your Site -_K57v2Beg-c.ar.vtt
│ 07. Link Building Tools And Evaluating Your Site -_K57v2Beg-c.en.vtt
│ 07. Link Building Tools And Evaluating Your Site -_K57v2Beg-c.es-MX.vtt
│ 07. Link Building Tools And Evaluating Your Site -_K57v2Beg-c.pt-BR.vtt
│ 07. Link Building Tools And Evaluating Your Site -_K57v2Beg-c.zh-CN.vtt
│ 07. Link Building Tools and Evaluating Your Site.html
│ 08. Interview The role of Social in SEO with Rand Fishkin-cO5TeB5RwME.mkv
│ 08. Interview The role of Social in SEO with Rand Fishkin-cO5TeB5RwME.ar.vtt
│ 08. Interview The role of Social in SEO with Rand Fishkin-cO5TeB5RwME.en.vtt
│ 08. Interview The role of Social in SEO with Rand Fishkin-cO5TeB5RwME.es-MX.vtt
│ 08. Interview The role of Social in SEO with Rand Fishkin-cO5TeB5RwME.pt-BR.vtt
│ 08. Interview The role of Social in SEO with Rand Fishkin-cO5TeB5RwME.zh-CN.vtt
│ 08. Interview The Role Social Plays in SEO.html
│ 09. Kick-off Your Link-Building Campaign.html
│ 10. Betabrand Link-Building Example-OS7BDHTWSUc.mkv
│ 10. Betabrand Link-Building Example-OS7BDHTWSUc.ar.vtt
│ 10. Betabrand Link-Building Example-OS7BDHTWSUc.en.vtt
│ 10. Betabrand Link-Building Example-OS7BDHTWSUc.es-MX.vtt
│ 10. Betabrand Link-Building Example-OS7BDHTWSUc.pt-BR.vtt
│ 10. Betabrand Link-Building Example-OS7BDHTWSUc.zh-CN.vtt
│ 10. Betabrand Link-Building Example.html
│ 11. Quiz Link Building.html
│ 12. Recap-KzAceJFk3e4.ar.vtt
│ 12. Recap-KzAceJFk3e4.en.vtt
│ 12. Recap-KzAceJFk3e4.es-MX.vtt
│ 12. Recap-KzAceJFk3e4.mp4
│ 12. Recap-KzAceJFk3e4.pt-BR.vtt
│ 12. Recap-KzAceJFk3e4.zh-CN.vtt
│ 12. Recap.html
│ index.html
├─Part 05-Module 01-Lesson 05_SEO Audit and the Future of SEO
│ │ 01. Intro-MwifqY8mHQ0.ar.vtt
│ │ 01. Intro-MwifqY8mHQ0.en.vtt
│ │ 01. Intro-MwifqY8mHQ0.es-MX.vtt
│ │ 01. Intro-MwifqY8mHQ0.mp4
│ │ 01. Intro-MwifqY8mHQ0.pt-BR.vtt
│ │ 01. Intro-MwifqY8mHQ0.zh-CN.vtt
│ │ 01. Intro.html
│ │ 02. SEO Audit Content-5jCr1eHBfNk.mkv
│ │ 02. SEO Audit Content-5jCr1eHBfNk.ar.vtt
│ │ 02. SEO Audit Content-5jCr1eHBfNk.en.vtt
│ │ 02. SEO Audit Content-5jCr1eHBfNk.es-MX.vtt
│ │ 02. SEO Audit Content-5jCr1eHBfNk.pt-BR.vtt
│ │ 02. SEO Audit Content-5jCr1eHBfNk.zh-CN.vtt
│ │ 02. SEO Audit Content.html
│ │ 03. SEO Audit Technical -HasHfDHV2sE.mkv
│ │ 03. SEO Audit Technical -HasHfDHV2sE.ar.vtt
│ │ 03. SEO Audit Technical -HasHfDHV2sE.en.vtt
│ │ 03. SEO Audit Technical -HasHfDHV2sE.es-MX.vtt
│ │ 03. SEO Audit Technical -HasHfDHV2sE.pt-BR.vtt
│ │ 03. SEO Audit Technical -HasHfDHV2sE.zh-CN.vtt
│ │ 03. SEO Audit Technical.html
│ │ 04. SEO Site Audit Checklist.html
│ │ 05. SEO Manipulation and Penalties.html
│ │ 06. Interview Black Hat SEO advice from Rand Fishkin-Vj-RrpTgFCg.ar.vtt
│ │ 06. Interview Black Hat SEO advice from Rand Fishkin-Vj-RrpTgFCg.en.vtt
│ │ 06. Interview Black Hat SEO advice from Rand Fishkin-Vj-RrpTgFCg.es-MX.vtt
│ │ 06. Interview Black Hat SEO advice from Rand Fishkin-Vj-RrpTgFCg.mkv
│ │ 06. Interview Black Hat SEO advice from Rand Fishkin-Vj-RrpTgFCg.pt-BR.vtt
│ │ 06. Interview Black Hat SEO advice from Rand Fishkin-Vj-RrpTgFCg.zh-CN.vtt
│ │ 06. Interview Black Hat SEO Advice.html
│ │ 07. Google Updates and Evolving SEO -AsNnHAOXZFU.mkv
│ │ 07. Google Updates and Evolving SEO -AsNnHAOXZFU.ar.vtt
│ │ 07. Google Updates and Evolving SEO -AsNnHAOXZFU.en.vtt
│ │ 07. Google Updates and Evolving SEO -AsNnHAOXZFU.es-MX.vtt
│ │ 07. Google Updates and Evolving SEO -AsNnHAOXZFU.pt-BR.vtt
│ │ 07. Google Updates and Evolving SEO -AsNnHAOXZFU.zh-CN.vtt
│ │ 07. Google Updates and Evolving SEO.html
│ │ 08. Interview The future of SEO-pt1Bq1nfP_A.mkv
│ │ 08. Interview The future of SEO-pt1Bq1nfP_A.ar.vtt
│ │ 08. Interview The future of SEO-pt1Bq1nfP_A.en.vtt
│ │ 08. Interview The future of SEO-pt1Bq1nfP_A.es-MX.vtt
│ │ 08. Interview The future of SEO-pt1Bq1nfP_A.pt-BR.vtt
│ │ 08. Interview The future of SEO-pt1Bq1nfP_A.zh-CN.vtt
│ │ 08. Interview The Future of Search and SEO.html
│ │ 09. Recap-Xypx_U5P71s.ar.vtt
│ │ 09. Recap-Xypx_U5P71s.en.vtt
│ │ 09. Recap-Xypx_U5P71s.es-MX.vtt
│ │ 09. Recap-Xypx_U5P71s.mp4
│ │ 09. Recap-Xypx_U5P71s.pt-BR.vtt
│ │ 09. Recap-Xypx_U5P71s.zh-CN.vtt
│ │ 09. Recap.html
│ │ index.html
│ └─img
│ 5.png
│
├─Part 05-Module 01-Lesson 06_Conduct an SEO audit
│ │ 01. Get Started.html
│ │ 02. On-site Audit Tools.html
│ │ 03. Off-site Audit Tools .html
│ │ 04. Site Performance Tools.html
│ │ index.html
│ │ Project Description – Conduct an SEO Audit.html
│ │ Project Rubric – Conduct an SEO Audit.html
│ ├─img
│ │ moz-drawing-2.png
│ │ screen-shot-2017-04-04-at-10.38.45-pm.png
│ │ screen-shot-2017-04-04-at-10.48.23-pm.png
│ │ screen-shot-2017-04-04-at-10.55.07-pm.png
│ │ screen-shot-2017-04-04-at-11.11.37-pm.png
│ │ screen-shot-2017-04-04-at-11.25.27-pm.png
│ │ screen-shot-2017-04-04-at-11.29.30-pm.png
│ │ screen-shot-2017-04-04-at-11.33.49-pm.png
│ │ screen-shot-2017-04-04-at-11.53.28-pm.png
│ │ screen-shot-2017-04-04-at-7.47.15-pm.png
│ │ screen-shot-2017-04-04-at-8.00.20-pm.png
│ │ screen-shot-2017-04-04-at-8.05.37-pm.png
│ │ screen-shot-2017-04-04-at-8.20.36-pm.png
│ │ screen-shot-2017-04-04-at-8.29.28-pm.png
│ │ screen-shot-2017-04-04-at-8.38.56-pm.png
│ │ screen-shot-2017-04-04-at-9.06.33-pm.png
│ │ screen-shot-2017-04-04-at-9.25.34-pm.png
│ │ screen-shot-2017-04-04-at-9.46.34-pm.png
│ │ screen-shot-2017-04-04-at-9.55.16-pm.png
│ │ screen-shot-2017-04-05-at-1.10.05-am.png
│ │ screen-shot-2017-04-05-at-1.16.33-am.png
│ │ screen-shot-2017-04-05-at-11.45.16-am.png
│ │ screen-shot-2017-04-05-at-12.09.40-am.png
│ │ screen-shot-2017-04-05-at-12.14.31-am.png
│ │ screen-shot-2017-04-05-at-12.26.53-am.png
│ │ screen-shot-2017-04-05-at-12.33.07-am.png
│ │ screen-shot-2017-04-05-at-12.54.10-am.png
│ │ screen-shot-2017-04-05-at-9.21.32-am.png
│ │ screen-shot-2017-04-05-at-9.45.52-am.png
│ │
│ └─media
│ screen-shot-2017-04-04-at-1.26.29-pm.png
│ screen-shot-2017-04-04-at-1.35.59-pm.png
│ screen-shot-2017-04-05-at-1.57.11-am.png
│ screen-shot-2017-04-05-at-2.02.32-am.png
│
├─Part 05-Module 02-Lesson 01_Jobs in SEO
│ 01. SEO – Take Aways-tfsmS4P8j6k.mkv
│ 01. SEO – Take Aways-tfsmS4P8j6k.ar.vtt
│ 01. SEO – Take Aways-tfsmS4P8j6k.en.vtt
│ 01. SEO – Take Aways-tfsmS4P8j6k.es-MX.vtt
│ 01. SEO – Take Aways-tfsmS4P8j6k.pt-BR.vtt
│ 01. SEO – Take Aways-tfsmS4P8j6k.zh-CN.vtt
│ 01. SEO – Take Aways.html
│ 02. Day in the Life – Diviya Valluri Hillier-a4czAWwNmZ0.mkv
│ 02. Day in the Life – Diviya Valluri Hillier-a4czAWwNmZ0.ar.vtt
│ 02. Day in the Life – Diviya Valluri Hillier-a4czAWwNmZ0.en.vtt
│ 02. Day in the Life – Diviya Valluri Hillier-a4czAWwNmZ0.es-MX.vtt
│ 02. Day in the Life – Diviya Valluri Hillier-a4czAWwNmZ0.pt-BR.vtt
│ 02. Day in the Life – Diviya Valluri Hillier-a4czAWwNmZ0.zh-CN.vtt
│ 02. Day in the Life – Diviya Valluri Hillier.html
│ 03. What you need to know.html
│ index.html
├─Part 06-Module 01-Lesson 01_Intro to SEM
│ 01. Intro.html
│ 01. Introdu??o-CJ7I5nUYVXc.ar.vtt
│ 01. Introdu??o-CJ7I5nUYVXc.en.vtt
│ 01. Introdu??o-CJ7I5nUYVXc.es-MX.vtt
│ 01. Introdu??o-CJ7I5nUYVXc.mkv
│ 01. Introdu??o-CJ7I5nUYVXc.pt-BR.vtt
│ 02. What is SEM-O8bgauVztms.mkv
│ 02. What is SEM-O8bgauVztms.ar.vtt
│ 02. What is SEM-O8bgauVztms.en.vtt
│ 02. What is SEM-O8bgauVztms.es-MX.vtt
│ 02. What is SEM-O8bgauVztms.pt-BR.vtt
│ 02. What is SEM-O8bgauVztms.zh-CN.vtt
│ 02. What is SEM.html
│ 03. Objectives and User Intent.html
│ 03. Objetivos e inten??o do usuário-wlXnZFCjBYw.ar.vtt
│ 03. Objetivos e inten??o do usuário-wlXnZFCjBYw.en.vtt
│ 03. Objetivos e inten??o do usuário-wlXnZFCjBYw.es-MX.vtt
│ 03. Objetivos e inten??o do usuário-wlXnZFCjBYw.mkv
│ 03. Objetivos e inten??o do usuário-wlXnZFCjBYw.pt-BR.vtt
│ 04. AdWords Campaign Structure.html
│ 04. Estrutura de campanha no AdWords-WjiSAOyk6aw.mkv
│ 04. Estrutura de campanha no AdWords-WjiSAOyk6aw.ar.vtt
│ 04. Estrutura de campanha no AdWords-WjiSAOyk6aw.en.vtt
│ 04. Estrutura de campanha no AdWords-WjiSAOyk6aw.es-MX.vtt
│ 04. Estrutura de campanha no AdWords-WjiSAOyk6aw.pt-BR.vtt
│ 05. A perspectiva do usuário-zUlcoC8qnQE.mkv
│ 05. A perspectiva do usuário-zUlcoC8qnQE.ar.vtt
│ 05. A perspectiva do usuário-zUlcoC8qnQE.en.vtt
│ 05. A perspectiva do usuário-zUlcoC8qnQE.es-MX.vtt
│ 05. A perspectiva do usuário-zUlcoC8qnQE.pt-BR.vtt
│ 05. The User's Perspective.html
│ 06. Recap-q4IGkm99eok.mkv
│ 06. Recap-q4IGkm99eok.ar.vtt
│ 06. Recap-q4IGkm99eok.en.vtt
│ 06. Recap-q4IGkm99eok.es-MX.vtt
│ 06. Recap-q4IGkm99eok.pt-BR.vtt
│ 06. Recap.html
│ index.html
├─Part 06-Module 01-Lesson 02_Keywords
│ │ 01. Intro-KjPRXk4lp5M.mkv
│ │ 01. Intro-KjPRXk4lp5M.ar.vtt
│ │ 01. Intro-KjPRXk4lp5M.en.vtt
│ │ 01. Intro-KjPRXk4lp5M.es-MX.vtt
│ │ 01. Intro-KjPRXk4lp5M.pt-BR.vtt
│ │ 01. Intro-KjPRXk4lp5M.zh-CN.vtt
│ │ 01. Intro.html
│ │ 02. Develop your Keyword List-q4xWmJtj5LI.mkv
│ │ 02. Develop your Keyword List-q4xWmJtj5LI.ar.vtt
│ │ 02. Develop your Keyword List-q4xWmJtj5LI.en.vtt
│ │ 02. Develop your Keyword List-q4xWmJtj5LI.es-MX.vtt
│ │ 02. Develop your Keyword List-q4xWmJtj5LI.mp4
│ │ 02. Develop your Keyword List-q4xWmJtj5LI.pt-BR.vtt
│ │ 02. Develop your Keyword List-q4xWmJtj5LI.zh-CN.vtt
│ │ 02. Develop your Keyword List.html
│ │ 03. Quiz Keyword List Building.html
│ │ 04. Google Trends-_-18fHrY_Ds.mkv
│ │ 04. Google Trends-_-18fHrY_Ds.ar.vtt
│ │ 04. Google Trends-_-18fHrY_Ds.en.vtt
│ │ 04. Google Trends-_-18fHrY_Ds.es-MX.vtt
│ │ 04. Google Trends-_-18fHrY_Ds.pt-BR.vtt
│ │ 04. Google Trends-_-18fHrY_Ds.zh-CN.vtt
│ │ 04. Google Trends.html
│ │ 05. Create your AdWords Account.html
│ │ 06. Google Keyword Planner-l71TwgWav1w.mkv
│ │ 06. Google Keyword Planner-l71TwgWav1w.ar.vtt
│ │ 06. Google Keyword Planner-l71TwgWav1w.en.vtt
│ │ 06. Google Keyword Planner-l71TwgWav1w.es-MX.vtt
│ │ 06. Google Keyword Planner-l71TwgWav1w.pt-BR.vtt
│ │ 06. Google Keyword Planner-l71TwgWav1w.zh-CN.vtt
│ │ 06. Google Keyword Planner.html
│ │ 07. Long Tail Keywords-FZHq1G3wBHY.mkv
│ │ 07. Long Tail Keywords-FZHq1G3wBHY.ar.vtt
│ │ 07. Long Tail Keywords-FZHq1G3wBHY.en.vtt
│ │ 07. Long Tail Keywords-FZHq1G3wBHY.es-MX.vtt
│ │ 07. Long Tail Keywords-FZHq1G3wBHY.pt-BR.vtt
│ │ 07. Long Tail Keywords-FZHq1G3wBHY.zh-CN.vtt
│ │ 07. Long Tail Keywords.html
│ │ 08. Keyword Matching-O8jwVf2M7WA.mkv
│ │ 08. Keyword Matching-O8jwVf2M7WA.ar.vtt
│ │ 08. Keyword Matching-O8jwVf2M7WA.en.vtt
│ │ 08. Keyword Matching-O8jwVf2M7WA.es-MX.vtt
│ │ 08. Keyword Matching-O8jwVf2M7WA.pt-BR.vtt
│ │ 08. Keyword Matching-O8jwVf2M7WA.zh-CN.vtt
│ │ 08. Keyword Matching.html
│ │ 09. Quiz Keyword Matching.html
│ │ 10. Recap-MXP8TTMoWHs.ar.vtt
│ │ 10. Recap-MXP8TTMoWHs.en.vtt
│ │ 10. Recap-MXP8TTMoWHs.mp4
│ │ 10. Recap-MXP8TTMoWHs.zh-CN.vtt
│ │ 10. Recap.html
│ │ index.html
│ └─img
│ adwords-browser1.png
│ adwords-browser2.png
│ adwords-browser3.png
│ adwords-browser4.png
│ adwords-browser5.png
│ screen-shot-2017-04-16-at-8.11.35-pm.png
│
├─Part 06-Module 01-Lesson 03_Text Ads
│ │ 01. Intro-nGm6SekVGIg.ar.vtt
│ │ 01. Intro-nGm6SekVGIg.en.vtt
│ │ 01. Intro-nGm6SekVGIg.es-MX.vtt
│ │ 01. Intro-nGm6SekVGIg.mp4
│ │ 01. Intro-nGm6SekVGIg.pt-BR.vtt
│ │ 01. Intro-nGm6SekVGIg.zh-CN.vtt
│ │ 01. Intro.html
│ │ 02. Elements of a Text Ad-qpKlEN_9AZE.mkv
│ │ 02. Elements of a Text Ad-qpKlEN_9AZE.ar.vtt
│ │ 02. Elements of a Text Ad-qpKlEN_9AZE.en.vtt
│ │ 02. Elements of a Text Ad-qpKlEN_9AZE.es-MX.vtt
│ │ 02. Elements of a Text Ad-qpKlEN_9AZE.mp4
│ │ 02. Elements of a Text Ad-qpKlEN_9AZE.pt-BR.vtt
│ │ 02. Elements of a Text Ad-qpKlEN_9AZE.zh-CN.vtt
│ │ 02. Elements of a Text Ad.html
│ │ 03. Ad Extensions, Part 1-dj73MM75vPo.mkv
│ │ 03. Ad Extensions, Part 1-dj73MM75vPo.ar.vtt
│ │ 03. Ad Extensions, Part 1-dj73MM75vPo.en.vtt
│ │ 03. Ad Extensions, Part 1-dj73MM75vPo.es-MX.vtt
│ │ 03. Ad Extensions, Part 1-dj73MM75vPo.pt-BR.vtt
│ │ 03. Ad Extensions, Part 1-dj73MM75vPo.zh-CN.vtt
│ │ 03. Ad Extensions, Part 1.html
│ │ 04. Ad Extensions, Part 2-BsUGvWI-Iaw.mkv
│ │ 04. Ad Extensions, Part 2-BsUGvWI-Iaw.ar.vtt
│ │ 04. Ad Extensions, Part 2-BsUGvWI-Iaw.en.vtt
│ │ 04. Ad Extensions, Part 2-BsUGvWI-Iaw.es-MX.vtt
│ │ 04. Ad Extensions, Part 2-BsUGvWI-Iaw.pt-BR.vtt
│ │ 04. Ad Extensions, Part 2-BsUGvWI-Iaw.zh-CN.vtt
│ │ 04. Ad Extensions, Part 2.html
│ │ 05. Quiz Ad Extensions.html
│ │ 06. Text Ad Best Practices.html
│ │ 07. Text Ad Common Mistakes.html
│ │ 08. Quiz Text Ads.html
│ │ 09. Recap-QtLR3aVqvZM.ar.vtt
│ │ 09. Recap-QtLR3aVqvZM.en.vtt
│ │ 09. Recap-QtLR3aVqvZM.es-MX.vtt
│ │ 09. Recap-QtLR3aVqvZM.mp4
│ │ 09. Recap-QtLR3aVqvZM.pt-BR.vtt
│ │ 09. Recap-QtLR3aVqvZM.zh-CN.vtt
│ │ 09. Recap.html
│ │ index.html
│ └─img
│ screen-shot-2017-04-16-at-9.53.46-pm.png
│
├─Part 06-Module 01-Lesson 04_Ad Rank and Maximum CPC bid
│ 01. Intro-D07RxGTAgLI.ar.vtt
│ 01. Intro-D07RxGTAgLI.en.vtt
│ 01. Intro-D07RxGTAgLI.es-MX.vtt
│ 01. Intro-D07RxGTAgLI.mp4
│ 01. Intro-D07RxGTAgLI.pt-BR.vtt
│ 01. Intro-D07RxGTAgLI.zh-CN.vtt
│ 01. Intro.html
│ 02. Ad Quality And Relevance Matters-T4UVnt7X_Pc.mkv
│ 02. Ad Quality And Relevance Matters-T4UVnt7X_Pc.ar.vtt
│ 02. Ad Quality And Relevance Matters-T4UVnt7X_Pc.en.vtt
│ 02. Ad Quality And Relevance Matters-T4UVnt7X_Pc.es-MX.vtt
│ 02. Ad Quality And Relevance Matters-T4UVnt7X_Pc.pt-BR.vtt
│ 02. Ad Quality And Relevance Matters-T4UVnt7X_Pc.zh-CN.vtt
│ 02. Ad Quality and Relevance Matters.html
│ 03. Quality Score And Ad Rank-_2kT6yx4tuc.mkv
│ 03. Quality Score And Ad Rank-_2kT6yx4tuc.ar.vtt
│ 03. Quality Score And Ad Rank-_2kT6yx4tuc.en.vtt
│ 03. Quality Score And Ad Rank-_2kT6yx4tuc.es-MX.vtt
│ 03. Quality Score And Ad Rank-_2kT6yx4tuc.pt-BR.vtt
│ 03. Quality Score And Ad Rank-_2kT6yx4tuc.zh-CN.vtt
│ 03. Quality Score and Ad Rank.html
│ 04. Finding Your Maximum CPC Bid – Examples.html
│ 04. Finding Your Maximum CPC Bid-wfEbA-RmIRs.mkv
│ 04. Finding Your Maximum CPC Bid-wfEbA-RmIRs.ar.vtt
│ 04. Finding Your Maximum CPC Bid-wfEbA-RmIRs.en.vtt
│ 04. Finding Your Maximum CPC Bid-wfEbA-RmIRs.es-MX.vtt
│ 04. Finding Your Maximum CPC Bid-wfEbA-RmIRs.pt-BR.vtt
│ 04. Finding Your Maximum CPC Bid-wfEbA-RmIRs.zh-CN.vtt
│ 05. Finding Your Maximum CPC Bid – Examples.html
│ 06. Recap-17aq1JA9VdA.ar.vtt
│ 06. Recap-17aq1JA9VdA.en.vtt
│ 06. Recap-17aq1JA9VdA.es-MX.vtt
│ 06. Recap-17aq1JA9VdA.mp4
│ 06. Recap-17aq1JA9VdA.pt-BR.vtt
│ 06. Recap-17aq1JA9VdA.zh-CN.vtt
│ 06. Recap.html
│ index.html
├─Part 06-Module 01-Lesson 05_Navigate AdWords
│ │ 01. Intro-e2Fx–h9aF0.ar.vtt
│ │ 01. Intro-e2Fx–h9aF0.en.vtt
│ │ 01. Intro-e2Fx–h9aF0.es-MX.vtt
│ │ 01. Intro-e2Fx–h9aF0.mp4
│ │ 01. Intro-e2Fx–h9aF0.pt-BR.vtt
│ │ 01. Intro-e2Fx–h9aF0.zh-CN.vtt
│ │ 01. Intro.html
│ │ 02. Our Test Campaign.html
│ │ 03. Log in to AdWords.html
│ │ 04. AdWords Campaign Setup, Part 1-4HCmdDi5COw.mkv
│ │ 04. AdWords Campaign Setup, Part 1-4HCmdDi5COw.ar.vtt
│ │ 04. AdWords Campaign Setup, Part 1-4HCmdDi5COw.en.vtt
│ │ 04. AdWords Campaign Setup, Part 1-4HCmdDi5COw.es-MX.vtt
│ │ 04. AdWords Campaign Setup, Part 1-4HCmdDi5COw.pt-BR.vtt
│ │ 04. AdWords Campaign Setup, Part 1-4HCmdDi5COw.zh-CN.vtt
│ │ 04. AdWords Campaign Setup, Part 1.html
│ │ 05. AdWords Campaign Setup, Part 2-mKZ1mlB-mxQ.mkv
│ │ 05. AdWords Campaign Setup, Part 2-mKZ1mlB-mxQ.ar.vtt
│ │ 05. AdWords Campaign Setup, Part 2-mKZ1mlB-mxQ.en.vtt
│ │ 05. AdWords Campaign Setup, Part 2-mKZ1mlB-mxQ.es-MX.vtt
│ │ 05. AdWords Campaign Setup, Part 2-mKZ1mlB-mxQ.pt-BR.vtt
│ │ 05. AdWords Campaign Setup, Part 2-mKZ1mlB-mxQ.zh-CN.vtt
│ │ 05. AdWords Campaign Setup, Part 2.html
│ │ 06. AdWords Dashboard Walkthrough-sjJecDYAW-8.mkv
│ │ 06. AdWords Dashboard Walkthrough-sjJecDYAW-8.ar.vtt
│ │ 06. AdWords Dashboard Walkthrough-sjJecDYAW-8.en.vtt
│ │ 06. AdWords Dashboard Walkthrough-sjJecDYAW-8.es-MX.vtt
│ │ 06. AdWords Dashboard Walkthrough-sjJecDYAW-8.pt-BR.vtt
│ │ 06. AdWords Dashboard Walkthrough-sjJecDYAW-8.zh-CN.vtt
│ │ 06. AdWords Dashboard Walkthrough.html
│ │ 07. Conversion Tracking, Part 1-aBYmriCjIn0.mkv
│ │ 07. Conversion Tracking, Part 1-aBYmriCjIn0.ar.vtt
│ │ 07. Conversion Tracking, Part 1-aBYmriCjIn0.en.vtt
│ │ 07. Conversion Tracking, Part 1-aBYmriCjIn0.es-MX.vtt
│ │ 07. Conversion Tracking, Part 1-aBYmriCjIn0.pt-BR.vtt
│ │ 07. Conversion Tracking, Part 1-aBYmriCjIn0.zh-CN.vtt
│ │ 07. Conversion Tracking, Part 1.html
│ │ 08. Conversion Tracking, Part 2-iIepPeDv988.mkv
│ │ 08. Conversion Tracking, Part 2-iIepPeDv988.ar.vtt
│ │ 08. Conversion Tracking, Part 2-iIepPeDv988.en.vtt
│ │ 08. Conversion Tracking, Part 2-iIepPeDv988.es-MX.vtt
│ │ 08. Conversion Tracking, Part 2-iIepPeDv988.pt-BR.vtt
│ │ 08. Conversion Tracking, Part 2-iIepPeDv988.zh-CN.vtt
│ │ 08. Conversion Tracking, Part 2.html
│ │ 09. Quiz Conversion Tracking.html
│ │ 10. Recap-AaSo0h0PEZ8.mkv
│ │ 10. Recap-AaSo0h0PEZ8.ar.vtt
│ │ 10. Recap-AaSo0h0PEZ8.en.vtt
│ │ 10. Recap-AaSo0h0PEZ8.es-MX.vtt
│ │ 10. Recap-AaSo0h0PEZ8.pt-BR.vtt
│ │ 10. Recap-AaSo0h0PEZ8.zh-CN.vtt
│ │ 10. Recap.html
│ │ index.html
│ └─img
│ adwords-browser6.png
│ adwords-browser8.png
│ screen-glossary.png
│ screen-shot-2017-04-16-at-8.56.00-pm.png
│
├─Part 06-Module 01-Lesson 06_Metrics and Optimization
│ │ 01. Intro-M2lBwObGCx8.mkv
│ │ 01. Intro-M2lBwObGCx8.ar.vtt
│ │ 01. Intro-M2lBwObGCx8.en.vtt
│ │ 01. Intro-M2lBwObGCx8.es-MX.vtt
│ │ 01. Intro-M2lBwObGCx8.pt-BR.vtt
│ │ 01. Intro-M2lBwObGCx8.zh-CN.vtt
│ │ 01. Intro.html
│ │ 02. Metrics and Campaign Evaluation Part 1.html
│ │ 03. Metrics and Campaign Evaluation Part 2.html
│ │ 04. Keyword Evaluation and Optimization.html
│ │ 05. AB Test your Text Ads.html
│ │ 06. Quiz AB Testing Text Ads.html
│ │ 07. Case Study.html
│ │ 08. Recap-nplENiEq0kk.mkv
│ │ 08. Recap-nplENiEq0kk.ar.vtt
│ │ 08. Recap-nplENiEq0kk.en.vtt
│ │ 08. Recap-nplENiEq0kk.es-MX.vtt
│ │ 08. Recap-nplENiEq0kk.pt-BR.vtt
│ │ 08. Recap-nplENiEq0kk.zh-CN.vtt
│ │ 08. Recap.html
│ │ index.html
│ └─img
│ ads.png
│ alveole.png
│ screen-shot-2017-03-20-at-11.11.05-pm.png
│ screen-shot-2017-03-21-at-11.42.23-am.png
│ screen-shot-2017-03-21-at-12.01.05-am.png
│ screen-shot-2017-03-21-at-12.42.11-am.png
│ screen-shot-2017-04-11-at-6.16.40-pm.png
│ screen-shot-2017-04-11-at-6.16.53-pm.png
│ screen-shot-2017-04-11-at-6.17.19-pm.png
│ target-metrics.png
│ targetmetrics-results.png
│
├─Part 06-Module 02-Lesson 01_Run an AdWords Campaign (Part 1)
│ │ 01. DMND Refresh ProjectIntro5 FINAL-HRsRHxg4WXQ.en.vtt
│ │ 01. DMND Refresh ProjectIntro5 FINAL-HRsRHxg4WXQ.mp4
│ │ 01. DMND Refresh ProjectIntro5 FINAL-HRsRHxg4WXQ.pt-BR.vtt
│ │ 01. Get Started.html
│ │ 02. Option 1.html
│ │ 03. Option 2.html
│ │ 04. Build Campaign Option 1.html
│ │ 05. Build Campaign Option 2.html
│ │ 06. Create your Ads Option 1.html
│ │ 07. Create your Ads Option 2.html
│ │ 08. Tracking Conversions Option 2.html
│ │ index.html
│ │ Project Description – Create an AdWords Campaign (Part 1).html
│ │ Project Rubric – Create an AdWords Campaign (Part 1).html
│ └─img
│ awnd-project1-project-prep-part-1-1.png
│ awnd-project1-project-prep-part-1-2.png
│ awnd-project1-project-prep-part-1.png
│ gand-project1-project-prep-build-ad.png
│ gand-project1-project-prep-part-ad-group.png
│ gand-project1-project-unclick-display-1.png
│ screen-shot-2017-11-22-at-1.25.50-pm-1.png
│ screen-shot-2017-11-22-at-1.25.50-pm.png
│ screen-shot-2017-11-22-at-1.32.56-pm-1.png
│ screen-shot-2017-11-22-at-1.32.56-pm.png
│ screen-shot-2017-11-22-at-1.36.14-pm.png
│ screen-shot-2017-11-22-at-1.37.28-pm.png
│ screen-shot-2017-11-29-at-1.19.30-pm.png
│ screen-shot-2017-11-29-at-1.23.01-pm.png
│ updated-gand-project1-project-unclick-display.png
│
├─Part 06-Module 02-Lesson 02_Run an AdWords Campaign (Part 2)
│ │ 01. Get Started Option 1.html
│ │ 02. Get Start Option 2.html
│ │ 03. Campaign Results.html
│ │ index.html
│ │ Project Description – Run an AdWords Campaign (Part 2).html
│ │ Project Rubric – Run an AdWords Campaign (Part 2).html
│ └─img
│ screen-shot-2017-11-27-at-10.02.54-am.png
│ screen-shot-2017-11-27-at-10.37.28-am.png
│ screen-shot-2017-11-27-at-9.42.17-am.png
│ screen-shot-2017-11-27-at-9.53.18-am.png
│ screen-shot-2017-11-27-at-9.55.25-am.png
│ screen-shot-2018-02-05-at-2.29.10-pm.png
│ updated-adwords-ad-groups-image.png
│ updated-adwords-byob-campaign-image.png
│ updated-adwords-campaign-name.png
│ updated-adwords-campaign-overview-image-3.png
│ updated-adwords-campaign-search.png
│
├─Part 06-Module 02-Lesson 03_Let's Check-in!
│ 01. Mid-Point Check-in.html
│ index.html
├─Part 06-Module 03-Lesson 01_Jobs in SEM
│ 01. SEM – Take Aways.html
│ 01. SEM-8_ZkAy7aKCQ.mkv
│ 01. SEM-8_ZkAy7aKCQ.ar.vtt
│ 01. SEM-8_ZkAy7aKCQ.en.vtt
│ 01. SEM-8_ZkAy7aKCQ.pt-BR.vtt
│ 01. SEM-8_ZkAy7aKCQ.zh-CN.vtt
│ 02. Day in The Life – Matt Rubenstein-ofqd6UQKx7I.mkv
│ 02. Day in The Life – Matt Rubenstein-ofqd6UQKx7I.ar.vtt
│ 02. Day in The Life – Matt Rubenstein-ofqd6UQKx7I.en.vtt
│ 02. Day in The Life – Matt Rubenstein-ofqd6UQKx7I.pt-BR.vtt
│ 02. Day in The Life – Matt Rubenstein-ofqd6UQKx7I.zh-CN.vtt
│ 02. Day in The Life – Matt Rubenstein.html
│ 03. What you need to know.html
│ index.html
├─Part 07-Module 01-Lesson 01_How Do Display Ads Work
│ │ 01. Intro-pD4yEhOELQw.mkv
│ │ 01. Intro-pD4yEhOELQw.ar.vtt
│ │ 01. Intro-pD4yEhOELQw.en.vtt
│ │ 01. Intro-pD4yEhOELQw.es-MX.vtt
│ │ 01. Intro-pD4yEhOELQw.pt-BR.vtt
│ │ 01. Intro-pD4yEhOELQw.zh-CN.vtt
│ │ 01. Intro.html
│ │ 02. Content And Ad Servers-RXrnY6V67Kc.mkv
│ │ 02. Content And Ad Servers-RXrnY6V67Kc.ar.vtt
│ │ 02. Content And Ad Servers-RXrnY6V67Kc.en.vtt
│ │ 02. Content And Ad Servers-RXrnY6V67Kc.es-MX.vtt
│ │ 02. Content And Ad Servers-RXrnY6V67Kc.pt-BR.vtt
│ │ 02. Content And Ad Servers-RXrnY6V67Kc.zh-CN.vtt
│ │ 02. Content and Ad Servers.html
│ │ 03. Data And Display Advertising-nVpTJ8uQNHk.mkv
│ │ 03. Data And Display Advertising-nVpTJ8uQNHk.ar.vtt
│ │ 03. Data And Display Advertising-nVpTJ8uQNHk.en.vtt
│ │ 03. Data And Display Advertising-nVpTJ8uQNHk.es-MX.vtt
│ │ 03. Data And Display Advertising-nVpTJ8uQNHk.pt-BR.vtt
│ │ 03. Data And Display Advertising-nVpTJ8uQNHk.zh-CN.vtt
│ │ 03. Data and Display Advertising.html
│ │ 04. First And Third Party Cookies-97QOcDyK_W8.mkv
│ │ 04. First And Third Party Cookies-97QOcDyK_W8.ar.vtt
│ │ 04. First And Third Party Cookies-97QOcDyK_W8.en.vtt
│ │ 04. First And Third Party Cookies-97QOcDyK_W8.es-MX.vtt
│ │ 04. First And Third Party Cookies-97QOcDyK_W8.pt-BR.vtt
│ │ 04. First And Third Party Cookies-97QOcDyK_W8.zh-CN.vtt
│ │ 04. First and Third Party Cookies.html
│ │ 05. Quiz Find Third Party Cookies in the Browser.html
│ │ 06. Not everybody likes cookies-JM3H0FUqAqQ.mkv
│ │ 06. Not everybody likes cookies-JM3H0FUqAqQ.ar.vtt
│ │ 06. Not everybody likes cookies-JM3H0FUqAqQ.en.vtt
│ │ 06. Not everybody likes cookies-JM3H0FUqAqQ.es-MX.vtt
│ │ 06. Not everybody likes cookies-JM3H0FUqAqQ.pt-BR.vtt
│ │ 06. Not everybody likes cookies-JM3H0FUqAqQ.zh-CN.vtt
│ │ 06. Not Everybody Likes Cookies.html
│ │ 07. Data in Mobile.html
│ │ 08. Data And Display Advertising-uz_kZY-3irM.mkv
│ │ 08. Data And Display Advertising-uz_kZY-3irM.ar.vtt
│ │ 08. Data And Display Advertising-uz_kZY-3irM.en.vtt
│ │ 08. Data And Display Advertising-uz_kZY-3irM.es-MX.vtt
│ │ 08. Data And Display Advertising-uz_kZY-3irM.pt-BR.vtt
│ │ 08. Data And Display Advertising-uz_kZY-3irM.zh-CN.vtt
│ │ 08. Data and Display Advertising.html
│ │ 09. Data and Advertising Connection.html
│ │ 10. Recap-nAHhqpiBYFI.ar.vtt
│ │ 10. Recap-nAHhqpiBYFI.en.vtt
│ │ 10. Recap-nAHhqpiBYFI.es-MX.vtt
│ │ 10. Recap-nAHhqpiBYFI.mp4
│ │ 10. Recap-nAHhqpiBYFI.pt-BR.vtt
│ │ 10. Recap-nAHhqpiBYFI.zh-CN.vtt
│ │ 10. Recap.html
│ │ index.html
│ └─img
│ l1-datainmobile-1.png
│ l1-datainmobile-2.png
│
├─Part 07-Module 01-Lesson 02_Display Ads and Targeting
│ │ 01. Intro-aln4zsylzT8.ar.vtt
│ │ 01. Intro-aln4zsylzT8.en.vtt
│ │ 01. Intro-aln4zsylzT8.es-MX.vtt
│ │ 01. Intro-aln4zsylzT8.mp4
│ │ 01. Intro-aln4zsylzT8.pt-BR.vtt
│ │ 01. Intro-aln4zsylzT8.zh-CN.vtt
│ │ 01. Intro.html
│ │ 02. History Of Display Advertising-qs-SbCuWSus.mkv
│ │ 02. History Of Display Advertising-qs-SbCuWSus.ar.vtt
│ │ 02. History Of Display Advertising-qs-SbCuWSus.en.vtt
│ │ 02. History Of Display Advertising-qs-SbCuWSus.es-MX.vtt
│ │ 02. History Of Display Advertising-qs-SbCuWSus.pt-BR.vtt
│ │ 02. History Of Display Advertising-qs-SbCuWSus.zh-CN.vtt
│ │ 02. History of Display Advertising.html
│ │ 03. Evolution Of Display Ads-LKaVQqL9GaY.mkv
│ │ 03. Evolution Of Display Ads-LKaVQqL9GaY.ar.vtt
│ │ 03. Evolution Of Display Ads-LKaVQqL9GaY.en.vtt
│ │ 03. Evolution Of Display Ads-LKaVQqL9GaY.es-MX.vtt
│ │ 03. Evolution Of Display Ads-LKaVQqL9GaY.pt-BR.vtt
│ │ 03. Evolution Of Display Ads-LKaVQqL9GaY.zh-CN.vtt
│ │ 03. Evolution of Display Ads.html
│ │ 04. Quiz IAB Advertising Guidelines.html
│ │ 05. Display Ads and Customer Journey.html
│ │ 05. Display Ads And The Customer Journey-zjAroiB82jM.mkv
│ │ 05. Display Ads And The Customer Journey-zjAroiB82jM.ar.vtt
│ │ 05. Display Ads And The Customer Journey-zjAroiB82jM.en.vtt
│ │ 05. Display Ads And The Customer Journey-zjAroiB82jM.es-MX.vtt
│ │ 05. Display Ads And The Customer Journey-zjAroiB82jM.pt-BR.vtt
│ │ 05. Display Ads And The Customer Journey-zjAroiB82jM.zh-CN.vtt
│ │ 06. Display Ad Formats-g5T1qz_m8No.mkv
│ │ 06. Display Ad Formats-g5T1qz_m8No.ar.vtt
│ │ 06. Display Ad Formats-g5T1qz_m8No.en.vtt
│ │ 06. Display Ad Formats-g5T1qz_m8No.es-MX.vtt
│ │ 06. Display Ad Formats-g5T1qz_m8No.pt-BR.vtt
│ │ 06. Display Ad Formats-g5T1qz_m8No.zh-CN.vtt
│ │ 06. Display Ad Formats.html
│ │ 07. Direct Response Vs. Brand Advertising-ToLGUj53x0U.mkv
│ │ 07. Direct Response Vs. Brand Advertising-ToLGUj53x0U.ar.vtt
│ │ 07. Direct Response Vs. Brand Advertising-ToLGUj53x0U.en.vtt
│ │ 07. Direct Response Vs. Brand Advertising-ToLGUj53x0U.es-MX.vtt
│ │ 07. Direct Response Vs. Brand Advertising-ToLGUj53x0U.pt-BR.vtt
│ │ 07. Direct Response Vs. Brand Advertising-ToLGUj53x0U.zh-CN.vtt
│ │ 07. Direct Response vs. Brand Advertising.html
│ │ 08. Metrics for Display Ads.html
│ │ 09. Quiz Metrics and Pricing Models.html
│ │ 10. Pricing Models for Display Ads.html
│ │ 11. Quiz Different Pricing Models.html
│ │ 12. Reach And Frequency-OnTwTvqzV8g.mkv
│ │ 12. Reach And Frequency-OnTwTvqzV8g.ar.vtt
│ │ 12. Reach And Frequency-OnTwTvqzV8g.en.vtt
│ │ 12. Reach And Frequency-OnTwTvqzV8g.es-MX.vtt
│ │ 12. Reach And Frequency-OnTwTvqzV8g.pt-BR.vtt
│ │ 12. Reach And Frequency-OnTwTvqzV8g.zh-CN.vtt
│ │ 12. Reach and Frequency.html
│ │ 13. Targeting Ads-Idie6a68c7Q.mkv
│ │ 13. Targeting Ads-Idie6a68c7Q.ar.vtt
│ │ 13. Targeting Ads-Idie6a68c7Q.en.vtt
│ │ 13. Targeting Ads-Idie6a68c7Q.es-MX.vtt
│ │ 13. Targeting Ads-Idie6a68c7Q.pt-BR.vtt
│ │ 13. Targeting Ads-Idie6a68c7Q.zh-CN.vtt
│ │ 13. Targeting Ads.html
│ │ 14. Display Ads And Mobile-tyaSr1qSCeg.mkv
│ │ 14. Display Ads And Mobile-tyaSr1qSCeg.ar.vtt
│ │ 14. Display Ads And Mobile-tyaSr1qSCeg.en.vtt
│ │ 14. Display Ads And Mobile-tyaSr1qSCeg.es-MX.vtt
│ │ 14. Display Ads And Mobile-tyaSr1qSCeg.pt-BR.vtt
│ │ 14. Display Ads And Mobile-tyaSr1qSCeg.zh-CN.vtt
│ │ 14. Display Ads and Mobile.html
│ │ 15. Display Advertising Related Concerns.html
│ │ 16. Recap-oqxWOHxyoJs.ar.vtt
│ │ 16. Recap-oqxWOHxyoJs.en.vtt
│ │ 16. Recap-oqxWOHxyoJs.es-MX.vtt
│ │ 16. Recap-oqxWOHxyoJs.mp4
│ │ 16. Recap-oqxWOHxyoJs.pt-BR.vtt
│ │ 16. Recap-oqxWOHxyoJs.zh-CN.vtt
│ │ 16. Recap.html
│ │ index.html
│ └─img
│ l2-quiz-2.png
│ l2-quiz.png
│
├─Part 07-Module 01-Lesson 03_Display Advertising Sales Models
│ │ 01. Intro-zUs_uydP3O4.ar.vtt
│ │ 01. Intro-zUs_uydP3O4.en.vtt
│ │ 01. Intro-zUs_uydP3O4.es-MX.vtt
│ │ 01. Intro-zUs_uydP3O4.mp4
│ │ 01. Intro-zUs_uydP3O4.pt-BR.vtt
│ │ 01. Intro-zUs_uydP3O4.zh-CN.vtt
│ │ 01. Intro.html
│ │ 02. The Changing Sales Model-9Qpb7jU5xTc.mkv
│ │ 02. The Changing Sales Model-9Qpb7jU5xTc.ar.vtt
│ │ 02. The Changing Sales Model-9Qpb7jU5xTc.en.vtt
│ │ 02. The Changing Sales Model-9Qpb7jU5xTc.es-MX.vtt
│ │ 02. The Changing Sales Model-9Qpb7jU5xTc.pt-BR.vtt
│ │ 02. The Changing Sales Model-9Qpb7jU5xTc.zh-CN.vtt
│ │ 02. The Changing Sales Model.html
│ │ 03. The Different Display Advertising Sales Models.html
│ │ 04. Programmatic Advertising Landscape-Zxi9qoxGJlE.mkv
│ │ 04. Programmatic Advertising Landscape-Zxi9qoxGJlE.ar.vtt
│ │ 04. Programmatic Advertising Landscape-Zxi9qoxGJlE.en.vtt
│ │ 04. Programmatic Advertising Landscape-Zxi9qoxGJlE.es-MX.vtt
│ │ 04. Programmatic Advertising Landscape-Zxi9qoxGJlE.pt-BR.vtt
│ │ 04. Programmatic Advertising Landscape-Zxi9qoxGJlE.zh-CN.vtt
│ │ 04. Programmatic Advertising.html
│ │ 05. Run a Display Advertising Campaign.html
│ │ 06. Recap-AgYqrgPz69Y.mkv
│ │ 06. Recap-AgYqrgPz69Y.ar.vtt
│ │ 06. Recap-AgYqrgPz69Y.en.vtt
│ │ 06. Recap-AgYqrgPz69Y.es-MX.vtt
│ │ 06. Recap-AgYqrgPz69Y.pt-BR.vtt
│ │ 06. Recap-AgYqrgPz69Y.zh-CN.vtt
│ │ 06. Recap.html
│ │ index.html
│ └─img
│ l3-direct-advertising-1.png
│ l3-runadisplay-1.png
│
├─Part 07-Module 01-Lesson 04_Display Advertising with AdWords
│ │ 01. Intro-0VAldxY3DbU.ar.vtt
│ │ 01. Intro-0VAldxY3DbU.en.vtt
│ │ 01. Intro-0VAldxY3DbU.es-MX.vtt
│ │ 01. Intro-0VAldxY3DbU.mp4
│ │ 01. Intro-0VAldxY3DbU.pt-BR.vtt
│ │ 01. Intro-0VAldxY3DbU.zh-CN.vtt
│ │ 01. Intro.html
│ │ 02. Display Advertising And The Customer Journey-EpFIYSmfd2I.mkv
│ │ 02. Display Advertising And The Customer Journey-EpFIYSmfd2I.ar.vtt
│ │ 02. Display Advertising And The Customer Journey-EpFIYSmfd2I.en.vtt
│ │ 02. Display Advertising And The Customer Journey-EpFIYSmfd2I.es-MX.vtt
│ │ 02. Display Advertising And The Customer Journey-EpFIYSmfd2I.pt-BR.vtt
│ │ 02. Display Advertising And The Customer Journey-EpFIYSmfd2I.zh-CN.vtt
│ │ 02. Display Advertising and the customer journey.html
│ │ 03. The Google Display Network And Adwords–W32IydMn0s.mkv
│ │ 03. The Google Display Network And Adwords–W32IydMn0s.ar.vtt
│ │ 03. The Google Display Network And Adwords–W32IydMn0s.en.vtt
│ │ 03. The Google Display Network And Adwords–W32IydMn0s.es-MX.vtt
│ │ 03. The Google Display Network And Adwords–W32IydMn0s.pt-BR.vtt
│ │ 03. The Google Display Network And Adwords–W32IydMn0s.zh-CN.vtt
│ │ 03. The Google Display Network and Adwords.html
│ │ 04. Marketing Objective And Campaign Set Up Final-HAsRVC5AiGM.mkv
│ │ 04. Marketing Objective And Campaign Set Up Final-HAsRVC5AiGM.ar.vtt
│ │ 04. Marketing Objective And Campaign Set Up Final-HAsRVC5AiGM.en.vtt
│ │ 04. Marketing Objective And Campaign Set Up Final-HAsRVC5AiGM.es-MX.vtt
│ │ 04. Marketing Objective And Campaign Set Up Final-HAsRVC5AiGM.pt-BR.vtt
│ │ 04. Marketing Objective And Campaign Set Up Final-HAsRVC5AiGM.zh-CN.vtt
│ │ 04. Marketing Objective and Campaign Set up.html
│ │ 05. Set Your Budget-wMyWMX-_ev8.mkv
│ │ 05. Set Your Budget-wMyWMX-_ev8.ar.vtt
│ │ 05. Set Your Budget-wMyWMX-_ev8.en.vtt
│ │ 05. Set Your Budget-wMyWMX-_ev8.es-MX.vtt
│ │ 05. Set Your Budget-wMyWMX-_ev8.pt-BR.vtt
│ │ 05. Set Your Budget-wMyWMX-_ev8.zh-CN.vtt
│ │ 05. Set your Budget.html
│ │ 06. Targeting options in Google Adwords.html
│ │ 07. Target Your Campaign-FKhGT1phPK0.mkv
│ │ 07. Target Your Campaign-FKhGT1phPK0.ar.vtt
│ │ 07. Target Your Campaign-FKhGT1phPK0.en.vtt
│ │ 07. Target Your Campaign-FKhGT1phPK0.es-MX.vtt
│ │ 07. Target Your Campaign-FKhGT1phPK0.pt-BR.vtt
│ │ 07. Target Your Campaign-FKhGT1phPK0.zh-CN.vtt
│ │ 07. Target your campaign.html
│ │ 08. Ad Formats in Google Adwords.html
│ │ 09. Create Your Ad-cNKEjlJvgXY.mkv
│ │ 09. Create Your Ad-cNKEjlJvgXY.ar.vtt
│ │ 09. Create Your Ad-cNKEjlJvgXY.en.vtt
│ │ 09. Create Your Ad-cNKEjlJvgXY.es-MX.vtt
│ │ 09. Create Your Ad-cNKEjlJvgXY.pt-BR.vtt
│ │ 09. Create Your Ad-cNKEjlJvgXY.zh-CN.vtt
│ │ 09. Create your ad.html
│ │ 10. Optimize your Display Advertising Campaign.html
│ │ 11. Recap-Kl103EWTMUA.ar.vtt
│ │ 11. Recap-Kl103EWTMUA.en.vtt
│ │ 11. Recap-Kl103EWTMUA.es-MX.vtt
│ │ 11. Recap-Kl103EWTMUA.mp4
│ │ 11. Recap-Kl103EWTMUA.pt-BR.vtt
│ │ 11. Recap-Kl103EWTMUA.zh-CN.vtt
│ │ 11. Recap.html
│ │ index.html
│ └─img
│ l4-adgallery.png
│ l4-googleadwords-1.png
│ l4-googleadwords-2.png
│ l4-optimizedisplay-1.png
│ l4-optimizedisplay-2.png
│ l4-optimizedisplay-3.png
│
├─Part 07-Module 01-Lesson 05_Video Advertising
│ │ 01. Intro.html
│ │ 01. L5 00-CEY38rJJS5s.ar.vtt
│ │ 01. L5 00-CEY38rJJS5s.en.vtt
│ │ 01. L5 00-CEY38rJJS5s.es-MX.vtt
│ │ 01. L5 00-CEY38rJJS5s.mp4
│ │ 01. L5 00-CEY38rJJS5s.pt-BR.vtt
│ │ 01. L5 00-CEY38rJJS5s.zh-CN.vtt
│ │ 02. The Importance Of Video Advertising-I_i6xU3DkO8.mkv
│ │ 02. The Importance Of Video Advertising-I_i6xU3DkO8.ar.vtt
│ │ 02. The Importance Of Video Advertising-I_i6xU3DkO8.en.vtt
│ │ 02. The Importance Of Video Advertising-I_i6xU3DkO8.es-MX.vtt
│ │ 02. The Importance Of Video Advertising-I_i6xU3DkO8.pt-BR.vtt
│ │ 02. The Importance Of Video Advertising-I_i6xU3DkO8.zh-CN.vtt
│ │ 02. The Importance of Video Advertising.html
│ │ 03. Online Video Ads Types and Formats.html
│ │ 04. Video Advertising Plaforms.html
│ │ 04. Video Advertising Platforms-qgiENlWYTzI.mkv
│ │ 04. Video Advertising Platforms-qgiENlWYTzI.ar.vtt
│ │ 04. Video Advertising Platforms-qgiENlWYTzI.en.vtt
│ │ 04. Video Advertising Platforms-qgiENlWYTzI.es-MX.vtt
│ │ 04. Video Advertising Platforms-qgiENlWYTzI.pt-BR.vtt
│ │ 04. Video Advertising Platforms-qgiENlWYTzI.zh-CN.vtt
│ │ 05. Tips for Effective Online Video Advertising.html
│ │ 06. Video Campaigns In Adwords-D0isW6Tw3qU.mkv
│ │ 06. Video Campaigns In Adwords-D0isW6Tw3qU.ar.vtt
│ │ 06. Video Campaigns In Adwords-D0isW6Tw3qU.en.vtt
│ │ 06. Video Campaigns In Adwords-D0isW6Tw3qU.es-MX.vtt
│ │ 06. Video Campaigns In Adwords-D0isW6Tw3qU.pt-BR.vtt
│ │ 06. Video Campaigns In Adwords-D0isW6Tw3qU.zh-CN.vtt
│ │ 06. Video Campaigns in Adwords.html
│ │ 07. Video Formats in Adwords.html
│ │ 08. Running a Video Ad Campaign on Adwords-vMoImH5Bk4Q.mkv
│ │ 08. Running a Video Ad Campaign on Adwords-vMoImH5Bk4Q.ar.vtt
│ │ 08. Running a Video Ad Campaign on Adwords-vMoImH5Bk4Q.en.vtt
│ │ 08. Running a Video Ad Campaign on Adwords-vMoImH5Bk4Q.es-MX.vtt
│ │ 08. Running a Video Ad Campaign on Adwords-vMoImH5Bk4Q.pt-BR.vtt
│ │ 08. Running a Video Ad Campaign on Adwords-vMoImH5Bk4Q.zh-CN.vtt
│ │ 08. Running a Video Ad Campaign on Adwords.html
│ │ 09. Measure and Optimize your Video Advertising Campaign.html
│ │ 10. Recap-tX29zs7pF1w.mkv
│ │ 10. Recap-tX29zs7pF1w.ar.vtt
│ │ 10. Recap-tX29zs7pF1w.en.vtt
│ │ 10. Recap-tX29zs7pF1w.es-MX.vtt
│ │ 10. Recap-tX29zs7pF1w.pt-BR.vtt
│ │ 10. Recap-tX29zs7pF1w.zh-CN.vtt
│ │ 10. Recap.html
│ │ index.html
│ └─img
│ l5-effective-1.png
│ l5-optimizevideo-2.png
│ l5-optimizevideo.png
│ l5-videoadvertising-1.png
│ l5-videoadvertising-2.png
│ l5-videoadvertising-3.png
│ l5-videoadvertising-4.png
│ l5-videoadvertising-5.png
│
├─Part 07-Module 02-Lesson 01_Evaluate a Display Ad Campaign
│ │ 01. Get Started.html
│ │ 02. Display Ad Assumptions.html
│ │ 03. Display Ad Results.html
│ │ index.html
│ │ Project Description – Evaluate a Display Ad Campaign.html
│ │ Project Rubric – Evaluate a Display Ad Campaign.html
│ └─img
│ screen-shot-2017-05-15-at-1.13.55-am.png
│ screen-shot-2017-05-15-at-1.25.36-am.png
│ screen-shot-2017-05-15-at-1.29.21-am.png
│ screen-shot-2017-05-15-at-1.34.45-am.png
│ screen-shot-2017-05-15-at-1.36.04-am.png
│ screen-shot-2017-05-15-at-1.36.59-am.png
│
├─Part 07-Module 03-Lesson 01_Jobs in Display Advertising
│ 01. Display Advertising – Take Aways-RaRfK-9jQS8.mkv
│ 01. Display Advertising – Take Aways-RaRfK-9jQS8.ar.vtt
│ 01. Display Advertising – Take Aways-RaRfK-9jQS8.en.vtt
│ 01. Display Advertising – Take Aways-RaRfK-9jQS8.pt-BR.vtt
│ 01. Display Advertising – Take Aways-RaRfK-9jQS8.zh-CN.vtt
│ 01. Display Advertising – Take Aways.html
│ 02. What you need to know.html
│ index.html
├─Part 08-Module 01-Lesson 01_Email List Generation
│ │ 01. Intro–fC8fEeIyj4.mkv
│ │ 01. Intro–fC8fEeIyj4.ar.vtt
│ │ 01. Intro–fC8fEeIyj4.en.vtt
│ │ 01. Intro–fC8fEeIyj4.es-MX.vtt
│ │ 01. Intro–fC8fEeIyj4.pt-BR.vtt
│ │ 01. Intro–fC8fEeIyj4.zh-CN.vtt
│ │ 01. Intro.html
│ │ 02. Subscribers-3dTkMGy7oSQ.mkv
│ │ 02. Subscribers-3dTkMGy7oSQ.ar.vtt
│ │ 02. Subscribers-3dTkMGy7oSQ.en.vtt
│ │ 02. Subscribers-3dTkMGy7oSQ.es-MX.vtt
│ │ 02. Subscribers-3dTkMGy7oSQ.pt-BR.vtt
│ │ 02. Subscribers-3dTkMGy7oSQ.zh-CN.vtt
│ │ 02. Subscribers.html
│ │ 03. Why Contact Forms-KvYgxzgM-0g.mkv
│ │ 03. Why Contact Forms-KvYgxzgM-0g.ar.vtt
│ │ 03. Why Contact Forms-KvYgxzgM-0g.en.vtt
│ │ 03. Why Contact Forms-KvYgxzgM-0g.es-MX.vtt
│ │ 03. Why Contact Forms-KvYgxzgM-0g.pt-BR.vtt
│ │ 03. Why Contact Forms-KvYgxzgM-0g.zh-CN.vtt
│ │ 03. Why Contact Forms.html
│ │ 04. Examples of Contact Forms-ttOrzQ0Pm0M.mkv
│ │ 04. Examples of Contact Forms-ttOrzQ0Pm0M.ar.vtt
│ │ 04. Examples of Contact Forms-ttOrzQ0Pm0M.en.vtt
│ │ 04. Examples of Contact Forms-ttOrzQ0Pm0M.es-MX.vtt
│ │ 04. Examples of Contact Forms-ttOrzQ0Pm0M.pt-BR.vtt
│ │ 04. Examples of Contact Forms-ttOrzQ0Pm0M.zh-CN.vtt
│ │ 04. Examples of Contact Forms.html
│ │ 05. Contact Form Best Practices -wkg9Mxw5QhM.ar.vtt
│ │ 05. Contact Form Best Practices -wkg9Mxw5QhM.en.vtt
│ │ 05. Contact Form Best Practices -wkg9Mxw5QhM.es-MX.vtt
│ │ 05. Contact Form Best Practices -wkg9Mxw5QhM.mp4
│ │ 05. Contact Form Best Practices -wkg9Mxw5QhM.pt-BR.vtt
│ │ 05. Contact Form Best Practices -wkg9Mxw5QhM.zh-CN.vtt
│ │ 05. Contact Form Best Practices.html
│ │ 06. Quiz Contact Forms.html
│ │ 07. Contact Form Design.html
│ │ 08. Opt-in Process-XawRzpFLUtM.mkv
│ │ 08. Opt-in Process-XawRzpFLUtM.ar.vtt
│ │ 08. Opt-in Process-XawRzpFLUtM.en.vtt
│ │ 08. Opt-in Process-XawRzpFLUtM.es-MX.vtt
│ │ 08. Opt-in Process-XawRzpFLUtM.pt-BR.vtt
│ │ 08. Opt-in Process-XawRzpFLUtM.zh-CN.vtt
│ │ 08. Opt-in Process.html
│ │ 09. Quiz Confirmed Opt-in Process.html
│ │ 10. Spam!-vPFgI3vMA7U.mkv
│ │ 10. Spam!-vPFgI3vMA7U.ar.vtt
│ │ 10. Spam!-vPFgI3vMA7U.en.vtt
│ │ 10. Spam!-vPFgI3vMA7U.es-MX.vtt
│ │ 10. Spam!-vPFgI3vMA7U.pt-BR.vtt
│ │ 10. Spam!-vPFgI3vMA7U.zh-CN.vtt
│ │ 10. Spam!.html
│ │ 11. CAN-SPAM.html
│ │ 12. Quiz SPAM!.html
│ │ 13. MailChimp-V6-7IgSA_b4.ar.vtt
│ │ 13. MailChimp-V6-7IgSA_b4.en.vtt
│ │ 13. MailChimp-V6-7IgSA_b4.es-MX.vtt
│ │ 13. MailChimp-V6-7IgSA_b4.mp4
│ │ 13. MailChimp-V6-7IgSA_b4.pt-BR.vtt
│ │ 13. MailChimp-V6-7IgSA_b4.zh-CN.vtt
│ │ 13. MailChimp.html
│ │ 14. Create a MailChimp Account.html
│ │ 15. Design a Contact Form in MailChimp-43dreOZSJLM.mkv
│ │ 15. Design a Contact Form in MailChimp-43dreOZSJLM.ar.vtt
│ │ 15. Design a Contact Form in MailChimp-43dreOZSJLM.en.vtt
│ │ 15. Design a Contact Form in MailChimp-43dreOZSJLM.es-MX.vtt
│ │ 15. Design a Contact Form in MailChimp-43dreOZSJLM.pt-BR.vtt
│ │ 15. Design a Contact Form in MailChimp-43dreOZSJLM.zh-CN.vtt
│ │ 15. Design a Contact Form in MailChimp.html
│ │ 16. Build a Form.html
│ │ 17. MailChimp-Interview – L1 – Grow Your List-aT6QHvFwer0.ar.vtt
│ │ 17. MailChimp-Interview – L1 – Grow Your List-aT6QHvFwer0.en.vtt
│ │ 17. MailChimp-Interview – L1 – Grow Your List-aT6QHvFwer0.es-MX.vtt
│ │ 17. MailChimp-Interview – L1 – Grow Your List-aT6QHvFwer0.mp4
│ │ 17. MailChimp-Interview – L1 – Grow Your List-aT6QHvFwer0.pt-BR.vtt
│ │ 17. MailChimp-Interview – L1 – Grow Your List-aT6QHvFwer0.zh-CN.vtt
│ │ 17. Share Your Form.html
│ │ 18. Recap-L90VNy4HmgY.ar.vtt
│ │ 18. Recap-L90VNy4HmgY.en.vtt
│ │ 18. Recap-L90VNy4HmgY.es-MX.vtt
│ │ 18. Recap-L90VNy4HmgY.mp4
│ │ 18. Recap-L90VNy4HmgY.pt-BR.vtt
│ │ 18. Recap.html
│ │ index.html
│ └─img
│ screen-shot-2017-07-05-at-1.25.06-am.png
│ screen-shot-2017-07-06-at-1.00.14-am.png
│
├─Part 08-Module 01-Lesson 02_Create an Effective Email Campaign
│ 01. Intro-E5SagSOSiK0.ar.vtt
│ 01. Intro-E5SagSOSiK0.en.vtt
│ 01. Intro-E5SagSOSiK0.es-MX.vtt
│ 01. Intro-E5SagSOSiK0.mp4
│ 01. Intro-E5SagSOSiK0.pt-BR.vtt
│ 01. Intro-E5SagSOSiK0.zh-CN.vtt
│ 01. Intro.html
│ 02. The Big Picture-pHhZL5S5s-U.mkv
│ 02. The Big Picture-pHhZL5S5s-U.ar.vtt
│ 02. The Big Picture-pHhZL5S5s-U.en.vtt
│ 02. The Big Picture-pHhZL5S5s-U.es-MX.vtt
│ 02. The Big Picture-pHhZL5S5s-U.pt-BR.vtt
│ 02. The Big Picture-pHhZL5S5s-U.zh-CN.vtt
│ 02. The Big Picture.html
│ 03. EarthCar–ap3HAW2x1Q.ar.vtt
│ 03. EarthCar–ap3HAW2x1Q.en.vtt
│ 03. EarthCar–ap3HAW2x1Q.es-MX.vtt
│ 03. EarthCar–ap3HAW2x1Q.mp4
│ 03. EarthCar–ap3HAW2x1Q.pt-BR.vtt
│ 03. EarthCar–ap3HAW2x1Q.zh-CN.vtt
│ 03. EarthCar.html
│ 04. Effective Emails-OD11hl5B7sY.ar.vtt
│ 04. Effective Emails-OD11hl5B7sY.en.vtt
│ 04. Effective Emails-OD11hl5B7sY.es-MX.vtt
│ 04. Effective Emails-OD11hl5B7sY.mp4
│ 04. Effective Emails-OD11hl5B7sY.pt-BR.vtt
│ 04. Effective Emails-OD11hl5B7sY.zh-CN.vtt
│ 04. Effective Emails.html
│ 05. Subject Lines-aDHHE-ulXhw.mkv
│ 05. Subject Lines-aDHHE-ulXhw.ar.vtt
│ 05. Subject Lines-aDHHE-ulXhw.en.vtt
│ 05. Subject Lines-aDHHE-ulXhw.es-MX.vtt
│ 05. Subject Lines-aDHHE-ulXhw.pt-BR.vtt
│ 05. Subject Lines-aDHHE-ulXhw.zh-CN.vtt
│ 05. Subject Lines.html
│ 06. EarthCar Subject Line.html
│ 07. Pre-headers-F69c2BMNiis.mkv
│ 07. Pre-headers-F69c2BMNiis.ar.vtt
│ 07. Pre-headers-F69c2BMNiis.en.vtt
│ 07. Pre-headers-F69c2BMNiis.es-MX.vtt
│ 07. Pre-headers-F69c2BMNiis.pt-BR.vtt
│ 07. Pre-headers-F69c2BMNiis.zh-CN.vtt
│ 07. Pre-headers.html
│ 08. Email Body-K2lybpc-xRo.mkv
│ 08. Email Body-K2lybpc-xRo.ar.vtt
│ 08. Email Body-K2lybpc-xRo.en.vtt
│ 08. Email Body-K2lybpc-xRo.es-MX.vtt
│ 08. Email Body-K2lybpc-xRo.pt-BR.vtt
│ 08. Email Body-K2lybpc-xRo.zh-CN.vtt
│ 08. Email Body.html
│ 09. Elements of an Email.html
│ 10. How to Write Email Copy–kDiKYQomlI.mkv
│ 10. How to Write Email Copy–kDiKYQomlI.ar.vtt
│ 10. How to Write Email Copy–kDiKYQomlI.en.vtt
│ 10. How to Write Email Copy–kDiKYQomlI.es-MX.vtt
│ 10. How to Write Email Copy–kDiKYQomlI.pt-BR.vtt
│ 10. How to Write Email Copy–kDiKYQomlI.zh-CN.vtt
│ 10. How to Write Email Copy.html
│ 11. CleanCar CTA.html
│ 11. MailChimp-Interview- L2 – Writing Copy-A964fh2z7o8.ar.vtt
│ 11. MailChimp-Interview- L2 – Writing Copy-A964fh2z7o8.en.vtt
│ 11. MailChimp-Interview- L2 – Writing Copy-A964fh2z7o8.es-MX.vtt
│ 11. MailChimp-Interview- L2 – Writing Copy-A964fh2z7o8.mp4
│ 11. MailChimp-Interview- L2 – Writing Copy-A964fh2z7o8.pt-BR.vtt
│ 11. MailChimp-Interview- L2 – Writing Copy-A964fh2z7o8.zh-CN.vtt
│ 12. Visual Appeal-cIl3fVDChTI.ar.vtt
│ 12. Visual Appeal-cIl3fVDChTI.en.vtt
│ 12. Visual Appeal-cIl3fVDChTI.es-MX.vtt
│ 12. Visual Appeal-cIl3fVDChTI.mp4
│ 12. Visual Appeal-cIl3fVDChTI.pt-BR.vtt
│ 12. Visual Appeal-cIl3fVDChTI.zh-CN.vtt
│ 12. Visual Appeal.html
│ 13. EarthCar Email Copy-t5GlO6maAV4.ar.vtt
│ 13. EarthCar Email Copy-t5GlO6maAV4.en.vtt
│ 13. EarthCar Email Copy-t5GlO6maAV4.es-MX.vtt
│ 13. EarthCar Email Copy-t5GlO6maAV4.mp4
│ 13. EarthCar Email Copy-t5GlO6maAV4.pt-BR.vtt
│ 13. EarthCar Email Copy-t5GlO6maAV4.zh-CN.vtt
│ 13. EarthCar Email Copy.html
│ 14. Create your email in MailChimp .html
│ 14. Create your email in MailChimp-ZVnOkVGtOBo.ar.vtt
│ 14. Create your email in MailChimp-ZVnOkVGtOBo.en.vtt
│ 14. Create your email in MailChimp-ZVnOkVGtOBo.es-MX.vtt
│ 14. Create your email in MailChimp-ZVnOkVGtOBo.mp4
│ 14. Create your email in MailChimp-ZVnOkVGtOBo.pt-BR.vtt
│ 14. Create your email in MailChimp-ZVnOkVGtOBo.zh-CN.vtt
│ 15. Create your email in MailChimp (2).html
│ 15. Create your email in MailChimp Part2-hBINCGObcBc.mkv
│ 15. Create your email in MailChimp Part2-hBINCGObcBc.ar.vtt
│ 15. Create your email in MailChimp Part2-hBINCGObcBc.en.vtt
│ 15. Create your email in MailChimp Part2-hBINCGObcBc.es-MX.vtt
│ 15. Create your email in MailChimp Part2-hBINCGObcBc.pt-BR.vtt
│ 15. Create your email in MailChimp Part2-hBINCGObcBc.zh-CN.vtt
│ 16. Merge Tags.html
│ 17. Create An Email.html
│ 18. Recap-ZG-UZNZX264.ar.vtt
│ 18. Recap-ZG-UZNZX264.en.vtt
│ 18. Recap-ZG-UZNZX264.es-MX.vtt
│ 18. Recap-ZG-UZNZX264.mp4
│ 18. Recap-ZG-UZNZX264.pt-BR.vtt
│ 18. Recap-ZG-UZNZX264.zh-CN.vtt
│ 18. Recap.html
│ index.html
├─Part 08-Module 01-Lesson 03_Create an Email Plan
│ │ 01. Intro-R5I9HVa2zlk.ar.vtt
│ │ 01. Intro-R5I9HVa2zlk.en.vtt
│ │ 01. Intro-R5I9HVa2zlk.es-MX.vtt
│ │ 01. Intro-R5I9HVa2zlk.mp4
│ │ 01. Intro-R5I9HVa2zlk.pt-BR.vtt
│ │ 01. Intro-R5I9HVa2zlk.zh-CN.vtt
│ │ 01. Intro.html
│ │ 02. Email Campaign Strategy-IFCMRJZuyOE.ar.vtt
│ │ 02. Email Campaign Strategy-IFCMRJZuyOE.en.vtt
│ │ 02. Email Campaign Strategy-IFCMRJZuyOE.es-MX.vtt
│ │ 02. Email Campaign Strategy-IFCMRJZuyOE.mp4
│ │ 02. Email Campaign Strategy-IFCMRJZuyOE.pt-BR.vtt
│ │ 02. Email Campaign Strategy-IFCMRJZuyOE.zh-CN.vtt
│ │ 02. Email Campaign Strategy.html
│ │ 03. Engagement Strategy.html
│ │ 04. Build an Email Calendar Schedule.html
│ │ 05. Email Workflows-4fHeO3ud984.ar.vtt
│ │ 05. Email Workflows-4fHeO3ud984.en.vtt
│ │ 05. Email Workflows-4fHeO3ud984.es-MX.vtt
│ │ 05. Email Workflows-4fHeO3ud984.mp4
│ │ 05. Email Workflows-4fHeO3ud984.pt-BR.vtt
│ │ 05. Email Workflows-4fHeO3ud984.zh-CN.vtt
│ │ 05. Email Workflows.html
│ │ 06. MailChimp-Interview- L3 – Automation Workflow-csbvbVPpmJQ.ar.vtt
│ │ 06. MailChimp-Interview- L3 – Automation Workflow-csbvbVPpmJQ.en.vtt
│ │ 06. MailChimp-Interview- L3 – Automation Workflow-csbvbVPpmJQ.es-MX.vtt
│ │ 06. MailChimp-Interview- L3 – Automation Workflow-csbvbVPpmJQ.mp4
│ │ 06. MailChimp-Interview- L3 – Automation Workflow-csbvbVPpmJQ.pt-BR.vtt
│ │ 06. MailChimp-Interview- L3 – Automation Workflow-csbvbVPpmJQ.zh-CN.vtt
│ │ 06. Quiz Special Event Schedule.html
│ │ 07. Advanced Email Features Email Automation-qd63Mq-afxM.mkv
│ │ 07. Advanced Email Features Email Automation-qd63Mq-afxM.ar.vtt
│ │ 07. Advanced Email Features Email Automation-qd63Mq-afxM.en.vtt
│ │ 07. Advanced Email Features Email Automation-qd63Mq-afxM.es-MX.vtt
│ │ 07. Advanced Email Features Email Automation-qd63Mq-afxM.pt-BR.vtt
│ │ 07. Advanced Email Features Email Automation-qd63Mq-afxM.zh-CN.vtt
│ │ 07. Advanced Email Features Email Automation.html
│ │ 08. Transactional Email-RuWe4L4rfjM.mkv
│ │ 08. Transactional Email-RuWe4L4rfjM.ar.vtt
│ │ 08. Transactional Email-RuWe4L4rfjM.en.vtt
│ │ 08. Transactional Email-RuWe4L4rfjM.es-MX.vtt
│ │ 08. Transactional Email-RuWe4L4rfjM.pt-BR.vtt
│ │ 08. Transactional Email-RuWe4L4rfjM.zh-CN.vtt
│ │ 08. Transactional Email.html
│ │ 09. eCommerce Integrations.html
│ │ 10. MailChimp Interview On Tool Integration-5FbFxA_Dy7E.mkv
│ │ 10. MailChimp Interview On Tool Integration-5FbFxA_Dy7E.ar.vtt
│ │ 10. MailChimp Interview On Tool Integration-5FbFxA_Dy7E.en.vtt
│ │ 10. MailChimp Interview On Tool Integration-5FbFxA_Dy7E.es-MX.vtt
│ │ 10. MailChimp Interview On Tool Integration-5FbFxA_Dy7E.pt-BR.vtt
│ │ 10. MailChimp Interview On Tool Integration-5FbFxA_Dy7E.zh-CN.vtt
│ │ 10. Mailchimp on Tool Integration.html
│ │ 11. How To Create Facebook Ad Campaigns In MailChimp-mWLz-Cx_40Q.mkv
│ │ 11. How To Create Facebook Ad Campaigns In MailChimp-mWLz-Cx_40Q.ar.vtt
│ │ 11. How To Create Facebook Ad Campaigns In MailChimp-mWLz-Cx_40Q.en.vtt
│ │ 11. How To Create Facebook Ad Campaigns In MailChimp-mWLz-Cx_40Q.pt-BR.vtt
│ │ 11. How To Create Facebook Ad Campaigns In MailChimp-mWLz-Cx_40Q.zh-CN.vtt
│ │ 11. Linking Mailchimp and Facebook.html
│ │ 12. Recap-0YKZkd8ZdCs.ar.vtt
│ │ 12. Recap-0YKZkd8ZdCs.en.vtt
│ │ 12. Recap-0YKZkd8ZdCs.es-MX.vtt
│ │ 12. Recap-0YKZkd8ZdCs.mp4
│ │ 12. Recap-0YKZkd8ZdCs.pt-BR.vtt
│ │ 12. Recap-0YKZkd8ZdCs.zh-CN.vtt
│ │ 12. Recap.html
│ │ index.html
│ └─img
│ l3-04-calendar.png
│ screen-shot-2017-06-01-at-5.15.18-pm.png
│
├─Part 08-Module 01-Lesson 04_Measure Results
│ │ 01. Intro-lXJ1-Jk7vSo.ar.vtt
│ │ 01. Intro-lXJ1-Jk7vSo.en.vtt
│ │ 01. Intro-lXJ1-Jk7vSo.es-MX.vtt
│ │ 01. Intro-lXJ1-Jk7vSo.mp4
│ │ 01. Intro-lXJ1-Jk7vSo.pt-BR.vtt
│ │ 01. Intro-lXJ1-Jk7vSo.zh-CN.vtt
│ │ 01. Intro.html
│ │ 02. Metrics-gMCt0fNDKmE.ar.vtt
│ │ 02. Metrics-gMCt0fNDKmE.en.vtt
│ │ 02. Metrics-gMCt0fNDKmE.mp4
│ │ 02. Metrics-gMCt0fNDKmE.pt-BR.vtt
│ │ 02. Metrics-gMCt0fNDKmE.zh-CN.vtt
│ │ 02. Metrics.html
│ │ 03. Bounces-NnstldVVxJg.mkv
│ │ 03. Bounces-NnstldVVxJg.ar.vtt
│ │ 03. Bounces-NnstldVVxJg.en.vtt
│ │ 03. Bounces-NnstldVVxJg.es-MX.vtt
│ │ 03. Bounces-NnstldVVxJg.pt-BR.vtt
│ │ 03. Bounces-NnstldVVxJg.zh-CN.vtt
│ │ 03. Bounces.html
│ │ 04. Quiz Type of Bounce.html
│ │ 05. Key Metrics Open, Click, and Conversion Rates-E5J43XdymKg.mkv
│ │ 05. Key Metrics Open, Click, and Conversion Rates-E5J43XdymKg.ar.vtt
│ │ 05. Key Metrics Open, Click, and Conversion Rates-E5J43XdymKg.en.vtt
│ │ 05. Key Metrics Open, Click, and Conversion Rates-E5J43XdymKg.es-MX.vtt
│ │ 05. Key Metrics Open, Click, and Conversion Rates-E5J43XdymKg.pt-BR.vtt
│ │ 05. Key Metrics Open, Click, and Conversion Rates-E5J43XdymKg.zh-CN.vtt
│ │ 05. Key Metrics Open, Click, and Conversion Rates.html
│ │ 06. A Note About Click Rates.html
│ │ 07. Tracking Conversions-P_l9R55ZmD4.mkv
│ │ 07. Tracking Conversions-P_l9R55ZmD4.ar.vtt
│ │ 07. Tracking Conversions-P_l9R55ZmD4.en.vtt
│ │ 07. Tracking Conversions-P_l9R55ZmD4.es-MX.vtt
│ │ 07. Tracking Conversions-P_l9R55ZmD4.pt-BR.vtt
│ │ 07. Tracking Conversions-P_l9R55ZmD4.zh-CN.vtt
│ │ 07. Tracking Conversions.html
│ │ 08. Other Metrics.html
│ │ 09. MailChimp Report Walk-Through-4vIbsQ40s9U.mkv
│ │ 09. MailChimp Report Walk-Through-4vIbsQ40s9U.ar.vtt
│ │ 09. MailChimp Report Walk-Through-4vIbsQ40s9U.en.vtt
│ │ 09. MailChimp Report Walk-Through-4vIbsQ40s9U.es-MX.vtt
│ │ 09. MailChimp Report Walk-Through-4vIbsQ40s9U.pt-BR.vtt
│ │ 09. MailChimp Report Walk-Through-4vIbsQ40s9U.zh-CN.vtt
│ │ 09. MailChimp Report Walk-Through.html
│ │ 10. MailChimp Reports.html
│ │ 11. Email AB Testing-MsDNQes508U.ar.vtt
│ │ 11. Email AB Testing-MsDNQes508U.en.vtt
│ │ 11. Email AB Testing-MsDNQes508U.es-MX.vtt
│ │ 11. Email AB Testing-MsDNQes508U.mp4
│ │ 11. Email AB Testing-MsDNQes508U.pt-BR.vtt
│ │ 11. Email AB Testing-MsDNQes508U.zh-CN.vtt
│ │ 11. Email AB Testing.html
│ │ 12. AB Testing-k0KyoAWUY8M.mkv
│ │ 12. AB Testing-k0KyoAWUY8M.ar.vtt
│ │ 12. AB Testing-k0KyoAWUY8M.en.vtt
│ │ 12. AB Testing-k0KyoAWUY8M.pt-BR.vtt
│ │ 12. AB Testing-k0KyoAWUY8M.zh-CN.vtt
│ │ 12. AB Testing.html
│ │ 13. Best Practices for AB Testing.html
│ │ 14. Quiz AB Testing Quiz.html
│ │ 15. Email Segmenting-NkzuWjOkjZo.mkv
│ │ 15. Email Segmenting-NkzuWjOkjZo.ar.vtt
│ │ 15. Email Segmenting-NkzuWjOkjZo.en.vtt
│ │ 15. Email Segmenting-NkzuWjOkjZo.pt-BR.vtt
│ │ 15. Email Segmenting-NkzuWjOkjZo.zh-CN.vtt
│ │ 15. Email Segmenting.html
│ │ 16. Segmenting Requires Data.html
│ │ 17. Segmenting.html
│ │ 18. Recap-M46KAYh8PW8.mkv
│ │ 18. Recap-M46KAYh8PW8.ar.vtt
│ │ 18. Recap-M46KAYh8PW8.en.vtt
│ │ 18. Recap-M46KAYh8PW8.es-MX.vtt
│ │ 18. Recap-M46KAYh8PW8.pt-BR.vtt
│ │ 18. Recap-M46KAYh8PW8.zh-CN.vtt
│ │ 18. Recap.html
│ │ index.html
│ └─img
│ screen-shot-2017-05-16-at-4.55.40-pm.png
│
├─Part 08-Module 02-Lesson 01_Market with Email
│ │ 01. Get Started.html
│ │ 02. Building Your Email List .html
│ │ 03. Preparing Your Campaign Recipients.html
│ │ 04. Preparing Your Campaign Setup, Template, Design.html
│ │ index.html
│ │ Project Description – Market with Email.html
│ │ Project Rubric – Market with Email.html
│ └─img
│ screen-shot-2017-04-18-at-1.38.18-am.png
│ screen-shot-2017-04-18-at-10.11.47-am.png
│ screen-shot-2017-04-18-at-10.21.28-am.png
│ screen-shot-2017-04-18-at-10.28.06-am.png
│ screen-shot-2017-04-18-at-10.49.55-am.png
│ screen-shot-2017-04-18-at-11.13.06-am.png
│ screen-shot-2017-04-18-at-9.37.46-am.png
│ screen-shot-2017-04-18-at-9.41.59-am.png
│ screen-shot-2017-04-18-at-9.45.18-am.png
│ screen-shot-2017-04-19-at-10.10.59-am.png
│ screen-shot-2017-04-19-at-10.23.37-am.png
│ screen-shot-2017-04-19-at-2.23.49-am.png
│ screen-shot-2017-04-19-at-2.36.07-am.png
│ screen-shot-2017-04-20-at-1.00.09-am.png
│ screen-shot-2017-04-20-at-1.09.17-am.png
│ screen-shot-2017-04-20-at-1.13.39-am.png
│ screen-shot-2017-04-20-at-1.30.15-am.png
│ screen-shot-2017-04-20-at-1.55.08-am.png
│ screen-shot-2017-04-20-at-2.09.50-am.png
│ screen-shot-2017-04-27-at-1.34.41-am.png
│ screen-shot-2017-04-27-at-1.39.02-am.png
│ screen-shot-2017-04-27-at-1.56.42-am.png
│ screen-shot-2017-04-27-at-2.02.32-am.png
│ screen-shot-2017-04-27-at-2.15.40-am.png
│ screen-shot-2017-05-24-at-1.23.13-am.png
│ screen-shot-2017-05-24-at-1.50.45-am.png
│ screen-shot-2017-05-24-at-10.08.20-am.png
│ screen-shot-2017-05-24-at-10.14.32-am.png
│ screen-shot-2017-05-24-at-12.59.23-am.png
│ screen-shot-2017-05-24-at-2.05.42-am.png
│ screen-shot-2017-05-24-at-2.12.23-am.png
│ screen-shot-2017-05-24-at-9.35.07-am.png
│
├─Part 08-Module 03-Lesson 01_Jobs in Email Marketing
│ 01. Email Marketing – Take Aways-MFvKv3lfIRU.mkv
│ 01. Email Marketing – Take Aways-MFvKv3lfIRU.ar.vtt
│ 01. Email Marketing – Take Aways-MFvKv3lfIRU.en.vtt
│ 01. Email Marketing – Take Aways-MFvKv3lfIRU.pt-BR.vtt
│ 01. Email Marketing – Take Aways-MFvKv3lfIRU.zh-CN.vtt
│ 01. Email Marketing – Take Aways.html
│ 02. Day in the Life – Dani Fisher-BYQfPEqqJ9s.mkv
│ 02. Day in the Life – Dani Fisher-BYQfPEqqJ9s.ar.vtt
│ 02. Day in the Life – Dani Fisher-BYQfPEqqJ9s.en.vtt
│ 02. Day in the Life – Dani Fisher-BYQfPEqqJ9s.pt-BR.vtt
│ 02. Day in the Life – Dani Fisher-BYQfPEqqJ9s.zh-CN.vtt
│ 02. Day in the Life – Dani Fisher.html
│ 03. What you need to know.html
│ index.html
├─Part 09-Module 01-Lesson 01_Get Oriented in Google Analytics
│ │ 01. Introduction-NKoY9MoD6xQ.mkv
│ │ 01. Introduction-NKoY9MoD6xQ.ar.vtt
│ │ 01. Introduction-NKoY9MoD6xQ.en.vtt
│ │ 01. Introduction-NKoY9MoD6xQ.pt-BR.vtt
│ │ 01. Introduction-NKoY9MoD6xQ.zh-CN.vtt
│ │ 01. Introduction.html
│ │ 02. Accessing Google Analytics Account.html
│ │ 03. What Is Required To Use Google Analytics–DknR8TqhBQ.mkv
│ │ 03. What Is Required To Use Google Analytics–DknR8TqhBQ.ar.vtt
│ │ 03. What Is Required To Use Google Analytics–DknR8TqhBQ.en.vtt
│ │ 03. What Is Required To Use Google Analytics–DknR8TqhBQ.pt-BR.vtt
│ │ 03. What Is Required To Use Google Analytics–DknR8TqhBQ.zh-CN.vtt
│ │ 03. What is required to use Google Analytics.html
│ │ 04. How to implement Google Analytics on a site or app-dXkrumiJaok.ar.vtt
│ │ 04. How to implement Google Analytics on a site or app-dXkrumiJaok.en.vtt
│ │ 04. How to implement Google Analytics on a site or app-dXkrumiJaok.es-MX.vtt
│ │ 04. How to implement Google Analytics on a site or app-dXkrumiJaok.mkv
│ │ 04. How to implement Google Analytics on a site or app-dXkrumiJaok.mp4
│ │ 04. How to implement Google Analytics on a site or app-dXkrumiJaok.pt-BR.vtt
│ │ 04. How to implement Google Analytics on a site or app-dXkrumiJaok.zh-CN.vtt
│ │ 04. How to implement Google Analytics on a site or app.html
│ │ 05. Basic Principles In Google Analytics-BZHlIbXHmX8.mkv
│ │ 05. Basic Principles In Google Analytics-BZHlIbXHmX8.ar.vtt
│ │ 05. Basic Principles In Google Analytics-BZHlIbXHmX8.en.vtt
│ │ 05. Basic Principles In Google Analytics-BZHlIbXHmX8.pt-BR.vtt
│ │ 05. Basic Principles In Google Analytics-BZHlIbXHmX8.zh-CN.vtt
│ │ 05. Basic principles in Google Analytics.html
│ │ 06. Getting oriented in Google Analytics.html
│ │ 07. Quiz Getting oriented in Google Analytics.html
│ │ 08. Segments In Google Analytics-eckmvQg2BzA.mkv
│ │ 08. Segments In Google Analytics-eckmvQg2BzA.ar.vtt
│ │ 08. Segments In Google Analytics-eckmvQg2BzA.en.vtt
│ │ 08. Segments In Google Analytics-eckmvQg2BzA.pt-BR.vtt
│ │ 08. Segments In Google Analytics-eckmvQg2BzA.zh-CN.vtt
│ │ 08. Segments in Google Analytics.html
│ │ 09. Segments In Google Analytics Walkthrough-lgZ2IrifzB4.mkv
│ │ 09. Segments In Google Analytics Walkthrough-lgZ2IrifzB4.ar.vtt
│ │ 09. Segments In Google Analytics Walkthrough-lgZ2IrifzB4.en.vtt
│ │ 09. Segments In Google Analytics Walkthrough-lgZ2IrifzB4.pt-BR.vtt
│ │ 09. Segments In Google Analytics Walkthrough-lgZ2IrifzB4.zh-CN.vtt
│ │ 09. Segments in Google Analytics Walkthrough.html
│ │ 10. Quiz testing segments.html
│ │ 11. Conclusion And What Follows-rh3keYXQmSw.ar.vtt
│ │ 11. Conclusion And What Follows-rh3keYXQmSw.en.vtt
│ │ 11. Conclusion And What Follows-rh3keYXQmSw.mp4
│ │ 11. Conclusion And What Follows-rh3keYXQmSw.pt-BR.vtt
│ │ 11. Conclusion And What Follows-rh3keYXQmSw.zh-CN.vtt
│ │ 11. Conclusion and what follows.html
│ │ index.html
│ └─img
│ 81939536.png
│ l1-c1-ss1.png
│ l1-navigation-bar.jpg
│ l1-overview-with-comments.png
│ l1-quiz.png
│ l1-screen-shot-1-overview.png
│
├─Part 09-Module 01-Lesson 02_Understand Your Audience
│ │ 01. Introduction-72OhQD6oOzw.ar.vtt
│ │ 01. Introduction-72OhQD6oOzw.en.vtt
│ │ 01. Introduction-72OhQD6oOzw.mp4
│ │ 01. Introduction-72OhQD6oOzw.pt-BR.vtt
│ │ 01. Introduction-72OhQD6oOzw.zh-CN.vtt
│ │ 01. Introduction.html
│ │ 02. An Overview Of Your Audience-jrdtAECgVug.mkv
│ │ 02. An Overview Of Your Audience-jrdtAECgVug.ar.vtt
│ │ 02. An Overview Of Your Audience-jrdtAECgVug.en.vtt
│ │ 02. An Overview Of Your Audience-jrdtAECgVug.pt-BR.vtt
│ │ 02. An Overview Of Your Audience-jrdtAECgVug.zh-CN.vtt
│ │ 02. An overview of your audience.html
│ │ 03. Exploring your audience demographics.html
│ │ 04. Exploring your audience demographics II.html
│ │ 04. Exploring Your Audience Demographics-4Mpjk8BpIFo.ar.vtt
│ │ 04. Exploring Your Audience Demographics-4Mpjk8BpIFo.en.vtt
│ │ 04. Exploring Your Audience Demographics-4Mpjk8BpIFo.mp4
│ │ 04. Exploring Your Audience Demographics-4Mpjk8BpIFo.pt-BR.vtt
│ │ 04. Exploring Your Audience Demographics-4Mpjk8BpIFo.zh-CN.vtt
│ │ 05. Exploring Your Audience's Interests-qMYnKz0F1_o.mkv
│ │ 05. Exploring Your Audience's Interests-qMYnKz0F1_o.ar.vtt
│ │ 05. Exploring Your Audience's Interests-qMYnKz0F1_o.en.vtt
│ │ 05. Exploring Your Audience's Interests-qMYnKz0F1_o.pt-BR.vtt
│ │ 05. Exploring Your Audience's Interests-qMYnKz0F1_o.zh-CN.vtt
│ │ 05. Exploring your audience's interests.html
│ │ 06. Exploring Your Audience's Interests (cont)-pX6hOy4DGjY.mkv
│ │ 06. Exploring Your Audience's Interests (cont)-pX6hOy4DGjY.ar.vtt
│ │ 06. Exploring Your Audience's Interests (cont)-pX6hOy4DGjY.en.vtt
│ │ 06. Exploring Your Audience's Interests (cont)-pX6hOy4DGjY.pt-BR.vtt
│ │ 06. Exploring Your Audience's Interests (cont)-pX6hOy4DGjY.zh-CN.vtt
│ │ 06. Exploring your audience's interests II.html
│ │ 07. Quiz Exploring your audience's interests.html
│ │ 08. Exploring Your Audience Geography Language-t5SycKiG4y8.ar.vtt
│ │ 08. Exploring Your Audience Geography Language-t5SycKiG4y8.en.vtt
│ │ 08. Exploring Your Audience Geography Language-t5SycKiG4y8.mp4
│ │ 08. Exploring Your Audience Geography Language-t5SycKiG4y8.pt-BR.vtt
│ │ 08. Exploring Your Audience Geography Language-t5SycKiG4y8.zh-CN.vtt
│ │ 08. Exploring your audience geography language.html
│ │ 09. Exploring Your Audience Behavior-VlIUMS-5aGw.mkv
│ │ 09. Exploring Your Audience Behavior-VlIUMS-5aGw.ar.vtt
│ │ 09. Exploring Your Audience Behavior-VlIUMS-5aGw.en.vtt
│ │ 09. Exploring Your Audience Behavior-VlIUMS-5aGw.pt-BR.vtt
│ │ 09. Exploring Your Audience Behavior-VlIUMS-5aGw.zh-CN.vtt
│ │ 09. Exploring your audience's behavior.html
│ │ 10. Exploring Your Audience Technology And Mobile-B-8MVEV6biA.ar.vtt
│ │ 10. Exploring Your Audience Technology And Mobile-B-8MVEV6biA.en.vtt
│ │ 10. Exploring Your Audience Technology And Mobile-B-8MVEV6biA.mp4
│ │ 10. Exploring Your Audience Technology And Mobile-B-8MVEV6biA.pt-BR.vtt
│ │ 10. Exploring Your Audience Technology And Mobile-B-8MVEV6biA.zh-CN.vtt
│ │ 10. Exploring your audience technology and mobile.html
│ │ 11. Expoloring Your Audience Technology Mobile-yKTHnr-YwkQ.ar.vtt
│ │ 11. Expoloring Your Audience Technology Mobile-yKTHnr-YwkQ.en.vtt
│ │ 11. Expoloring Your Audience Technology Mobile-yKTHnr-YwkQ.mp4
│ │ 11. Expoloring Your Audience Technology Mobile-yKTHnr-YwkQ.pt-BR.vtt
│ │ 11. Expoloring Your Audience Technology Mobile-yKTHnr-YwkQ.zh-CN.vtt
│ │ 11. Quiz Exploring your audience_technology and mobile.html
│ │ 12. User Flow-PNTr0VVf_gI.mkv
│ │ 12. User Flow-PNTr0VVf_gI.ar.vtt
│ │ 12. User Flow-PNTr0VVf_gI.en.vtt
│ │ 12. User Flow-PNTr0VVf_gI.mp4
│ │ 12. User Flow-PNTr0VVf_gI.pt-BR.vtt
│ │ 12. User Flow-PNTr0VVf_gI.zh-CN.vtt
│ │ 12. User Flow.html
│ │ 13. Quiz On User Flow-sKWq8mHxPhE.ar.vtt
│ │ 13. Quiz On User Flow-sKWq8mHxPhE.en.vtt
│ │ 13. Quiz On User Flow-sKWq8mHxPhE.mp4
│ │ 13. Quiz On User Flow-sKWq8mHxPhE.pt-BR.vtt
│ │ 13. Quiz On User Flow-sKWq8mHxPhE.zh-CN.vtt
│ │ 13. Quiz User Flow.html
│ │ 14. Recap-u1bP3rYd_gc.mkv
│ │ 14. Recap-u1bP3rYd_gc.ar.vtt
│ │ 14. Recap-u1bP3rYd_gc.en.vtt
│ │ 14. Recap-u1bP3rYd_gc.pt-BR.vtt
│ │ 14. Recap-u1bP3rYd_gc.zh-CN.vtt
│ │ 14. Recap.html
│ │ index.html
│ └─img
│ 0rfsvbwe4d.gif
│
├─Part 09-Module 01-Lesson 03_Evaluate Acquisition
│ │ 01. Introduction–EoYXc1Ts3w.mkv
│ │ 01. Introduction–EoYXc1Ts3w.ar.vtt
│ │ 01. Introduction–EoYXc1Ts3w.en.vtt
│ │ 01. Introduction–EoYXc1Ts3w.pt-BR.vtt
│ │ 01. Introduction–EoYXc1Ts3w.zh-CN.vtt
│ │ 01. Introduction.html
│ │ 02. Acquisition Overview In Google Analytics-hnNJVs6dpeY.mkv
│ │ 02. Acquisition Overview In Google Analytics-hnNJVs6dpeY.ar.vtt
│ │ 02. Acquisition Overview In Google Analytics-hnNJVs6dpeY.en.vtt
│ │ 02. Acquisition Overview In Google Analytics-hnNJVs6dpeY.pt-BR.vtt
│ │ 02. Acquisition Overview In Google Analytics-hnNJVs6dpeY.zh-CN.vtt
│ │ 02. Acquisition overview in Google Analytics.html
│ │ 03. Definitions used in acquisition reports.html
│ │ 04. Acquisition By Channel – Social-f2d-jAeBDoU.mkv
│ │ 04. Acquisition By Channel – Social-f2d-jAeBDoU.ar.vtt
│ │ 04. Acquisition By Channel – Social-f2d-jAeBDoU.en.vtt
│ │ 04. Acquisition By Channel – Social-f2d-jAeBDoU.pt-BR.vtt
│ │ 04. Acquisition By Channel – Social-f2d-jAeBDoU.zh-CN.vtt
│ │ 04. Acquisition by channel – social.html
│ │ 05. Acquisition By Channel – Social-6umKQvfwSpk.mkv
│ │ 05. Acquisition By Channel – Social-6umKQvfwSpk.ar.vtt
│ │ 05. Acquisition By Channel – Social-6umKQvfwSpk.en.vtt
│ │ 05. Acquisition By Channel – Social-6umKQvfwSpk.pt-BR.vtt
│ │ 05. Acquisition By Channel – Social-6umKQvfwSpk.zh-CN.vtt
│ │ 05. Quiz Acquisition by channel-social.html
│ │ 06. Acquisition By Channel – Organic Search-INgMTxfOZe4.mkv
│ │ 06. Acquisition By Channel – Organic Search-INgMTxfOZe4.ar.vtt
│ │ 06. Acquisition By Channel – Organic Search-INgMTxfOZe4.en.vtt
│ │ 06. Acquisition By Channel – Organic Search-INgMTxfOZe4.pt-BR.vtt
│ │ 06. Acquisition By Channel – Organic Search-INgMTxfOZe4.zh-CN.vtt
│ │ 06. Acquisition by channel – Organic Search.html
│ │ 07. Acquisition By Channel – Paid Search-rly5zfyBGTE.mkv
│ │ 07. Acquisition By Channel – Paid Search-rly5zfyBGTE.ar.vtt
│ │ 07. Acquisition By Channel – Paid Search-rly5zfyBGTE.en.vtt
│ │ 07. Acquisition By Channel – Paid Search-rly5zfyBGTE.pt-BR.vtt
│ │ 07. Acquisition By Channel – Paid Search-rly5zfyBGTE.zh-CN.vtt
│ │ 07. Acquisition by channel – Paid Search.html
│ │ 08. Acquisition by channel – Direct-wYo8HYOVPCU.mkv
│ │ 08. Acquisition by channel – Direct-wYo8HYOVPCU.ar.vtt
│ │ 08. Acquisition by channel – Direct-wYo8HYOVPCU.en.vtt
│ │ 08. Acquisition by channel – Direct-wYo8HYOVPCU.pt-BR.vtt
│ │ 08. Acquisition by channel – Direct-wYo8HYOVPCU.zh-CN.vtt
│ │ 08. Acquisition by channel – Direct.html
│ │ 09. Direct Traffic Trend.html
│ │ 10. Acquisition By Channel – Referral-rjz6LQJ7tIk.mkv
│ │ 10. Acquisition By Channel – Referral-rjz6LQJ7tIk.ar.vtt
│ │ 10. Acquisition By Channel – Referral-rjz6LQJ7tIk.en.vtt
│ │ 10. Acquisition By Channel – Referral-rjz6LQJ7tIk.pt-BR.vtt
│ │ 10. Acquisition By Channel – Referral-rjz6LQJ7tIk.zh-CN.vtt
│ │ 10. Acquisition by channel – Referral.html
│ │ 11. Other Acquisition Source Email, Affiliates and Display-m7C9dgjOTc4.mkv
│ │ 11. Other Acquisition Source Email, Affiliates and Display-m7C9dgjOTc4.ar.vtt
│ │ 11. Other Acquisition Source Email, Affiliates and Display-m7C9dgjOTc4.en.vtt
│ │ 11. Other Acquisition Source Email, Affiliates and Display-m7C9dgjOTc4.pt-BR.vtt
│ │ 11. Other Acquisition Source Email, Affiliates and Display-m7C9dgjOTc4.zh-CN.vtt
│ │ 11. Other acquisition sources email, affiliates and Display.html
│ │ 12. A few more things to consider.html
│ │ 13. Recap-6ZhIAfHU25k.ar.vtt
│ │ 13. Recap-6ZhIAfHU25k.en.vtt
│ │ 13. Recap-6ZhIAfHU25k.mp4
│ │ 13. Recap-6ZhIAfHU25k.pt-BR.vtt
│ │ 13. Recap-6ZhIAfHU25k.zh-CN.vtt
│ │ 13. Recap.html
│ │ index.html
│ └─img
│ 01-screen-shot-2.png
│ lesson-3-evaluate-acquisition-1.jpg
│ lesson-3-evaluate-acquisition-2.jpg
│ lesson-3-evaluate-acquisition-3.jpg
│ lesson-3-evaluate-acquisition.jpg
│ ss2.png
│ ss3.png
│
├─Part 09-Module 01-Lesson 04_Understand Behavior
│ 01. Intro-M2B2jj7gZcg.ar.vtt
│ 01. Intro-M2B2jj7gZcg.en.vtt
│ 01. Intro-M2B2jj7gZcg.mp4
│ 01. Intro-M2B2jj7gZcg.pt-BR.vtt
│ 01. Intro-M2B2jj7gZcg.zh-CN.vtt
│ 01. Introduction.html
│ 02. Metrics Definitions.html
│ 03. Studying Behavior – Overview-H9FaM8kUaWE.mkv
│ 03. Studying Behavior – Overview-H9FaM8kUaWE.ar.vtt
│ 03. Studying Behavior – Overview-H9FaM8kUaWE.en.vtt
│ 03. Studying Behavior – Overview-H9FaM8kUaWE.pt-BR.vtt
│ 03. Studying Behavior – Overview-H9FaM8kUaWE.zh-CN.vtt
│ 03. Studying Behavior – Overview.html
│ 04. What Content Is Popular And-Or Engaging-q0kXfhJVseg.mkv
│ 04. What Content Is Popular And-Or Engaging-q0kXfhJVseg.ar.vtt
│ 04. What Content Is Popular And-Or Engaging-q0kXfhJVseg.en.vtt
│ 04. What Content Is Popular And-Or Engaging-q0kXfhJVseg.pt-BR.vtt
│ 04. What Content Is Popular And-Or Engaging-q0kXfhJVseg.zh-CN.vtt
│ 04. What content is popular andor engaging.html
│ 05. Quiz Content Popularity.html
│ 06. What Are The Main Landing Pages, And How Engaging Are They-lG-CvZPnlmc.mkv
│ 06. What Are The Main Landing Pages, And How Engaging Are They-lG-CvZPnlmc.ar.vtt
│ 06. What Are The Main Landing Pages, And How Engaging Are They-lG-CvZPnlmc.en.vtt
│ 06. What Are The Main Landing Pages, And How Engaging Are They-lG-CvZPnlmc.pt-BR.vtt
│ 06. What Are The Main Landing Pages, And How Engaging Are They-lG-CvZPnlmc.zh-CN.vtt
│ 06. What are the main landing pages, and how engaging are they.html
│ 07. 06 Quiz- Bounce Rate And Landing Pages– Q V001-86v1paPYm4Y.mkv
│ 07. 06 Quiz- Bounce Rate And Landing Pages– Q V001-86v1paPYm4Y.ar.vtt
│ 07. 06 Quiz- Bounce Rate And Landing Pages– Q V001-86v1paPYm4Y.en.vtt
│ 07. 06 Quiz- Bounce Rate And Landing Pages– Q V001-86v1paPYm4Y.pt-BR.vtt
│ 07. 06 Quiz- Bounce Rate And Landing Pages– Q V001-86v1paPYm4Y.zh-CN.vtt
│ 07. Bounce Rate and Landing pages.html
│ 08. Landing Pages And Acquisition Channels-SYF2KfsL1AI.mkv
│ 08. Landing Pages And Acquisition Channels-SYF2KfsL1AI.ar.vtt
│ 08. Landing Pages And Acquisition Channels-SYF2KfsL1AI.en.vtt
│ 08. Landing Pages And Acquisition Channels-SYF2KfsL1AI.pt-BR.vtt
│ 08. Landing Pages And Acquisition Channels-SYF2KfsL1AI.zh-CN.vtt
│ 08. Landing Pages and Acquisition Channels.html
│ 09. A Quick Note On Exits-0gK36wMA0U4.mkv
│ 09. A Quick Note On Exits-0gK36wMA0U4.ar.vtt
│ 09. A Quick Note On Exits-0gK36wMA0U4.en.vtt
│ 09. A Quick Note On Exits-0gK36wMA0U4.pt-BR.vtt
│ 09. A Quick Note On Exits-0gK36wMA0U4.zh-CN.vtt
│ 09. A quick note on Exits.html
│ 10. Studying Behavior – The Pre-Post Design Case-mk55M5qJv3w.mkv
│ 10. Studying Behavior – The Pre-Post Design Case-mk55M5qJv3w.ar.vtt
│ 10. Studying Behavior – The Pre-Post Design Case-mk55M5qJv3w.en.vtt
│ 10. Studying Behavior – The Pre-Post Design Case-mk55M5qJv3w.pt-BR.vtt
│ 10. Studying Behavior – The Pre-Post Design Case-mk55M5qJv3w.zh-CN.vtt
│ 10. Studying Behavior – The PrePost design case.html
│ 11. Behavior Flow Report-5ZyrXAcNz5A.mkv
│ 11. Behavior Flow Report-5ZyrXAcNz5A.ar.vtt
│ 11. Behavior Flow Report-5ZyrXAcNz5A.en.vtt
│ 11. Behavior Flow Report-5ZyrXAcNz5A.pt-BR.vtt
│ 11. Behavior Flow Report-5ZyrXAcNz5A.zh-CN.vtt
│ 11. Behavior flow report.html
│ 12. A Few More Ways to Study Behavior-jFkFvnIcF4M.mkv
│ 12. A Few More Ways to Study Behavior-jFkFvnIcF4M.ar.vtt
│ 12. A Few More Ways to Study Behavior-jFkFvnIcF4M.en.vtt
│ 12. A Few More Ways to Study Behavior-jFkFvnIcF4M.pt-BR.vtt
│ 12. A Few More Ways to Study Behavior-jFkFvnIcF4M.zh-CN.vtt
│ 12. A Few More Ways to Study Behavior.html
│ 13. Conclusion-HwAgPn0mtLg.ar.vtt
│ 13. Conclusion-HwAgPn0mtLg.en.vtt
│ 13. Conclusion-HwAgPn0mtLg.mp4
│ 13. Conclusion-HwAgPn0mtLg.pt-BR.vtt
│ 13. Conclusion-HwAgPn0mtLg.zh-CN.vtt
│ 13. Conclusion.html
│ index.html
├─Part 09-Module 01-Lesson 05_Evaluate Conversion
│ │ 01. Intro.html
│ │ 01. Introduction-opPyGPAIxrs.ar.vtt
│ │ 01. Introduction-opPyGPAIxrs.en.vtt
│ │ 01. Introduction-opPyGPAIxrs.mp4
│ │ 01. Introduction-opPyGPAIxrs.pt-BR.vtt
│ │ 01. Introduction-opPyGPAIxrs.zh-CN.vtt
│ │ 02. Definitions.html
│ │ 03. Understanding Goals-JgVnQxh-hbE.mkv
│ │ 03. Understanding Goals-JgVnQxh-hbE.ar.vtt
│ │ 03. Understanding Goals-JgVnQxh-hbE.en.vtt
│ │ 03. Understanding Goals-JgVnQxh-hbE.pt-BR.vtt
│ │ 03. Understanding Goals-JgVnQxh-hbE.zh-CN.vtt
│ │ 03. Understanding goals.html
│ │ 04. Goal Types.html
│ │ 05. Setting Up Goals-GRKl5SNijHo.mkv
│ │ 05. Setting Up Goals-GRKl5SNijHo.ar.vtt
│ │ 05. Setting Up Goals-GRKl5SNijHo.en.vtt
│ │ 05. Setting Up Goals-GRKl5SNijHo.pt-BR.vtt
│ │ 05. Setting Up Goals-GRKl5SNijHo.zh-CN.vtt
│ │ 05. Setting up goals.html
│ │ 06. Quiz Setting goals.html
│ │ 07. Goal Conversion Reporting-Y-34zObHvWE.mkv
│ │ 07. Goal Conversion Reporting-Y-34zObHvWE.ar.vtt
│ │ 07. Goal Conversion Reporting-Y-34zObHvWE.en.vtt
│ │ 07. Goal Conversion Reporting-Y-34zObHvWE.pt-BR.vtt
│ │ 07. Goal Conversion Reporting-Y-34zObHvWE.zh-CN.vtt
│ │ 07. Goal Conversion Reporting.html
│ │ 08. Goal Funnel Visualization Reports-cQT2fRO1Mhs.mkv
│ │ 08. Goal Funnel Visualization Reports-cQT2fRO1Mhs.ar.vtt
│ │ 08. Goal Funnel Visualization Reports-cQT2fRO1Mhs.en.vtt
│ │ 08. Goal Funnel Visualization Reports-cQT2fRO1Mhs.pt-BR.vtt
│ │ 08. Goal Funnel Visualization Reports-cQT2fRO1Mhs.zh-CN.vtt
│ │ 08. Goal Funnel Visualization Reports.html
│ │ 09. Quiz Goal Visualization Reports.html
│ │ 10. Goal Flow-aaaQIjOx6hI.mkv
│ │ 10. Goal Flow-aaaQIjOx6hI.ar.vtt
│ │ 10. Goal Flow-aaaQIjOx6hI.en.vtt
│ │ 10. Goal Flow-aaaQIjOx6hI.pt-BR.vtt
│ │ 10. Goal Flow-aaaQIjOx6hI.zh-CN.vtt
│ │ 10. Goal Flow.html
│ │ 11. Shopping and checkout Behavior reports.html
│ │ 12. Product and sales performance reports.html
│ │ 13. Quiz Understanding shopping behavior by segment.html
│ │ 14. Multi Channel Conversion Reports I-UiK09sZ-XiY.mkv
│ │ 14. Multi Channel Conversion Reports I-UiK09sZ-XiY.ar.vtt
│ │ 14. Multi Channel Conversion Reports I-UiK09sZ-XiY.en.vtt
│ │ 14. Multi Channel Conversion Reports I-UiK09sZ-XiY.pt-BR.vtt
│ │ 14. Multi Channel Conversion Reports I-UiK09sZ-XiY.zh-CN.vtt
│ │ 14. Multi Channel Conversion Reports I.html
│ │ 15. Multi Channel Conversion Reports II-vDFKJbV_l6I.mkv
│ │ 15. Multi Channel Conversion Reports II-vDFKJbV_l6I.ar.vtt
│ │ 15. Multi Channel Conversion Reports II-vDFKJbV_l6I.en.vtt
│ │ 15. Multi Channel Conversion Reports II-vDFKJbV_l6I.pt-BR.vtt
│ │ 15. Multi Channel Conversion Reports II-vDFKJbV_l6I.zh-CN.vtt
│ │ 15. Multi Channel Conversion Reports II.html
│ │ 16. Multi channel funnels.html
│ │ 17. Conclusion-5iLuTRY2elg.mkv
│ │ 17. Conclusion-5iLuTRY2elg.ar.vtt
│ │ 17. Conclusion-5iLuTRY2elg.en.vtt
│ │ 17. Conclusion-5iLuTRY2elg.pt-BR.vtt
│ │ 17. Conclusion-5iLuTRY2elg.zh-CN.vtt
│ │ 17. Conclusion.html
│ │ index.html
│ └─img
│ 1-shopping-behavior-analysis.png
│ assisted-conversions-report.png
│ example-conversion-path.png
│ lesson-5-google-analytics-conversion-1.jpg
│ lesson-5-google-analytics-conversion.jpg
│ lookback-window.png
│ screen-shot-2017-05-31-at-11.53.00-am.png
│ top-conversion-paths-report.png
│
├─Part 09-Module 02-Lesson 01_Jobs in Digital Marketing Analytics
│ 01. Analytics Take Aways-gEvyTV7tooQ.mkv
│ 01. Analytics Take Aways-gEvyTV7tooQ.ar.vtt
│ 01. Analytics Take Aways-gEvyTV7tooQ.en.vtt
│ 01. Analytics Take Aways-gEvyTV7tooQ.es-MX.vtt
│ 01. Analytics Take Aways-gEvyTV7tooQ.pt-BR.vtt
│ 01. Analytics Take Aways-gEvyTV7tooQ.zh-CN.vtt
│ 01. Digital Marketing Analytics – Take Aways.html
│ 02. What you need to know.html
│ index.html
├─Part 10-Module 01-Lesson 01_Create a Marketing Plan and Conclusion
│ 01. Intro-xVP1rub8-7Y.ar.vtt
│ 01. Intro-xVP1rub8-7Y.en.vtt
│ 01. Intro-xVP1rub8-7Y.mp4
│ 01. Intro-xVP1rub8-7Y.pt-BR.vtt
│ 01. Intro-xVP1rub8-7Y.zh-CN.vtt
│ 01. Intro.html
│ 02. Marketing Framework-e1dJpXEi8y4.mkv
│ 02. Marketing Framework-e1dJpXEi8y4.ar.vtt
│ 02. Marketing Framework-e1dJpXEi8y4.en.vtt
│ 02. Marketing Framework-e1dJpXEi8y4.pt-BR.vtt
│ 02. Marketing Framework-e1dJpXEi8y4.zh-CN.vtt
│ 02. Marketing Framework.html
│ 03. A Customer Focused Strategy.html
│ 03. Customer Focused Strategy-3crymS3_YO0.mkv
│ 03. Customer Focused Strategy-3crymS3_YO0.ar.vtt
│ 03. Customer Focused Strategy-3crymS3_YO0.en.vtt
│ 03. Customer Focused Strategy-3crymS3_YO0.pt-BR.vtt
│ 03. Customer Focused Strategy-3crymS3_YO0.zh-CN.vtt
│ 04. The Neutrogena Case Study-negn7uz1IHk.mkv
│ 04. The Neutrogena Case Study-negn7uz1IHk.ar.vtt
│ 04. The Neutrogena Case Study-negn7uz1IHk.en.vtt
│ 04. The Neutrogena Case Study-negn7uz1IHk.pt-BR.vtt
│ 04. The Neutrogena Case Study-negn7uz1IHk.zh-CN.vtt
│ 04. The Neutrogena Case.html
│ 05. Planning Your Marketing Budget-sN9iuLSdCmI.mkv
│ 05. Planning Your Marketing Budget-sN9iuLSdCmI.ar.vtt
│ 05. Planning Your Marketing Budget-sN9iuLSdCmI.en.vtt
│ 05. Planning Your Marketing Budget-sN9iuLSdCmI.pt-BR.vtt
│ 05. Planning Your Marketing Budget-sN9iuLSdCmI.zh-CN.vtt
│ 05. Planning Your Marketing Budget.html
│ index.html
├─Part 10-Module 01-Lesson 02_Create Your Portfolio
│ 01. Create your Portfolio.html
│ 02. Formulas.html
│ index.html
│ Project Description – Create your Portfolio.html
│ Project Rubric – Create your Portfolio.html
├─Part 10-Module 02-Lesson 01_Marketing Analytics – Take Away
│ 01. Google Analytics-gEvyTV7tooQ.mkv
│ 01. Google Analytics-gEvyTV7tooQ.ar.vtt
│ 01. Google Analytics-gEvyTV7tooQ.en.vtt
│ 01. Google Analytics-gEvyTV7tooQ.es-MX.vtt
│ 01. Google Analytics-gEvyTV7tooQ.pt-BR.vtt
│ 01. Google Analytics-gEvyTV7tooQ.zh-CN.vtt
│ 01. Marketing Analytics – Take Away.html
│ 02. Day in the Life – Feras Alhlou.html
│ 02. Ferras Day In The Life-kfHP-mdYJns.mkv
│ 02. Ferras Day In The Life-kfHP-mdYJns.ar.vtt
│ 02. Ferras Day In The Life-kfHP-mdYJns.en.vtt
│ 02. Ferras Day In The Life-kfHP-mdYJns.es-MX.vtt
│ 02. Ferras Day In The Life-kfHP-mdYJns.pt-BR.vtt
│ 02. Ferras Day In The Life-kfHP-mdYJns.zh-CN.vtt
│ index.html
├─Part 10-Module 03-Lesson 01_Conclusion
│ 01. Conclusion-ou-e03OiD2E.en.vtt
│ 01. Conclusion-ou-e03OiD2E.mp4
│ 01. Conclusion-ou-e03OiD2E.pt-BR.vtt
│ 01. Conclusion.html
│ 02. Congratulations End of the Nanodegree!-Gbml17S_2RQ.mkv
│ 02. Congratulations End of the Nanodegree!-Gbml17S_2RQ.pt-BR.vtt
│ 02. Congratulations End of the Nanodegree!.html
│ index.html
├─Part 11-Module 01-Lesson 01_Digital Marketing Extras
│ 01. Coffee ! (MISSING)Croissants- Careers In Digital Marketing-5pGijXHL_LU.en.vtt
│ 01. Coffee ! (MISSING)Croissants- Careers In Digital Marketing-5pGijXHL_LU.mp4
│ 01. Coffee ! (MISSING)Croissants- Careers In Digital Marketing-5pGijXHL_LU.pt-BR.vtt
│ 01. Digital Marketing Extras.html
│ 01. Digital Marketing Talks Jennifer Dulski-WizZtEQvI5g.mkv
│ 01. Digital Marketing Talks Jennifer Dulski-WizZtEQvI5g.ar.vtt
│ 01. Digital Marketing Talks Jennifer Dulski-WizZtEQvI5g.en.vtt
│ 01. Digital Marketing Talks Jennifer Dulski-WizZtEQvI5g.es-MX.vtt
│ 01. Digital Marketing Talks Jennifer Dulski-WizZtEQvI5g.pt-BR.vtt
│ 01. Digital Marketing Talks Jennifer Dulski-WizZtEQvI5g.zh-CN.vtt
│ 01. Pascal's Digital Marketing Nanodegree Story-3IC88R7DYZE.mkv
│ 01. Pascal's Digital Marketing Nanodegree Story-3IC88R7DYZE.en.vtt
│ 01. Pascal's Digital Marketing Nanodegree Story-3IC88R7DYZE.pt-BR.vtt
│ 01. The Drawing Board – (DMND Social)-xgRoOc5S9ws.mkv
│ 01. The Drawing Board – (DMND Social)-xgRoOc5S9ws.en.vtt
│ 01. The Drawing Board – (DMND Social)-xgRoOc5S9ws.pt-BR.vtt
│ index.html
├─Part 12-Module 01-Lesson 01_Develop Your Personal Brand
│ │ 01. Why Network-exjEm9Paszk.mkv
│ │ 01. Why Network-exjEm9Paszk.ar.vtt
│ │ 01. Why Network-exjEm9Paszk.en.vtt
│ │ 01. Why Network-exjEm9Paszk.es-MX.vtt
│ │ 01. Why Network-exjEm9Paszk.pt-BR.vtt
│ │ 01. Why Network-exjEm9Paszk.zh-CN.vtt
│ │ 01. Why Network.html
│ │ 02. Elevator Pitch-S-nAHPrkQrQ.mkv
│ │ 02. Elevator Pitch-S-nAHPrkQrQ.ar.vtt
│ │ 02. Elevator Pitch-S-nAHPrkQrQ.en.vtt
│ │ 02. Elevator Pitch-S-nAHPrkQrQ.es-MX.vtt
│ │ 02. Elevator Pitch-S-nAHPrkQrQ.pt-BR.vtt
│ │ 02. Elevator Pitch-S-nAHPrkQrQ.zh-CN.vtt
│ │ 02. Why Use Elevator Pitches.html
│ │ 03. Personal Branding.html
│ │ 04. Meet Chris-0ccflD9x5WU.mkv
│ │ 04. Meet Chris-0ccflD9x5WU.ar.vtt
│ │ 04. Meet Chris-0ccflD9x5WU.en.vtt
│ │ 04. Meet Chris-0ccflD9x5WU.es-MX.vtt
│ │ 04. Meet Chris-0ccflD9x5WU.pt-BR.vtt
│ │ 04. Meet Chris-0ccflD9x5WU.zh-CN.vtt
│ │ 04. Meet Chris.html
│ │ 05. Elevator Pitch-0QtgTG49E9I.mkv
│ │ 05. Elevator Pitch-0QtgTG49E9I.ar.vtt
│ │ 05. Elevator Pitch-0QtgTG49E9I.en.vtt
│ │ 05. Elevator Pitch-0QtgTG49E9I.es-MX.vtt
│ │ 05. Elevator Pitch-0QtgTG49E9I.pt-BR.vtt
│ │ 05. Elevator Pitch-0QtgTG49E9I.zh-CN.vtt
│ │ 05. Elevator Pitch.html
│ │ 06. Pitching to a Recruiter-LxAdWaA-qTQ.mkv
│ │ 06. Pitching to a Recruiter-LxAdWaA-qTQ.ar.vtt
│ │ 06. Pitching to a Recruiter-LxAdWaA-qTQ.en.vtt
│ │ 06. Pitching to a Recruiter-LxAdWaA-qTQ.es-MX.vtt
│ │ 06. Pitching to a Recruiter-LxAdWaA-qTQ.pt-BR.vtt
│ │ 06. Pitching to a Recruiter-LxAdWaA-qTQ.zh-CN.vtt
│ │ 06. Pitching to a Recruiter.html
│ │ 07. Use Your Elevator Pitch-e-v60ieggSs.mkv
│ │ 07. Use Your Elevator Pitch-e-v60ieggSs.ar.vtt
│ │ 07. Use Your Elevator Pitch-e-v60ieggSs.en.vtt
│ │ 07. Use Your Elevator Pitch-e-v60ieggSs.es-MX.vtt
│ │ 07. Use Your Elevator Pitch-e-v60ieggSs.pt-BR.vtt
│ │ 07. Use Your Elevator Pitch-e-v60ieggSs.zh-CN.vtt
│ │ 07. Use Your Elevator Pitch.html
│ │ 08. Resources in Your Career Portal.html
│ │ index.html
│ └─img
│ career-portal-sidebar.png
│ screen-shot-2017-10-31-at-1.06.42-pm.png
│
├─Part 12-Module 01-Lesson 02_LinkedIn Review
│ │ 01. Using LinkedIn.html
│ │ 02. Resources in Your Career Portal.html
│ │ index.html
│ │ Project Description – LinkedIn Profile Review Project.html
│ │ Project Rubric – LinkedIn Profile Review Project.html
│ ├─img
│ │ career-portal-sidebar.png
│ │ screen-shot-2017-10-31-at-1.06.42-pm.png
│ │
│ └─media
│ unnamed-project-desc-0.gif
│ unnamed-project-desc-1.gif
│
├─Part 12-Module 01-Lesson 03_Udacity Professional Profile
│ │ 01. Introduction.html
│ │ 02. Getting Started.html
│ │ 03. Customizing Your Profile.html
│ │ 04. Top Section.html
│ │ 05. Recruitment Data.html
│ │ 06. Skills.html
│ │ 07. Projects.html
│ │ 08. Experience.html
│ │ 09. Resources in Your Career Portal.html
│ │ index.html
│ │ Project Description – Udacity Professional Profile Review.html
│ │ Project Rubric – Udacity Professional Profile Review.html
│ ├─img
│ │ 162524.gif
│ │ career-portal-sidebar.png
│ │ screen-shot-2017-09-04-at-2.07.44-pm.png
│ │ screen-shot-2017-10-31-at-1.06.42-pm.png
│ │ screen-shot-2017-12-14-at-3.11.32-pm.png
│ │
│ └─media
│ unnamed-135397-0.gif
│ unnamed-5101-0.gif
│
├─Part 13-Module 01-Lesson 01_Conduct a Job Search
│ │ 01. Introduction-axcFtHK6If4.mkv
│ │ 01. Introduction-axcFtHK6If4.en.vtt
│ │ 01. Introduction-axcFtHK6If4.es-MX.vtt
│ │ 01. Introduction-axcFtHK6If4.pt-BR.vtt
│ │ 01. Introduction-axcFtHK6If4.zh-CN.vtt
│ │ 01. Introduction.html
│ │ 02. Job Search Mindset-cBk7bno3KS0.mkv
│ │ 02. Job Search Mindset-cBk7bno3KS0.en.vtt
│ │ 02. Job Search Mindset-cBk7bno3KS0.es-MX.vtt
│ │ 02. Job Search Mindset-cBk7bno3KS0.pt-BR.vtt
│ │ 02. Job Search Mindset-cBk7bno3KS0.zh-CN.vtt
│ │ 02. Job Search Mindset.html
│ │ 03. Target Your Application to An Employer-X9JBzbrkcvs.mkv
│ │ 03. Target Your Application to An Employer-X9JBzbrkcvs.en.vtt
│ │ 03. Target Your Application to An Employer-X9JBzbrkcvs.es-MX.vtt
│ │ 03. Target Your Application to An Employer-X9JBzbrkcvs.pt-BR.vtt
│ │ 03. Target Your Application to An Employer-X9JBzbrkcvs.zh-CN.vtt
│ │ 03. Target Your Application to An Employer.html
│ │ 04. Open Yourself Up to Opportunity-1OamTNkk1xM.en.vtt
│ │ 04. Open Yourself Up to Opportunity-1OamTNkk1xM.es-MX.vtt
│ │ 04. Open Yourself Up to Opportunity-1OamTNkk1xM.mp4
│ │ 04. Open Yourself Up to Opportunity-1OamTNkk1xM.pt-BR.vtt
│ │ 04. Open Yourself Up to Opportunity-1OamTNkk1xM.zh-CN.vtt
│ │ 04. Open Yourself Up to Opportunity.html
│ │ 05. Resources in Your Career Portal.html
│ │ index.html
│ └─img
│ career-portal-sidebar.png
│ screen-shot-2017-10-31-at-1.06.42-pm.png
│
├─Part 13-Module 02-Lesson 01_Refine Your Entry-Level Resume
│ │ 01. Convey Your Skills Concisely-xnQr3ohml9s.mkv
│ │ 01. Convey Your Skills Concisely-xnQr3ohml9s.en.vtt
│ │ 01. Convey Your Skills Concisely-xnQr3ohml9s.es-MX.vtt
│ │ 01. Convey Your Skills Concisely-xnQr3ohml9s.pt-BR.vtt
│ │ 01. Convey Your Skills Concisely-xnQr3ohml9s.zh-CN.vtt
│ │ 01. Convey Your Skills Concisely.html
│ │ 02. Effective Resume Components-AiFcaHRGdEA.mkv
│ │ 02. Effective Resume Components-AiFcaHRGdEA.en.vtt
│ │ 02. Effective Resume Components-AiFcaHRGdEA.es-MX.vtt
│ │ 02. Effective Resume Components-AiFcaHRGdEA.pt-BR.vtt
│ │ 02. Effective Resume Components-AiFcaHRGdEA.zh-CN.vtt
│ │ 02. Effective Resume Components.html
│ │ 03. Resume Structure-POM0MqLTj98.mkv
│ │ 03. Resume Structure-POM0MqLTj98.en.vtt
│ │ 03. Resume Structure-POM0MqLTj98.es-MX.vtt
│ │ 03. Resume Structure-POM0MqLTj98.pt-BR.vtt
│ │ 03. Resume Structure-POM0MqLTj98.zh-CN.vtt
│ │ 03. Resume Structure.html
│ │ 04. Describe Your Work Experiences-B1LED4txinI.mkv
│ │ 04. Describe Your Work Experiences-B1LED4txinI.en.vtt
│ │ 04. Describe Your Work Experiences-B1LED4txinI.es-MX.vtt
│ │ 04. Describe Your Work Experiences-B1LED4txinI.pt-BR.vtt
│ │ 04. Describe Your Work Experiences-B1LED4txinI.zh-CN.vtt
│ │ 04. Describe Your Work Experiences.html
│ │ 05. Resume Reflection-8Cj_tCp8mls.mkv
│ │ 05. Resume Reflection-8Cj_tCp8mls.en.vtt
│ │ 05. Resume Reflection-8Cj_tCp8mls.es-MX.vtt
│ │ 05. Resume Reflection-8Cj_tCp8mls.pt-BR.vtt
│ │ 05. Resume Reflection-8Cj_tCp8mls.zh-CN.vtt
│ │ 05. Resume Reflection.html
│ │ 06. Resume Review-L3F2BFGYMtI.mkv
│ │ 06. Resume Review-L3F2BFGYMtI.en.vtt
│ │ 06. Resume Review-L3F2BFGYMtI.es-MX.vtt
│ │ 06. Resume Review-L3F2BFGYMtI.pt-BR.vtt
│ │ 06. Resume Review-L3F2BFGYMtI.zh-CN.vtt
│ │ 06. Resume Review.html
│ │ 07. Resume Review (Entry-level).html
│ │ 08. Resources in Your Career Portal.html
│ │ index.html
│ │ Project Description – Resume Review Project (Entry-level).html
│ │ Project Rubric – Resume Review Project (Entry-level).html
│ └─img
│ career-portal-sidebar.png
│ screen-shot-2017-10-31-at-1.06.42-pm.png
│
├─Part 13-Module 02-Lesson 02_Refine Your Career Change Resume
│ │ 01. Convey Your Skills Concisely-xnQr3ohml9s.mkv
│ │ 01. Convey Your Skills Concisely-xnQr3ohml9s.en.vtt
│ │ 01. Convey Your Skills Concisely-xnQr3ohml9s.es-MX.vtt
│ │ 01. Convey Your Skills Concisely-xnQr3ohml9s.pt-BR.vtt
│ │ 01. Convey Your Skills Concisely-xnQr3ohml9s.zh-CN.vtt
│ │ 01. Convey Your Skills Concisely.html
│ │ 02. Effective Resume Components-AiFcaHRGdEA.mkv
│ │ 02. Effective Resume Components-AiFcaHRGdEA.en.vtt
│ │ 02. Effective Resume Components-AiFcaHRGdEA.es-MX.vtt
│ │ 02. Effective Resume Components-AiFcaHRGdEA.pt-BR.vtt
│ │ 02. Effective Resume Components-AiFcaHRGdEA.zh-CN.vtt
│ │ 02. Effective Resume Components.html
│ │ 03. Resume Structure-POM0MqLTj98.mkv
│ │ 03. Resume Structure-POM0MqLTj98.en.vtt
│ │ 03. Resume Structure-POM0MqLTj98.es-MX.vtt
│ │ 03. Resume Structure-POM0MqLTj98.pt-BR.vtt
│ │ 03. Resume Structure-POM0MqLTj98.zh-CN.vtt
│ │ 03. Resume Structure.html
│ │ 04. Describe Your Work Experiences-B1LED4txinI.mkv
│ │ 04. Describe Your Work Experiences-B1LED4txinI.en.vtt
│ │ 04. Describe Your Work Experiences-B1LED4txinI.es-MX.vtt
│ │ 04. Describe Your Work Experiences-B1LED4txinI.pt-BR.vtt
│ │ 04. Describe Your Work Experiences-B1LED4txinI.zh-CN.vtt
│ │ 04. Describe Your Work Experiences.html
│ │ 05. Resume Reflection-8Cj_tCp8mls.mkv
│ │ 05. Resume Reflection-8Cj_tCp8mls.en.vtt
│ │ 05. Resume Reflection-8Cj_tCp8mls.es-MX.vtt
│ │ 05. Resume Reflection-8Cj_tCp8mls.pt-BR.vtt
│ │ 05. Resume Reflection-8Cj_tCp8mls.zh-CN.vtt
│ │ 05. Resume Reflection.html
│ │ 06. Resume Review-L3F2BFGYMtI.mkv
│ │ 06. Resume Review-L3F2BFGYMtI.en.vtt
│ │ 06. Resume Review-L3F2BFGYMtI.es-MX.vtt
│ │ 06. Resume Review-L3F2BFGYMtI.pt-BR.vtt
│ │ 06. Resume Review-L3F2BFGYMtI.zh-CN.vtt
│ │ 06. Resume Review.html
│ │ 07. Resume Review (Career Change).html
│ │ 08. Resources in Your Career Portal.html
│ │ index.html
│ │ Project Description – Resume Review Project (Career Change).html
│ │ Project Rubric – Resume Review Project (Career Change).html
│ └─img
│ career-portal-sidebar.png
│ screen-shot-2017-10-31-at-1.06.42-pm.png
│
├─Part 13-Module 02-Lesson 03_Refine Your Prior Industry Experience Resume
│ │ 01. Convey Your Skills Concisely-xnQr3ohml9s.mkv
│ │ 01. Convey Your Skills Concisely-xnQr3ohml9s.en.vtt
│ │ 01. Convey Your Skills Concisely-xnQr3ohml9s.es-MX.vtt
│ │ 01. Convey Your Skills Concisely-xnQr3ohml9s.mp4
│ │ 01. Convey Your Skills Concisely-xnQr3ohml9s.pt-BR.vtt
│ │ 01. Convey Your Skills Concisely-xnQr3ohml9s.zh-CN.vtt
│ │ 01. Convey Your Skills Concisely.html
│ │ 02. Effective Resume Components-AiFcaHRGdEA.mkv
│ │ 02. Effective Resume Components-AiFcaHRGdEA.en.vtt
│ │ 02. Effective Resume Components-AiFcaHRGdEA.es-MX.vtt
│ │ 02. Effective Resume Components-AiFcaHRGdEA.pt-BR.vtt
│ │ 02. Effective Resume Components-AiFcaHRGdEA.zh-CN.vtt
│ │ 02. Effective Resume Components.html
│ │ 03. Resume Structure-POM0MqLTj98.mkv
│ │ 03. Resume Structure-POM0MqLTj98.en.vtt
│ │ 03. Resume Structure-POM0MqLTj98.es-MX.vtt
│ │ 03. Resume Structure-POM0MqLTj98.pt-BR.vtt
│ │ 03. Resume Structure-POM0MqLTj98.zh-CN.vtt
│ │ 03. Resume Structure.html
│ │ 04. Describe Your Work Experiences-B1LED4txinI.mkv
│ │ 04. Describe Your Work Experiences-B1LED4txinI.en.vtt
│ │ 04. Describe Your Work Experiences-B1LED4txinI.es-MX.vtt
│ │ 04. Describe Your Work Experiences-B1LED4txinI.pt-BR.vtt
│ │ 04. Describe Your Work Experiences-B1LED4txinI.zh-CN.vtt
│ │ 04. Describe Your Work Experiences.html
│ │ 05. Resume Reflection-8Cj_tCp8mls.mkv
│ │ 05. Resume Reflection-8Cj_tCp8mls.en.vtt
│ │ 05. Resume Reflection-8Cj_tCp8mls.es-MX.vtt
│ │ 05. Resume Reflection-8Cj_tCp8mls.pt-BR.vtt
│ │ 05. Resume Reflection-8Cj_tCp8mls.zh-CN.vtt
│ │ 05. Resume Reflection.html
│ │ 06. Resume Review-L3F2BFGYMtI.mkv
│ │ 06. Resume Review-L3F2BFGYMtI.en.vtt
│ │ 06. Resume Review-L3F2BFGYMtI.es-MX.vtt
│ │ 06. Resume Review-L3F2BFGYMtI.pt-BR.vtt
│ │ 06. Resume Review-L3F2BFGYMtI.zh-CN.vtt
│ │ 06. Resume Review.html
│ │ 07. Resume Review (Prior Industry Experience).html
│ │ 08. Resources in Your Career Portal.html
│ │ index.html
│ └─img
│ career-portal-sidebar.png
│ screen-shot-2017-10-31-at-1.06.42-pm.png
│
├─Part 13-Module 03-Lesson 01_Craft Your Cover Letter
│ │ 01. Get an Interview with a Cover Letter!-BH1KY63YfAM.mkv
│ │ 01. Get an Interview with a Cover Letter!-BH1KY63YfAM.en.vtt
│ │ 01. Get an Interview with a Cover Letter!-BH1KY63YfAM.es-MX.vtt
│ │ 01. Get an Interview with a Cover Letter!-BH1KY63YfAM.pt-BR.vtt
│ │ 01. Get an Interview with a Cover Letter!-BH1KY63YfAM.zh-CN.vtt
│ │ 01. Get an Interview with a Cover Letter!.html
│ │ 02. Purpose of the Cover Letter.html
│ │ 02. Purpose-7F7cMCTcyhM.mkv
│ │ 02. Purpose-7F7cMCTcyhM.en.vtt
│ │ 02. Purpose-7F7cMCTcyhM.es-MX.vtt
│ │ 02. Purpose-7F7cMCTcyhM.pt-BR.vtt
│ │ 02. Purpose-7F7cMCTcyhM.zh-CN.vtt
│ │ 03. Cover Letter Components-DVvLiKedRw4.mkv
│ │ 03. Cover Letter Components-DVvLiKedRw4.en.vtt
│ │ 03. Cover Letter Components-DVvLiKedRw4.es-MX.vtt
│ │ 03. Cover Letter Components-DVvLiKedRw4.pt-BR.vtt
│ │ 03. Cover Letter Components-DVvLiKedRw4.zh-CN.vtt
│ │ 03. Cover Letter Components.html
│ │ 04. Write the Introduction.html
│ │ 04. Writing Your Introduction-5S5PH73WLLY.mkv
│ │ 04. Writing Your Introduction-5S5PH73WLLY.en.vtt
│ │ 04. Writing Your Introduction-5S5PH73WLLY.es-MX.vtt
│ │ 04. Writing Your Introduction-5S5PH73WLLY.pt-BR.vtt
│ │ 05. Write the Body.html
│ │ 05. Writing the Body-aK9Qnv3a6Wg.mkv
│ │ 05. Writing the Body-aK9Qnv3a6Wg.en.vtt
│ │ 05. Writing the Body-aK9Qnv3a6Wg.es-MX.vtt
│ │ 05. Writing the Body-aK9Qnv3a6Wg.pt-BR.vtt
│ │ 06. Write the Conclusion-i3ozyhGPmIg.en.vtt
│ │ 06. Write the Conclusion-i3ozyhGPmIg.es-MX.vtt
│ │ 06. Write the Conclusion-i3ozyhGPmIg.mp4
│ │ 06. Write the Conclusion-i3ozyhGPmIg.pt-BR.vtt
│ │ 06. Write the Conclusion.html
│ │ 07. Format-Xlqoq-SoJso.mkv
│ │ 07. Format-Xlqoq-SoJso.en.vtt
│ │ 07. Format-Xlqoq-SoJso.es-MX.vtt
│ │ 07. Format-Xlqoq-SoJso.pt-BR.vtt
│ │ 07. Format-Xlqoq-SoJso.zh-CN.vtt
│ │ 07. Format.html
│ │ 08. Resources in Your Career Portal.html
│ │ index.html
│ │ Project Description – Craft Your Cover Letter.html
│ │ Project Rubric – Craft Your Cover Letter.html
│ └─img
│ career-portal-sidebar.png
│ cover-letter-body-good.png
│ cover-letter-career-service-example.png
│ cover-letter-good-conclusion.png
│ cover-letter-intro-bad.png
│ cover-letter-intro-good.png
│ screen-shot-2017-10-31-at-1.06.42-pm.png
│
├─Part 14-Module 01-Lesson 01_Ace Your Interview
│ 01. Introduction-pg4HUMgKLxI.mkv
│ 01. Introduction-pg4HUMgKLxI.en.vtt
│ 01. Introduction-pg4HUMgKLxI.es-MX.vtt
│ 01. Introduction-pg4HUMgKLxI.pt-BR.vtt
│ 01. Introduction-pg4HUMgKLxI.zh-CN.vtt
│ 01. Introduction.html
│ 02. Interviewing Conversations-klqXp09Pen4.mkv
│ 02. Interviewing Conversations-klqXp09Pen4.en.vtt
│ 02. Interviewing Conversations-klqXp09Pen4.es-MX.vtt
│ 02. Interviewing Conversations-klqXp09Pen4.pt-BR.vtt
│ 02. Interviewing Conversations-klqXp09Pen4.zh-CN.vtt
│ 02. Interviews are Conversations.html
│ 03. STAR Method.html
│ index.html
├─Part 14-Module 01-Lesson 02_Practice Behavioral Questions
│ │ 01. Introduction.html
│ │ 02. Self-Practice Behavioral Questions.html
│ │ 03. Analyzing Behavioral Answers.html
│ │ 04. Time When You Showed Initiative-29mkriaGT0E.mkv
│ │ 04. Time When You Showed Initiative-29mkriaGT0E.en.vtt
│ │ 04. Time When You Showed Initiative-29mkriaGT0E.pt-BR.vtt
│ │ 04. Time When You Showed Initiative-29mkriaGT0E.zh-CN.vtt
│ │ 04. Time When You Showed Initiative.html
│ │ 05. What Motivates You at the Workplace-Aa9SFwiRbho.mkv
│ │ 05. What Motivates You at the Workplace-Aa9SFwiRbho.en.vtt
│ │ 05. What Motivates You at the Workplace-Aa9SFwiRbho.pt-BR.vtt
│ │ 05. What Motivates You at the Workplace-Aa9SFwiRbho.zh-CN.vtt
│ │ 05. What Motivates You at the Workplace.html
│ │ 06. A Problem and How You Dealt With It-7IKqdW30GvQ.mkv
│ │ 06. A Problem and How You Dealt With It-7IKqdW30GvQ.en.vtt
│ │ 06. A Problem and How You Dealt With It-7IKqdW30GvQ.pt-BR.vtt
│ │ 06. A Problem and How You Dealt With It-7IKqdW30GvQ.zh-CN.vtt
│ │ 06. A Problem and How You Dealt With It.html
│ │ 07. What Do You Know About the Company-CcTfHemUvbM.mkv
│ │ 07. What Do You Know About the Company-CcTfHemUvbM.en.vtt
│ │ 07. What Do You Know About the Company-CcTfHemUvbM.pt-BR.vtt
│ │ 07. What Do You Know About the Company-CcTfHemUvbM.zh-CN.vtt
│ │ 07. What Do You Know About the Company.html
│ │ 08. Time When You Dealt With Failure-Qb4o_4hCuyg.mkv
│ │ 08. Time When You Dealt With Failure-Qb4o_4hCuyg.en.vtt
│ │ 08. Time When You Dealt With Failure-Qb4o_4hCuyg.pt-BR.vtt
│ │ 08. Time When You Dealt With Failure-Qb4o_4hCuyg.zh-CN.vtt
│ │ 08. Time When You Dealt With Failure.html
│ │ index.html
│ └─media
│ unnamed-59153-0.gif
│
├─Part 14-Module 01-Lesson 03_Interview Fails
│ 01. Interview Fails-FD6UNqMa0xc.en.vtt
│ 01. Interview Fails-FD6UNqMa0xc.es-MX.vtt
│ 01. Interview Fails-FD6UNqMa0xc.mp4
│ 01. Interview Fails-FD6UNqMa0xc.pt-BR.vtt
│ 01. Interview Fails-FD6UNqMa0xc.zh-CN.vtt
│ 01. Interview Fails.html
│ 02. Interviewing Fails Mike Wales-OGXRmzBglI4.mkv
│ 02. Interviewing Fails Mike Wales-OGXRmzBglI4.en.vtt
│ 02. Interviewing Fails Mike Wales-OGXRmzBglI4.es-MX.vtt
│ 02. Interviewing Fails Mike Wales-OGXRmzBglI4.pt-BR.vtt
│ 02. Interviewing Fails Mike Wales-OGXRmzBglI4.zh-CN.vtt
│ 02. Interviewing Fails Mike Wales.html
│ 03. Interviewing Fails Siya Raj Purohit-wYop-N5YgeA.mkv
│ 03. Interviewing Fails Siya Raj Purohit-wYop-N5YgeA.en.vtt
│ 03. Interviewing Fails Siya Raj Purohit-wYop-N5YgeA.es-MX.vtt
│ 03. Interviewing Fails Siya Raj Purohit-wYop-N5YgeA.pt-BR.vtt
│ 03. Interviewing Fails Siya Raj Purohit-wYop-N5YgeA.zh-CN.vtt
│ 03. Interviewing Fails Siya Raj Purohit.html
│ 04. Interviewing Fails Lyla Fujiwara-CgK2HxdJzc8.mkv
│ 04. Interviewing Fails Lyla Fujiwara-CgK2HxdJzc8.en.vtt
│ 04. Interviewing Fails Lyla Fujiwara-CgK2HxdJzc8.es-MX.vtt
│ 04. Interviewing Fails Lyla Fujiwara-CgK2HxdJzc8.pt-BR.vtt
│ 04. Interviewing Fails Lyla Fujiwara-CgK2HxdJzc8.zh-CN.vtt
│ 04. Interviewing Fails Lyla Fujiwara.html
│ index.html
└─Part 14-Module 01-Lesson 04_Land a Job Offer
01. Land a Job Offer-ZQJoT8QL_hw.en.vtt
01. Land a Job Offer-ZQJoT8QL_hw.es-MX.vtt
01. Land a Job Offer-ZQJoT8QL_hw.mp4
01. Land a Job Offer-ZQJoT8QL_hw.pt-BR.vtt
01. Land a Job Offer-ZQJoT8QL_hw.zh-CN.vtt
01. Land a Job Offer.html
index.html
提取密码:
下载地址: