2018最新修订和更新的提示和技巧帮助您与Merch及亚马逊和按需印刷网站上出售T恤(How To Sell More Shirts V2)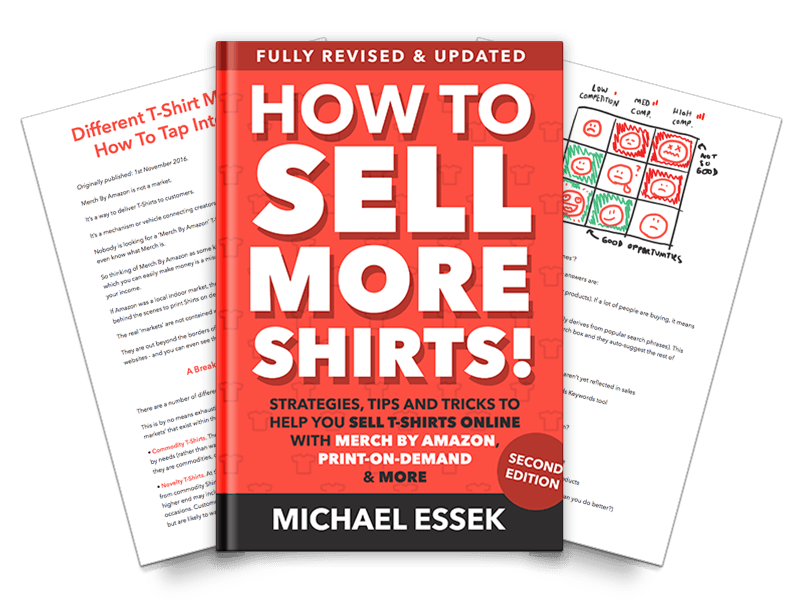 全面修订和更新的2018最新策略,一些提示和技巧,
可以帮助您与Merch及亚马逊和按需印刷网站上出售t恤。
即使你从来没有卖过一件t恤。

Fully revised & updated strategies, tips & tricks to help you sell t-shirts online with Merch by Amazon and print-on-demand sites – even if you have never sold a t-shirt before.

It combines over 16 weeks worth of my secret weekly newsletter content, compiled and edited for easy reading and quick application.

//

How To Sell More Shirts! [Second Edition]
Fully Revised & Updated Strategies, Tips And Tricks To Help You Sell T-Shirts Online with Merch By Amazon And Print-On-Demand Sites – Even If You've Never Sold A T-Shirt Before!

Are you a Designer, Illustrator or Artist selling T-Shirts online through sites like Merch By Amazon and Redbubble?

Are you struggling to grow your income consistently each month?

Do you just want to sell more Shirts?

If So – You're Not Alone!

My name is Michael Essek – and for the past 3 years I have been designing and selling T-Shirts online.

In that time I've grown my income from $50 a month to $10,000 a month and more. (Click here to see a recent breakdown of my income).

I believe anyone with competent design abilities can achieve similar – and probably much better – results, thanks to the ever-increasing methods for creative designers to make money selling their artwork online.

You just need to understand the key principles and strategies that will help you grow a succesful and sustainable online T-Shirt business.
But…The Online T-Shirt Market Is Becoming Increasingly Competitive…
New designers and non-designers alike are flooding in – making it all the more critical that you have an advantage over the competition.

How To Sell More Shirts [Second Edition] outlines the strategies, principles and mindsets – plus practical tips and tricks – that will help you think and design for long-term sales and recurring income.

It combines over 16 weeks worth of my secret weekly newsletter content, compiled and edited for easy reading and quick application – and now fully revised and updated for 2017 with 6 NEW Chapters.

What Others Are Saying…

So What's Inside?!
Here are just a few of the things you'll learn inside 'How To Sell More Shirts [Second Edition]'…
How to identify the types of T-Shirt Markets you should be targeting (and those you should ignore) – pg. 8
The kinds of T-Shirts you mustbe creating to make decent money – long into the future! – pg. 28
How to develop a strategy for generating solid design ideas that are muchmore likely to generate regular sales – pg. 23
Quick and simple ways to upgradeyour designs so that you are the premium option – pg. 37
How to stand out in crowded niches and super-hot trends (without just lowering your prices)- pg. 48
How to use social media to find popular design ideas that you won't find anywhere else – pg. 45
How to use Amazon's search function to bring ideas to YOU -pg. 51
The often-made mistakes that almost all newbie sellers make, and how YOU can avoid them – pg. 55
Plus 6 NEW Chapters of content, including the following NEW information:
How to scale up your income – by learning how many sales you need to make $100/$500/$1000 a month – and more! – pg. 11
Where to focus your attention in order to find new untapped opportunities – pg. 14
How to increase sales on RedBubble – including 7 top tactics to ensure your designs get maximum attention – pg. 18
Generate more Merch By Amazon sales by asking yourself these 3 simple questions – pg. 61
How to organise your designs and listing data so that you maintain control of your income at all times (including a FREE spreadsheet template to organise Merch By Amazon listings) – pg. 40
BONUS Q&A chapters on Teespring and other POD sites – answering questions like: Should You Setup A New Account For Every New Niche? | How can you get hold of decent designers at reasonable rates? | Can you use multiple fulfilment partners within your own ecommerce store? | and…
Tips for lower tier Merch By Amazon sellers and beginners – pg. 72
The steps you can take todayto protect yourself when using Virtual Assistants on POD sites – pg. 70
How to know when it is time to open your own online store – and when it's worth it – pg. 68

More Praise For The Ideas & Strategies You'll Find In 'How To Sell More Shirts'…

The Full Chapter Breakdown
The Second Edition contains 16 Detailed Chapters – 74 Pages – and over 19,000 Total Words…here's how it all shapes up…
1. Introduction
2. Different T-Shirt Markets & How To Tap Into Them
3. T-Shirt Math For Dummies
4. One Super Easy Way To Find Shirts That Are Selling
5. Tips And Advice For Selling On Redbubble
6. 3 Tips On Niches And Idea Generation
7. Why Your Text-Only Shirt Designs Are A Liability
8. My Halloween Sales & Why You Must Be Original
9. 3 Ways To Level Up Your T-Shirt Designs
10. How I Organise Hundreds Of T-Shirt Designs, And Why It Matters
11. How A Stolen Design Made Me Money
12. 3 Easy Ways To Stand Out In Trending Niches
13. One Simple Way To Find Low-Competition Ideas
14. 3 Common Mistakes That Are Hurting Your Sales
15. How Can You Generate More Sales On Merch By Amazon?
16. TeeSpring Questions Answered
17. Bonus – Q&As
18. Final Thoughts

Get Your Copy Today
Price: $29.99
How To Sell More Shirts [Second Edition]
PDF Download: Get Instant Access
ePub Version Included: For Easy Reading On Kindle & eReaders
Buy Now For $29.99

30 Day Full Satisfaction Guarantee
I believe in the quality of my material. And I want you to have the chance to learn, put this stuff into practice – and see the benefits for yourself.

So if for any reason you aren't happy with your purchase, just email me within 30 days and I will refund you right away.

You've got nothing to lose!
教程目录:

How To Sell More Shirts V2
│ Resources.url
└─How To Sell More Shirts V2
How To Sell More Shirts V2.epub
How To Sell More Shirts V2.pdf
PRIVATE BONUS VIDEO CONTENT.txt
提取密码:
下载地址: