了解如何创造有利可图的移动广告系列培训教程(Mobile CPA Boot Camp)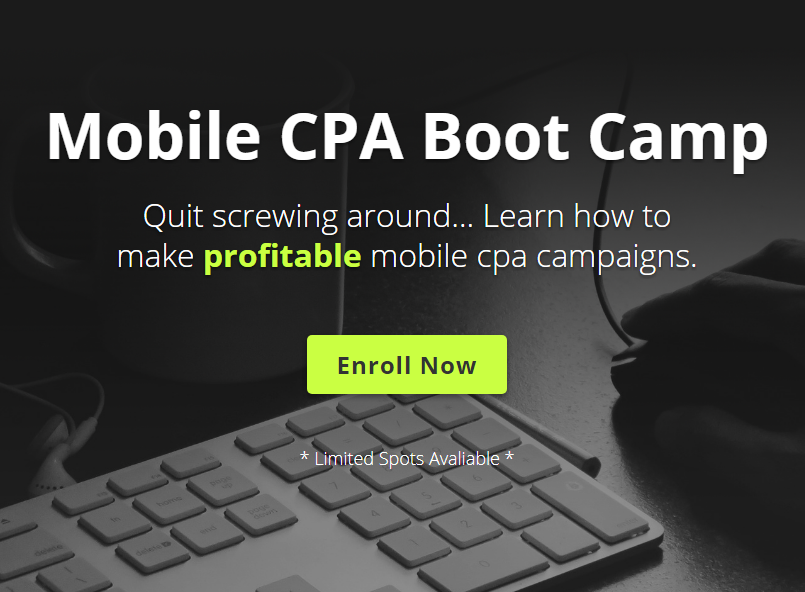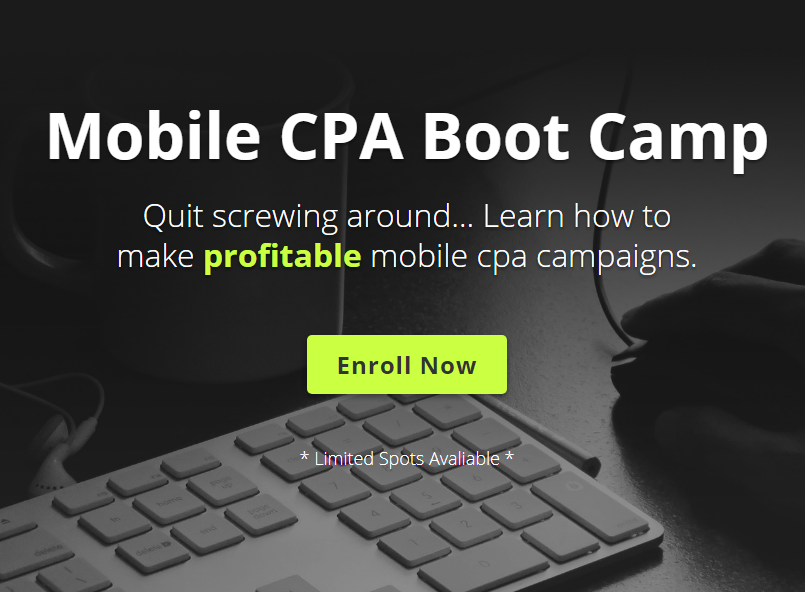 了解如何创造有利可图的移动广告系列。
我将详细介绍如何查找,发布和优化广告系列。 每一步都将被分解成易于跟踪和理解模块,让您不仅可以观看我在做什么,而且知道我为什么要这样做。

Learn how to make profitable mobile cpa campaigns.
I'm going to cover exactly step-by-step how to find, launch, and optimize campaigns. Every step will be broken down into easy to follow and understand modules allowing you to not only watch what I'm doing, but know why I'm doing it.
The strategies you'll learn here have generated some of my longest running and most profitable campaigns to date.

~~~

Mobile CPA Boot Camp
Quit screwing around… Learn how to make profitable mobile cpa campaigns.

Enroll Now
* Limited Spots Avaliable *

"Having worked together running campaigns over the last three years, I'm still sometimes stunned at the amount of revenue and profit he brings in."

Ryan Gray
RevMax.com
The first time I tried to launch a campaign I thought something was wrong with me.

BRENT DUNN |
Why do some people absolutely crush it? And then others fight tooth and nail for every $1 they earn?

I'll tell you exactly what the secret is…

While I was trying to learn CPA marketing, I bought several courses, ebooks and workshops…

They all promised me to make ($100, $1000, $10000 / day)…

But

Most weren't worth the electricity required to even download them.

The few courses that did help me get a campaign profitable…. It was short lived and never made enough to pay for the course let alone make any money.

Finally enough was enough and I made a change that got me where I am today.

Introducing Mobile CPA Bootcamp

My name is Brent Dunn. I am the founder of PPCMode.

Over the last 2 and a half years I've been running mobile campaigns as my primary income.

I also helped train and mentor over 5,000 entrepreneurs and business owners create profitable campaigns.

During this time I've uncovered and reverse-engineered the primary reasons people fail and learned how to avoid them. YOU need to implement these if you are serious about finally having success..

Over the past 12 months I've created one of the most popular performance marketing blogs. My writing and videos have helped tens of thousands of readers every month.

The crazy part?

This time last year, I was a complete nobody.

Now I have one of the fastest-growing blogs online…all because of one thing…

Yup! I share great content….and this course is packed with the best content I've ever shared. PERIOD.

Launch. Optimize. Profit.
Take The Ultimate Mobile CPA Affiliate Marketing Course

ONE TIME FEE

Gain access to the entire course + updates for life.

Ryan Gray

Brent is the "real deal" in Mobile Media Buying.

Having worked together running campaigns over the last three years, I'm still sometimes stunned at the amount of revenue and profit he brings in.

I credit a lot of his success to his out of the box thinking and never-ending drive. Its taken him millions of dollars in spend and countless hours to figure out what works. The material he's providing in this course will give media buyers of all skill levels a tremendous advantage over the competition.

This is the first "product" I've endorsed with mobile marketing as most everything out there is over-hyped conventional wisdom and pure speculation. Brent's cutting the fat, teaching what works, and no hyped up guru "crap."

What Topics Does the Course Cover?

This course covers three main topics:

1. How do I launch my first successful campaign?

As I learned to launch profitable campaigns, I documented every step of the process so I could teach you how to do the same thing.

We'll start at the beginning and lay the foundation for launching successful campaigns.

You'll learn the how to avoid the biggest mistake 95% of your competition makes.
You'll learn how to quickly setup a campaign without spending hours working on landing pages & banners.
You'll learn the one technique I used to take all the profitable traffic from a source after I find what works.
In the Mobile CPA Bootcamp Course I'm going to cover exactly step-by-step how to find, launch, and optimize campaigns. Every step will be broken down into easy to follow and understand modules allowing you to not only watch what I'm doing, but know why I'm doing it.

2. How do I know what to optimize once I'm getting data?

One of the biggest problems I ran into early on was knowing which data was relevant..but more importantly WHAT to do with it.

Should I keep running this campaign unprofitably?
When should I cut a losing landing page?
Should I just focus on this specific site / app?
There are so many options. It can be completely overwhelming. I spent nearly 3 months just trying to understand the best way to optimize something just to get it break even… let alone make a profit.

I'm going to give you an easy-to-follow blueprint to set up your internal systems to be able to optimize your campaigns without the worry of making a mistake.

3. How can I make money long term from my campaigns?

This is the $1,000,000 question…

"How do I make my campaigns long term?"

This is where it gets really fun.

You will learn how to turn a somewhat profitable campaign into a stable and profitable campaign ( as much as one can).
You will learn the exact point at which you can start further optimizing your campaigns even after they are profitable.
You will learn how to make money off of every single click you buy, even if it will never convert on your current offer.
The strategies you'll learn here have generated some of my longest running and most profitable campaigns to date. They will show you exactly how to take your campaigns to the next level. Further distancing yourself from your competition.

Take Course

Joseph Annuzzi

Brent, I must say this course definitely has delivered and is no BS as you advertise.

First off, I really enjoyed your style of filming, with the frame of you in many of the video's. This makes the course like a personal training session and helps build rapport with the student.

You mentioned to me on Skype the other day the following:
I'll be honest I got overwhelmed a bit and had to rethink where I'm at with it. Teaching mobile CPA in a single course is one hell of a complicated thing to do

After having taken the course and also having done a ton of research on many aspects of mobile CPA, I do realize this is such a complex topic and industry and not something to be taken lightly, and this is what most people fail to realize. You really do have a tremendous grasp of the subject and have boiled it down to easily digestible chunks, and have packed this dense with golden nugget after golden nugget. Definitely a winning course in my opinion.
As from my perspective and understanding of the mobile industry, as well as my exposure to gathering every piece of information I could on mobile, yours is by far the most comprehensive, practical, and well organized course. You give everything here, and don't leave anything out, and all that is left is for the student to execute and to make use of the information you provide them. The course is dense and one that I will most likely have to go through again as I progress. Even though I feel I know a lot about this subject, my lack of experience has left many questions in my mind because as you say, it is difficult to organize all the intricate moving parts so that they are easily understood. I think you also have a blog post/youtube video that touches on this too. I have been operating scattered without a clear picture of the whole map, but you have provided that map here. Thinking I have been lacking the whole map has been the biggest obstacle holding me back from taking massive action launching campaigns and spending money for testing. This course has plugged so many gaps, that I am confident enough in my skills that taking action with the information you have shared should now be the easy yet challenging part to piece together.
10 More Things You'll Learn in this Course

The exact step-by-step process you can follow to steal profitable campaigns from your competitors
How to create EPIC landing pages that convert
How to get yourself in the right mindset.
The best way to source offers that work
How to wisely use your Affiliate Manager like a business partner.
How to treat your CPA campaigns as a business and operate it like one.
Turn your short lived campaigns into sustainable assets that will pay you for the long term.
Separate yourself from your competition with untalked about optimization strategies.
Understand the value chain and where you fit in to make sure you are getting the highest possible return.
Frequently Asked Questions

Are there any guarantees that after taking this course, I'll have a profitable campaign?

If you not only complete the course but take action with the information you learn, there is a high probability that you will have a profitable campaign.

However 99% of people that will take this course will be lazy and give up. Due to this I cannot give any guarantees.

Will this course continue to be updated? And will I get free access to future versions?

Yes! This will be the flagship PPCMode product and it will be updated on a regular basis.

Once you are enrolled, all future versions are free at no cost.

How much more is in the course vs. what you already put out on your blog?

If the blog is a book, the course is a an encyclopedia. Some of the core concepts I've discussed on the blog are in the course.

However, the course goes into MUCH more detail, with use cases, examples, checklists and video tutorials on every single strategy.

Will this work for someone brand new to the "online marketing" industry?

Absolutely.

This course will help you get rid of all the "BS" and accelerate your chances of success.

What if I'm literally starting from step 0? No tracking software. No traffic sources. No affiliate network account…

Yes!

By the time you complete this course you will have successfully setup your tracking, affiliate network and traffic source accounts.

You will have also researched your market and have launched your first campaign.

Can I afford this right now?

At the end of the day that's a question you have to answer.

However, I can tell you that the strategies in this course have made me and my students millions in online sales.

I was wondering if you are going to have "over your shoulder" videos?

Absolutely.

In the course I setup everything in real time after explaining why I am doing each step.

Do you offer a refund?

From what I've seen online, knowing there is a refund is an excuse to quit.

I've seen people take 60% of my courses in the past, then demand a refund because "It didn't work".

So no there will be no refund available, not because I need your money. But because everything this course offers including the price serves as a motivator to actually finally have success at this.

Is this course worth it?

When creating this course, I asked myself if I could go back in time and teach myself all over again, how would I do it…

This course was the result.

So if you'd like to skip ahead and avoid all the mistakes I made, including over $40k in loses chasing "hidden methods" then this course is worth it.

If you want to be sold the dream of a luxury lifestyle without much work… then no… this isn't worth it.

Take Course

Dustin Gomez

The Mobile CPA Bootcamp course contains the kind of information that you're not going to find online or on some internet marketing forum.

I've personally gone through dozens of courses covering IM in general since beginning my journey back in 2011 (in addition to years of reading, research and implementation). Most of them, if not all, filled with nothing but fluff and BS. If you are looking for a course that is going to not only cover the aspects of getting your first mobile campaign up and running successfully. But also cover the MINDSET that is required in order to be successful in not only mobile marketing, but in this industry in general. Brent is your man.

I've never came in contact with someone like Brent that actually cares about getting his students on the right path to success. He teaches you all that you need to know to be a successful marketer; I was honestly shocked at times while going through the course. He just lays it all out there. Definitely a wise, if not THE wisest investment for anyone looking to advance in internet marketing.
Just have a look at what the "gurus" out there charge for their useless courses. You'll be getting nothing but quality and money making methods from this course with a no BS approach for sure.
Main thing I love about the course is that Brent doesn't waste time with small talk, he gets straight to the point and provides you with content that is actionable right from the get go. I'm honestly jealous about this information going out public like this..
Launch. Optimize. Profit.
Take The Ultimate Mobile CPA Affiliate Marketing Course

ONE TIME FEE

Gain access to the entire course + updates for life.

Excellent mobile cpa course!

by Antoni Krolik

Thanks Brent for a no fluff, straight to the point course. The tips and tricks you share are real golden nuggets that help to give you an edge on your competitors. Thanks.

by Steven Zimmer

Driss Dennay – Media Buyer

by Driss Dennay

Brent has a very strong understanding of the ad space ecosystem. After finishing the course, I was amazed by the quality of information and advices. Moreover, Brent shares with us some precious tools and strategies that helped him turn ad campaigns into profit. In just few days, it completely changed my way of thinking and I already see it as a profitable investment. Whether you are new to this industry or an expert, this course will definitely help you save a lot of money and mostly it will give you a new vision on your business and goals.

Want Actionable Knowledge? Start Here.

by Julio Medina

This is a great course. Brent Dunn is a Mobile Master and he has proven himself over and over. The content in this course is a fresh approach to getting started in Mobile CPA. Regardless of where you are in your journey to making money online this course can help. The content is broken down in an easy learning manor. Step by step and allows you to go back and review where you might need to go back when you need to. Brent lays everything out in a way that makes it simple for you to take action as you go through the course. Do yourself a favor and invest in yourself and your success. The value this course will provide will pay itself back for years to come. In a world where you are targeted by every guru selling a case study promising unrealistic expectations you can rest assured you will get true value and realistic applicable expectations tailored to the action you take with the knowledge gained from this course.

Excellent foundation

by Rickey Williams

Great instruction for newbies. Brent doesn't just explain the basics, but goes into detail on why things are important, and how attention to details can give you an advantage over your competition.

Seriously!

by Ryan Green

I NEVER give reviews but Brent my man your course was so helpful! I have been trying to crack mobile since 2011 and for some reason just could never put the pieces together. After taking your course I took a step back and rethought my entire game plan. 2017 is going to be my year to shine and it is all thanks to your brother!

You rock 👍🏽

by nancy darsan

Thanks Brent for this awesome course. The course is easy to understand for beginners and also someone with experience can learn a thing or two! Big compliment for the the way you teach very thorough. I learned a lot and i am more confident now to start running my mobile campaigns. Again thanks a lot, you rock👍🏽 Nancy

The Best CPA Course Out There!

by kevinr 70

Mobile CPA Boot-camp is a no nonsense, straight to the point course! Brent is very clear about what it takes to make it as a performance marketer and gives detailed instructions on how to approach it. I would definitely recommend it to anyone who is looking to be successful online.

Launch. Optimize. Profit.
Take The Ultimate Mobile CPA Affiliate Marketing Course

ONE TIME FEE

Gain access to the entire course + updates for life.
教程目录:
Mobile CPA Boot Camp
│ Intro.MP4
│ Life As An Affiliate.MP4
│ Resources.url
├─1 Server And Tracker Setup
│ 1 How To Setup Your Cloud Vps Server.MP4
│ 2 How To Setup Your Tracker.MP4
│ 3 Imobitrax Overview.MP4
│ Bonuses.txt
├─10 Understand Your Audience
│ 1 Identify Your Audience.MP4
│ 2 Offer Research.MP4
│ 3 Where Are They.MP4
├─11 Marketing Fundamentals
│ 1 Marketing Persona.MP4
│ 2 Using Alexa.MP4
│ 3 Using Similarweb.MP4
│ 4 Finding Popular Apps.MP4
│ 5 Audience Insights.MP4
│ 6 Finding Popular Device Types.MP4
│ 7 Using Popular Apps On Adwords.MP4
├─12 Spying
│ 1 Adplexity Introduction.MP4
│ 2 Adplexity Overview.MP4
│ 3 Landing Page Code Cleanup.MP4
│ Resources.url
├─13 Launch Basics
│ 1 Budget Breakdown.MP4
│ Example_of_budget_breakdown.PNG
├─14 Campaign Goals
│ 1 Goals Explained.MP4
│ Notes.TXT
│ Resources.url
├─15 Exit Planning
│ Exit Planning.MP4
├─16 Optimization
│ 1 How To Split Test.MP4
│ Focus.TXT
│ Statistical Hypothesis.TXT
├─17 Failover
│ 1 Monetize Failover.MP4
│ 2 Backup Offer.MP4
│ 3 Redirect Network.MP4
│ 4 Build An Asset.MP4
│ Notes.TXT
│ Resources.url
├─18 The Supply Chain
│ 1 Revenue Distribution.MP4
│ 2 Revenue Pyramide.MP4
│ 3 Offer Brokering.MP4
│ 4 Brokering Pyramide.MP4
│ 5 Ridirect Speed.MP4
│ How To See Brokered Offers.TXT
│ Notes And Resources.TXT
│ Revenue Pyramide 2.TXT
├─19 Traffic Sources
│ 1 Getting A Popads Account.MP4
│ 2 Popads Overview.MP4
│ 3 Popads Campaign Setup.MP4
├─2 Joining A Network
│ 1 Choosing A Network.MP4
│ 2 Affiliate Account Setup.MP4
│ 3 Affiliate Network Overview.MP4
├─20 Understanding Adservers
│ 1 Understanding Ad Servers.MP4
│ 2 Ecpm.MP4
│ 3 Cpm Math.MP4
│ 4 Cpc Vs Cpm Bidding.MP4
│ 5 Traffic Account Rating.MP4
│ 6 Account Rating.MP4
├─21 Designing Your Creatives
│ 1 User Experience.MP4
│ 2 User Intent.MP4
│ 3 Authority And Trustworthiness.MP4
│ Resources.url
├─3 Connecting Everything Together
│ Resources.url
│ Setting Up Your First Campaign.MP4
├─4 Mindset
│ 1 Expectations.MP4
│ 2 What Is Your Time Frame.MP4
│ 3 What Is Your Budget.MP4
│ 4 Take Action.MP4
│ 5 The Gamblers.MP4
│ 6 Short Term Mindset.MP4
│ 7 Long Term Mindset.MP4
├─5 Understanding The Basics
│ 1 Monetization Methods.MP4
│ 2 Offer Angles.MP4
│ 3 Offer Conversion Points.MP4
│ 4 Why Carrier Traffic Is Important.MP4
│ 5 Traffic Source Overview.MP4
├─6 Budgets
│ 1 Total Budget.MP4
│ 2 Calculating Your Total Budget.MP4
│ 3 Understanding Your Burn Budget.MP4
│ 4 Calculating Your Burn Budget.MP4
│ Notes.TXT
├─7 Cash Flow Management
│ 1 Management.MP4
│ 2 Fees.MP4
│ 3 Rewards.MP4
│ 4 Credit.MP4
│ 5 Reinvest.MP4
│ Resources.mht
├─8 Your Business Partner
│ 1. Work With Your Am.MP4
│ 2. Half Truths.MP4
│ 3. Top Performing Metrics.MP4
│ 4. Best Performing Traffic.MP4
│ 5. Share Resources.MP4
│ 6. Direct Link Or Lander.MP4
└─9 Marketing Front End
1 Aida.MP4
2 Attention.MP4
3 Interest.MP4
4 Action.MP4
4 Desire.MP4
提取密码:
下载地址: