一步步地向你展示如何通过一个明信片项目来创造一个舒适的额外收入(EZ Postcard Sales System)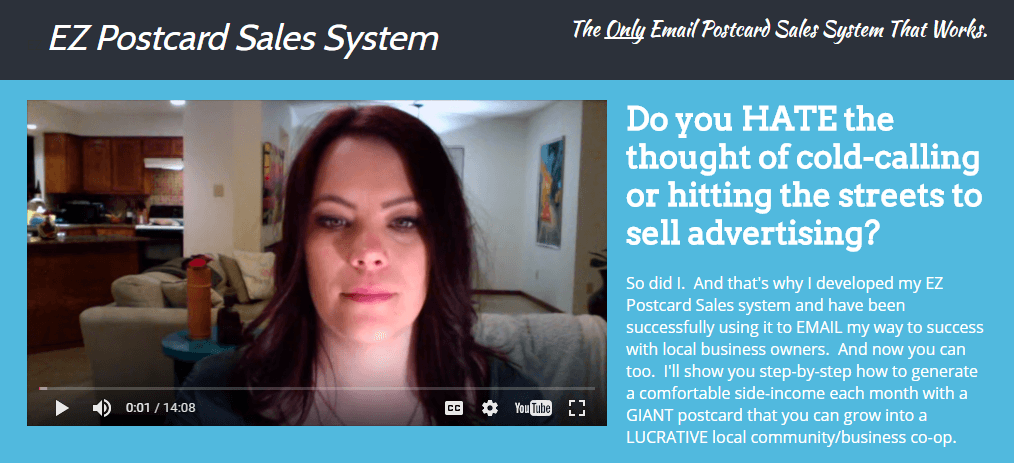 我将一步步地向你展示如何通过一个明信片项目来创造一个舒适的额外收入,
这个的明信片项目可以让你成长为一个利润丰厚的本地社区/商业合作公寓领头羊。

你将会学习到发现如何最终得到你的第一批广告客户,而不必担心价格是一个问题。
发现一种简单有效的销售方式。
最简单的方法就是找到已经被证实的优惠,这将会在你的明信片上打出一个本垒打。

I'll show you step-by-step how to generate a comfortable side-income each month with a giant postcard that you can grow into a lucrative local community/business co-op.
Discover how to finally get your first couple of advertisers…without having to worry about price being an issue.
Discover an easy and effective way to make sales.
The easiest way to find proven offers that will hit a home run on your postcard.

///

The Only Email Postcard Sales System That Works.

Do you HATE the thought of cold-calling or hitting the streets to sell advertising?

So did I. And that's why I developed my EZ Postcard Sales system and have been successfully using it to EMAIL my way to success with local business owners. And now you can too. I'll show you step-by-step how to generate a comfortable side-income each month with a GIANT postcard that you can grow into a LUCRATIVE local community/business co-op.

Get Instant Access!
Here's What the EZ Postcard Sales System Will Do For You:

My Complete GIANT Postcard Advertising System.

Learn step-by-step how to generate $2500+ every 6-8 weeks selling print advertising to local businesses on a GIANT co-op postcard–all through EMAIL.

This is the EXACT system I use in my own business today.

Complete Email System That WORKS.

This is my 2016 UPDATED email system including the EXACT emails I send & corresponding Media Kit to land new deals fast.

Quickly Establish Credibility with local businesses.

Establishing credibility is crucial to securing new business. I show you how to do that fast even if you've NEVER put out a postcard before.

How to Bundle Your Postcard So It's A No-Brainer.

I've learned the easiest way to get a "yes" is to bundle up your postcard with additional offerings. I'll teach you exactly what I package up that makes it a no-brainer for a business owner.

What Are You Waiting For?

Order Now!

Great for stay-at-home moms & dads, if you work full-time, or for anyone else who has little time or time to start up a lucrative, side-business.

You can literally send my emails, following my exact system, and have a postcard filled in about 3-4 weeks.

Gain much needed Social Proof overnight.

Credibility is the one thing holding you back from succeeding most times. Once you build it, though, sales come much easier and faster. I'll show you how I do it.

Get the Media Kit I send to businesses that does the "selling" for me.

The Media Kit does all the hard work for you. When you email this to local businesses you'll get Yes's so much faster.

You'll also receive my Local Co-Op guide that you can also use for prospective advertisers.

The exact Pricing & Profit model I now use that has helped me put out consecutive postcards.

My pricing model makes it a no-brainer for local businesses and still earn about $2500+ every 4-6 weeks.

Here's what EZ Postcards Sales System will do for you:

You'll discover a totally unique way to quickly fill your 9×12 postcard…without ANY face-to-face meetings- Ever.

You'll discover how to finally get your first couple of advertisers…without having to worry about price being an issue.
You'll discover a unique formula for attracting advertisers that allows you to only attract motivated businesses who know the value of what you're offering, and are predisposed to trust you.
You'll discover why it's often more profitable to close ad spots over the phone or through email, than using your body as a prospecting tool.
You'll discover an easy and effective way to make sales…without having to act "salesy" and without having to resort to cold calling hundreds of prospects.

You'll discover why the best thing you could do i get rid of the idea of cold-walking and cold-calling immediately…and why it's usually much easier and more profitable to just run your business with an internet connection , a phone, and the bonus guide I include with this training guide.
You'll discover the easiest way to find proven offers that will hit a home run on your postcard so that your advertisers keep coming back to do business with you month after month.
You'll discover how this exact system will help you create your own herd of local business owners that will be coming to you for all their future direct mail needs, printing needs, marketing needs and more, easily turning your 9×12 business into lots of extra cash flow each month.
To help you reach success even faster with my 9×12 Fast Profits System, I am throwing in the exact guides I send to prospects that do the selling for me.

One is a done-for-you, multiple-page, visual Media Kit & the other is a 45-page guide to share with your prospects, positions you as a leader, and gets them super-excited to work with you. You can choose to use either or both in your email prospecting. They both work great!
This bonus guide took me over 8 hours to put together but has proven itself well worth my time. I have gained new advertisers at a rapid rate using this exact guide as a prospecting tool and now you can use it too.
I GUARANTEE you'll be the ONLY one offering this in your area and business owners will be calling YOU to jump on board with you.
These are guides that you can brand as your own that establish you as a leader in your local community and gets business owners to say "I want to work with you" almost immediately.
Not long ago in 2013, I rescued my family from homelessness through the same giant postcard….

Actually, there's lots more in this product, & it's 100% tested, tried, & proven.

"…Amber gives you a detailed plan broken down into actionable segments that anyone with a phone, computer & internet connection can do. She takes the mystery out of getting started selling ads on your 9X12 card – and helps you avoid being "salesy" with potential clients.

If you're not interested in pounding the pavement or if you're in an area or situation where in person prospecting isn't an option for you, you need to take a look at the 9X12 Fast Profits System. The system is designed for people who want to prospect primarily through email with phone follow-up. She includes sample emails and phone scripts to give you a great way to get started reaching out to businesses.

One of the best parts about the 9X12 Fast Profits System is that Amber shows you how you can get started selling spots on your 9X12 card in as little as 2 hours a day. This is great for stay at home parents who don't have a lot of extra time, or someone working a full-time job but wants to start this in their spare time. It can also be easily scaled up for those who do have the time. It is literally a one size fits all program to help you get organized and get GOING!"

-Teresa W. in Colorado

"I had the privilege of revealing Amber's Fast Profit System and I must truly say that this guide is full of Golden nuggets to help those that are trying to get their cards filled quickly.

When I first learned of this business model I had thought of an idea that is similar to one of them that Amber teaches but never had the time to implement it. But what I love the best about the main strategy Amber shares is that you don't have to be out knocking on doors everyday.

And on top of all of that, once you have put what she teaches into action, you become a leader in your community and many businesses will be looking to be a part of what you have to offer.

Great Job Amber!! I plan to put what you have shared with us to work ASAP!!

-Syvella B.
教程目录:
EZ Postcard Sales System
│ Ezpostcardsales.PDF
│ Resources.url
│ Tlmediakit 2.PDF
└─Original 9×12 System
│ 9×12 V2.0.ZIP
│ Dealbible2.PDF
│
└─9×12 V2.0
└─9×12
9×12 Fast Profits 220.PDF
Eddm And Printing.MP4
Getting Over Your Fear Of Calling Local Business Owners.PDF
LOCALCOOPMEMBERSHIPGUIDE2.DOC
READ FIRST.TXT
Resources.mht
template.PNG
提取密码:
下载地址: