如何将你的激情,爱好或经验转化为火爆产品热销产生持续的收入!(Info Product Mastery)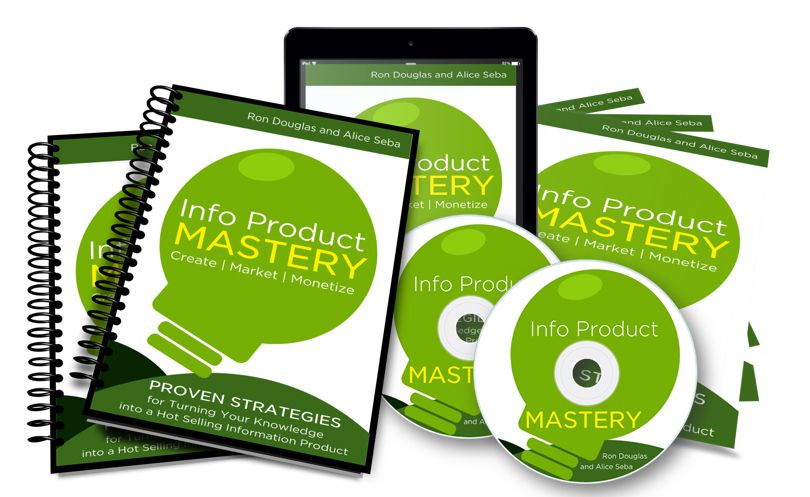 如何将你的激情,爱好或经验转化为火爆产品热销产生持续的收入!

How to turn your passion, hobby, or experience into a hot selling product that generates ongoing income.

You will learn:

The secret to getting your product up for sale in less than 30 days.
The importance of growing your customer list and how to leverage it for maximum profits.
Why making a simpler product will yield better results and help eliminate your competition.
Increasing the value of your product.
How to conduct a trial launch, so you can ensure a successful launch and attract the most affiliates possible.

///

Over 5 hours of Info Product Mastery online coaching workshop recordings with Ron Douglas and Alice Seba. You receive instant access to all the training recordings that take you through all 7 steps of the Info Product Mastery Training system, including nearly 2 hours of Q&A to ensure you have all the answers you need to get your product launched successfully.
Let's take at what you'll find in these lessons…

Lesson 1: Overview and Introduction

We get you started out right with this one. Watch the video or read download the PDF version of the lesson. In the introduction you'll learn:

Your most important goal for all this training. If you get this, you'll move to the next level.
The secret to getting your product up for sale in less than 30 days.
The importance of growing your customer list and how to leverage it for maximum profits.
Download the Info Product Publishing Master Checklist to keep you on track throughout all the training and implementation.

Lesson 2: Finding Your Niche

Now it's time to start brainstorming and find the audience that is just waiting to buy your products. In this lesson you'll learn:

Your best bet for a successful niche – it might not be what you think.
How to use free research tools for invaluable profit insight.
Why "too much competition" is probably a good thing.
How to find the best selling and best convertingoffers you can model your own after.
How to tap into your audience's emotional needs, making them more likely to buy.
Put it all together with the Niche Selection report and checklist.

Lesson 3: Finding a Good Product Angle

Make your product stand out in a crowded marketplace. In this lesson, you'll learn:

Why making a simpler product will yield better results and help eliminate your competition.
Research tools for getting into the mindset of the customer.
10 important steps you need to follow to create product that stands out in the marketplace.
The importance of perception and making your customer's perception a reality.
The hot buttons that always make great product sellers.
Demonstrating your credibility and easily leveraging the crebility of others.
The Product Idea Generation Worksheet will help you through all the steps in this lesson.

Lesson 4: Creating Your Product

Now it's time to put your product together. In this lesson you'll learn:

How to keep the product creation process as simple as possible.
Increasing the value of your product, so your customers will be willing to pay more and will be more satisfied with their purchase.
Discovering the best way to teach your subject to serve your audience.
The ins and outs of product pricing – it's simpler than you think.
Research methods to help you discover what you should include in your product.
Using private label rights (PLR) content to create a unique product quickly.
Setting up your downloads in a customer friendly way.
Tips for outsourcing cost-effectively, without breaking the bank.
The Product Planning Checklist will help you create a high value product that your customers will love.

Lesson 5: Setting Up Your Sales Process

Let's get your product ready for sale. This lesson will show you:

Tools of the trade – ways you can easily sell your product online.
Easy and inexpensive file storage, so customers can download your products
How to create professional-looking download pages and members areas
Options for accepting payments online.
Maximizing your revenue with an effective sales flow.
Ideas for upsells and pricing them for best results.

Lesson 6: Copywriting and Video Sales Letter Walkthrough

Arguably, the most important lesson in this course if you want to sell a lot product. In this one, you'll learn:

How to craft a compelling story about your product that your customers can relate to.
Creating emotion and make your audience feel connected to you personally.
Building credibility and trust through your sales page.
The secret to using educational content to sell your products.
Creating urgency with your offers, so they want to buy right away.
Crafting a persuasive upsell to boost your earnings .
Understanding the important elements of copy, complete with plenty of examples to help you.
This lesson also comes with plenty of extras to implement what you learn including a guide to copywriting, a handy swipe file, sales page template, squeeze page template, VSL sales page tempate, VSL upsell template, large graphics pack, and more.

Lesson 7: Creating Your Follow Up Campaign

Most visitors need to see your offer several times before they buy, so it's important to follow up. We'll show you how in this lesson with:

Proven ways to grow your mailing list.
Converting more of your subscribers into customers.
Ideas for free gifts to entice people onto your list.
Tools for an effective email marketing campaign.
How to set up an email sequence that effectively sells your products.
You can use the squeeze page template, free report template, free opt-in gift ideas list and a sample email follow up campaign to get you started.

Lesson 8: Creating Pre-Launch Buzz and Testing

Now we really get things started. It's time to create some buzz for your product and get affiliates ready to promote. In tihis lesson you'll learn:

How to conduct a trial launch, so you can ensure a successful launch and attract the most affiliates possible.
Powerful ways to make connections with the top affiliates in your niche.
Creating buzz with and motivating your affiliates to put full effort into their promotions.
How to use your affiliate force to grow your mailing list.
To help you, your downloads include an Affiliate Recruitment Checklist, Affiliate Recruitment Letter Templates, Ready-Made Affiliate Training and an Affiliate Tools Checklist.

Lesson 9: Launching Your Product & Getting Ongoing Traffic

Watch the video or read download the PDF version of the lesson. In the introduction you'll learn:

Getting your launch started and keeping momentum.
End of launch doesn't mean end of sales, as long as you do it right.
Creating evergreen promotions for your affiliates, so they'll keep promoting you day in, day out.
Putting together an affiliate center that keeps affiliates wanting to send you traffic.
Keeping the buzz going for further product launches.

Lesson 10: Q&A Session

Our Q&A Session went on for over 1 hour and 45 minutes and covered a lot of ground. Just some of what was covered…

How do you promote your product if you don't have a list?
How do you know if you've covered your topic in enough depth?
How do I find the right people to outsource to?
What platforms should I publish to?
Which products command the highest prices?
How do you get into your customer's mindset?
How do you make the transformation from employee to infopreneur?
I have a ton of content already created. How do I repurpose it into a product?
How do you know when to make a product into a series, instead of one big product?
How do you compete with the big guys who hire pros to write their copy?
What is the best selling format for a beginner?
If you interview and expert, what terms should you offer them?

Our easy fill-in-the-blanks templates. These are the same templates we use to successfully launch our products over and over again. You'll get this guidance for each of the 7 steps in our Info Product Mastery system.
Master Checklist: To guide you through what you learn in Info Product Mastery, the Master Checklist (PDF) to help you complete all 7 steps outlined in the training. Keep this handy for your first launch, and every launch after, for best results.
New to Online Marketing? If you are brand new to online marketing and need to know more of the basics, we've got a list of beginner's tutorials and resources for you.
Niche Selection Guides: This report and fill in the blank checklist will help you select your niche market and apply what you learn in Lesson 2.

Product Angle Idea Generation Worksheet: Set yourself apart from the competition with a good product angle. This worksheet will help you attract buyers to your product that meets a unique demand in the marketplace.

Product Planning Checklist: Use this checklist to plan all the topics for your product, the media you will use, what value added items you'll offer and more. Follow this one and you'll be able to command higher prices for your products.
Copywriting Basics and Terminology: If your new copywriting or selling online, this is a must-have resource for you. Get an overview of the different elements of copywriting and how to use them. Plenty of examples are provided, so you can see how everything works.
Copywriting Swipe File: Fill in the blanks, headlines, power phrases, transitions and more. This will make it easier to create your very persuasive product offers.
Sales Page Template: Need some help putting your sales page together? This template shows you exactly what to include and how to lay it out on your website.
Sample Video Sale Letter (VSL) Script: A proven script you can modify and use to promote your products via video sales letters. Video is said to increase conversions by 30-40% or even more, so this is a must-have tool for you.
Upsell VSL Template: A proven script you can modify and use to promote an additional product after your customers makes their initial purchase.
Landing Page Guide and Checklist: You'll get ideas for creating high-converting sales pages and other landing pages.
Webmaster Graphics Pack: Images grab your visitors attention in just the right places on your sales page. Use these images on your sales page, opt in pages and more.
Collecting Testimonials: There's nothing better for improving sales than social proof in the form of testimonials from satisfied customers. Get a questionnaire and a checklist for collecting testimonials to increase your sales.
Collecting Case Studies: Case studies are a great way to increase your sales. They can also be great content for your products. This zip folder includes what you need to start collecting your own.
Opt-In Page Template: If you want to sell online, you have to grow your list. This template shows you exactly what you need to put on your free offers and get most subscribers.
Free Report Template: Free content is a great way to sell your product, if ou it right. This template shows you how to deliver quality content to your readers AND clinch the sale at the same time. You get a report template, report planning guide and promotion checklist.
Opt-in Free Gift Ideas: Not sure what else to give away to grow your list? Here are 50 free gift ideas. You'll never run out of ideas.
Sample Email Followup Campaign: Here's a proven email followup sequence that you can use to promote a product offer.
教程目录:
Info Product Mastery
│ 最新课程章节下载地址.url
├─1. Overview & Introduction
│ 1-intro-transcript.pdf
│ Bonuses.txt
│ info-product-mastery-main-checklist.pdf
├─2. Finding Your Niche Market
│ │ 2-niche-transcript.pdf
│ │ productangles.pdf
│ └─nicheselection
│ Niche Exercises.pdf
│ Niche Intelligence Report.pdf
├─3. Developing a Good Product Angle
│ 3-product-angle.pdf
│ productangles.pdf
├─4. Creating Your Product
│ 4-create-product.pdf
│ product-planning-checklist.pdf
├─5. Setting up Your Sales Process
│ │ 5-set-up-sales-process.pdf
│ │ copywriting-basics.pdf
│ │ sample-vsl-script.pdf
│ │ swipe-file.pdf
│ │ upsell-vsl-script.pdf
│ ├─case-study-collection
│ │ case-study-checklist.pdf
│ │ case-study-interview-sheet.docx
│ │ case-study-template.docx
│ ├─landing-pages
│ │ landing-pages-checklist.pdf
│ │ landing-pages.pdf
│ ├─superchargedgraphicspack
│ │ ├─Apple Mockups
│ │ │ │ .DS_Store
│ │ │ ├─JPG
│ │ │ │ imac_midi.jpg
│ │ │ │ imac_mini.jpg
│ │ │ │ ipad_horizontal_maxi_black.jpg
│ │ │ │ ipad_horizontal_maxi_white.jpg
│ │ │ │ ipad_horizontal_midi_black.jpg
│ │ │ │ ipad_horizontal_midi_white.jpg
│ │ │ │ ipad_horizontal_mini_black.jpg
│ │ │ │ ipad_horizontal_mini_white.jpg
│ │ │ │ ipad_vertical_maxi_black.jpg
│ │ │ │ ipad_vertical_maxi_white.jpg
│ │ │ │ ipad_vertical_midi_black.jpg
│ │ │ │ ipad_vertical_midi_white.jpg
│ │ │ │ ipad_vertical_mini_black.jpg
│ │ │ │ ipad_vertical_mini_white.jpg
│ │ │ │ macbookair_midi.jpg
│ │ │ │ macbookair_mini.jpg
│ │ │ │ safari_maxi.jpg
│ │ │ │ safari_midi.jpg
│ │ │ │ safari_mini.jpg
│ │ │ ├─PNG
│ │ │ │ imac_midi.png
│ │ │ │ imac_mini.png
│ │ │ │ ipad_horizontal_maxi_black.png
│ │ │ │ ipad_horizontal_maxi_white.png
│ │ │ │ ipad_horizontal_midi_black.png
│ │ │ │ ipad_horizontal_midi_white.png
│ │ │ │ ipad_horizontal_mini_black.png
│ │ │ │ ipad_horizontal_mini_white.png
│ │ │ │ ipad_vertical_maxi_black.png
│ │ │ │ ipad_vertical_maxi_white.png
│ │ │ │ ipad_vertical_midi_black.png
│ │ │ │ ipad_vertical_midi_white.png
│ │ │ │ ipad_vertical_mini_black.png
│ │ │ │ ipad_vertical_mini_white.png
│ │ │ │ macbookair_midi.png
│ │ │ │ macbookair_mini.png
│ │ │ │ safari_maxi.png
│ │ │ │ safari_midi.png
│ │ │ │ safari_mini.png
│ │ │ └─PSD
│ │ │ imac.psd
│ │ │ ipad.psd
│ │ │ macbook_air.psd
│ │ │ safari.psd
│ │ ├─Arrows
│ │ │ │ .DS_Store
│ │ │ ├─JPG
│ │ │ │ .DS_Store
│ │ │ │ style10_arrow1.jpg
│ │ │ │ style10_arrow2.jpg
│ │ │ │ style10_arrow3.jpg
│ │ │ │ style10_arrow4.jpg
│ │ │ │ style1_arrow1.jpg
│ │ │ │ style1_arrow2.jpg
│ │ │ │ style1_arrow3.jpg
│ │ │ │ style1_arrow4.jpg
│ │ │ │ style2_arrow1.jpg
│ │ │ │ style2_arrow2.jpg
│ │ │ │ style2_arrow3.jpg
│ │ │ │ style2_arrow4.jpg
│ │ │ │ style3_arrow1.jpg
│ │ │ │ style3_arrow2.jpg
│ │ │ │ style3_arrow3.jpg
│ │ │ │ style3_arrow4.jpg
│ │ │ │ style4_arrow1.jpg
│ │ │ │ style4_arrow2.jpg
│ │ │ │ style4_arrow3.jpg
│ │ │ │ style4_arrow4.jpg
│ │ │ │ style5_arrow1.jpg
│ │ │ │ style5_arrow2.jpg
│ │ │ │ style5_arrow3.jpg
│ │ │ │ style5_arrow4.jpg
│ │ │ │ style6_arrow1.jpg
│ │ │ │ style6_arrow2.jpg
│ │ │ │ style6_arrow3.jpg
│ │ │ │ style6_arrow4.jpg
│ │ │ │ style7_arrow1.jpg
│ │ │ │ style7_arrow2.jpg
│ │ │ │ style7_arrow3.jpg
│ │ │ │ style7_arrow4.jpg
│ │ │ │ style8_arrow1.jpg
│ │ │ │ style8_arrow2.jpg
│ │ │ │ style8_arrow3.jpg
│ │ │ │ style8_arrow4.jpg
│ │ │ │ style9_arrow1.jpg
│ │ │ │ style9_arrow2.jpg
│ │ │ │ style9_arrow3.jpg
│ │ │ │ style9_arrow4.jpg
│ │ │ ├─PNG
│ │ │ │ .DS_Store
│ │ │ │ style10_arrow1.png
│ │ │ │ style10_arrow2.png
│ │ │ │ style10_arrow3.png
│ │ │ │ style10_arrow4.png
│ │ │ │ style1_arrow1.png
│ │ │ │ style1_arrow2.png
│ │ │ │ style1_arrow3.png
│ │ │ │ style1_arrow4.png
│ │ │ │ style2_arrow1.png
│ │ │ │ style2_arrow2.png
│ │ │ │ style2_arrow3.png
│ │ │ │ style2_arrow4.png
│ │ │ │ style3_arrow1.png
│ │ │ │ style3_arrow2.png
│ │ │ │ style3_arrow3.png
│ │ │ │ style3_arrow4.png
│ │ │ │ style4_arrow1.png
│ │ │ │ style4_arrow2.png
│ │ │ │ style4_arrow3.png
│ │ │ │ style4_arrow4.png
│ │ │ │ style5_arrow1.png
│ │ │ │ style5_arrow2.png
│ │ │ │ style5_arrow3.png
│ │ │ │ style5_arrow4.png
│ │ │ │ style6_arrow1.png
│ │ │ │ style6_arrow2.png
│ │ │ │ style6_arrow3.png
│ │ │ │ style6_arrow4.png
│ │ │ │ style7_arrow1.png
│ │ │ │ style7_arrow2.png
│ │ │ │ style7_arrow3.png
│ │ │ │ style7_arrow4.png
│ │ │ │ style8_arrow1.png
│ │ │ │ style8_arrow2.png
│ │ │ │ style8_arrow3.png
│ │ │ │ style8_arrow4.png
│ │ │ │ style9_arrow1.png
│ │ │ │ style9_arrow2.png
│ │ │ │ style9_arrow3.png
│ │ │ │ style9_arrow4.png
│ │ │ └─PSD
│ │ │ .DS_Store
│ │ │ arrows.psd
│ │ ├─Attention Banners
│ │ │ │ .DS_Store
│ │ │ ├─JPG
│ │ │ │ banner1.jpg
│ │ │ │ banner2.jpg
│ │ │ │ banner3.jpg
│ │ │ │ banner4.jpg
│ │ │ │ banner5.jpg
│ │ │ │ banner6.jpg
│ │ │ │ banner7.jpg
│ │ │ │ banner8.jpg
│ │ │ ├─PNG
│ │ │ │ banner1.png
│ │ │ │ banner2.png
│ │ │ │ banner3.png
│ │ │ │ banner4.png
│ │ │ │ banner5.png
│ │ │ │ banner6.png
│ │ │ │ banner7.png
│ │ │ │ banner8.png
│ │ │ └─PSD
│ │ │ banners.psd
│ │ ├─Banners
│ │ │ │ .DS_Store
│ │ │ └─PSD
│ │ │ banners.psd
│ │ ├─Belcher Button
│ │ │ │ .DS_Store
│ │ │ └─PSD
│ │ │ style1.psd
│ │ │ style2.psd
│ │ ├─Bonus Headlines
│ │ │ │ .DS_Store
│ │ │ ├─JPG
│ │ │ │ style1_bonus.jpg
│ │ │ │ style1_bonus1.jpg
│ │ │ │ style1_bonus2.jpg
│ │ │ │ style1_bonus3.jpg
│ │ │ │ style1_bonus4.jpg
│ │ │ │ style1_bonus5.jpg
│ │ │ │ style2_bonus.jpg
│ │ │ │ style2_bonus1.jpg
│ │ │ │ style2_bonus2.jpg
│ │ │ │ style2_bonus3.jpg
│ │ │ │ style2_bonus4.jpg
│ │ │ │ style2_bonus5.jpg
│ │ │ │ style3_bonus.jpg
│ │ │ │ style3_bonus1.jpg
│ │ │ │ style3_bonus2.jpg
│ │ │ │ style3_bonus3.jpg
│ │ │ │ style3_bonus4.jpg
│ │ │ │ style3_bonus5.jpg
│ │ │ │ style4_bonus.jpg
│ │ │ │ style4_bonus1.jpg
│ │ │ │ style4_bonus2.jpg
│ │ │ │ style4_bonus3.jpg
│ │ │ │ style4_bonus4.jpg
│ │ │ │ style4_bonus5.jpg
│ │ │ │ style5_bonus.jpg
│ │ │ │ style5_bonus1.jpg
│ │ │ │ style5_bonus2.jpg
│ │ │ │ style5_bonus3.jpg
│ │ │ │ style5_bonus4.jpg
│ │ │ │ style5_bonus5.jpg
│ │ │ ├─PNG
│ │ │ │ .DS_Store
│ │ │ │ style1_bonus.png
│ │ │ │ style1_bonus1.png
│ │ │ │ style1_bonus2.png
│ │ │ │ style1_bonus3.png
│ │ │ │ style1_bonus4.png
│ │ │ │ style1_bonus5.png
│ │ │ │ style2_bonus.png
│ │ │ │ style2_bonus1.png
│ │ │ │ style2_bonus2.png
│ │ │ │ style2_bonus3.png
│ │ │ │ style2_bonus4.png
│ │ │ │ style2_bonus5.png
│ │ │ │ style3_bonus.png
│ │ │ │ style3_bonus1.png
│ │ │ │ style3_bonus2.png
│ │ │ │ style3_bonus3.png
│ │ │ │ style3_bonus4.png
│ │ │ │ style3_bonus5.png
│ │ │ │ style4_bonus.png
│ │ │ │ style4_bonus1.png
│ │ │ │ style4_bonus2.png
│ │ │ │ style4_bonus3.png
│ │ │ │ style4_bonus4.png
│ │ │ │ style4_bonus5.png
│ │ │ │ style5_bonus.png
│ │ │ │ style5_bonus1.png
│ │ │ │ style5_bonus2.png
│ │ │ │ style5_bonus3.png
│ │ │ │ style5_bonus4.png
│ │ │ │ style5_bonus5.png
│ │ │ └─PSD
│ │ │ bonus.psd
│ │ ├─Box Shadows
│ │ │ │ .DS_Store
│ │ │ ├─JPG
│ │ │ │ shadow1.jpg
│ │ │ │ shadow10.jpg
│ │ │ │ shadow2.jpg
│ │ │ │ shadow3.jpg
│ │ │ │ shadow4.jpg
│ │ │ │ shadow5.jpg
│ │ │ │ shadow6.jpg
│ │ │ │ shadow7.jpg
│ │ │ │ shadow8.jpg
│ │ │ │ shadow9.jpg
│ │ │ ├─PNG
│ │ │ │ shadow1.png
│ │ │ │ shadow10.png
│ │ │ │ shadow2.png
│ │ │ │ shadow3.png
│ │ │ │ shadow4.png
│ │ │ │ shadow5.png
│ │ │ │ shadow6.png
│ │ │ │ shadow7.png
│ │ │ │ shadow8.png
│ │ │ │ shadow9.png
│ │ │ └─PSD
│ │ │ shadows.psd
│ │ ├─Bullets
│ │ │ │ .DS_Store
│ │ │ ├─JPG
│ │ │ │ style1_bullet1.jpg
│ │ │ │ style1_bullet2.jpg
│ │ │ │ style1_bullet3.jpg
│ │ │ │ style1_bullet4.jpg
│ │ │ │ style1_bullet5.jpg
│ │ │ │ style2_bullet1.jpg
│ │ │ │ style2_bullet2.jpg
│ │ │ │ style2_bullet3.jpg
│ │ │ │ style2_bullet4.jpg
│ │ │ │ style2_bullet5.jpg
│ │ │ │ style3_bullet1.jpg
│ │ │ │ style3_bullet2.jpg
│ │ │ │ style3_bullet3.jpg
│ │ │ │ style3_bullet4.jpg
│ │ │ │ style3_bullet5.jpg
│ │ │ │ style4_bullet1.jpg
│ │ │ │ style4_bullet2.jpg
│ │ │ │ style4_bullet3.jpg
│ │ │ │ style4_bullet4.jpg
│ │ │ │ style4_bullet5.jpg
│ │ │ │ style5_bullet1.jpg
│ │ │ │ style5_bullet2.jpg
│ │ │ │ style5_bullet3.jpg
│ │ │ │ style5_bullet4.jpg
│ │ │ │ style5_bullet5.jpg
│ │ │ │ style6_bullet1.jpg
│ │ │ │ style6_bullet2.jpg
│ │ │ │ style6_bullet3.jpg
│ │ │ │ style6_bullet4.jpg
│ │ │ │ style6_bullet5.jpg
│ │ │ │ style7_bullet1.jpg
│ │ │ │ style7_bullet2.jpg
│ │ │ │ style7_bullet3.jpg
│ │ │ │ style7_bullet4.jpg
│ │ │ │ style7_bullet5.jpg
│ │ │ │ style8_bullet1.jpg
│ │ │ │ style8_bullet2.jpg
│ │ │ │ style8_bullet3.jpg
│ │ │ │ style8_bullet4.jpg
│ │ │ │ style8_bullet5.jpg
│ │ │ │ style9_bullet1.jpg
│ │ │ │ style9_bullet2.jpg
│ │ │ │ style9_bullet3.jpg
│ │ │ │ style9_bullet4.jpg
│ │ │ │ style9_bullet5.jpg
│ │ │ ├─PNG
│ │ │ │ style1_bullet1.png
│ │ │ │ style1_bullet2.png
│ │ │ │ style1_bullet3.png
│ │ │ │ style1_bullet4.png
│ │ │ │ style1_bullet5.png
│ │ │ │ style2_bullet1.png
│ │ │ │ style2_bullet2.png
│ │ │ │ style2_bullet3.png
│ │ │ │ style2_bullet4.png
│ │ │ │ style2_bullet5.png
│ │ │ │ style3_bullet1.png
│ │ │ │ style3_bullet2.png
│ │ │ │ style3_bullet3.png
│ │ │ │ style3_bullet4.psd
│ │ │ │ style3_bullet5.png
│ │ │ │ style4_bullet1.png
│ │ │ │ style4_bullet2.png
│ │ │ │ style4_bullet3.png
│ │ │ │ style4_bullet4.png
│ │ │ │ style4_bullet5.png
│ │ │ │ style5_bullet1.png
│ │ │ │ style5_bullet2.png
│ │ │ │ style5_bullet3.png
│ │ │ │ style5_bullet4.png
│ │ │ │ style5_bullet5.png
│ │ │ │ style6_bullet1.png
│ │ │ │ style6_bullet2.png
│ │ │ │ style6_bullet3.png
│ │ │ │ style6_bullet4.png
│ │ │ │ style6_bullet5.png
│ │ │ │ style7_bullet1.png
│ │ │ │ style7_bullet2.png
│ │ │ │ style7_bullet3.png
│ │ │ │ style7_bullet4.png
│ │ │ │ style7_bullet5.png
│ │ │ │ style8_bullet1.png
│ │ │ │ style8_bullet2.png
│ │ │ │ style8_bullet3.png
│ │ │ │ style8_bullet4.png
│ │ │ │ style8_bullet5.png
│ │ │ │ style9_bullet1.png
│ │ │ │ style9_bullet2.png
│ │ │ │ style9_bullet3.png
│ │ │ │ style9_bullet4.png
│ │ │ │ style9_bullet5.png
│ │ │ └─PSD
│ │ │ .DS_Store
│ │ │ bullets.psd
│ │ ├─Dividers
│ │ │ │ .DS_Store
│ │ │ ├─JPG
│ │ │ │ dashed-300px-1px.jpg
│ │ │ │ dashed-300px-2px.jpg
│ │ │ │ dashed-500px-1px.jpg
│ │ │ │ dashed-500px-2px.jpg
│ │ │ │ dashed-700px-1px.jpg
│ │ │ │ dashed-700px-2px.jpg
│ │ │ │ style1-300px.jpg
│ │ │ │ style1-500px.jpg
│ │ │ │ style1-700px.jpg
│ │ │ │ style2-300px.jpg
│ │ │ │ style2-500px.jpg
│ │ │ │ style2-700px.jpg
│ │ │ │ style3-300px.jpg
│ │ │ │ style3-500px.jpg
│ │ │ │ style3-700px.jpg
│ │ │ ├─PNG
│ │ │ │ dashed-300px-1px.png
│ │ │ │ dashed-300px-2px.png
│ │ │ │ dashed-500px-1px.png
│ │ │ │ dashed-500px-2px.png
│ │ │ │ dashed-700px-1px.png
│ │ │ │ dashed-700px-2px.png
│ │ │ │ style1-300px.png
│ │ │ │ style1-500px.png
│ │ │ │ style1-700px.png
│ │ │ │ style2-300px.png
│ │ │ │ style2-500px.png
│ │ │ │ style2-700px.png
│ │ │ │ style3-300px.png
│ │ │ │ style3-500px.png
│ │ │ │ style3-700px.png
│ │ │ └─PSD
│ │ │ dashed.psd
│ │ │ style1.psd
│ │ │ style2.psd
│ │ │ style3.psd
│ │ ├─Hand Drawn Arrows
│ │ │ │ .DS_Store
│ │ │ ├─JPG
│ │ │ │ style1-arrow1.jpg
│ │ │ │ style1-arrow2.jpg
│ │ │ │ style1-arrow3.jpg
│ │ │ │ style1-arrow4.jpg
│ │ │ │ style1-arrow5.jpg
│ │ │ │ style1-arrow6.jpg
│ │ │ │ style1-arrow7.jpg
│ │ │ │ style1-arrow8.jpg
│ │ │ │ style2-arrow1.jpg
│ │ │ │ style2-arrow2.jpg
│ │ │ │ style2-arrow3.jpg
│ │ │ │ style2-arrow4.jpg
│ │ │ │ style2-arrow5.jpg
│ │ │ │ style2-arrow6.jpg
│ │ │ │ style2-arrow7.jpg
│ │ │ │ style2-arrow8.jpg
│ │ │ │ style3-arrow1.jpg
│ │ │ │ style3-arrow2.jpg
│ │ │ │ style3-arrow3.jpg
│ │ │ │ style3-arrow4.jpg
│ │ │ │ style3-arrow5.jpg
│ │ │ │ style3-arrow6.jpg
│ │ │ │ style3-arrow7.jpg
│ │ │ │ style3-arrow8.jpg
│ │ │ │ style4-arrow1.jpg
│ │ │ │ style4-arrow2.jpg
│ │ │ │ style4-arrow3.jpg
│ │ │ │ style4-arrow4.jpg
│ │ │ │ style5-arrow1.jpg
│ │ │ │ style5-arrow2.jpg
│ │ │ │ style5-arrow3.jpg
│ │ │ │ style5-arrow4.jpg
│ │ │ │ style5-arrow5.jpg
│ │ │ │ style5-arrow6.jpg
│ │ │ │ style5-arrow7.jpg
│ │ │ │ style5-arrow8.jpg
│ │ │ │ style6-arrow1.jpg
│ │ │ │ style6-arrow2.jpg
│ │ │ │ style6-arrow3.jpg
│ │ │ │ style6-arrow4.jpg
│ │ │ │ style6-arrow5.jpg
│ │ │ │ style6-arrow6.jpg
│ │ │ │ style6-arrow7.jpg
│ │ │ │ style6-arrow8.jpg
│ │ │ │ style7-arrow1.jpg
│ │ │ │ style7-arrow2.jpg
│ │ │ │ style7-arrow3.jpg
│ │ │ │ style7-arrow4.jpg
│ │ │ │ style7-arrow5.jpg
│ │ │ │ style7-arrow6.jpg
│ │ │ │ style7-arrow7.jpg
│ │ │ │ style7-arrow8.jpg
│ │ │ ├─PNG
│ │ │ │ style1-arrow1.png
│ │ │ │ style1-arrow2.png
│ │ │ │ style1-arrow3.png
│ │ │ │ style1-arrow4.png
│ │ │ │ style1-arrow5.png
│ │ │ │ style1-arrow6.png
│ │ │ │ style1-arrow7.png
│ │ │ │ style1-arrow8.png
│ │ │ │ style2-arrow1.png
│ │ │ │ style2-arrow2.png
│ │ │ │ style2-arrow3.png
│ │ │ │ style2-arrow4.png
│ │ │ │ style2-arrow5.png
│ │ │ │ style2-arrow6.png
│ │ │ │ style2-arrow7.png
│ │ │ │ style2-arrow8.png
│ │ │ │ style3-arrow1.png
│ │ │ │ style3-arrow2.png
│ │ │ │ style3-arrow3.png
│ │ │ │ style3-arrow4.png
│ │ │ │ style3-arrow5.png
│ │ │ │ style3-arrow6.png
│ │ │ │ style3-arrow7.png
│ │ │ │ style3-arrow8.png
│ │ │ │ style4-arrow1.png
│ │ │ │ style4-arrow2.png
│ │ │ │ style4-arrow3.png
│ │ │ │ style4-arrow4.png
│ │ │ │ style5-arrow1.png
│ │ │ │ style5-arrow2.png
│ │ │ │ style5-arrow3.png
│ │ │ │ style5-arrow4.png
│ │ │ │ style5-arrow5.png
│ │ │ │ style5-arrow6.png
│ │ │ │ style5-arrow7.png
│ │ │ │ style5-arrow8.png
│ │ │ │ style6-arrow1.png
│ │ │ │ style6-arrow2.png
│ │ │ │ style6-arrow3.png
│ │ │ │ style6-arrow4.png
│ │ │ │ style6-arrow5.png
│ │ │ │ style6-arrow6.png
│ │ │ │ style6-arrow7.png
│ │ │ │ style6-arrow8.png
│ │ │ │ style7-arrow1.png
│ │ │ │ style7-arrow2.png
│ │ │ │ style7-arrow3.png
│ │ │ │ style7-arrow4.png
│ │ │ │ style7-arrow5.png
│ │ │ │ style7-arrow6.png
│ │ │ │ style7-arrow7.png
│ │ │ │ style7-arrow8.png
│ │ │ └─PSD
│ │ │ arrows.psd
│ │ ├─Hand Drawn Boxes and Brackets
│ │ │ │ .DS_Store
│ │ │ ├─JPG
│ │ │ │ box1.jpg
│ │ │ │ box2.jpg
│ │ │ │ box3.jpg
│ │ │ │ box4.jpg
│ │ │ │ box5.jpg
│ │ │ │ box6.jpg
│ │ │ │ bracket1-bracket1.jpg
│ │ │ │ bracket1-bracket2.jpg
│ │ │ │ bracket2-bracket1.jpg
│ │ │ │ bracket2-bracket2.jpg
│ │ │ │ bracket3-bracket1.jpg
│ │ │ │ bracket3-bracket2.jpg
│ │ │ │ bracket4-bracket1.jpg
│ │ │ │ bracket4-bracket2.jpg
│ │ │ ├─PNG
│ │ │ │ box1.png
│ │ │ │ box2.png
│ │ │ │ box3.png
│ │ │ │ box4.png
│ │ │ │ box5.png
│ │ │ │ box6.png
│ │ │ │ bracket1-bracket1.png
│ │ │ │ bracket1-bracket2.png
│ │ │ │ bracket2-bracket1.png
│ │ │ │ bracket2-bracket2.png
│ │ │ │ bracket3-bracket1.png
│ │ │ │ bracket3-bracket2.png
│ │ │ │ bracket4-bracket1.png
│ │ │ │ bracket4-bracket2.png
│ │ │ └─PSD
│ │ │ boxes-and-brackets.psd
│ │ ├─Hand Drawn Bullets and Pointers
│ │ │ │ .DS_Store
│ │ │ ├─JPG
│ │ │ │ bigdot.jpg
│ │ │ │ check1.jpg
│ │ │ │ check2.jpg
│ │ │ │ check3.jpg
│ │ │ │ cross1.jpg
│ │ │ │ cross2.jpg
│ │ │ │ cross3.jpg
│ │ │ │ cross4.jpg
│ │ │ │ dot.jpg
│ │ │ │ flake.jpg
│ │ │ │ minus1.jpg
│ │ │ │ minus2.jpg
│ │ │ │ minus3.jpg
│ │ │ │ plus1.jpg
│ │ │ │ plus2.jpg
│ │ │ │ side1.jpg
│ │ │ │ side2.jpg
│ │ │ │ side3.jpg
│ │ │ │ star1.jpg
│ │ │ │ star2.jpg
│ │ │ ├─PNG
│ │ │ │ bigdot.png
│ │ │ │ check1.png
│ │ │ │ check2.png
│ │ │ │ check3.png
│ │ │ │ cross1.png
│ │ │ │ cross2.png
│ │ │ │ cross3.png
│ │ │ │ cross4.png
│ │ │ │ dot.png
│ │ │ │ flake.png
│ │ │ │ minus1.png
│ │ │ │ minus2.png
│ │ │ │ minus3.png
│ │ │ │ plus1.png
│ │ │ │ plus2.png
│ │ │ │ side1.png
│ │ │ │ side2.png
│ │ │ │ side3.png
│ │ │ │ star1.png
│ │ │ │ star2.png
│ │ │ └─PSD
│ │ │ bullets.psd
│ │ ├─Hand Drawn Circles and Bubbles
│ │ │ │ .DS_Store
│ │ │ ├─JPG
│ │ │ │ circle-1.jpg
│ │ │ │ circle-10.jpg
│ │ │ │ circle-11.jpg
│ │ │ │ circle-12.jpg
│ │ │ │ circle-13.jpg
│ │ │ │ circle-14.jpg
│ │ │ │ circle-15.jpg
│ │ │ │ circle-16.jpg
│ │ │ │ circle-17.jpg
│ │ │ │ circle-18.jpg
│ │ │ │ circle-19.jpg
│ │ │ │ circle-2.jpg
│ │ │ │ circle-20.jpg
│ │ │ │ circle-3.jpg
│ │ │ │ circle-4.jpg
│ │ │ │ circle-5.jpg
│ │ │ │ circle-6.jpg
│ │ │ │ circle-7.jpg
│ │ │ │ circle-8.jpg
│ │ │ │ circle-9.jpg
│ │ │ ├─PNG
│ │ │ │ circle-1.png
│ │ │ │ circle-10.png
│ │ │ │ circle-11.png
│ │ │ │ circle-12.png
│ │ │ │ circle-13.png
│ │ │ │ circle-14.png
│ │ │ │ circle-15.png
│ │ │ │ circle-16.png
│ │ │ │ circle-17.png
│ │ │ │ circle-18.png
│ │ │ │ circle-19.png
│ │ │ │ circle-2.png
│ │ │ │ circle-20.png
│ │ │ │ circle-3.png
│ │ │ │ circle-4.png
│ │ │ │ circle-5.png
│ │ │ │ circle-6.png
│ │ │ │ circle-7.png
│ │ │ │ circle-8.png
│ │ │ │ circle-9.png
│ │ │ └─PSD
│ │ │ circles and bubbles.psd
│ │ ├─Hand Drawn Numbers
│ │ │ │ .DS_Store
│ │ │ ├─JPG
│ │ │ │ style1-0.jpg
│ │ │ │ style1-1.jpg
│ │ │ │ style1-2.jpg
│ │ │ │ style1-3.jpg
│ │ │ │ style1-4.jpg
│ │ │ │ style1-5.jpg
│ │ │ │ style1-6.jpg
│ │ │ │ style1-7.jpg
│ │ │ │ style1-8.jpg
│ │ │ │ style1-9.jpg
│ │ │ │ style2-0.jpg
│ │ │ │ style2-1.jpg
│ │ │ │ style2-2.jpg
│ │ │ │ style2-3.jpg
│ │ │ │ style2-4.jpg
│ │ │ │ style2-5.jpg
│ │ │ │ style2-6.jpg
│ │ │ │ style2-7.jpg
│ │ │ │ style2-8.jpg
│ │ │ │ style2-9.jpg
│ │ │ │ style3-0.jpg
│ │ │ │ style3-1.jpg
│ │ │ │ style3-2.jpg
│ │ │ │ style3-3.jpg
│ │ │ │ style3-4.jpg
│ │ │ │ style3-5.jpg
│ │ │ │ style3-6.jpg
│ │ │ │ style3-7.jpg
│ │ │ │ style3-8.jpg
│ │ │ │ style3-9.jpg
│ │ │ │ style4-0.jpg
│ │ │ │ style4-1.jpg
│ │ │ │ style4-2.jpg
│ │ │ │ style4-3.jpg
│ │ │ │ style4-4.jpg
│ │ │ │ style4-5.jpg
│ │ │ │ style4-6.jpg
│ │ │ │ style4-7.jpg
│ │ │ │ style4-8.jpg
│ │ │ │ style4-9.jpg
│ │ │ ├─PNG
│ │ │ │ style1-0.png
│ │ │ │ style1-1.png
│ │ │ │ style1-2.png
│ │ │ │ style1-3.png
│ │ │ │ style1-4.png
│ │ │ │ style1-5.png
│ │ │ │ style1-6.png
│ │ │ │ style1-7.png
│ │ │ │ style1-8.png
│ │ │ │ style1-9.png
│ │ │ │ style2-0.png
│ │ │ │ style2-1.png
│ │ │ │ style2-2.png
│ │ │ │ style2-3.png
│ │ │ │ style2-4.png
│ │ │ │ style2-5.png
│ │ │ │ style2-6.png
│ │ │ │ style2-7.png
│ │ │ │ style2-8.png
│ │ │ │ style2-9.png
│ │ │ │ style3-0.png
│ │ │ │ style3-1.png
│ │ │ │ style3-2.png
│ │ │ │ style3-3.png
│ │ │ │ style3-4.png
│ │ │ │ style3-5.png
│ │ │ │ style3-6.png
│ │ │ │ style3-7.png
│ │ │ │ style3-8.png
│ │ │ │ style3-9.png
│ │ │ │ style4-0.png
│ │ │ │ style4-1.png
│ │ │ │ style4-2.png
│ │ │ │ style4-3.png
│ │ │ │ style4-4.png
│ │ │ │ style4-5.png
│ │ │ │ style4-6.png
│ │ │ │ style4-7.png
│ │ │ │ style4-8.png
│ │ │ │ style4-9.png
│ │ │ └─PSD
│ │ │ numbers.psd
│ │ ├─Hand Written Texts
│ │ │ │ .DS_Store
│ │ │ ├─JPG
│ │ │ │ 3_COPIES_LEFT.jpg
│ │ │ │ add_to_cart.jpg
│ │ │ │ BONUS.jpg
│ │ │ │ BONUS2.jpg
│ │ │ │ BONUS3.jpg
│ │ │ │ buynow.jpg
│ │ │ │ continue.jpg
│ │ │ │ DISCOUNT.jpg
│ │ │ │ dont_delay.jpg
│ │ │ │ exclamation.jpg
│ │ │ │ exclamations.jpg
│ │ │ │ fresh.jpg
│ │ │ │ In_the_next_5_MINUTES.jpg
│ │ │ │ LIMITED_OFFER.jpg
│ │ │ │ new.jpg
│ │ │ │ Oooops.jpg
│ │ │ │ PPS.jpg
│ │ │ │ PS.jpg
│ │ │ │ So_Heres_The_DEAL.jpg
│ │ │ │ SPECIAL_OFFER.jpg
│ │ │ │ STOP.jpg
│ │ │ │ success.jpg
│ │ │ │ Thats_NOT_ALL.jpg
│ │ │ │ Theres_MORE.jpg
│ │ │ │ WAIT.jpg
│ │ │ ├─PNG
│ │ │ │ 3_COPIES_LEFT.png
│ │ │ │ add_to_cart.png
│ │ │ │ BONUS.png
│ │ │ │ BONUS2.png
│ │ │ │ BONUS3.png
│ │ │ │ buynow.png
│ │ │ │ continue.png
│ │ │ │ DISCOUNT.png
│ │ │ │ dont_delay.png
│ │ │ │ exclamation.png
│ │ │ │ exclamations.png
│ │ │ │ fresh.png
│ │ │ │ In_the_next_5_MINUTES.png
│ │ │ │ LIMITED_OFFER.png
│ │ │ │ new.png
│ │ │ │ Oooops.png
│ │ │ │ PPS.png
│ │ │ │ PS.png
│ │ │ │ So_Heres_The_DEAL.png
│ │ │ │ SPECIAL_OFFER.png
│ │ │ │ STOP.png
│ │ │ │ success.png
│ │ │ │ Thats_NOT_ALL.png
│ │ │ │ Theres_MORE.png
│ │ │ │ WAIT.png
│ │ │ └─PSD
│ │ │ texts.psd
│ │ ├─Headlines
│ │ │ │ .DS_Store
│ │ │ └─PSD
│ │ │ .DS_Store
│ │ │ headlines.psd
│ │ ├─Highlights
│ │ │ │ .DS_Store
│ │ │ ├─JPG
│ │ │ │ highlight1.jpg
│ │ │ │ highlight10.jpg
│ │ │ │ highlight2.jpg
│ │ │ │ highlight3.jpg
│ │ │ │ highlight4.jpg
│ │ │ │ highlight5.jpg
│ │ │ │ highlight6.jpg
│ │ │ │ highlight7.jpg
│ │ │ │ highlight8.jpg
│ │ │ │ highlight9.jpg
│ │ │ ├─PNG
│ │ │ │ highlight1.png
│ │ │ │ highlight10.png
│ │ │ │ highlight2.png
│ │ │ │ highlight3.png
│ │ │ │ highlight4.png
│ │ │ │ highlight5.png
│ │ │ │ highlight6.png
│ │ │ │ highlight7.png
│ │ │ │ highlight8.png
│ │ │ │ highlight9.png
│ │ │ └─PSD
│ │ │ highlights.psd
│ │ ├─Misc
│ │ │ │ .DS_Store
│ │ │ ├─JPG
│ │ │ │ as-seen-on.jpg
│ │ │ │ credit-cards-small.jpg
│ │ │ ├─PNG
│ │ │ │ as-seen-on.png
│ │ │ │ credit-cards-small.png
│ │ │ └─PSD
│ │ │ as-seen-on.psd
│ │ │ credit-cards.psd
│ │ ├─New Section Headlines
│ │ │ │ .DS_Store
│ │ │ ├─JPG
│ │ │ │ style1_headline1.jpg
│ │ │ │ style1_headline10.jpg
│ │ │ │ style1_headline11.jpg
│ │ │ │ style1_headline2.jpg
│ │ │ │ style1_headline3.jpg
│ │ │ │ style1_headline4.jpg
│ │ │ │ style1_headline5.jpg
│ │ │ │ style1_headline6.jpg
│ │ │ │ style1_headline7.jpg
│ │ │ │ style1_headline8.jpg
│ │ │ │ style1_headline9.jpg
│ │ │ │ style2_headline1.jpg
│ │ │ │ style2_headline10.jpg
│ │ │ │ style2_headline11.jpg
│ │ │ │ style2_headline2.jpg
│ │ │ │ style2_headline3.jpg
│ │ │ │ style2_headline4.jpg
│ │ │ │ style2_headline5.jpg
│ │ │ │ style2_headline6.jpg
│ │ │ │ style2_headline7.jpg
│ │ │ │ style2_headline8.jpg
│ │ │ │ style2_headline9.jpg
│ │ │ ├─PNG
│ │ │ │ style1_headline1.png
│ │ │ │ style1_headline10.png
│ │ │ │ style1_headline11.png
│ │ │ │ style1_headline2.png
│ │ │ │ style1_headline3.png
│ │ │ │ style1_headline4.png
│ │ │ │ style1_headline5.png
│ │ │ │ style1_headline6.png
│ │ │ │ style1_headline7.png
│ │ │ │ style1_headline8.png
│ │ │ │ style1_headline9.png
│ │ │ │ style2_headline1.png
│ │ │ │ style2_headline10.png
│ │ │ │ style2_headline11.png
│ │ │ │ style2_headline2.png
│ │ │ │ style2_headline3.png
│ │ │ │ style2_headline4.png
│ │ │ │ style2_headline5.png
│ │ │ │ style2_headline6.png
│ │ │ │ style2_headline7.png
│ │ │ │ style2_headline8.png
│ │ │ │ style2_headline9.png
│ │ │ └─PSD
│ │ │ new-sections.psd
│ │ ├─Optin Attention Grabber
│ │ │ │ .DS_Store
│ │ │ ├─JPG
│ │ │ │ optin1.jpg
│ │ │ │ optins2.jpg
│ │ │ │ optins3.jpg
│ │ │ │ optins4.jpg
│ │ │ │ optins5.jpg
│ │ │ │ optins6.jpg
│ │ │ ├─PNG
│ │ │ │ .DS_Store
│ │ │ │ optin1.png
│ │ │ │ optins2.png
│ │ │ │ optins3.png
│ │ │ │ optins4.png
│ │ │ │ optins5.png
│ │ │ │ optins6.png
│ │ │ └─PSD
│ │ │ optins.psd
│ │ ├─PowerPoint Backgrounds
│ │ │ │ .DS_Store
│ │ │ ├─JPG
│ │ │ │ style1.jpg
│ │ │ │ style2.jpg
│ │ │ │ style3.jpg
│ │ │ ├─PNG
│ │ │ │ style1.png
│ │ │ │ style2.png
│ │ │ │ style3.png
│ │ │ └─PSD
│ │ │ style1.psd
│ │ │ style2.psd
│ │ │ style3.psd
│ │ ├─Sequences
│ │ │ │ .DS_Store
│ │ │ ├─JPG
│ │ │ │ style1_step1.jpg
│ │ │ │ style1_step2.jpg
│ │ │ │ style1_step3.jpg
│ │ │ │ style2_step1.jpg
│ │ │ │ style2_step2.jpg
│ │ │ │ style2_step3.jpg
│ │ │ ├─PNG
│ │ │ │ style1_step1.png
│ │ │ │ style1_step2.png
│ │ │ │ style1_step3.png
│ │ │ │ style2_step1.png
│ │ │ │ style2_step2.png
│ │ │ │ style2_step3.png
│ │ │ └─PSD
│ │ │ sequences.psd
│ │ ├─Social Icons
│ │ │ │ .DS_Store
│ │ │ ├─JPG
│ │ │ │ style1_icon1.jpg
│ │ │ │ style1_icon10.jpg
│ │ │ │ style1_icon11.jpg
│ │ │ │ style1_icon12.jpg
│ │ │ │ style1_icon2.jpg
│ │ │ │ style1_icon3.jpg
│ │ │ │ style1_icon4.jpg
│ │ │ │ style1_icon5.jpg
│ │ │ │ style1_icon6.jpg
│ │ │ │ style1_icon7.jpg
│ │ │ │ style1_icon8.jpg
│ │ │ │ style1_icon9.jpg
│ │ │ │ style2_icon1.jpg
│ │ │ │ style2_icon10.jpg
│ │ │ │ style2_icon11.jpg
│ │ │ │ style2_icon12.jpg
│ │ │ │ style2_icon2.jpg
│ │ │ │ style2_icon3.jpg
│ │ │ │ style2_icon4.jpg
│ │ │ │ style2_icon5.jpg
│ │ │ │ style2_icon6.jpg
│ │ │ │ style2_icon7.jpg
│ │ │ │ style2_icon8.jpg
│ │ │ │ style2_icon9.jpg
│ │ │ │ style3_icon1.jpg
│ │ │ │ style3_icon10.jpg
│ │ │ │ style3_icon11.jpg
│ │ │ │ style3_icon12.jpg
│ │ │ │ style3_icon2.jpg
│ │ │ │ style3_icon3.jpg
│ │ │ │ style3_icon4.jpg
│ │ │ │ style3_icon5.jpg
│ │ │ │ style3_icon6.jpg
│ │ │ │ style3_icon7.jpg
│ │ │ │ style3_icon8.jpg
│ │ │ │ style3_icon9.jpg
│ │ │ │ style4_icon1.jpg
│ │ │ │ style4_icon10.jpg
│ │ │ │ style4_icon11.jpg
│ │ │ │ style4_icon12.jpg
│ │ │ │ style4_icon2.jpg
│ │ │ │ style4_icon3.jpg
│ │ │ │ style4_icon4.jpg
│ │ │ │ style4_icon5.jpg
│ │ │ │ style4_icon6.jpg
│ │ │ │ style4_icon7.jpg
│ │ │ │ style4_icon8.jpg
│ │ │ │ style4_icon9.jpg
│ │ │ ├─PNG
│ │ │ │ style1_icon1.png
│ │ │ │ style1_icon10.png
│ │ │ │ style1_icon11.png
│ │ │ │ style1_icon12.png
│ │ │ │ style1_icon2.png
│ │ │ │ style1_icon3.png
│ │ │ │ style1_icon4.png
│ │ │ │ style1_icon5.png
│ │ │ │ style1_icon6.png
│ │ │ │ style1_icon7.png
│ │ │ │ style1_icon8.png
│ │ │ │ style1_icon9.png
│ │ │ │ style2_icon1.png
│ │ │ │ style2_icon10.png
│ │ │ │ style2_icon11.png
│ │ │ │ style2_icon12.png
│ │ │ │ style2_icon2.png
│ │ │ │ style2_icon3.png
│ │ │ │ style2_icon4.png
│ │ │ │ style2_icon5.png
│ │ │ │ style2_icon6.png
│ │ │ │ style2_icon7.png
│ │ │ │ style2_icon8.png
│ │ │ │ style2_icon9.png
│ │ │ │ style3_icon1.png
│ │ │ │ style3_icon10.png
│ │ │ │ style3_icon11.png
│ │ │ │ style3_icon12.png
│ │ │ │ style3_icon2.png
│ │ │ │ style3_icon3.png
│ │ │ │ style3_icon4.png
│ │ │ │ style3_icon5.png
│ │ │ │ style3_icon6.png
│ │ │ │ style3_icon7.png
│ │ │ │ style3_icon8.png
│ │ │ │ style3_icon9.png
│ │ │ │ style4_icon1.png
│ │ │ │ style4_icon10.png
│ │ │ │ style4_icon11.png
│ │ │ │ style4_icon12.png
│ │ │ │ style4_icon2.png
│ │ │ │ style4_icon3.png
│ │ │ │ style4_icon4.png
│ │ │ │ style4_icon5.png
│ │ │ │ style4_icon6.png
│ │ │ │ style4_icon7.png
│ │ │ │ style4_icon8.png
│ │ │ │ style4_icon9.png
│ │ │ └─PSD
│ │ │ social.psd
│ │ ├─Star Ratings
│ │ │ │ .DS_Store
│ │ │ ├─JPG
│ │ │ │ style1_big_empty.jpg
│ │ │ │ style1_big_full.jpg
│ │ │ │ style1_big_half.jpg
│ │ │ │ style1_medium_empty.jpg
│ │ │ │ style1_medium_full.jpg
│ │ │ │ style1_medium_half.jpg
│ │ │ │ style1_mini_empty.jpg
│ │ │ │ style1_mini_full.jpg
│ │ │ │ style1_mini_half.jpg
│ │ │ │ style2_big_empty.jpg
│ │ │ │ style2_big_full.jpg
│ │ │ │ style2_big_half.jpg
│ │ │ │ style2_medium_empty.jpg
│ │ │ │ style2_medium_full.jpg
│ │ │ │ style2_medium_half.jpg
│ │ │ │ style2_mini_empty.jpg
│ │ │ │ style2_mini_full.jpg
│ │ │ │ style2_mini_half.jpg
│ │ │ ├─PNG
│ │ │ │ style1_big_empty.png
│ │ │ │ style1_big_full.png
│ │ │ │ style1_big_half.png
│ │ │ │ style1_medium_empty.png
│ │ │ │ style1_medium_full.png
│ │ │ │ style1_medium_half.png
│ │ │ │ style1_mini_empty.png
│ │ │ │ style1_mini_full.png
│ │ │ │ style1_mini_half.png
│ │ │ │ style2_big_empty.png
│ │ │ │ style2_big_full.png
│ │ │ │ style2_big_half.png
│ │ │ │ style2_medium_empty.png
│ │ │ │ style2_medium_full.png
│ │ │ │ style2_medium_half.png
│ │ │ │ style2_mini_empty.png
│ │ │ │ style2_mini_full.png
│ │ │ │ style2_mini_half.png
│ │ │ └─PSD
│ │ │ star.psd
│ │ ├─Testimonial Boxes
│ │ │ │ .DS_Store
│ │ │ └─PSD
│ │ │ testimonials.psd
│ │ ├─Web Buttons
│ │ │ │ .DS_Store
│ │ │ ├─JPG
│ │ │ │ .DS_Store
│ │ │ │ style1-black-2.jpg
│ │ │ │ style1-black-3.jpg
│ │ │ │ style1-black-4.jpg
│ │ │ │ style1-black-5.jpg
│ │ │ │ style1-black-6.jpg
│ │ │ │ style1-black.jpg
│ │ │ │ style1-blue-2.jpg
│ │ │ │ style1-blue-3.jpg
│ │ │ │ style1-blue-4.jpg
│ │ │ │ style1-blue-5.jpg
│ │ │ │ style1-blue-6.jpg
│ │ │ │ style1-blue.jpg
│ │ │ │ style1-gray-2.jpg
│ │ │ │ style1-gray-3.jpg
│ │ │ │ style1-gray-4.jpg
│ │ │ │ style1-gray-5.jpg
│ │ │ │ style1-gray-6.jpg
│ │ │ │ style1-green-2.jpg
│ │ │ │ style1-green-3.jpg
│ │ │ │ style1-green-4.jpg
│ │ │ │ style1-green-5.jpg
│ │ │ │ style1-green-6.jpg
│ │ │ │ style1-green.jpg
│ │ │ │ style1-grey.jpg
│ │ │ │ style1-red-2.jpg
│ │ │ │ style1-red-3.jpg
│ │ │ │ style1-red-4.jpg
│ │ │ │ style1-red-5.jpg
│ │ │ │ style1-red-6.jpg
│ │ │ │ style1-red.jpg
│ │ │ │ style1-yellow-2.jpg
│ │ │ │ style1-yellow-3.jpg
│ │ │ │ style1-yellow-4.jpg
│ │ │ │ style1-yellow-5.jpg
│ │ │ │ style1-yellow-6.jpg
│ │ │ │ style1-yellow.jpg
│ │ │ │ style2-black-2.jpg
│ │ │ │ style2-black-3.jpg
│ │ │ │ style2-black-4.jpg
│ │ │ │ style2-black-5.jpg
│ │ │ │ style2-black-6.jpg
│ │ │ │ style2-black.jpg
│ │ │ │ style2-blue-2.jpg
│ │ │ │ style2-blue-3.jpg
│ │ │ │ style2-blue-4.jpg
│ │ │ │ style2-blue-5.jpg
│ │ │ │ style2-blue-6.jpg
│ │ │ │ style2-blue.jpg
│ │ │ │ style2-gray-2.jpg
│ │ │ │ style2-gray-3.jpg
│ │ │ │ style2-gray-4.jpg
│ │ │ │ style2-gray-5.jpg
│ │ │ │ style2-gray-6.jpg
│ │ │ │ style2-green-2.jpg
│ │ │ │ style2-green-3.jpg
│ │ │ │ style2-green-4.jpg
│ │ │ │ style2-green-5.jpg
│ │ │ │ style2-green-6.jpg
│ │ │ │ style2-green.jpg
│ │ │ │ style2-grey.jpg
│ │ │ │ style2-red-2.jpg
│ │ │ │ style2-red-3.jpg
│ │ │ │ style2-red-4.jpg
│ │ │ │ style2-red-5.jpg
│ │ │ │ style2-red-6.jpg
│ │ │ │ style2-red.jpg
│ │ │ │ style2-yellow-2.jpg
│ │ │ │ style2-yellow-3.jpg
│ │ │ │ style2-yellow-4.jpg
│ │ │ │ style2-yellow-5.jpg
│ │ │ │ style2-yellow-6.jpg
│ │ │ │ style2-yellow.jpg
│ │ │ │ style3-black-2.jpg
│ │ │ │ style3-black-3.jpg
│ │ │ │ style3-black-4.jpg
│ │ │ │ style3-black-5.jpg
│ │ │ │ style3-black-6.jpg
│ │ │ │ style3-black.jpg
│ │ │ │ style3-blue-2.jpg
│ │ │ │ style3-blue-3.jpg
│ │ │ │ style3-blue-4.jpg
│ │ │ │ style3-blue-5.jpg
│ │ │ │ style3-blue-6.jpg
│ │ │ │ style3-blue. jpg
│ │ │ │ style3-gray-2.jpg
│ │ │ │ style3-gray-3.jpg
│ │ │ │ style3-gray-4.jpg
│ │ │ │ style3-gray-5.jpg
│ │ │ │ style3-gray-6.jpg
│ │ │ │ style3-green-2.jpg
│ │ │ │ style3-green-3.jpg
│ │ │ │ style3-green-4.jpg
│ │ │ │ style3-green-5.jpg
│ │ │ │ style3-green-6.jpg
│ │ │ │ style3-green.jpg
│ │ │ │ style3-grey. jpg
│ │ │ │ style3-red-2.jpg
│ │ │ │ style3-red-3.jpg
│ │ │ │ style3-red-4.jpg
│ │ │ │ style3-red-5.jpg
│ │ │ │ style3-red-6.jpg
│ │ │ │ style3-red.jpg
│ │ │ │ style3-yellow-2.jpg
│ │ │ │ style3-yellow-3.jpg
│ │ │ │ style3-yellow-4.jpg
│ │ │ │ style3-yellow-5.jpg
│ │ │ │ style3-yellow-6.jpg
│ │ │ │ style3-yellow.jpg
│ │ │ │ style4-black-2.jpg
│ │ │ │ style4-black-3.jpg
│ │ │ │ style4-black-4.jpg
│ │ │ │ style4-black-5.jpg
│ │ │ │ style4-black-6.jpg
│ │ │ │ style4-black.jpg
│ │ │ │ style4-blue-2.jpg
│ │ │ │ style4-blue-3.jpg
│ │ │ │ style4-blue-4.jpg
│ │ │ │ style4-blue-5.jpg
│ │ │ │ style4-blue-6.jpg
│ │ │ │ style4-blue.jpg
│ │ │ │ style4-gray-2.jpg
│ │ │ │ style4-gray-3.jpg
│ │ │ │ style4-gray-4.jpg
│ │ │ │ style4-gray-5.jpg
│ │ │ │ style4-gray-6.jpg
│ │ │ │ style4-gray.jpg
│ │ │ │ style4-green-2.jpg
│ │ │ │ style4-green-3.jpg
│ │ │ │ style4-green-4.jpg
│ │ │ │ style4-green-5.jpg
│ │ │ │ style4-green-6.jpg
│ │ │ │ style4-green.jpg
│ │ │ │ style4-red-2.jpg
│ │ │ │ style4-red-3.jpg
│ │ │ │ style4-red-4.jpg
│ │ │ │ style4-red-5.jpg
│ │ │ │ style4-red-6.jpg
│ │ │ │ style4-red.jpg
│ │ │ │ style4-yellow-2.jpg
│ │ │ │ style4-yellow-3.jpg
│ │ │ │ style4-yellow-4.jpg
│ │ │ │ style4-yellow-5.jpg
│ │ │ │ style4-yellow-6.jpg
│ │ │ │ style4-yellow.jpg
│ │ │ │ style5-dark-2.jpg
│ │ │ │ style5-dark-3.jpg
│ │ │ │ style5-dark-4.jpg
│ │ │ │ style5-dark-5.jpg
│ │ │ │ style5-dark-6.jpg
│ │ │ │ style5-dark.jpg
│ │ │ │ style5-gray-2.jpg
│ │ │ │ style5-gray-3.jpg
│ │ │ │ style5-gray-4.jpg
│ │ │ │ style5-gray-5.jpg
│ │ │ │ style5-gray-6.jpg
│ │ │ │ style5-gray.jpg
│ │ │ │ style6-yellow-2.jpg
│ │ │ │ style6-yellow-3.jpg
│ │ │ │ style6-yellow-4.jpg
│ │ │ │ style6-yellow-5.jpg
│ │ │ │ style6-yellow-6.jpg
│ │ │ │ style6-yellow.jpg
│ │ │ ├─PNG
│ │ │ │ .DS_Store
│ │ │ │ style1-black-2.png
│ │ │ │ style1-black-3.png
│ │ │ │ style1-black-4.png
│ │ │ │ style1-black-5.png
│ │ │ │ style1-black-6.png
│ │ │ │ style1-black.png
│ │ │ │ style1-blue-2.png
│ │ │ │ style1-blue-3.png
│ │ │ │ style1-blue-4.png
│ │ │ │ style1-blue-5.png
│ │ │ │ style1-blue-6.png
│ │ │ │ style1-blue.png
│ │ │ │ style1-gray-2.png
│ │ │ │ style1-gray-3.png
│ │ │ │ style1-gray-4.png
│ │ │ │ style1-gray-5.png
│ │ │ │ style1-gray-6.png
│ │ │ │ style1-green-2.png
│ │ │ │ style1-green-3.png
│ │ │ │ style1-green-4.png
│ │ │ │ style1-green-5.png
│ │ │ │ style1-green-6.png
│ │ │ │ style1-green.png
│ │ │ │ style1-grey.png
│ │ │ │ style1-red-2.png
│ │ │ │ style1-red-3.png
│ │ │ │ style1-red-4.png
│ │ │ │ style1-red-5.png
│ │ │ │ style1-red-6.png
│ │ │ │ style1-red.png
│ │ │ │ style1-yellow-2.png
│ │ │ │ style1-yellow-3.png
│ │ │ │ style1-yellow-4.png
│ │ │ │ style1-yellow-5.png
│ │ │ │ style1-yellow-6.png
│ │ │ │ style1-yellow.png
│ │ │ │ style2-black-2.png
│ │ │ │ style2-black-3.png
│ │ │ │ style2-black-4.png
│ │ │ │ style2-black-5.png
│ │ │ │ style2-black-6.png
│ │ │ │ style2-black.png
│ │ │ │ style2-blue-2.png
│ │ │ │ style2-blue-3.png
│ │ │ │ style2-blue-4.png
│ │ │ │ style2-blue-5.png
│ │ │ │ style2-blue-6.png
│ │ │ │ style2-blue.png
│ │ │ │ style2-gray-2.png
│ │ │ │ style2-gray-3.png
│ │ │ │ style2-gray-4.png
│ │ │ │ style2-gray-5.png
│ │ │ │ style2-gray-6.png
│ │ │ │ style2-green-2.png
│ │ │ │ style2-green-3.png
│ │ │ │ style2-green-4.png
│ │ │ │ style2-green-5.png
│ │ │ │ style2-green-6.png
│ │ │ │ style2-green.png
│ │ │ │ style2-grey.png
│ │ │ │ style2-red-2.png
│ │ │ │ style2-red-3.png
│ │ │ │ style2-red-4.png
│ │ │ │ style2-red-5.png
│ │ │ │ style2-red-6.png
│ │ │ │ style2-red.png
│ │ │ │ style2-yellow-2.png
│ │ │ │ style2-yellow-3.png
│ │ │ │ style2-yellow-4.png
│ │ │ │ style2-yellow-5.png
│ │ │ │ style2-yellow-6.png
│ │ │ │ style2-yellow.png
│ │ │ │ style3-black-2.png
│ │ │ │ style3-black-3.png
│ │ │ │ style3-black-4.png
│ │ │ │ style3-black-5.png
│ │ │ │ style3-black-6.png
│ │ │ │ style3-black.png
│ │ │ │ style3-blue-2.png
│ │ │ │ style3-blue-3.png
│ │ │ │ style3-blue-4.png
│ │ │ │ style3-blue-5.png
│ │ │ │ style3-blue-6.png
│ │ │ │ style3-blue.png
│ │ │ │ style3-gray-2.png
│ │ │ │ style3-gray-3.png
│ │ │ │ style3-gray-4.png
│ │ │ │ style3-gray-5.png
│ │ │ │ style3-gray-6.png
│ │ │ │ style3-green-2.png
│ │ │ │ style3-green-3.png
│ │ │ │ style3-green-4.png
│ │ │ │ style3-green-5.png
│ │ │ │ style3-green-6.png
│ │ │ │ style3-green.png
│ │ │ │ style3-grey.png
│ │ │ │ style3-red-2.png
│ │ │ │ style3-red-3.png
│ │ │ │ style3-red-4.png
│ │ │ │ style3-red-5.png
│ │ │ │ style3-red-6.png
│ │ │ │ style3-red.png
│ │ │ │ style3-yellow-2.png
│ │ │ │ style3-yellow-3.png
│ │ │ │ style3-yellow-4.png
│ │ │ │ style3-yellow-5.png
│ │ │ │ style3-yellow-6.png
│ │ │ │ style3-yellow.png
│ │ │ │ style4-black-2.png
│ │ │ │ style4-black-3.png
│ │ │ │ style4-black-4.png
│ │ │ │ style4-black-5.png
│ │ │ │ style4-black-6.png
│ │ │ │ style4-black.png
│ │ │ │ style4-blue-2.png
│ │ │ │ style4-blue-3.png
│ │ │ │ style4-blue-4.png
│ │ │ │ style4-blue-5.png
│ │ │ │ style4-blue-6.png
│ │ │ │ style4-blue.png
│ │ │ │ style4-gray-2.png
│ │ │ │ style4-gray-3.png
│ │ │ │ style4-gray-4.png
│ │ │ │ style4-gray-5.png
│ │ │ │ style4-gray-6.png
│ │ │ │ style4-gray.png
│ │ │ │ style4-green-2.png
│ │ │ │ style4-green-3.png
│ │ │ │ style4-green-4.png
│ │ │ │ style4-green-5.png
│ │ │ │ style4-green-6.png
│ │ │ │ style4-green.png
│ │ │ │ style4-red-2.png
│ │ │ │ style4-red-3.png
│ │ │ │ style4-red-4.png
│ │ │ │ style4-red-5.png
│ │ │ │ style4-red-6.png
│ │ │ │ style4-red.png
│ │ │ │ style4-yellow-2.png
│ │ │ │ style4-yellow-3.png
│ │ │ │ style4-yellow-4.png
│ │ │ │ style4-yellow-5.png
│ │ │ │ style4-yellow-6.png
│ │ │ │ style4-yellow.png
│ │ │ │ style5-dark-2.png
│ │ │ │ style5-dark-3.png
│ │ │ │ style5-dark-4.png
│ │ │ │ style5-dark-5.png
│ │ │ │ style5-dark-6.png
│ │ │ │ style5-dark.png
│ │ │ │ style5-gray-2.png
│ │ │ │ style5-gray-3.png
│ │ │ │ style5-gray-4.png
│ │ │ │ style5-gray-5.png
│ │ │ │ style5-gray-6.png
│ │ │ │ style5-gray.png
│ │ │ │ style6-yellow-2.png
│ │ │ │ style6-yellow-3.png
│ │ │ │ style6-yellow-4.png
│ │ │ │ style6-yellow-5.png
│ │ │ │ style6-yellow-6.png
│ │ │ │ style6-yellow.png
│ │ │ └─PSD
│ │ │ .DS_Store
│ │ │ style1.psd
│ │ │ style2.psd
│ │ │ style3.psd
│ │ │ style4.psd
│ │ │ style5.psd
│ │ │ style6.psd
│ │ ├─Web Notifications
│ │ │ │ .DS_Store
│ │ │ ├─JPG
│ │ │ │ attention.jpg
│ │ │ │ error.jpg
│ │ │ │ failed.jpg
│ │ │ │ info.jpg
│ │ │ │ information.jpg
│ │ │ │ ok.jpg
│ │ │ │ success.jpg
│ │ │ │ warning.jpg
│ │ │ ├─PNG
│ │ │ │ .DS_Store
│ │ │ │ attention.png
│ │ │ │ error.png
│ │ │ │ failed.png
│ │ │ │ info.png
│ │ │ │ information.png
│ │ │ │ ok.png
│ │ │ │ success.png
│ │ │ │ warning.png
│ │ │ └─PSD
│ │ │ notifications.psd
│ │ └─__MACOSX
│ │ ├─Apple Mockups
│ │ │ │ ._.DS_Store
│ │ │ │ │ ├─JPG
│ │ │ │ ._imac_midi.jpg
│ │ │ │ ._imac_mini.jpg
│ │ │ │ ._ipad_horizontal_maxi_black.jpg
│ │ │ │ ._ipad_horizontal_maxi_white.jpg
│ │ │ │ ._ipad_horizontal_midi_black.jpg
│ │ │ │ ._ipad_horizontal_midi_white.jpg
│ │ │ │ ._ipad_horizontal_mini_black.jpg
│ │ │ │ ._ipad_horizontal_mini_white.jpg
│ │ │ │ ._ipad_vertical_maxi_black.jpg
│ │ │ │ ._ipad_vertical_maxi_white.jpg
│ │ │ │ ._ipad_vertical_midi_black.jpg
│ │ │ │ ._ipad_vertical_midi_white.jpg
│ │ │ │ ._ipad_vertical_mini_black.jpg
│ │ │ │ ._ipad_vertical_mini_white.jpg
│ │ │ │ ._macbookair_midi.jpg
│ │ │ │ ._macbookair_mini.jpg
│ │ │ │ ._safari_maxi.jpg
│ │ │ │ ._safari_midi.jpg
│ │ │ │ ._safari_mini.jpg
│ │ │ │ │ ├─PNG
│ │ │ │ ._imac_midi.png
│ │ │ │ ._imac_mini.png
│ │ │ │ ._ipad_horizontal_maxi_black.png
│ │ │ │ ._ipad_horizontal_maxi_white.png
│ │ │ │ ._ipad_horizontal_midi_black.png
│ │ │ │ ._ipad_horizontal_midi_white.png
│ │ │ │ ._ipad_horizontal_mini_black.png
│ │ │ │ ._ipad_horizontal_mini_white.png
│ │ │ │ ._ipad_vertical_maxi_black.png
│ │ │ │ ._ipad_vertical_maxi_white.png
│ │ │ │ ._ipad_vertical_midi_black.png
│ │ │ │ ._ipad_vertical_midi_white.png
│ │ │ │ ._ipad_vertical_mini_black.png
│ │ │ │ ._ipad_vertical_mini_white.png
│ │ │ │ ._macbookair_midi.png
│ │ │ │ ._macbookair_mini.png
│ │ │ │ ._safari_maxi.png
│ │ │ │ ._safari_midi.png
│ │ │ │ ._safari_mini.png
│ │ │ │ │ └─PSD
│ │ │ ._imac.psd
│ │ │ ._ipad.psd
│ │ │ ._macbook_air.psd
│ │ │ ._safari.psd
│ │ │ │ ├─Arrows
│ │ │ │ ._.DS_Store
│ │ │ │ │ ├─JPG
│ │ │ │ ._.DS_Store
│ │ │ │ ._style10_arrow1.jpg
│ │ │ │ ._style10_arrow2.jpg
│ │ │ │ ._style10_arrow3.jpg
│ │ │ │ ._style10_arrow4.jpg
│ │ │ │ ._style1_arrow1.jpg
│ │ │ │ ._style1_arrow2.jpg
│ │ │ │ ._style1_arrow3.jpg
│ │ │ │ ._style1_arrow4.jpg
│ │ │ │ ._style2_arrow1.jpg
│ │ │ │ ._style2_arrow2.jpg
│ │ │ │ ._style2_arrow3.jpg
│ │ │ │ ._style2_arrow4.jpg
│ │ │ │ ._style3_arrow1.jpg
│ │ │ │ ._style3_arrow2.jpg
│ │ │ │ ._style3_arrow3.jpg
│ │ │ │ ._style3_arrow4.jpg
│ │ │ │ ._style4_arrow1.jpg
│ │ │ │ ._style4_arrow2.jpg
│ │ │ │ ._style4_arrow3.jpg
│ │ │ │ ._style4_arrow4.jpg
│ │ │ │ ._style5_arrow1.jpg
│ │ │ │ ._style5_arrow2.jpg
│ │ │ │ ._style5_arrow3.jpg
│ │ │ │ ._style5_arrow4.jpg
│ │ │ │ ._style6_arrow1.jpg
│ │ │ │ ._style6_arrow2.jpg
│ │ │ │ ._style6_arrow3.jpg
│ │ │ │ ._style6_arrow4.jpg
│ │ │ │ ._style7_arrow1.jpg
│ │ │ │ ._style7_arrow2.jpg
│ │ │ │ ._style7_arrow3.jpg
│ │ │ │ ._style7_arrow4.jpg
│ │ │ │ ._style8_arrow1.jpg
│ │ │ │ ._style8_arrow2.jpg
│ │ │ │ ._style8_arrow3.jpg
│ │ │ │ ._style8_arrow4.jpg
│ │ │ │ ._style9_arrow1.jpg
│ │ │ │ ._style9_arrow2.jpg
│ │ │ │ ._style9_arrow3.jpg
│ │ │ │ ._style9_arrow4.jpg
│ │ │ │ │ ├─PNG
│ │ │ │ ._.DS_Store
│ │ │ │ ._style10_arrow1.png
│ │ │ │ ._style10_arrow2.png
│ │ │ │ ._style10_arrow3.png
│ │ │ │ ._style10_arrow4.png
│ │ │ │ ._style1_arrow1.png
│ │ │ │ ._style1_arrow2.png
│ │ │ │ ._style1_arrow3.png
│ │ │ │ ._style1_arrow4.png
│ │ │ │ ._style2_arrow1.png
│ │ │ │ ._style2_arrow2.png
│ │ │ │ ._style2_arrow3.png
│ │ │ │ ._style2_arrow4.png
│ │ │ │ ._style3_arrow1.png
│ │ │ │ ._style3_arrow2.png
│ │ │ │ ._style3_arrow3.png
│ │ │ │ ._style3_arrow4.png
│ │ │ │ ._style4_arrow1.png
│ │ │ │ ._style4_arrow2.png
│ │ │ │ ._style4_arrow3.png
│ │ │ │ ._style4_arrow4.png
│ │ │ │ ._style5_arrow1.png
│ │ │ │ ._style5_arrow2.png
│ │ │ │ ._style5_arrow3.png
│ │ │ │ ._style5_arrow4.png
│ │ │ │ ._style6_arrow1.png
│ │ │ │ ._style6_arrow2.png
│ │ │ │ ._style6_arrow3.png
│ │ │ │ ._style6_arrow4.png
│ │ │ │ ._style7_arrow1.png
│ │ │ │ ._style7_arrow2.png
│ │ │ │ ._style7_arrow3.png
│ │ │ │ ._style7_arrow4.png
│ │ │ │ ._style8_arrow1.png
│ │ │ │ ._style8_arrow2.png
│ │ │ │ ._style8_arrow3.png
│ │ │ │ ._style8_arrow4.png
│ │ │ │ ._style9_arrow1.png
│ │ │ │ ._style9_arrow2.png
│ │ │ │ ._style9_arrow3.png
│ │ │ │ ._style9_arrow4.png
│ │ │ │ │ └─PSD
│ │ │ ._.DS_Store
│ │ │ ._arrows.psd
│ │ │ │ ├─Attention Banners
│ │ │ │ ._.DS_Store
│ │ │ │ │ ├─JPG
│ │ │ │ ._banner1.jpg
│ │ │ │ ._banner2.jpg
│ │ │ │ ._banner3.jpg
│ │ │ │ ._banner4.jpg
│ │ │ │ ._banner5.jpg
│ │ │ │ ._banner6.jpg
│ │ │ │ ._banner7.jpg
│ │ │ │ ._banner8.jpg
│ │ │ │ │ ├─PNG
│ │ │ │ ._banner1.png
│ │ │ │ ._banner2.png
│ │ │ │ ._banner3.png
│ │ │ │ ._banner4.png
│ │ │ │ ._banner5.png
│ │ │ │ ._banner6.png
│ │ │ │ ._banner7.png
│ │ │ │ ._banner8.png
│ │ │ │ │ └─PSD
│ │ │ ._banners.psd
│ │ │ │ ├─Banners
│ │ │ │ ._.DS_Store
│ │ │ │ │ └─PSD
│ │ │ ._banners.psd
│ │ │ │ ├─Belcher Button
│ │ │ │ ._.DS_Store
│ │ │ │ │ └─PSD
│ │ │ ._style1.psd
│ │ │ ._style2.psd
│ │ │ │ ├─Bonus Headlines
│ │ │ │ ._.DS_Store
│ │ │ │ │ ├─JPG
│ │ │ │ ._style1_bonus.jpg
│ │ │ │ ._style1_bonus1.jpg
│ │ │ │ ._style1_bonus2.jpg
│ │ │ │ ._style1_bonus3.jpg
│ │ │ │ ._style1_bonus4.jpg
│ │ │ │ ._style1_bonus5.jpg
│ │ │ │ ._style2_bonus.jpg
│ │ │ │ ._style2_bonus1.jpg
│ │ │ │ ._style2_bonus2.jpg
│ │ │ │ ._style2_bonus3.jpg
│ │ │ │ ._style2_bonus4.jpg
│ │ │ │ ._style2_bonus5.jpg
│ │ │ │ ._style3_bonus.jpg
│ │ │ │ ._style3_bonus1.jpg
│ │ │ │ ._style3_bonus2.jpg
│ │ │ │ ._style3_bonus3.jpg
│ │ │ │ ._style3_bonus4.jpg
│ │ │ │ ._style3_bonus5.jpg
│ │ │ │ ._style4_bonus.jpg
│ │ │ │ ._style4_bonus1.jpg
│ │ │ │ ._style4_bonus2.jpg
│ │ │ │ ._style4_bonus3.jpg
│ │ │ │ ._style4_bonus4.jpg
│ │ │ │ ._style4_bonus5.jpg
│ │ │ │ ._style5_bonus.jpg
│ │ │ │ ._style5_bonus1.jpg
│ │ │ │ ._style5_bonus2.jpg
│ │ │ │ ._style5_bonus3.jpg
│ │ │ │ ._style5_bonus4.jpg
│ │ │ │ ._style5_bonus5.jpg
│ │ │ │ │ ├─PNG
│ │ │ │ ._.DS_Store
│ │ │ │ ._style1_bonus.png
│ │ │ │ ._style1_bonus1.png
│ │ │ │ ._style1_bonus2.png
│ │ │ │ ._style1_bonus3.png
│ │ │ │ ._style1_bonus4.png
│ │ │ │ ._style1_bonus5.png
│ │ │ │ ._style2_bonus.png
│ │ │ │ ._style2_bonus1.png
│ │ │ │ ._style2_bonus2.png
│ │ │ │ ._style2_bonus3.png
│ │ │ │ ._style2_bonus4.png
│ │ │ │ ._style2_bonus5.png
│ │ │ │ ._style3_bonus.png
│ │ │ │ ._style3_bonus1.png
│ │ │ │ ._style3_bonus2.png
│ │ │ │ ._style3_bonus3.png
│ │ │ │ ._style3_bonus4.png
│ │ │ │ ._style3_bonus5.png
│ │ │ │ ._style4_bonus.png
│ │ │ │ ._style4_bonus1.png
│ │ │ │ ._style4_bonus2.png
│ │ │ │ ._style4_bonus3.png
│ │ │ │ ._style4_bonus4.png
│ │ │ │ ._style4_bonus5.png
│ │ │ │ ._style5_bonus.png
│ │ │ │ ._style5_bonus1.png
│ │ │ │ ._style5_bonus2.png
│ │ │ │ ._style5_bonus3.png
│ │ │ │ ._style5_bonus4.png
│ │ │ │ ._style5_bonus5.png
│ │ │ │ │ └─PSD
│ │ │ ._bonus.psd
│ │ │ │ ├─Box Shadows
│ │ │ │ ._.DS_Store
│ │ │ │ │ ├─JPG
│ │ │ │ ._shadow1.jpg
│ │ │ │ ._shadow10.jpg
│ │ │ │ ._shadow2.jpg
│ │ │ │ ._shadow3.jpg
│ │ │ │ ._shadow4.jpg
│ │ │ │ ._shadow5.jpg
│ │ │ │ ._shadow6.jpg
│ │ │ │ ._shadow7.jpg
│ │ │ │ ._shadow8.jpg
│ │ │ │ ._shadow9.jpg
│ │ │ │ │ ├─PNG
│ │ │ │ ._shadow1.png
│ │ │ │ ._shadow10.png
│ │ │ │ ._shadow2.png
│ │ │ │ ._shadow3.png
│ │ │ │ ._shadow4.png
│ │ │ │ ._shadow5.png
│ │ │ │ ._shadow6.png
│ │ │ │ ._shadow7.png
│ │ │ │ ._shadow8.png
│ │ │ │ ._shadow9.png
│ │ │ │ │ └─PSD
│ │ │ ._shadows.psd
│ │ │ │ ├─Bullets
│ │ │ │ ._.DS_Store
│ │ │ │ │ ├─JPG
│ │ │ │ ._style1_bullet1.jpg
│ │ │ │ ._style1_bullet2.jpg
│ │ │ │ ._style1_bullet3.jpg
│ │ │ │ ._style1_bullet4.jpg
│ │ │ │ ._style1_bullet5.jpg
│ │ │ │ ._style2_bullet1.jpg
│ │ │ │ ._style2_bullet2.jpg
│ │ │ │ ._style2_bullet3.jpg
│ │ │ │ ._style2_bullet4.jpg
│ │ │ │ ._style2_bullet5.jpg
│ │ │ │ ._style3_bullet1.jpg
│ │ │ │ ._style3_bullet2.jpg
│ │ │ │ ._style3_bullet3.jpg
│ │ │ │ ._style3_bullet4.jpg
│ │ │ │ ._style3_bullet5.jpg
│ │ │ │ ._style4_bullet1.jpg
│ │ │ │ ._style4_bullet2.jpg
│ │ │ │ ._style4_bullet3.jpg
│ │ │ │ ._style4_bullet4.jpg
│ │ │ │ ._style4_bullet5.jpg
│ │ │ │ ._style5_bullet1.jpg
│ │ │ │ ._style5_bullet2.jpg
│ │ │ │ ._style5_bullet3.jpg
│ │ │ │ ._style5_bullet4.jpg
│ │ │ │ ._style5_bullet5.jpg
│ │ │ │ ._style6_bullet1.jpg
│ │ │ │ ._style6_bullet2.jpg
│ │ │ │ ._style6_bullet3.jpg
│ │ │ │ ._style6_bullet4.jpg
│ │ │ │ ._style6_bullet5.jpg
│ │ │ │ ._style7_bullet1.jpg
│ │ │ │ ._style7_bullet2.jpg
│ │ │ │ ._style7_bullet3.jpg
│ │ │ │ ._style7_bullet4.jpg
│ │ │ │ ._style7_bullet5.jpg
│ │ │ │ ._style8_bullet1.jpg
│ │ │ │ ._style8_bullet2.jpg
│ │ │ │ ._style8_bullet3.jpg
│ │ │ │ ._style8_bullet4.jpg
│ │ │ │ ._style8_bullet5.jpg
│ │ │ │ ._style9_bullet1.jpg
│ │ │ │ ._style9_bullet2.jpg
│ │ │ │ ._style9_bullet3.jpg
│ │ │ │ ._style9_bullet4.jpg
│ │ │ │ ._style9_bullet5.jpg
│ │ │ │ │ ├─PNG
│ │ │ │ ._style1_bullet1.png
│ │ │ │ ._style1_bullet2.png
│ │ │ │ ._style1_bullet3.png
│ │ │ │ ._style1_bullet4.png
│ │ │ │ ._style1_bullet5.png
│ │ │ │ ._style2_bullet1.png
│ │ │ │ ._style2_bullet2.png
│ │ │ │ ._style2_bullet3.png
│ │ │ │ ._style2_bullet4.png
│ │ │ │ ._style2_bullet5.png
│ │ │ │ ._style3_bullet1.png
│ │ │ │ ._style3_bullet2.png
│ │ │ │ ._style3_bullet3.png
│ │ │ │ ._style3_bullet4.psd
│ │ │ │ ._style3_bullet5.png
│ │ │ │ ._style4_bullet1.png
│ │ │ │ ._style4_bullet2.png
│ │ │ │ ._style4_bullet3.png
│ │ │ │ ._style4_bullet4.png
│ │ │ │ ._style4_bullet5.png
│ │ │ │ ._style5_bullet1.png
│ │ │ │ ._style5_bullet2.png
│ │ │ │ ._style5_bullet3.png
│ │ │ │ ._style5_bullet4.png
│ │ │ │ ._style5_bullet5.png
│ │ │ │ ._style6_bullet1.png
│ │ │ │ ._style6_bullet2.png
│ │ │ │ ._style6_bullet3.png
│ │ │ │ ._style6_bullet4.png
│ │ │ │ ._style6_bullet5.png
│ │ │ │ ._style7_bullet1.png
│ │ │ │ ._style7_bullet2.png
│ │ │ │ ._style7_bullet3.png
│ │ │ │ ._style7_bullet4.png
│ │ │ │ ._style7_bullet5.png
│ │ │ │ ._style8_bullet1.png
│ │ │ │ ._style8_bullet2.png
│ │ │ │ ._style8_bullet3.png
│ │ │ │ ._style8_bullet4.png
│ │ │ │ ._style8_bullet5.png
│ │ │ │ ._style9_bullet1.png
│ │ │ │ ._style9_bullet2.png
│ │ │ │ ._style9_bullet3.png
│ │ │ │ ._style9_bullet4.png
│ │ │ │ ._style9_bullet5.png
│ │ │ │ │ └─PSD
│ │ │ ._.DS_Store
│ │ │ ._bullets.psd
│ │ │ │ ├─Dividers
│ │ │ │ ._.DS_Store
│ │ │ │ │ ├─JPG
│ │ │ │ ._dashed-300px-1px.jpg
│ │ │ │ ._dashed-300px-2px.jpg
│ │ │ │ ._dashed-500px-1px.jpg
│ │ │ │ ._dashed-500px-2px.jpg
│ │ │ │ ._dashed-700px-1px.jpg
│ │ │ │ ._dashed-700px-2px.jpg
│ │ │ │ ._style1-300px.jpg
│ │ │ │ ._style1-500px.jpg
│ │ │ │ ._style1-700px.jpg
│ │ │ │ ._style2-300px.jpg
│ │ │ │ ._style2-500px.jpg
│ │ │ │ ._style2-700px.jpg
│ │ │ │ ._style3-300px.jpg
│ │ │ │ ._style3-500px.jpg
│ │ │ │ ._style3-700px.jpg
│ │ │ │ │ ├─PNG
│ │ │ │ ._dashed-300px-1px.png
│ │ │ │ ._dashed-300px-2px.png
│ │ │ │ ._dashed-500px-1px.png
│ │ │ │ ._dashed-500px-2px.png
│ │ │ │ ._dashed-700px-1px.png
│ │ │ │ ._dashed-700px-2px.png
│ │ │ │ ._style1-300px.png
│ │ │ │ ._style1-500px.png
│ │ │ │ ._style1-700px.png
│ │ │ │ ._style2-300px.png
│ │ │ │ ._style2-500px.png
│ │ │ │ ._style2-700px.png
│ │ │ │ ._style3-300px.png
│ │ │ │ ._style3-500px.png
│ │ │ │ ._style3-700px.png
│ │ │ │ │ └─PSD
│ │ │ ._dashed.psd
│ │ │ ._style1.psd
│ │ │ ._style2.psd
│ │ │ ._style3.psd
│ │ │ │ ├─Hand Drawn Arrows
│ │ │ │ ._.DS_Store
│ │ │ │ │ ├─JPG
│ │ │ │ ._style1-arrow1.jpg
│ │ │ │ ._style1-arrow2.jpg
│ │ │ │ ._style1-arrow3.jpg
│ │ │ │ ._style1-arrow4.jpg
│ │ │ │ ._style1-arrow5.jpg
│ │ │ │ ._style1-arrow6.jpg
│ │ │ │ ._style1-arrow7.jpg
│ │ │ │ ._style1-arrow8.jpg
│ │ │ │ ._style2-arrow1.jpg
│ │ │ │ ._style2-arrow2.jpg
│ │ │ │ ._style2-arrow3.jpg
│ │ │ │ ._style2-arrow4.jpg
│ │ │ │ ._style2-arrow5.jpg
│ │ │ │ ._style2-arrow6.jpg
│ │ │ │ ._style2-arrow7.jpg
│ │ │ │ ._style2-arrow8.jpg
│ │ │ │ ._style3-arrow1.jpg
│ │ │ │ ._style3-arrow2.jpg
│ │ │ │ ._style3-arrow3.jpg
│ │ │ │ ._style3-arrow4.jpg
│ │ │ │ ._style3-arrow5.jpg
│ │ │ │ ._style3-arrow6.jpg
│ │ │ │ ._style3-arrow7.jpg
│ │ │ │ ._style3-arrow8.jpg
│ │ │ │ ._style4-arrow1.jpg
│ │ │ │ ._style4-arrow2.jpg
│ │ │ │ ._style4-arrow3.jpg
│ │ │ │ ._style4-arrow4.jpg
│ │ │ │ ._style5-arrow1.jpg
│ │ │ │ ._style5-arrow2.jpg
│ │ │ │ ._style5-arrow3.jpg
│ │ │ │ ._style5-arrow4.jpg
│ │ │ │ ._style5-arrow5.jpg
│ │ │ │ ._style5-arrow6.jpg
│ │ │ │ ._style5-arrow7.jpg
│ │ │ │ ._style5-arrow8.jpg
│ │ │ │ ._style6-arrow1.jpg
│ │ │ │ ._style6-arrow2.jpg
│ │ │ │ ._style6-arrow3.jpg
│ │ │ │ ._style6-arrow4.jpg
│ │ │ │ ._style6-arrow5.jpg
│ │ │ │ ._style6-arrow6.jpg
│ │ │ │ ._style6-arrow7.jpg
│ │ │ │ ._style6-arrow8.jpg
│ │ │ │ ._style7-arrow1.jpg
│ │ │ │ ._style7-arrow2.jpg
│ │ │ │ ._style7-arrow3.jpg
│ │ │ │ ._style7-arrow4.jpg
│ │ │ │ ._style7-arrow5.jpg
│ │ │ │ ._style7-arrow6.jpg
│ │ │ │ ._style7-arrow7.jpg
│ │ │ │ ._style7-arrow8.jpg
│ │ │ │ │ ├─PNG
│ │ │ │ ._style1-arrow1.png
│ │ │ │ ._style1-arrow2.png
│ │ │ │ ._style1-arrow3.png
│ │ │ │ ._style1-arrow4.png
│ │ │ │ ._style1-arrow5.png
│ │ │ │ ._style1-arrow6.png
│ │ │ │ ._style1-arrow7.png
│ │ │ │ ._style1-arrow8.png
│ │ │ │ ._style2-arrow1.png
│ │ │ │ ._style2-arrow2.png
│ │ │ │ ._style2-arrow3.png
│ │ │ │ ._style2-arrow4.png
│ │ │ │ ._style2-arrow5.png
│ │ │ │ ._style2-arrow6.png
│ │ │ │ ._style2-arrow7.png
│ │ │ │ ._style2-arrow8.png
│ │ │ │ ._style3-arrow1.png
│ │ │ │ ._style3-arrow2.png
│ │ │ │ ._style3-arrow3.png
│ │ │ │ ._style3-arrow4.png
│ │ │ │ ._style3-arrow5.png
│ │ │ │ ._style3-arrow6.png
│ │ │ │ ._style3-arrow7.png
│ │ │ │ ._style3-arrow8.png
│ │ │ │ ._style4-arrow1.png
│ │ │ │ ._style4-arrow2.png
│ │ │ │ ._style4-arrow3.png
│ │ │ │ ._style4-arrow4.png
│ │ │ │ ._style5-arrow1.png
│ │ │ │ ._style5-arrow2.png
│ │ │ │ ._style5-arrow3.png
│ │ │ │ ._style5-arrow4.png
│ │ │ │ ._style5-arrow5.png
│ │ │ │ ._style5-arrow6.png
│ │ │ │ ._style5-arrow7.png
│ │ │ │ ._style5-arrow8.png
│ │ │ │ ._style6-arrow1.png
│ │ │ │ ._style6-arrow2.png
│ │ │ │ ._style6-arrow3.png
│ │ │ │ ._style6-arrow4.png
│ │ │ │ ._style6-arrow5.png
│ │ │ │ ._style6-arrow6.png
│ │ │ │ ._style6-arrow7.png
│ │ │ │ ._style6-arrow8.png
│ │ │ │ ._style7-arrow1.png
│ │ │ │ ._style7-arrow2.png
│ │ │ │ ._style7-arrow3.png
│ │ │ │ ._style7-arrow4.png
│ │ │ │ ._style7-arrow5.png
│ │ │ │ ._style7-arrow6.png
│ │ │ │ ._style7-arrow7.png
│ │ │ │ ._style7-arrow8.png
│ │ │ │ │ └─PSD
│ │ │ ._arrows.psd
│ │ │ │ ├─Hand Drawn Boxes and Brackets
│ │ │ │ ._.DS_Store
│ │ │ │ │ ├─JPG
│ │ │ │ ._box1.jpg
│ │ │ │ ._box2.jpg
│ │ │ │ ._box3.jpg
│ │ │ │ ._box4.jpg
│ │ │ │ ._box5.jpg
│ │ │ │ ._box6.jpg
│ │ │ │ ._bracket1-bracket1.jpg
│ │ │ │ ._bracket1-bracket2.jpg
│ │ │ │ ._bracket2-bracket1.jpg
│ │ │ │ ._bracket2-bracket2.jpg
│ │ │ │ ._bracket3-bracket1.jpg
│ │ │ │ ._bracket3-bracket2.jpg
│ │ │ │ ._bracket4-bracket1.jpg
│ │ │ │ ._bracket4-bracket2.jpg
│ │ │ │ │ ├─PNG
│ │ │ │ ._box1.png
│ │ │ │ ._box2.png
│ │ │ │ ._box3.png
│ │ │ │ ._box4.png
│ │ │ │ ._box5.png
│ │ │ │ ._box6.png
│ │ │ │ ._bracket1-bracket1.png
│ │ │ │ ._bracket1-bracket2.png
│ │ │ │ ._bracket2-bracket1.png
│ │ │ │ ._bracket2-bracket2.png
│ │ │ │ ._bracket3-bracket1.png
│ │ │ │ ._bracket3-bracket2.png
│ │ │ │ ._bracket4-bracket1.png
│ │ │ │ ._bracket4-bracket2.png
│ │ │ │ │ └─PSD
│ │ │ ._boxes-and-brackets.psd
│ │ │ │ ├─Hand Drawn Bullets and Pointers
│ │ │ │ ._.DS_Store
│ │ │ │ │ ├─JPG
│ │ │ │ ._bigdot.jpg
│ │ │ │ ._check1.jpg
│ │ │ │ ._check2.jpg
│ │ │ │ ._check3.jpg
│ │ │ │ ._cross1.jpg
│ │ │ │ ._cross2.jpg
│ │ │ │ ._cross3.jpg
│ │ │ │ ._cross4.jpg
│ │ │ │ ._dot.jpg
│ │ │ │ ._flake.jpg
│ │ │ │ ._minus1.jpg
│ │ │ │ ._minus2.jpg
│ │ │ │ ._minus3.jpg
│ │ │ │ ._plus1.jpg
│ │ │ │ ._plus2.jpg
│ │ │ │ ._side1.jpg
│ │ │ │ ._side2.jpg
│ │ │ │ ._side3.jpg
│ │ │ │ ._star1.jpg
│ │ │ │ ._star2.jpg
│ │ │ │ │ ├─PNG
│ │ │ │ ._bigdot.png
│ │ │ │ ._check1.png
│ │ │ │ ._check2.png
│ │ │ │ ._check3.png
│ │ │ │ ._cross1.png
│ │ │ │ ._cross2.png
│ │ │ │ ._cross3.png
│ │ │ │ ._cross4.png
│ │ │ │ ._dot.png
│ │ │ │ ._flake.png
│ │ │ │ ._minus1.png
│ │ │ │ ._minus2.png
│ │ │ │ ._minus3.png
│ │ │ │ ._plus1.png
│ │ │ │ ._plus2.png
│ │ │ │ ._side1.png
│ │ │ │ ._side2.png
│ │ │ │ ._side3.png
│ │ │ │ ._star1.png
│ │ │ │ ._star2.png
│ │ │ │ │ └─PSD
│ │ │ ._bullets.psd
│ │ │ │ ├─Hand Drawn Circles and Bubbles
│ │ │ │ ._.DS_Store
│ │ │ │ │ ├─JPG
│ │ │ │ ._circle-1.jpg
│ │ │ │ ._circle-10.jpg
│ │ │ │ ._circle-11.jpg
│ │ │ │ ._circle-12.jpg
│ │ │ │ ._circle-13.jpg
│ │ │ │ ._circle-14.jpg
│ │ │ │ ._circle-15.jpg
│ │ │ │ ._circle-16.jpg
│ │ │ │ ._circle-17.jpg
│ │ │ │ ._circle-18.jpg
│ │ │ │ ._circle-19.jpg
│ │ │ │ ._circle-2.jpg
│ │ │ │ ._circle-20.jpg
│ │ │ │ ._circle-3.jpg
│ │ │ │ ._circle-4.jpg
│ │ │ │ ._circle-5.jpg
│ │ │ │ ._circle-6.jpg
│ │ │ │ ._circle-7.jpg
│ │ │ │ ._circle-8.jpg
│ │ │ │ ._circle-9.jpg
│ │ │ │ │ ├─PNG
│ │ │ │ ._circle-1.png
│ │ │ │ ._circle-10.png
│ │ │ │ ._circle-11.png
│ │ │ │ ._circle-12.png
│ │ │ │ ._circle-13.png
│ │ │ │ ._circle-14.png
│ │ │ │ ._circle-15.png
│ │ │ │ ._circle-16.png
│ │ │ │ ._circle-17.png
│ │ │ │ ._circle-18.png
│ │ │ │ ._circle-19.png
│ │ │ │ ._circle-2.png
│ │ │ │ ._circle-20.png
│ │ │ │ ._circle-3.png
│ │ │ │ ._circle-4.png
│ │ │ │ ._circle-5.png
│ │ │ │ ._circle-6.png
│ │ │ │ ._circle-7.png
│ │ │ │ ._circle-8.png
│ │ │ │ ._circle-9.png
│ │ │ │ │ └─PSD
│ │ │ ._circles and bubbles.psd
│ │ │ │ ├─Hand Drawn Numbers
│ │ │ │ ._.DS_Store
│ │ │ │ │ ├─JPG
│ │ │ │ ._style1-0.jpg
│ │ │ │ ._style1-1.jpg
│ │ │ │ ._style1-2.jpg
│ │ │ │ ._style1-3.jpg
│ │ │ │ ._style1-4.jpg
│ │ │ │ ._style1-5.jpg
│ │ │ │ ._style1-6.jpg
│ │ │ │ ._style1-7.jpg
│ │ │ │ ._style1-8.jpg
│ │ │ │ ._style1-9.jpg
│ │ │ │ ._style2-0.jpg
│ │ │ │ ._style2-1.jpg
│ │ │ │ ._style2-2.jpg
│ │ │ │ ._style2-3.jpg
│ │ │ │ ._style2-4.jpg
│ │ │ │ ._style2-5.jpg
│ │ │ │ ._style2-6.jpg
│ │ │ │ ._style2-7.jpg
│ │ │ │ ._style2-8.jpg
│ │ │ │ ._style2-9.jpg
│ │ │ │ ._style3-0.jpg
│ │ │ │ ._style3-1.jpg
│ │ │ │ ._style3-2.jpg
│ │ │ │ ._style3-3.jpg
│ │ │ │ ._style3-4.jpg
│ │ │ │ ._style3-5.jpg
│ │ │ │ ._style3-6.jpg
│ │ │ │ ._style3-7.jpg
│ │ │ │ ._style3-8.jpg
│ │ │ │ ._style3-9.jpg
│ │ │ │ ._style4-0.jpg
│ │ │ │ ._style4-1.jpg
│ │ │ │ ._style4-2.jpg
│ │ │ │ ._style4-3.jpg
│ │ │ │ ._style4-4.jpg
│ │ │ │ ._style4-5.jpg
│ │ │ │ ._style4-6.jpg
│ │ │ │ ._style4-7.jpg
│ │ │ │ ._style4-8.jpg
│ │ │ │ ._style4-9.jpg
│ │ │ │ │ ├─PNG
│ │ │ │ ._style1-0.png
│ │ │ │ ._style1-1.png
│ │ │ │ ._style1-2.png
│ │ │ │ ._style1-3.png
│ │ │ │ ._style1-4.png
│ │ │ │ ._style1-5.png
│ │ │ │ ._style1-6.png
│ │ │ │ ._style1-7.png
│ │ │ │ ._style1-8.png
│ │ │ │ ._style1-9.png
│ │ │ │ ._style2-0.png
│ │ │ │ ._style2-1.png
│ │ │ │ ._style2-2.png
│ │ │ │ ._style2-3.png
│ │ │ │ ._style2-4.png
│ │ │ │ ._style2-5.png
│ │ │ │ ._style2-6.png
│ │ │ │ ._style2-7.png
│ │ │ │ ._style2-8.png
│ │ │ │ ._style2-9.png
│ │ │ │ ._style3-0.png
│ │ │ │ ._style3-1.png
│ │ │ │ ._style3-2.png
│ │ │ │ ._style3-3.png
│ │ │ │ ._style3-4.png
│ │ │ │ ._style3-5.png
│ │ │ │ ._style3-6.png
│ │ │ │ ._style3-7.png
│ │ │ │ ._style3-8.png
│ │ │ │ ._style3-9.png
│ │ │ │ ._style4-0.png
│ │ │ │ ._style4-1.png
│ │ │ │ ._style4-2.png
│ │ │ │ ._style4-3.png
│ │ │ │ ._style4-4.png
│ │ │ │ ._style4-5.png
│ │ │ │ ._style4-6.png
│ │ │ │ ._style4-7.png
│ │ │ │ ._style4-8.png
│ │ │ │ ._style4-9.png
│ │ │ │ │ └─PSD
│ │ │ ._numbers.psd
│ │ │ │ ├─Hand Written Texts
│ │ │ │ ._.DS_Store
│ │ │ │ │ ├─JPG
│ │ │ │ ._3_COPIES_LEFT.jpg
│ │ │ │ ._add_to_cart.jpg
│ │ │ │ ._BONUS.jpg
│ │ │ │ ._BONUS2.jpg
│ │ │ │ ._BONUS3.jpg
│ │ │ │ ._buynow.jpg
│ │ │ │ ._continue.jpg
│ │ │ │ ._DISCOUNT.jpg
│ │ │ │ ._dont_delay.jpg
│ │ │ │ ._exclamation.jpg
│ │ │ │ ._exclamations.jpg
│ │ │ │ ._fresh.jpg
│ │ │ │ ._In_the_next_5_MINUTES.jpg
│ │ │ │ ._LIMITED_OFFER.jpg
│ │ │ │ ._new.jpg
│ │ │ │ ._Oooops.jpg
│ │ │ │ ._PPS.jpg
│ │ │ │ ._PS.jpg
│ │ │ │ ._So_Heres_The_DEAL.jpg
│ │ │ │ ._SPECIAL_OFFER.jpg
│ │ │ │ ._STOP.jpg
│ │ │ │ ._success.jpg
│ │ │ │ ._Thats_NOT_ALL.jpg
│ │ │ │ ._Theres_MORE.jpg
│ │ │ │ ._WAIT.jpg
│ │ │ │ │ ├─PNG
│ │ │ │ ._3_COPIES_LEFT.png
│ │ │ │ ._add_to_cart.png
│ │ │ │ ._BONUS.png
│ │ │ │ ._BONUS2.png
│ │ │ │ ._BONUS3.png
│ │ │ │ ._buynow.png
│ │ │ │ ._continue.png
│ │ │ │ ._DISCOUNT.png
│ │ │ │ ._dont_delay.png
│ │ │ │ ._exclamation.png
│ │ │ │ ._exclamations.png
│ │ │ │ ._fresh.png
│ │ │ │ ._In_the_next_5_MINUTES.png
│ │ │ │ ._LIMITED_OFFER.png
│ │ │ │ ._new.png
│ │ │ │ ._Oooops.png
│ │ │ │ ._PPS.png
│ │ │ │ ._PS.png
│ │ │ │ ._So_Heres_The_DEAL.png
│ │ │ │ ._SPECIAL_OFFER.png
│ │ │ │ ._STOP.png
│ │ │ │ ._success.png
│ │ │ │ ._Thats_NOT_ALL.png
│ │ │ │ ._Theres_MORE.png
│ │ │ │ ._WAIT.png
│ │ │ │ │ └─PSD
│ │ │ ._texts.psd
│ │ │ │ ├─Headlines
│ │ │ │ ._.DS_Store
│ │ │ │ │ └─PSD
│ │ │ ._.DS_Store
│ │ │ ._headlines.psd
│ │ │ │ ├─Highlights
│ │ │ │ ._.DS_Store
│ │ │ │ │ ├─JPG
│ │ │ │ ._highlight1.jpg
│ │ │ │ ._highlight10.jpg
│ │ │ │ ._highlight2.jpg
│ │ │ │ ._highlight3.jpg
│ │ │ │ ._highlight4.jpg
│ │ │ │ ._highlight5.jpg
│ │ │ │ ._highlight6.jpg
│ │ │ │ ._highlight7.jpg
│ │ │ │ ._highlight8.jpg
│ │ │ │ ._highlight9.jpg
│ │ │ │ │ ├─PNG
│ │ │ │ ._highlight1.png
│ │ │ │ ._highlight10.png
│ │ │ │ ._highlight2.png
│ │ │ │ ._highlight3.png
│ │ │ │ ._highlight4.png
│ │ │ │ ._highlight5.png
│ │ │ │ ._highlight6.png
│ │ │ │ ._highlight7.png
│ │ │ │ ._highlight8.png
│ │ │ │ ._highlight9.png
│ │ │ │ │ └─PSD
│ │ │ ._highlights.psd
│ │ │ │ ├─Misc
│ │ │ │ ._.DS_Store
│ │ │ │ │ ├─JPG
│ │ │ │ ._as-seen-on.jpg
│ │ │ │ ._credit-cards-small.jpg
│ │ │ │ │ ├─PNG
│ │ │ │ ._as-seen-on.png
│ │ │ │ ._credit-cards-small.png
│ │ │ │ │ └─PSD
│ │ │ ._as-seen-on.psd
│ │ │ ._credit-cards.psd
│ │ │ │ ├─New Section Headlines
│ │ │ │ ._.DS_Store
│ │ │ │ │ ├─JPG
│ │ │ │ ._style1_headline1.jpg
│ │ │ │ ._style1_headline10.jpg
│ │ │ │ ._style1_headline11.jpg
│ │ │ │ ._style1_headline2.jpg
│ │ │ │ ._style1_headline3.jpg
│ │ │ │ ._style1_headline4.jpg
│ │ │ │ ._style1_headline5.jpg
│ │ │ │ ._style1_headline6.jpg
│ │ │ │ ._style1_headline7.jpg
│ │ │ │ ._style1_headline8.jpg
│ │ │ │ ._style1_headline9.jpg
│ │ │ │ ._style2_headline1.jpg
│ │ │ │ ._style2_headline10.jpg
│ │ │ │ ._style2_headline11.jpg
│ │ │ │ ._style2_headline2.jpg
│ │ │ │ ._style2_headline3.jpg
│ │ │ │ ._style2_headline4.jpg
│ │ │ │ ._style2_headline5.jpg
│ │ │ │ ._style2_headline6.jpg
│ │ │ │ ._style2_headline7.jpg
│ │ │ │ ._style2_headline8.jpg
│ │ │ │ ._style2_headline9.jpg
│ │ │ │ │ ├─PNG
│ │ │ │ ._style1_headline1.png
│ │ │ │ ._style1_headline10.png
│ │ │ │ ._style1_headline11.png
│ │ │ │ ._style1_headline2.png
│ │ │ │ ._style1_headline3.png
│ │ │ │ ._style1_headline4.png
│ │ │ │ ._style1_headline5.png
│ │ │ │ ._style1_headline6.png
│ │ │ │ ._style1_headline7.png
│ │ │ │ ._style1_headline8.png
│ │ │ │ ._style1_headline9.png
│ │ │ │ ._style2_headline1.png
│ │ │ │ ._style2_headline10.png
│ │ │ │ ._style2_headline11.png
│ │ │ │ ._style2_headline2.png
│ │ │ │ ._style2_headline3.png
│ │ │ │ ._style2_headline4.png
│ │ │ │ ._style2_headline5.png
│ │ │ │ ._style2_headline6.png
│ │ │ │ ._style2_headline7.png
│ │ │ │ ._style2_headline8.png
│ │ │ │ ._style2_headline9.png
│ │ │ │ │ └─PSD
│ │ │ ._new-sections.psd
│ │ │ │ ├─Optin Attention Grabber
│ │ │ │ ._.DS_Store
│ │ │ │ │ ├─JPG
│ │ │ │ ._optin1.jpg
│ │ │ │ ._optins2.jpg
│ │ │ │ ._optins3.jpg
│ │ │ │ ._optins4.jpg
│ │ │ │ ._optins5.jpg
│ │ │ │ ._optins6.jpg
│ │ │ │ │ ├─PNG
│ │ │ │ ._.DS_Store
│ │ │ │ ._optin1.png
│ │ │ │ ._optins2.png
│ │ │ │ ._optins3.png
│ │ │ │ ._optins4.png
│ │ │ │ ._optins5.png
│ │ │ │ ._optins6.png
│ │ │ │ │ └─PSD
│ │ │ ._optins.psd
│ │ │ │ ├─PowerPoint Backgrounds
│ │ │ │ ._.DS_Store
│ │ │ │ │ ├─JPG
│ │ │ │ ._style1.jpg
│ │ │ │ ._style2.jpg
│ │ │ │ ._style3.jpg
│ │ │ │ │ ├─PNG
│ │ │ │ ._style1.png
│ │ │ │ ._style2.png
│ │ │ │ ._style3.png
│ │ │ │ │ └─PSD
│ │ │ ._style1.psd
│ │ │ ._style2.psd
│ │ │ ._style3.psd
│ │ │ │ ├─Sequences
│ │ │ │ ._.DS_Store
│ │ │ │ │ ├─JPG
│ │ │ │ ._style1_step1.jpg
│ │ │ │ ._style1_step2.jpg
│ │ │ │ ._style1_step3.jpg
│ │ │ │ ._style2_step1.jpg
│ │ │ │ ._style2_step2.jpg
│ │ │ │ ._style2_step3.jpg
│ │ │ │ │ ├─PNG
│ │ │ │ ._style1_step1.png
│ │ │ │ ._style1_step2.png
│ │ │ │ ._style1_step3.png
│ │ │ │ ._style2_step1.png
│ │ │ │ ._style2_step2.png
│ │ │ │ ._style2_step3.png
│ │ │ │ │ └─PSD
│ │ │ ._sequences.psd
│ │ │ │ ├─Social Icons
│ │ │ │ ._.DS_Store
│ │ │ │ │ ├─JPG
│ │ │ │ ._style1_icon1.jpg
│ │ │ │ ._style1_icon10.jpg
│ │ │ │ ._style1_icon11.jpg
│ │ │ │ ._style1_icon12.jpg
│ │ │ │ ._style1_icon2.jpg
│ │ │ │ ._style1_icon3.jpg
│ │ │ │ ._style1_icon4.jpg
│ │ │ │ ._style1_icon5.jpg
│ │ │ │ ._style1_icon6.jpg
│ │ │ │ ._style1_icon7.jpg
│ │ │ │ ._style1_icon8.jpg
│ │ │ │ ._style1_icon9.jpg
│ │ │ │ ._style2_icon1.jpg
│ │ │ │ ._style2_icon10.jpg
│ │ │ │ ._style2_icon11.jpg
│ │ │ │ ._style2_icon12.jpg
│ │ │ │ ._style2_icon2.jpg
│ │ │ │ ._style2_icon3.jpg
│ │ │ │ ._style2_icon4.jpg
│ │ │ │ ._style2_icon5.jpg
│ │ │ │ ._style2_icon6.jpg
│ │ │ │ ._style2_icon7.jpg
│ │ │ │ ._style2_icon8.jpg
│ │ │ │ ._style2_icon9.jpg
│ │ │ │ ._style3_icon1.jpg
│ │ │ │ ._style3_icon10.jpg
│ │ │ │ ._style3_icon11.jpg
│ │ │ │ ._style3_icon12.jpg
│ │ │ │ ._style3_icon2.jpg
│ │ │ │ ._style3_icon3.jpg
│ │ │ │ ._style3_icon4.jpg
│ │ │ │ ._style3_icon5.jpg
│ │ │ │ ._style3_icon6.jpg
│ │ │ │ ._style3_icon7.jpg
│ │ │ │ ._style3_icon8.jpg
│ │ │ │ ._style3_icon9.jpg
│ │ │ │ ._style4_icon1.jpg
│ │ │ │ ._style4_icon10.jpg
│ │ │ │ ._style4_icon11.jpg
│ │ │ │ ._style4_icon12.jpg
│ │ │ │ ._style4_icon2.jpg
│ │ │ │ ._style4_icon3.jpg
│ │ │ │ ._style4_icon4.jpg
│ │ │ │ ._style4_icon5.jpg
│ │ │ │ ._style4_icon6.jpg
│ │ │ │ ._style4_icon7.jpg
│ │ │ │ ._style4_icon8.jpg
│ │ │ │ ._style4_icon9.jpg
│ │ │ │ │ ├─PNG
│ │ │ │ ._style1_icon1.png
│ │ │ │ ._style1_icon10.png
│ │ │ │ ._style1_icon11.png
│ │ │ │ ._style1_icon12.png
│ │ │ │ ._style1_icon2.png
│ │ │ │ ._style1_icon3.png
│ │ │ │ ._style1_icon4.png
│ │ │ │ ._style1_icon5.png
│ │ │ │ ._style1_icon6.png
│ │ │ │ ._style1_icon7.png
│ │ │ │ ._style1_icon8.png
│ │ │ │ ._style1_icon9.png
│ │ │ │ ._style2_icon1.png
│ │ │ │ ._style2_icon10.png
│ │ │ │ ._style2_icon11.png
│ │ │ │ ._style2_icon12.png
│ │ │ │ ._style2_icon2.png
│ │ │ │ ._style2_icon3.png
│ │ │ │ ._style2_icon4.png
│ │ │ │ ._style2_icon5.png
│ │ │ │ ._style2_icon6.png
│ │ │ │ ._style2_icon7.png
│ │ │ │ ._style2_icon8.png
│ │ │ │ ._style2_icon9.png
│ │ │ │ ._style3_icon1.png
│ │ │ │ ._style3_icon10.png
│ │ │ │ ._style3_icon11.png
│ │ │ │ ._style3_icon12.png
│ │ │ │ ._style3_icon2.png
│ │ │ │ ._style3_icon3.png
│ │ │ │ ._style3_icon4.png
│ │ │ │ ._style3_icon5.png
│ │ │ │ ._style3_icon6.png
│ │ │ │ ._style3_icon7.png
│ │ │ │ ._style3_icon8.png
│ │ │ │ ._style3_icon9.png
│ │ │ │ ._style4_icon1.png
│ │ │ │ ._style4_icon10.png
│ │ │ │ ._style4_icon11.png
│ │ │ │ ._style4_icon12.png
│ │ │ │ ._style4_icon2.png
│ │ │ │ ._style4_icon3.png
│ │ │ │ ._style4_icon4.png
│ │ │ │ ._style4_icon5.png
│ │ │ │ ._style4_icon6.png
│ │ │ │ ._style4_icon7.png
│ │ │ │ ._style4_icon8.png
│ │ │ │ ._style4_icon9.png
│ │ │ │ │ └─PSD
│ │ │ ._social.psd
│ │ │ │ ├─Star Ratings
│ │ │ │ ._.DS_Store
│ │ │ │ │ ├─JPG
│ │ │ │ ._style1_big_empty.jpg
│ │ │ │ ._style1_big_full.jpg
│ │ │ │ ._style1_big_half.jpg
│ │ │ │ ._style1_medium_empty.jpg
│ │ │ │ ._style1_medium_full.jpg
│ │ │ │ ._style1_medium_half.jpg
│ │ │ │ ._style1_mini_empty.jpg
│ │ │ │ ._style1_mini_full.jpg
│ │ │ │ ._style1_mini_half.jpg
│ │ │ │ ._style2_big_empty.jpg
│ │ │ │ ._style2_big_full.jpg
│ │ │ │ ._style2_big_half.jpg
│ │ │ │ ._style2_medium_empty.jpg
│ │ │ │ ._style2_medium_full.jpg
│ │ │ │ ._style2_medium_half.jpg
│ │ │ │ ._style2_mini_empty.jpg
│ │ │ │ ._style2_mini_full.jpg
│ │ │ │ ._style2_mini_half.jpg
│ │ │ │ │ ├─PNG
│ │ │ │ ._style1_big_empty.png
│ │ │ │ ._style1_big_full.png
│ │ │ │ ._style1_big_half.png
│ │ │ │ ._style1_medium_empty.png
│ │ │ │ ._style1_medium_full.png
│ │ │ │ ._style1_medium_half.png
│ │ │ │ ._style1_mini_empty.png
│ │ │ │ ._style1_mini_full.png
│ │ │ │ ._style1_mini_half.png
│ │ │ │ ._style2_big_empty.png
│ │ │ │ ._style2_big_full.png
│ │ │ │ ._style2_big_half.png
│ │ │ │ ._style2_medium_empty.png
│ │ │ │ ._style2_medium_full.png
│ │ │ │ ._style2_medium_half.png
│ │ │ │ ._style2_mini_empty.png
│ │ │ │ ._style2_mini_full.png
│ │ │ │ ._style2_mini_half.png
│ │ │ │ │ └─PSD
│ │ │ ._star.psd
│ │ │ │ ├─Testimonial Boxes
│ │ │ │ ._.DS_Store
│ │ │ │ │ └─PSD
│ │ │ ._testimonials.psd
│ │ │ │ ├─Web Buttons
│ │ │ ├─JPG
│ │ │ │ ._.DS_Store
│ │ │ │ ._style1-black-2.jpg
│ │ │ │ ._style1-black-3.jpg
│ │ │ │ ._style1-black-4.jpg
│ │ │ │ ._style1-black-5.jpg
│ │ │ │ ._style1-black-6.jpg
│ │ │ │ ._style1-black.jpg
│ │ │ │ ._style1-blue-2.jpg
│ │ │ │ ._style1-blue-3.jpg
│ │ │ │ ._style1-blue-4.jpg
│ │ │ │ ._style1-blue-5.jpg
│ │ │ │ ._style1-blue-6.jpg
│ │ │ │ ._style1-blue.jpg
│ │ │ │ ._style1-gray-2.jpg
│ │ │ │ ._style1-gray-3.jpg
│ │ │ │ ._style1-gray-4.jpg
│ │ │ │ ._style1-gray-5.jpg
│ │ │ │ ._style1-gray-6.jpg
│ │ │ │ ._style1-green-2.jpg
│ │ │ │ ._style1-green-3.jpg
│ │ │ │ ._style1-green-4.jpg
│ │ │ │ ._style1-green-5.jpg
│ │ │ │ ._style1-green-6.jpg
│ │ │ │ ._style1-green.jpg
│ │ │ │ ._style1-grey.jpg
│ │ │ │ ._style1-red-2.jpg
│ │ │ │ ._style1-red-3.jpg
│ │ │ │ ._style1-red-4.jpg
│ │ │ │ ._style1-red-5.jpg
│ │ │ │ ._style1-red-6.jpg
│ │ │ │ ._style1-red.jpg
│ │ │ │ ._style1-yellow-2.jpg
│ │ │ │ ._style1-yellow-3.jpg
│ │ │ │ ._style1-yellow-4.jpg
│ │ │ │ ._style1-yellow-5.jpg
│ │ │ │ ._style1-yellow-6.jpg
│ │ │ │ ._style1-yellow.jpg
│ │ │ │ ._style2-black-2.jpg
│ │ │ │ ._style2-black-3.jpg
│ │ │ │ ._style2-black-4.jpg
│ │ │ │ ._style2-black-5.jpg
│ │ │ │ ._style2-black-6.jpg
│ │ │ │ ._style2-black.jpg
│ │ │ │ ._style2-blue-2.jpg
│ │ │ │ ._style2-blue-3.jpg
│ │ │ │ ._style2-blue-4.jpg
│ │ │ │ ._style2-blue-5.jpg
│ │ │ │ ._style2-blue-6.jpg
│ │ │ │ ._style2-blue.jpg
│ │ │ │ ._style2-gray-2.jpg
│ │ │ │ ._style2-gray-3.jpg
│ │ │ │ ._style2-gray-4.jpg
│ │ │ │ ._style2-gray-5.jpg
│ │ │ │ ._style2-gray-6.jpg
│ │ │ │ ._style2-green-2.jpg
│ │ │ │ ._style2-green-3.jpg
│ │ │ │ ._style2-green-4.jpg
│ │ │ │ ._style2-green-5.jpg
│ │ │ │ ._style2-green-6.jpg
│ │ │ │ ._style2-green.jpg
│ │ │ │ ._style2-grey.jpg
│ │ │ │ ._style2-red-2.jpg
│ │ │ │ ._style2-red-3.jpg
│ │ │ │ ._style2-red-4.jpg
│ │ │ │ ._style2-red-5.jpg
│ │ │ │ ._style2-red-6.jpg
│ │ │ │ ._style2-red.jpg
│ │ │ │ ._style2-yellow-2.jpg
│ │ │ │ ._style2-yellow-3.jpg
│ │ │ │ ._style2-yellow-4.jpg
│ │ │ │ ._style2-yellow-5.jpg
│ │ │ │ ._style2-yellow-6.jpg
│ │ │ │ ._style2-yellow.jpg
│ │ │ │ ._style3-black-2.jpg
│ │ │ │ ._style3-black-3.jpg
│ │ │ │ ._style3-black-4.jpg
│ │ │ │ ._style3-black-5.jpg
│ │ │ │ ._style3-black-6.jpg
│ │ │ │ ._style3-black.jpg
│ │ │ │ ._style3-blue-2.jpg
│ │ │ │ ._style3-blue-3.jpg
│ │ │ │ ._style3-blue-4.jpg
│ │ │ │ ._style3-blue-5.jpg
│ │ │ │ ._style3-blue-6.jpg
│ │ │ │ ._style3-blue. jpg
│ │ │ │ ._style3-gray-2.jpg
│ │ │ │ ._style3-gray-3.jpg
│ │ │ │ ._style3-gray-4.jpg
│ │ │ │ ._style3-gray-5.jpg
│ │ │ │ ._style3-gray-6.jpg
│ │ │ │ ._style3-green-2.jpg
│ │ │ │ ._style3-green-3.jpg
│ │ │ │ ._style3-green-4.jpg
│ │ │ │ ._style3-green-5.jpg
│ │ │ │ ._style3-green-6.jpg
│ │ │ │ ._style3-green.jpg
│ │ │ │ ._style3-grey. jpg
│ │ │ │ ._style3-red-2.jpg
│ │ │ │ ._style3-red-3.jpg
│ │ │ │ ._style3-red-4.jpg
│ │ │ │ ._style3-red-5.jpg
│ │ │ │ ._style3-red-6.jpg
│ │ │ │ ._style3-red.jpg
│ │ │ │ ._style3-yellow-2.jpg
│ │ │ │ ._style3-yellow-3.jpg
│ │ │ │ ._style3-yellow-4.jpg
│ │ │ │ ._style3-yellow-5.jpg
│ │ │ │ ._style3-yellow-6.jpg
│ │ │ │ ._style3-yellow.jpg
│ │ │ │ ._style4-black-2.jpg
│ │ │ │ ._style4-black-3.jpg
│ │ │ │ ._style4-black-4.jpg
│ │ │ │ ._style4-black-5.jpg
│ │ │ │ ._style4-black-6.jpg
│ │ │ │ ._style4-black.jpg
│ │ │ │ ._style4-blue-2.jpg
│ │ │ │ ._style4-blue-3.jpg
│ │ │ │ ._style4-blue-4.jpg
│ │ │ │ ._style4-blue-5.jpg
│ │ │ │ ._style4-blue-6.jpg
│ │ │ │ ._style4-blue.jpg
│ │ │ │ ._style4-gray-2.jpg
│ │ │ │ ._style4-gray-3.jpg
│ │ │ │ ._style4-gray-4.jpg
│ │ │ │ ._style4-gray-5.jpg
│ │ │ │ ._style4-gray-6.jpg
│ │ │ │ ._style4-gray.jpg
│ │ │ │ ._style4-green-2.jpg
│ │ │ │ ._style4-green-3.jpg
│ │ │ │ ._style4-green-4.jpg
│ │ │ │ ._style4-green-5.jpg
│ │ │ │ ._style4-green-6.jpg
│ │ │ │ ._style4-green.jpg
│ │ │ │ ._style4-red-2.jpg
│ │ │ │ ._style4-red-3.jpg
│ │ │ │ ._style4-red-4.jpg
│ │ │ │ ._style4-red-5.jpg
│ │ │ │ ._style4-red-6.jpg
│ │ │ │ ._style4-red.jpg
│ │ │ │ ._style4-yellow-2.jpg
│ │ │ │ ._style4-yellow-3.jpg
│ │ │ │ ._style4-yellow-4.jpg
│ │ │ │ ._style4-yellow-5.jpg
│ │ │ │ ._style4-yellow-6.jpg
│ │ │ │ ._style4-yellow.jpg
│ │ │ │ ._style5-dark-2.jpg
│ │ │ │ ._style5-dark-3.jpg
│ │ │ │ ._style5-dark-4.jpg
│ │ │ │ ._style5-dark-5.jpg
│ │ │ │ ._style5-dark-6.jpg
│ │ │ │ ._style5-dark.jpg
│ │ │ │ ._style5-gray-2.jpg
│ │ │ │ ._style5-gray-3.jpg
│ │ │ │ ._style5-gray-4.jpg
│ │ │ │ ._style5-gray-5.jpg
│ │ │ │ ._style5-gray-6.jpg
│ │ │ │ ._style5-gray.jpg
│ │ │ │ ._style6-yellow-2.jpg
│ │ │ │ ._style6-yellow-3.jpg
│ │ │ │ ._style6-yellow-4.jpg
│ │ │ │ ._style6-yellow-5.jpg
│ │ │ │ ._style6-yellow-6.jpg
│ │ │ │ ._style6-yellow.jpg
│ │ │ │ │ ├─PNG
│ │ │ │ ._style1-black-2.png
│ │ │ │ ._style1-black-3.png
│ │ │ │ ._style1-black-4.png
│ │ │ │ ._style1-black-5.png
│ │ │ │ ._style1-black-6.png
│ │ │ │ ._style1-black.png
│ │ │ │ ._style1-blue-2.png
│ │ │ │ ._style1-blue-3.png
│ │ │ │ ._style1-blue-4.png
│ │ │ │ ._style1-blue-5.png
│ │ │ │ ._style1-blue-6.png
│ │ │ │ ._style1-blue.png
│ │ │ │ ._style1-gray-2.png
│ │ │ │ ._style1-gray-3.png
│ │ │ │ ._style1-gray-4.png
│ │ │ │ ._style1-gray-5.png
│ │ │ │ ._style1-gray-6.png
│ │ │ │ ._style1-green-2.png
│ │ │ │ ._style1-green-3.png
│ │ │ │ ._style1-green-4.png
│ │ │ │ ._style1-green-5.png
│ │ │ │ ._style1-green-6.png
│ │ │ │ ._style1-green.png
│ │ │ │ ._style1-grey.png
│ │ │ │ ._style1-red-2.png
│ │ │ │ ._style1-red-3.png
│ │ │ │ ._style1-red-4.png
│ │ │ │ ._style1-red-5.png
│ │ │ │ ._style1-red-6.png
│ │ │ │ ._style1-red.png
│ │ │ │ ._style1-yellow-2.png
│ │ │ │ ._style1-yellow-3.png
│ │ │ │ ._style1-yellow-4.png
│ │ │ │ ._style1-yellow-5.png
│ │ │ │ ._style1-yellow-6.png
│ │ │ │ ._style1-yellow.png
│ │ │ │ ._style2-black-2.png
│ │ │ │ ._style2-black-3.png
│ │ │ │ ._style2-black-4.png
│ │ │ │ ._style2-black-5.png
│ │ │ │ ._style2-black-6.png
│ │ │ │ ._style2-black.png
│ │ │ │ ._style2-blue-2.png
│ │ │ │ ._style2-blue-3.png
│ │ │ │ ._style2-blue-4.png
│ │ │ │ ._style2-blue-5.png
│ │ │ │ ._style2-blue-6.png
│ │ │ │ ._style2-blue.png
│ │ │ │ ._style2-gray-2.png
│ │ │ │ ._style2-gray-3.png
│ │ │ │ ._style2-gray-4.png
│ │ │ │ ._style2-gray-5.png
│ │ │ │ ._style2-gray-6.png
│ │ │ │ ._style2-green-2.png
│ │ │ │ ._style2-green-3.png
│ │ │ │ ._style2-green-4.png
│ │ │ │ ._style2-green-5.png
│ │ │ │ ._style2-green-6.png
│ │ │ │ ._style2-green.png
│ │ │ │ ._style2-grey.png
│ │ │ │ ._style2-red-2.png
│ │ │ │ ._style2-red-3.png
│ │ │ │ ._style2-red-4.png
│ │ │ │ ._style2-red-5.png
│ │ │ │ ._style2-red-6.png
│ │ │ │ ._style2-red.png
│ │ │ │ ._style2-yellow-2.png
│ │ │ │ ._style2-yellow-3.png
│ │ │ │ ._style2-yellow-4.png
│ │ │ │ ._style2-yellow-5.png
│ │ │ │ ._style2-yellow-6.png
│ │ │ │ ._style2-yellow.png
│ │ │ │ ._style3-black-2.png
│ │ │ │ ._style3-black-3.png
│ │ │ │ ._style3-black-4.png
│ │ │ │ ._style3-black-5.png
│ │ │ │ ._style3-black-6.png
│ │ │ │ ._style3-black.png
│ │ │ │ ._style3-blue-2.png
│ │ │ │ ._style3-blue-3.png
│ │ │ │ ._style3-blue-4.png
│ │ │ │ ._style3-blue-5.png
│ │ │ │ ._style3-blue-6.png
│ │ │ │ ._style3-blue.png
│ │ │ │ ._style3-gray-2.png
│ │ │ │ ._style3-gray-3.png
│ │ │ │ ._style3-gray-4.png
│ │ │ │ ._style3-gray-5.png
│ │ │ │ ._style3-gray-6.png
│ │ │ │ ._style3-green-2.png
│ │ │ │ ._style3-green-3.png
│ │ │ │ ._style3-green-4.png
│ │ │ │ ._style3-green-5.png
│ │ │ │ ._style3-green-6.png
│ │ │ │ ._style3-green.png
│ │ │ │ ._style3-grey.png
│ │ │ │ ._style3-red-2.png
│ │ │ │ ._style3-red-3.png
│ │ │ │ ._style3-red-4.png
│ │ │ │ ._style3-red-5.png
│ │ │ │ ._style3-red-6.png
│ │ │ │ ._style3-red.png
│ │ │ │ ._style3-yellow-2.png
│ │ │ │ ._style3-yellow-3.png
│ │ │ │ ._style3-yellow-4.png
│ │ │ │ ._style3-yellow-5.png
│ │ │ │ ._style3-yellow-6.png
│ │ │ │ ._style3-yellow.png
│ │ │ │ ._style4-black-2.png
│ │ │ │ ._style4-black-3.png
│ │ │ │ ._style4-black-4.png
│ │ │ │ ._style4-black-5.png
│ │ │ │ ._style4-black-6.png
│ │ │ │ ._style4-black.png
│ │ │ │ ._style4-blue-2.png
│ │ │ │ ._style4-blue-3.png
│ │ │ │ ._style4-blue-4.png
│ │ │ │ ._style4-blue-5.png
│ │ │ │ ._style4-blue-6.png
│ │ │ │ ._style4-blue.png
│ │ │ │ ._style4-gray-2.png
│ │ │ │ ._style4-gray-3.png
│ │ │ │ ._style4-gray-4.png
│ │ │ │ ._style4-gray-5.png
│ │ │ │ ._style4-gray-6.png
│ │ │ │ ._style4-gray.png
│ │ │ │ ._style4-green-2.png
│ │ │ │ ._style4-green-3.png
│ │ │ │ ._style4-green-4.png
│ │ │ │ ._style4-green-5.png
│ │ │ │ ._style4-green-6.png
│ │ │ │ ._style4-green.png
│ │ │ │ ._style4-red-2.png
│ │ │ │ ._style4-red-3.png
│ │ │ │ ._style4-red-4.png
│ │ │ │ ._style4-red-5.png
│ │ │ │ ._style4-red-6.png
│ │ │ │ ._style4-red.png
│ │ │ │ ._style4-yellow-2.png
│ │ │ │ ._style4-yellow-3.png
│ │ │ │ ._style4-yellow-4.png
│ │ │ │ ._style4-yellow-5.png
│ │ │ │ ._style4-yellow-6.png
│ │ │ │ ._style4-yellow.png
│ │ │ │ ._style5-dark-2.png
│ │ │ │ ._style5-dark-3.png
│ │ │ │ ._style5-dark-4.png
│ │ │ │ ._style5-dark-5.png
│ │ │ │ ._style5-dark-6.png
│ │ │ │ ._style5-dark.png
│ │ │ │ ._style5-gray-2.png
│ │ │ │ ._style5-gray-3.png
│ │ │ │ ._style5-gray-4.png
│ │ │ │ ._style5-gray-5.png
│ │ │ │ ._style5-gray-6.png
│ │ │ │ ._style5-gray.png
│ │ │ │ ._style6-yellow-2.png
│ │ │ │ ._style6-yellow-3.png
│ │ │ │ ._style6-yellow-4.png
│ │ │ │ ._style6-yellow-5.png
│ │ │ │ ._style6-yellow-6.png
│ │ │ │ ._style6-yellow.png
│ │ │ │ │ └─PSD
│ │ │ ._style1.psd
│ │ │ ._style2.psd
│ │ │ ._style3.psd
│ │ │ ._style4.psd
│ │ │ ._style5.psd
│ │ │ ._style6.psd
│ │ │ │ └─Web Notifications
│ │ ├─JPG
│ │ │ ._attention.jpg
│ │ │ ._error.jpg
│ │ │ ._failed.jpg
│ │ │ ._info.jpg
│ │ │ ._information.jpg
│ │ │ ._ok.jpg
│ │ │ ._success.jpg
│ │ │ ._warning.jpg
│ │ │ │ ├─PNG
│ │ │ ._attention.png
│ │ │ ._error.png
│ │ │ ._failed.png
│ │ │ ._info.png
│ │ │ ._information.png
│ │ │ ._ok.png
│ │ │ ._success.png
│ │ │ ._warning.png
│ │ │ │ └─PSD
│ │ ._notifications.psd
│ └─testimonial-collection
│ testimonial-checklist.pdf
│ testimonial-questionnaire.doc
├─6. Copywriting & VSL Walkthrough
│ 6-copywriting-vsl.pdf
├─7. Setting up Your Follow Up Campaign
│ │ 7-follow-up.pdf
│ │ opt-in-gift-ideas.pdf
│ │ SampleEmailFollowup.pdf
│ ├─free-report-template-plan
│ │ free-report-plan.pdf
│ │ free-report-template.dot
│ │ free-reports-promotion-checklist.pdf
│ └─optin-template
│ │ doc-format.docx
│ │ template-instructions.pdf
│ └─optin-html-template
│ │ index.html
│ │ ├─images
│ │ │ bullett-10px.jpg
│ │ │ bullett-15px.jpg
│ │ │ certificate-background.gif
│ │ │ certificate-background.JPG
│ │ │ check-large.jpg
│ │ │ check-med.jpg
│ │ │ check-small.jpg
│ │ │ satisfaction-large.JPG
│ │ │ satisfaction-small.JPG
│ │ │ └─numbers
│ │ 1-sm.jpg
│ │ 1.jpg
│ │ 10-sm.jpg
│ │ 10.jpg
│ │ 2-sm.jpg
│ │ 2.jpg
│ │ 3-sm.jpg
│ │ 3.jpg
│ │ 4-sm.jpg
│ │ 4.jpg
│ │ 5-sm.jpg
│ │ 5.jpg
│ │ 6-sm.jpg
│ │ 6.jpg
│ │ 6[Conflict].jpg
│ │ 7-sm.jpg
│ │ 7.jpg
│ │ 8-sm.jpg
│ │ 8.jpg
│ │ 9-sm.jpg
│ │ 9.jpg
│ │ number-sm.psd
│ │ number.psd
│ │ └─temporary-images-delete
│ mysig.gif
│ photo.jpg
├─8. Pre-Launch Buzz & Testing Your Offer
│ │ 8-buzz.pdf
│ │ affiliate-recruitment-checklist.pdf
│ │ affiliate-tools-checklist.pdf
│ │ competitors-into-profits.pdf
│ ├─affiliate-recruitment
│ │ Become an Affiliate Email.doc
│ │ Free Content Email.doc
│ │ recruitment-letter-instructions.pdf
│ └─affiliate-training-center
│ 10-email-marketing-response.doc
│ 19-day-blueprint.docx
│ 20-list-building-ideas.doc
│ affiliate-bonus.doc
│ affiliate-marketing-blog.doc
│ affiliate-websites.doc
│ articles-affiliate.doc
│ automating-autoresponders.doc
│ blog-traffic.doc
│ INSTRUCTIONS-TO-SET-UP-TRAINING.pdf
│ PLEASE READ – TERMS OF USE.txt
│ promo-videos.doc
│ target-market.doc
│ write-product-review.doc
│ writing-solos.doc
├─9. Launching Your Product & Getting Ongoing Traffic
│ 9-launch-ongoing.pdf
└─Q&A Session
ipm-qa-transcript.pdf
提取密码:
下载地址: