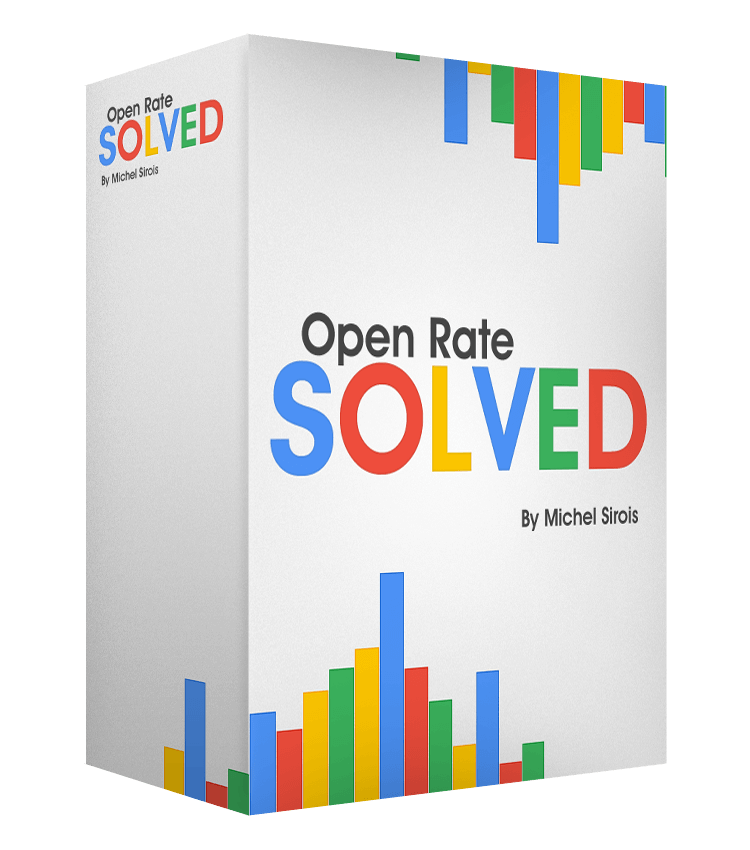 我每天使用的5种邮件营销方法来保证你通过Gmail、Outlook(以及其他)来增加你的邮件入邮箱权重。
这些方法对初学者、中级和专业人士都有好处。

The 5 methods I use daily to guarantee an increase in your unboxing through Gmail, Outlook (and others).
These methods are as good for beginners, intermediate and pros who are not in-boxing as much as they would want.

///

ATTENTION!!! Due To Recent Gmail Changes…

The Only Training That Will DELIVER Your E-Mail Messages…
In Your Subscribers INBOX!!!
教程目录:
Open Rate Solved
│ Resources.url
├─Bonuses
│ Blogging 4 Profits.pdf
│ Bonuses.txt
│ Crazy Cash Converter.pdf
│ Scalable Profits Revolution.pdf
│ Social Media Group Profits.pdf
├─Main Training
│ Method 1.pdf
│ Method 2.pdf
│ Method 3.pdf
│ Method 4 -5.pdf
│ Method 6 – BONUS METHOD.pdf
│ 下载文件说明.mht
└─OTO #2 -Open Rate SOLVED – SWIPES
│ E-Mail Marketing Segment.zip
│ Resources.mht
│ Swipes License.txt
├─Blogging Segment
│ READ ME.txt
│ Swipe #1 – Welcome Message.rtf
│ Swipe #2 – Follow Up Message.docx
│ Swipe #3 – Follow Up Message.docx
│ Swipe #4 – Follow Up Message.docx
│ Swipe #5 – Follow Up Message.docx
├─CPA Marketing Segment
│ Bonuses.txt
│ READ ME.txt
│ Swipe #1 – Welcome Message.rtf
│ Swipe #2 – Follow Up Message.docx
│ Swipe #3 – Follow Up Message.docx
│ Swipe #4 – Follow Up Message.docx
│ Swipe #5 – Follow Up Message.docx
├─E-Mail Marketing Segment
│ READ ME.txt
│ Resources.mht
│ Swipe #1 – Welcome Message.rtf
│ Swipe #2 – Follow Up Message.docx
│ Swipe #3 – Follow Up Message.docx
│ Swipe #4 – Follow Up Message.docx
│ Swipe #5 – Follow Up Message.docx
├─Facebook Marketing Segment
│ READ ME.txt
│ Swipe #1 – Welcome Message.rtf
│ Swipe #2 – Follow Up Message.docx
│ Swipe #3 – Follow Up Message.docx
│ Swipe #4 – Follow Up Message.docx
│ Swipe #5 – Follow Up Message.docx
├─General List
│ READ ME.txt
│ Resources.url
│ Swipe #1 – Welcome Message.rtf
│ Swipe #10- Follow Up Message.docx
│ Swipe #2 – Follow Up Message.docx
│ Swipe #3 – Follow Up Message.docx
│ Swipe #4 – Follow Up Message.docx
│ Swipe #5 – Follow Up Message.rtf
│ Swipe #6 – Follow Up Message.docx
│ Swipe #7 – Follow Up Message.docx
│ Swipe #8- Follow Up Message.docx
│ Swipe #9- Follow Up Message.docx
├─PLR Products Segment
│ READ ME.txt
│ Swipe #1 – Welcome Message.rtf
│ Swipe #2 – Follow Up Message.docx
│ Swipe #3 – Follow Up Message.docx
│ Swipe #4 – Follow Up Message.docx
│ Swipe #5 – Follow Up Message.docx
└─WordPress Plugins Segment
READ ME.txt
Swipe #1 – Welcome Message.docx
Swipe #2 – Follow Up Message.docx
Swipe #3 – Follow Up Message.docx
Swipe #4 – Follow Up Message.docx
Swipe #5 – Follow Up Message.docx
提取密码:
如果觉得不错,请分享给你的小伙伴们一起学习吧!
在您的帮助下,跨境电商之家每天都在进步,感谢您的支持。
网盘提取密码:4viu
下载地址: